Big Bear Ski Resort
Looking for a great California luxury Big Bear Ski Resort? We have found some great ones! California is very big so we are currently featuring resorts in the areas people most often travel to.
Big Bear Mountain Resort
Big Bear Ski Resort is a ski resort in Southern California. It is the largest ski area in Southern California with 500 acres of skiing and snowboarding terrain. The resort offers many amenities for its visitors including a variety of lodging options, restaurants, shops and more.
The resort was founded years ago by a guy who was an avid skier and wanted to create a place for people to enjoy the outdoors year round. Today, the resort has grown into one of the most popular destinations for people looking to enjoy winter sports or just get away from the city life for awhile.
Bear Mountain is a ski area and formerly Goldmine Mountain, established in 1969.
Lift capacity: 16,590 skiers/hr
Vertical: 1,665 ft (507 m)
Snowfall: 100 in (250 cm)
Lift system: 12 lifts: 3 quad chairlifts, 2 triple chairs, 4 double chairs, 3 surface lifts
Longest run: Geronimo 1.5 mi (2.4 km)
Snowmaking: 100% (Wikipedia)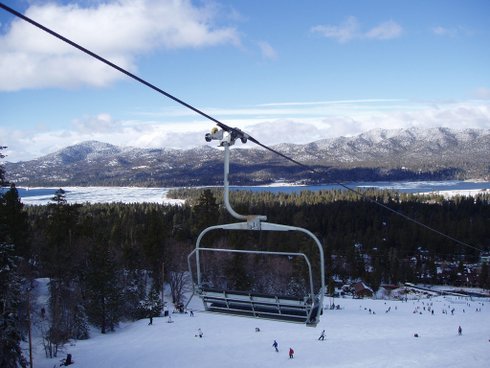 VIDEO: Big Bear Mountain Resorts and Mammoth Mountain

Official Ski Big Bear Lake website. 
---
Big Bear Lake Mallard Bay Resort
A top Big Bear resort with great seasonal options. It's a water-front spot but sheltered from wind, has cozy cabins with gas fireplaces and family winter play areas. This spot will work for large groups (up to 48 people).
See video review below for more information.

See special offers and reviews at Mallard Bay.

---
---
Promoted as the worlds first snowboarder hotels

Slope side close to the Snow Summit Ski area. Offer convenience and magnificent views of the slopes from the back deck of your townhome while relaxing in your own private Jacuzzi.

---
Robinhood Resort
Robinhood Resort is in the heart of Big Bear Lake and right in the center of things. It's a small ski resort with a nightclub, restaurants, meetings rooms and good reviews from past guests.  
---
Alpine Slide at Magic Mountain 
Very entertaining bobsled slide down the slopes of Big Bear:

---
Ski Package Deals
World's Top 50 Most Popular Ski Destinations on TripAdvisor
Top 25 Most Popular Canada and United States Ski Destinations

Think Snow! Great Ski Deals. Book now on Expedia!
More Ski Resorts: 

| | |
| --- | --- |
| Popular USA Ski Resorts | International Ski Resorts |
Sarah loves to check out all-inclusive resorts and find great packages and report about what real travelers are saying, Sarah is an indicative character created for the purpose of providing insights uncovered during our research.  These reviews are indicative of others first-hand experiences using our research methodology designed to uncover the best  (as opposed to those that are simply marketed as the best).

While our reviews are founded on real accounts and stories and thoroughly researched do your own research and exercise your best judgment when making travel decisions. And keep in mind all-inclusive packages are always changing.