Australian Honeymoon Resorts
Australian Honeymoon Resorts are great and Australian honeymoon resorts are some of the best anywhere but you have to choose ecarefully.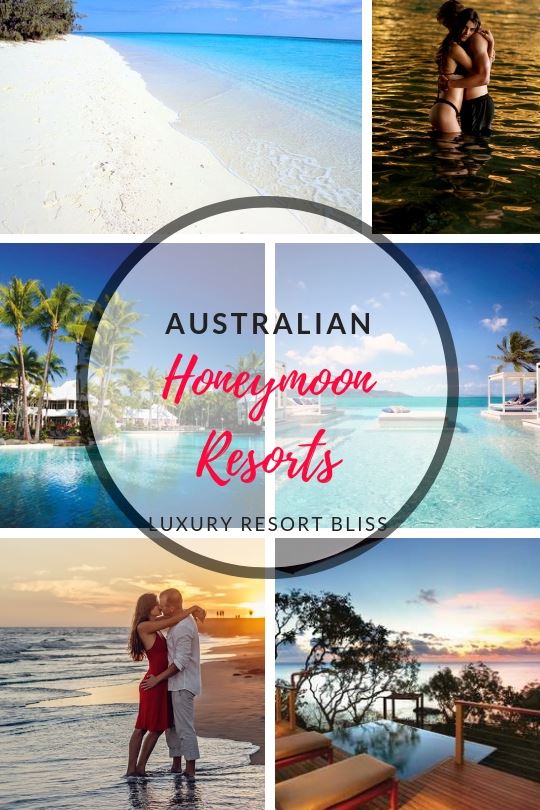 Australia is a vast country with many micro climates. It is possible to have really hot 40C days in some parts while it snows in other parts of the country. And there are such a lot of different honeymoon styles one could embrace. From the a rain-forest retreat in the far north, to a bungalow in Tasmania your choice is largely going to depend on the time of year and your interests.
If your not from Australia Keep in mind (as we will in this review) that the Australian summer is also school summer break and lasts all the way through December and January.  Vacation places can become especially busy after Christmas with families taking the kids to the beach at this time.

Palm Cove - Australia's Honeymoon Capital

One place that has made a big name for itself as far as honeymoons and weddings is concerned is Port Douglas in Far North Queensland. Palm Cove is located right up in the tropics of Far North Queensland between Cairns and Port Douglas (both of which could make great honeymoon destinations in themselves).
This is good because it means if you want to take a tour of the nearby world heritage wet tropics rain-forest or the Great Barrier Reef for a days snorkeling it is easily possible and you can have a tour bus pull by your accommodation.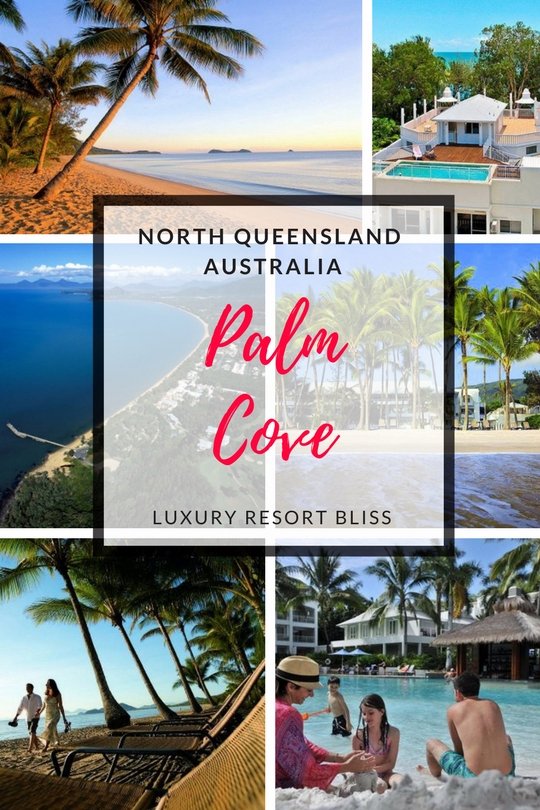 Palm Cove Resorts
Because of the location in the far north the climate has two distinct seasons which are generally referred to as the wet and the dry. The dry season in the Australian winter is peak season, and offers respite from the high humidity and frequent monsoonal downpours which happen.
The other problem with the Summer Wet season is that there are marine stingers around which are dangerous, then you are largely limited to swimming in your resort pool or the many tropical rain-forest streams, which are located a good 20 minutes drive from palm cove itself.
For a small, leisurely beach-side town with only one supermarket Palm Cove sure has a good proportion Australia's top small sized resorts who are attracted to the exotic  location.
Most all of them will offer barefoot beach wedding which is the feature of the area that takes advantage of their ocean-side location. We have reviewed all the best resorts.
You can check  out the Palm Cove resorts here.
Who flies to Palm Cove?  The Cairns airport is almost as close to Palm Cove as it is to Cairns and is only a few minutes away by shuttle or taxi. Cairns is a major Australian travel destination and all the Airlines Tiger, Jetstar, (Qantas and Virgin Australia) have frequent daily flights. 
Cairns is also an international airports and receives some Cathay Pacific,  Singapore Airlines and  China Southern, Air New Zealand , and  Air Niugini flights.
Also in the North of Australia, Queensland islands are ideal for many of the reasons Palm Cove and Popular Douglas are also popular. In the Australian winter the weather is ideal and you can experience evening sunset walks in balmy weather all year round.  The islands rarely get cold although it may pay to pack a sweater in the winter dry season.
The more humid summer is also an option because the weather is more moderated by the ocean breezes, but if you plan to do a lot of snorkeling on the coral reefs than this could suit equally well.
Lizzard Island which is a good flight from Cairns was one of Australia's premium resorts and it remains a great, remote place for a honeymoon. But don't expect all the brightly colored corals that there once was. Coral bleaching has hit the Great Barrier Reef hard in recent years and the islands furthermost to the north have noticed this the most. Yet there are some stunningly beautiful islands that are easily accessible
Within an hour's luxury boat ride from Cairns are two island resorts that conjure up all you would expect of a tropical Great Barrier Reef island. Both Green Island and Fitzroy island are really quite accessible and affordable, but I would tend to lean more towards Fitzroy as a honeymoon destination. In our opinion Green Island is better as a day trip island,
Fitzroy Island on the other hand is quite a bit larger, and offers a variety of experiences and space to explore. Of course the boats do stop of at these islands on their way to the outer reefs of Far North Queensland.
Video: Fitzroy Island

Of all the  Queensland Island Resorts the Whitsundays are perhaps the most charming. There is such a sense of romance to this type of honeymoon and the authors of this article while not taking his honeymoon in this area, did choose to go here for their baby-moon.  Whichever island you choose your time spent here is likely to include sailing, or cruising to various other islands. While there are more than 70 islands in the cluster only some have their own island resort. The sparkling white sands of  Whitehaven Beach (often touted as the best beach in the world)  is something most honeymooners will include on their itinerary.

Daydream is often heralded as an ideal honeymoon island, and it is to some extent. As the first island out of the harbor out of Airlie Beach many of the boats will stop here on the way to other destinations. The resort here is one of the larger ones in the area and takes up most of the tiny island.
Others say that Hamilton Island is a great honeymoon island. Hamilton is different to a lot of the other islands in the Whitsundays to because it is also home to the other airport gateway. While many will fly into Hamilton on their way to other islands, some choose to stay in some of the more exotic resorts and high-rise apartments.  The fame of the island has been enhanced as Oprah Winfrey choose to stay at the very fancy Qualia Resort on her brief tour of Australia a few years ago. Queensland Tourism also offered a caretaker position on the island which was advertised as the best job in the world and received thousands of applicants.
There are many options for a honeymoon in the Whitsundays which you can learn about on our review of the best resorts there.

The two main beach resort cities in Queensland  are the Sunshine Coast and the Gold Coast.  Of the two probably the more natural setting of the Sunshine Coast is better suited to honeymoons while the Gold Coast (Australia's most popular holiday destination) remains the key destination for families looking to explore the theme parks.
Video: Tourism Noosa - "Honeymooners" Extended Edit

The Sunshine Coast is quite spread out and there are some more secluded resorts. There are quite a few things to do around the Sunshine Coast including markets and some of Australia's best restaurants are located there.f you situate yourself in Noosa you are really close to good restaurants, the secluded bays of the national park which you can walk to, and the the calm beach right out the front. Other wise some of the small resorts up by Coolum offer romantic little hideaways.  Check them all out on our Sunshine Coast Resort Reviews.

Byron Bay is home of the free spirited in Australia. Long associated with alternative subcultures and healing energies it is perhaps not the first place you would thing of while exploring honeymoon destinations in Australia. But this whole Northern Rivers area of  New South Wales is really special.
The mountain backdrop, think with rainforest and great beaches make this as an attractive place for romantics as it is for surfers. The change of speed is perhaps the best way to start your new life together as a wedded couple.
We have reviewed a few romantic resorts in Byron Bay on our review.

Video: The local's guide to Byron Bay

Coffs Harbour Honeymoons
While in New South wales you might also like to Consider Coffs Harbour as a honeymoon destination. What we like about Coffs, apart from the Big Bannana and the great romantic beaches are the scores of activities available. Head up into the cooler mountains and explore the rainforest walks at Dorrigo.
The larger scale resorts here are usually occupy some of the nicer northern beaches and are relatively secluded.
Check out all the great Coffs Harbour Honey moon resorts on our reviews page.

---
The Northern Territory makes this list to add a little variety. Not everyone's idea of the perfect honeymoon entails ling walks along sunset beaches and days by the pool. Some prefer a little adventure like exploring Uluru and the Red Center.   Or perhaps Kakadu, and its wildlife made famous in Crocodile Dundee.
Check out Some of the more romantic resorts in the Northern Territory

---