Australian Honeymoon Resorts
Australian Honeymoon Resorts
Australian Honeymoon Resorts destinations from enchanting vineyards and pristine beaches to elegant city venues and tropical island escapes, the Land Down Under offers countless options for couples seeking the perfect backdrop for their special day. Here are some of the top Australian wedding spots to inspire your dream nuptials.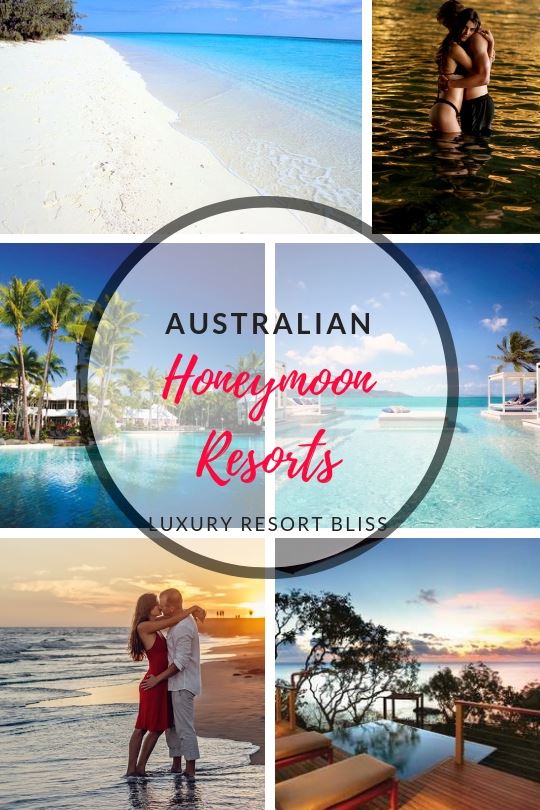 Top Honeymoon Resorts in Australia
Australia, with its breathtaking landscapes and enchanting destinations, is a treasure trove of romantic havens for newlyweds. From sun-kissed beaches and idyllic islands to lush vineyards and vibrant cities, Australia offers a diverse array of honeymoon resort destinations that promise unforgettable memories, unique experiences, and a celebration of love. Here, with warmth and personality, we present the top 30 honeymoon resorts across the Land Down Under.
Qualia Resort, Hamilton Island, QLD - A luxurious sanctuary nestled in the heart of the Great Barrier Reef, offering private pavilions and unparalleled views.
Southern Ocean Lodge, Kangaroo Island, SA - A stunning eco-lodge perched on a cliff, boasting mesmerizing ocean vistas and exceptional wildlife encounters.
Lizard Island Resort, QLD - An exclusive island retreat with powdery white beaches, crystal-clear waters, and elegant beachfront suites.
Saffire Freycinet, TAS - A sophisticated, award-winning lodge overlooking the tranquil waters of the Freycinet Peninsula, blending natural beauty with luxurious amenities.
Longitude 131, NT - Experience the magic of the Outback in style, with unparalleled views of Uluru and luxurious tented pavilions.
One&Only Wolgan Valley, NSW - A secluded, eco-conscious resort set amidst the Blue Mountains, offering rejuvenating spa experiences and romantic stargazing.
Halcyon House, Cabarita Beach, NSW - A chic boutique hotel, exuding coastal charm and boasting exquisite dining and stylish interiors.
Emirates One&Only Hayman Island, QLD - A private island resort in the Whitsundays, offering lavish accommodations and unparalleled access to the Great Barrier Reef.
Silky Oaks Lodge, Daintree Rainforest, QLD - A luxurious treehouse escape in the heart of the ancient Daintree Rainforest, promising serenity and adventure.
Thala Beach Nature Reserve, QLD - A romantic eco-retreat on a private beach, surrounded by lush rainforest and the sparkling Coral Sea. See more around Port Douglas.
El Questro Homestead, WA - A remote wilderness retreat in the heart of the Kimberley, offering stunning gorges, cascading waterfalls, and unique Australian experiences.
Bamurru Plains, NT - An exclusive safari-style lodge on the edge of the Mary River floodplain, offering an immersive wildlife experience and luxurious amenities.
Capella Lodge, Lord Howe Island, NSW - A sophisticated island retreat, boasting stunning ocean views, world-class cuisine, and a myriad of outdoor activities. See more on the Australia all inclusive resorts review.
Bells at Killcare Boutique Hotel, NSW - A charming coastal retreat on the Central Coast, offering elegant cottages, exquisite dining, and a serene spa.
Spicers Peak Lodge, QLD - A luxurious mountain escape in the Scenic Rim, boasting breathtaking panoramas, fine dining, and rejuvenating spa treatments. See on green travel list.
Pretty Beach House, NSW - An intimate, luxurious lodge nestled in the Bouddi National Park, with breathtaking views, exquisite cuisine, and stylish accommodations.
The Louise, Barossa Valley, SA - A romantic vineyard retreat in the heart of Australia's wine country, offering gourmet dining and luxurious suites.
Lake House, Daylesford, VIC - A tranquil lakeside haven, renowned for its culinary excellence, luxurious accommodations, and indulgent spa experiences.
Spicers Sangoma Retreat, Blue Mountains, NSW - An eco-certified luxury lodge nestled in the Blue Mountains, offering seclusion, relaxation, and exquisite dining. See on green travel list
Crystalbrook Lodge, QLD - A remote, luxury outback lodge set amidst the rugged landscapes.
Bedarra Island Resort, QLD - An exclusive, adults-only tropical paradise in the heart of the Great Barrier Reef, offering private villas and exceptional experiences.
Piermont Retreat, TAS - A serene, beachfront escape in Tasmania, boasting luxurious cottages, stunning views, and a range of outdoor activities.
Avalon Coastal Retreat, TAS - A contemporary, cliff-top sanctuary with floor-to-ceiling windows, showcasing breathtaking ocean views and stylish accommodations.
Sal Salis Ningaloo Reef, WA - A beachside glamping retreat in the Cape Range National Park, offering eco-luxe tents, intimate wildlife encounters, and easy access to the Ningaloo Reef.
Spicers Tamarind Retreat, QLD - A luxurious, Asian-inspired rainforest retreat in the Sunshine Coast Hinterland, featuring indulgent spa treatments and exceptional dining.
Pumphouse Point, TAS - A unique, wilderness retreat set on the tranquil shores of Lake St. Clair, offering cozy accommodations and a true connection to nature.
Freycinet Lodge, TAS - An eco-conscious coastal lodge, nestled within the Freycinet National Park, boasting stunning views of the Hazards Mountains and Wineglass Bay.
The Frames, Riverland, SA - A collection of luxurious, ultra-private retreats set along the Murray River, offering bespoke experiences and the ultimate in relaxation.
Alkina Lodge, Great Ocean Road, VIC - A luxurious, architecturally-designed retreat set amidst the natural beauty of the Great Ocean Road, offering privacy, comfort, and breathtaking views.
Berkeley River Lodge, WA

- A remote, coastal wilderness lodge in the Kimberley, accessible only by air or sea, offering an unforgettable honeymoon experience
Australia is a vast country with many micro climates. It is possible to have really hot 40C days in some parts while it snows in other parts of the country. And there are such a lot of different honeymoon styles one could embrace. From the a rain-forest retreat in the far north, to a bungalow in Tasmania your choice is largely going to depend on the time of year and your interests.
If you're not from Australia Keep in mind (as we will in this review) that the Australian summer is also schooling summer break and lasts all the way through December and January.  Vacation places can become especially busy after Christmas with families taking the kids to the beach at this time.

Palm Cove - Australia's Honeymoon Capital

Nestled along the stunning coastline of Queensland, Palm Cove has earned its reputation as Australia's Honeymoon Capital. This enchanting beachside village, with its palm-fringed shores, calm turquoise waters, and lush tropical surroundings, offers an idyllic romantic getaway for newlyweds seeking to celebrate their love in a serene and picturesque setting.
Why Palm Cove is the Perfect Honeymoon Destination
Exquisite Accommodation Options
Palm Cove boasts a wide range of luxurious accommodation options, from opulent beachfront resorts to intimate boutique hotels and charming self-contained apartments. Newlyweds can indulge in a private and romantic retreat, complete with all the modern amenities and pampering services that ensure an unforgettable honeymoon experience.
Delectable Dining Experiences
A honeymoon in Palm Cove promises culinary delights that cater to every palate. The village is home to an array of exceptional restaurants, cafes, and bars, offering fresh seafood, international cuisine, and local delicacies. Enjoy a romantic dinner under the stars or a leisurely beachfront brunch, surrounded by the soothing sounds of the ocean.
Unparalleled Natural Beauty
Palm Cove's breathtaking beauty provides a picture-perfect backdrop for honeymoon memories. Take romantic strolls along the pristine beach, watch the sun set over the Coral Sea, or explore the nearby rainforests and waterfalls of the Daintree National Park and the UNESCO World Heritage-listed Wet Tropics.
Access to the Great Barrier Reef
Just a short boat ride from Palm Cove, the iconic Great Barrier Reef offers newlyweds the opportunity to experience the world's largest coral reef system up close. Embark on a snorkeling or scuba diving adventure to discover the vibrant underwater world that teems with colorful marine life.
Relaxing Spa Experiences
Indulge in some well-deserved pampering at one of Palm Cove's renowned spas, where expert therapists offer rejuvenating treatments, soothing massages, and revitalizing rituals designed to help you unwind and relax during your honeymoon.
Adventure and Activities
For couples seeking a more active honeymoon, Palm Cove offers a variety of exciting activities, such as kayaking, paddleboarding, and fishing. Venture further afield to explore the nearby Atherton Tablelands or take a scenic helicopter flight over the stunning landscape.
One place that has made a big name for itself as far as honeymoons and weddings is concerned is Port Douglas in Far North Queensland. Palm Cove is located right up in the tropics of Far North Queensland between Cairns and Port Douglas (both of which could make great honeymoon destinations in themselves).
This is good because it means if you want to take a tour of the nearby world heritage wet tropics rain-forest or the Great Barrier Reef for a days snorkeling it is easily possible and you can have a tour bus pull by your accommodation.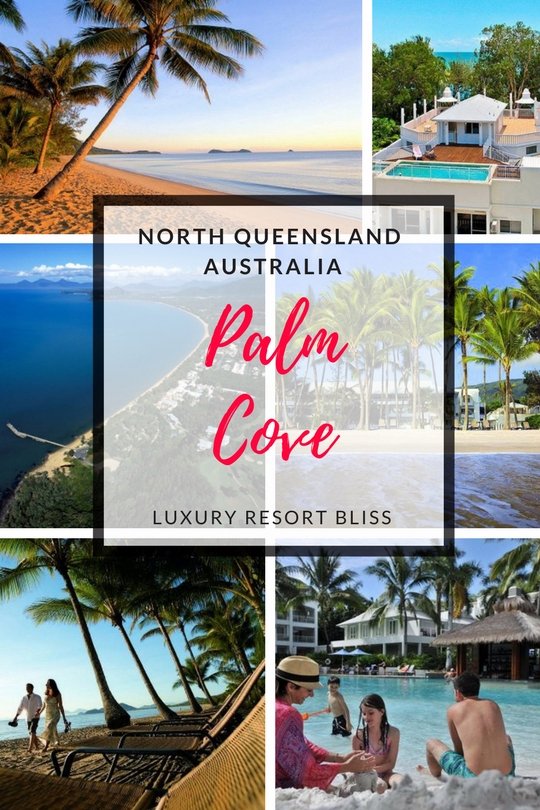 Palm Cove, Australia's Honeymoon Capital, is a romantic haven that offers an unforgettable experience for newlyweds. With its luxurious accommodations, exquisite dining options, breathtaking natural beauty, and easy access to the Great Barrier Reef, Palm Cove promises to make your honeymoon as magical and memorable as your love story.
Because of the location in the far north the climate has two distinct seasons which are generally referred to as the wet and the dry. The dry season in the Australian winter is peak season, and offers respite from the high humidity and frequent monsoonal downpours which happen.
The other problem with the Summer Wet season is that there are marine stingers around which are dangerous, then you are largely limited to swimming in your resort pool or the many tropical rain-forest streams, which are located a good 20 minutes drive from palm cove itself.
For a small, leisurely beach-side town with only one supermarket Palm Cove sure has a good proportion Australia's top small sized resorts who are attracted to the exotic  location.
Most all of them will offer barefoot beach wedding which is the feature of the area that takes advantage of their ocean-side location. We have reviewed all the best resorts.
You can check out the Palm Cove resorts here.
Who flies to Palm Cove?  The Cairns airport is almost as close to Palm Cove as it is to Cairns and is only a few minutes away by shuttle or taxi. Cairns is a major Australian travel destination and all the Airlines Tiger, Jetstar, (Qantas and Virgin Australia) have frequent daily flights. 
Cairns is also an international airport and receives some Cathay Pacific, Singapore Airlines and China Southern, Air New Zealand, and Air Niugini flights.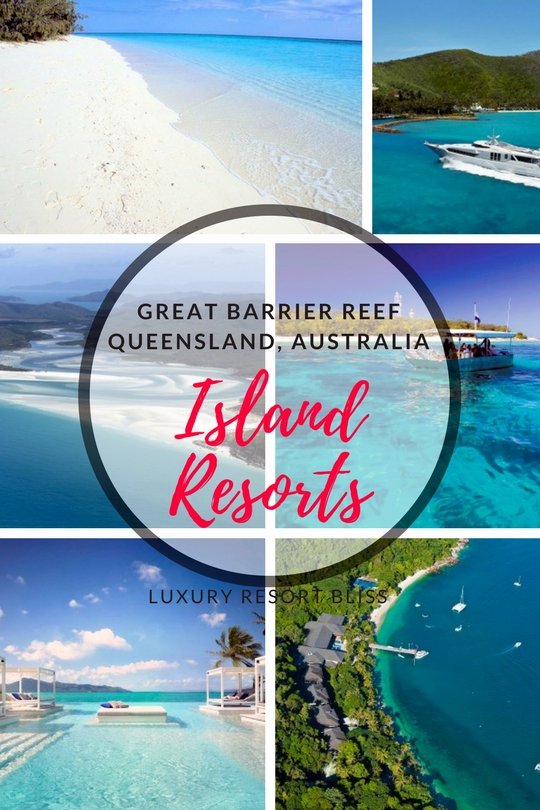 Queensland Island Resorts
Also in the North of Australia, Queensland islands are ideal for many of the reasons Palm Cove and Popular Douglas are also popular. In the Australian winter the weather is ideal and you can experience evening sunset walks in balmy weather all year round.  The islands rarely get cold although it may pay to pack a sweater in the winter dry season.
The more humid summer is also an option because the weather is more moderated by the ocean breezes, but if you plan to do a lot of snorkeling on the coral reefs than this could suit equally well.
Lizzard Island which is a good flight from Cairns was one of Australia's premium resorts and it remains a great, remote place for a honeymoon. But don't expect all the brightly colored corals that there once was. Coral bleaching has hit the Great Barrier Reef hard in recent years and the islands furthermost to the north have noticed this the most. Yet there are some stunningly beautiful islands that are easily accessible
Within an hour's luxury boat ride from Cairns are two island resorts that conjure up all you would expect of a tropical Great Barrier Reef island. Both Green Island and Fitzroy island are really quite accessible and affordable, but I would tend to lean more towards Fitzroy as a honeymoon destination. In our opinion Green Island is better as a day trip island,
Fitzroy Island on the other hand is quite a bit larger, and offers a variety of experiences and space to explore. Of course the boats do stop of at these islands on their way to the outer reefs of Far North Queensland.
Video: Fitzroy Island

Of all the  Queensland Island Resorts the Whitsundays are perhaps the most charming. There is such a sense of romance to this type of honeymoon and the authors of this article while not taking his honeymoon in this area, did choose to go here for their baby-moon.  Whichever island you choose your time spent here is likely to include sailing, or cruising to various other islands. While there are more than 70 islands in the cluster only some have their own island resort. The sparkling white sands of  Whitehaven Beach (often touted as the best beach in the world)  is something most honeymooners will include on their itinerary.

Daydream is often heralded as an ideal honeymoon island, and it is to some extent. As the first island out of the harbor out of Airlie Beach many of the boats will stop here on the way to other destinations. The resort here is one of the larger ones in the area and takes up most of the tiny island.
Others say that Hamilton Island is a great honeymoon island. Hamilton is different to a lot of the other islands in the Whitsundays to because it is also home to the other airport gateway. While many will fly into Hamilton on their way to other islands, some choose to stay in some of the more exotic resorts and high-rise apartments.  The fame of the island has been enhanced as Oprah Winfrey choose to stay at the very fancy Qualia Resort on her brief tour of Australia a few years ago. Queensland Tourism also offered a caretaker position on the island which was advertised as the best job in the world and received thousands of applicants.

There are many options for a honeymoon in the Whitsundays which you can learn about on our review of the best resorts there.

The two main beach resort cities in Queensland  are the Sunshine Coast and the Gold Coast.  Of the two probably the more natural setting of the Sunshine Coast is better suited to honeymoons while the Gold Coast (Australia's most popular holiday destination) remains the key destination for families looking to explore the theme parks.
Video: Tourism Noosa - "Honeymooners" Extended Edit

The Sunshine Coast is quite spread out and there are some more secluded resorts. There are quite a few things to do around the Sunshine Coast including markets and some of Australia's best restaurants are located there.f you situate yourself in Noosa you are really close to good restaurants, the secluded bays of the national park which you can walk to, and the the calm beach right out the front. Other wise some of the small resorts up by Coolum offer romantic little hideaways.  Check them all out on our Sunshine Coast Resort Reviews.

Byron Bay is home of the free spirited in Australia. Long associated with alternative subcultures and healing energies it is perhaps not the first place you would thing of while exploring honeymoon destinations in Australia. But this whole Northern Rivers area of  New South Wales is really special.
The mountain backdrop, think with rainforest and great beaches make this as an attractive place for romantics as it is for surfers. The change of speed is perhaps the best way to start your new life together as a wedded couple.
We have reviewed a few romantic resorts in Byron Bay on our review.

Video: The local's guide to Byron Bay

Coffs Harbour Honeymoons
While in New South wales you might also like to Consider Coffs Harbour as a honeymoon destination. What we like about Coffs, apart from the Big Bannana and the great romantic beaches are the scores of activities available. Head up into the cooler mountains and explore the rainforest walks at Dorrigo.
The larger scale resorts here are usually occupy some of the nicer northern beaches and are relatively secluded.
Check out all the great Coffs Harbour Honey moon resorts on our reviews page.

---
The Northern Territory makes this list to add a little variety. Not everyone's idea of the perfect honeymoon entails ling walks along sunset beaches and days by the pool. Some prefer a little adventure like exploring Uluru and the Red Center.   Or perhaps Kakadu, and its wildlife made famous in Crocodile Dundee.
Check out Some of the more romantic resorts in the Northern Territory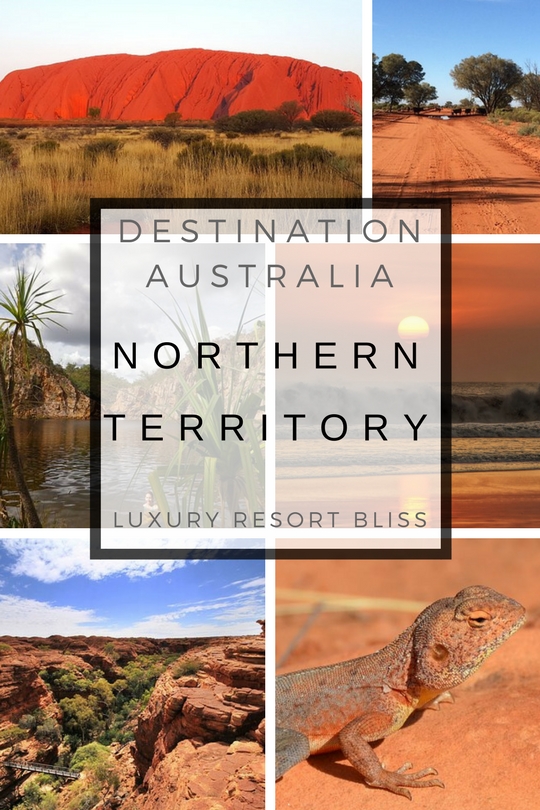 Northern Territory
---
Authors Unleashed: Unveiling the Ultimate Travel Experience through Expert Reviews, Ratings, and Research
💼 We cherish our independence! ✈️ Our travel recommendations are carefully researched, bias-free, and powered by human expertise. We use AI sparingly for editing purposes, ensuring an authentic and reliable experience. Join us on our unbiased journey! 🌍✨
Always do your own research! 🧐📚⚠️