South Australia Holiday Ideas
South Australia Holiday Ideas

The South Australian leg of our Big Aussie Road Trip was full of unexpected rich experience we would love to share. 

Kangaroo Island Wildlife Adventure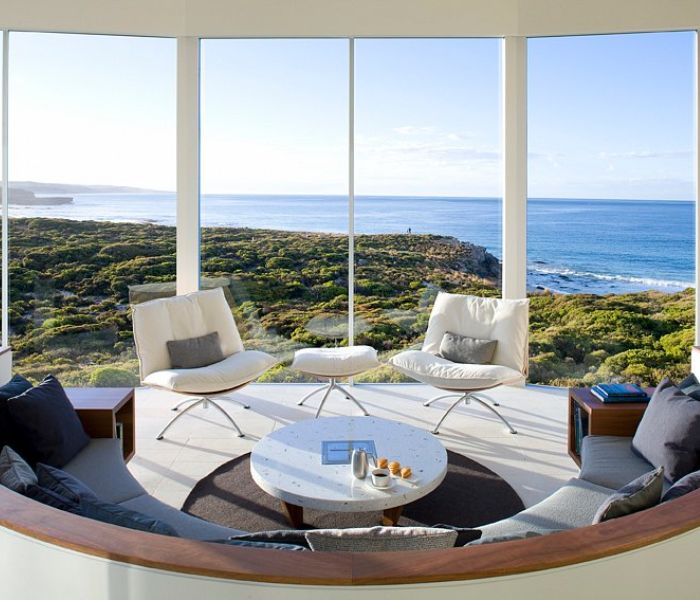 Southern Ocean Lodge Views
For the traveler who loves wildlife and nature, Kangaroo Island is an excellent destination. Located off the coast of South Australia, this island is home to a diverse range of wildlife, including kangaroos, wallabies, echidnas, seals, sea lions, and a variety of bird species. The island is also renowned for its beautiful landscapes, pristine beaches, and fresh local produce. Sarah could write a travel story about her experiences on the island, including encounters with the local wildlife, visits to natural landmarks such as Remarkable Rocks and Admirals Arch, and culinary adventures at local wineries and farm gates. For an alternative option, she could suggest a visit to the Flinders Ranges for a more rugged and remote experience.
Barossa Valley Wine Tasting Tour
For the wine lover, a visit to the Barossa Valley is a must. This world-renowned wine region is home to over 80 wineries, many of which offer cellar door tastings and tours. Sarah could write a travel story that highlights her favorite wineries and wines, as well as the local cuisine and cultural experiences available in the region. She could also provide information about the history of winemaking in the Barossa Valley and the unique characteristics of the region's wines. For an alternative option, Sarah could suggest a visit to the Adelaide Hills, where visitors can taste cool-climate wines and explore charming towns and scenic parks.
See more Australian Wine Tours
Beachport, Robe and the Limestone Coast
Our family holiday review of Beachport, Robe and the Limestone Coast in South Australia
The Limestone Coast near the border with Victoria has been the unfortunate destiny for many hundreds of ships wrecked in storms washed up against the rugged limestone coastline splatted with beaches. Today the are remains a unique part of Australia. While the area is not really considered a tourist destination their is a great deal of peaceful places to hang out away from all the hassle and bustle of Far away Melbourne and Adelaide.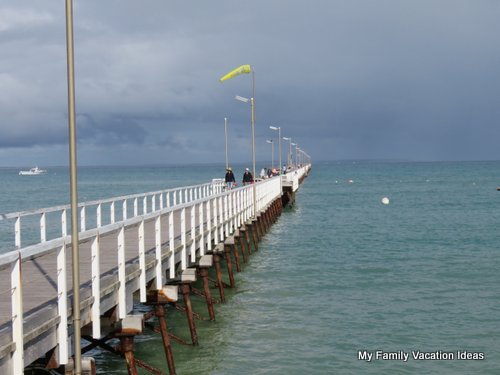 Having already planned to get across the Great Ocean Road outside of the school holidays the burning question for us was where we were to spend the school holidays. We knew little of South Australia but had gleaned somehow what a terrific destination the Robe area was. Staying here is affordable during the peak holiday season, but it was a good thing we booked early.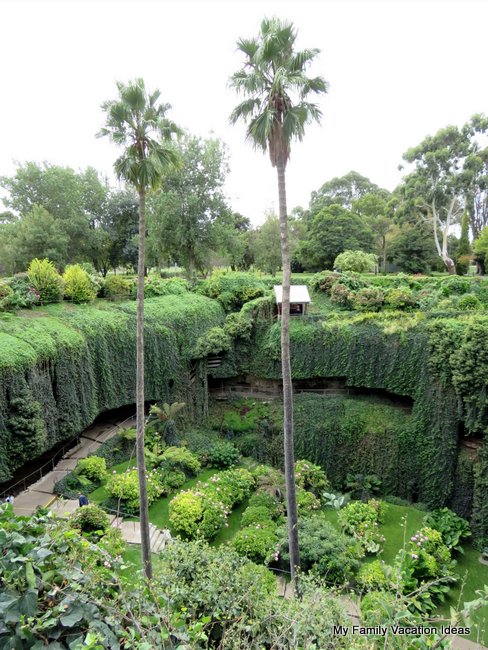 We stopped of at Mount Gambier to see what was on offer for families. We had heard of the famous blue hole but instead headed for an amazing garden formed inside a crater.

 Apparently we scored the last available camping spot which was barely big enough for our tent and kitchen set up. But we were happy to have found an answer to one of the big challenges you have when you plan any round Australia camping trip - " what happens when the holidays star and everyone else wants to go camping as well.

The big attraction it seemed was taking four wheel drives out onto the sand. The empty park quickly filled with all sorts of camp-sites to luxury vans but mostly all sporting a four wheel drive vehicle with the mandatory red flag hanging off the front for others to see as an important safety feature when driving over sand hills. Beachport itself was quiet even during this most busy time of the year for it. April as talking to one of the artisan vendors at a weekend market who told here " were not sure how they were going to make a living here and make a living, but we like it". The place is also known as the shipwreck coast and literally hundreds of shops have crashed upon the shores here where the winter winds blow. You can walk the steps of the monument in Robe to see them listed along with the years in which they run ashore on some stormy night. Thankfully our tourist park was set close into the dunes and cliffs by the lighthouse in Beachport.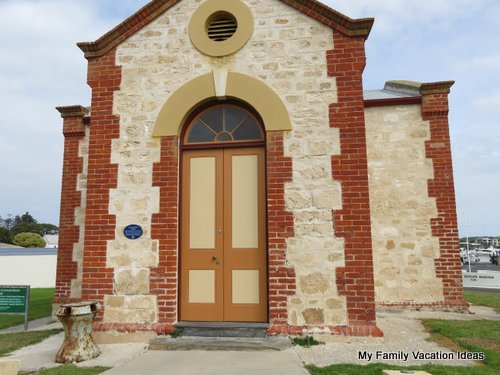 Historic Robe on the Limestone Coast
The Barossa Valley with kids
Our Barossa Valley with kids family holiday review.
The Barossa Valley is a place almost every adult Australian puts at the top of their South Australian road trip to-do list. But what does this foodie and wine lovers paradise hold for smaller foodies.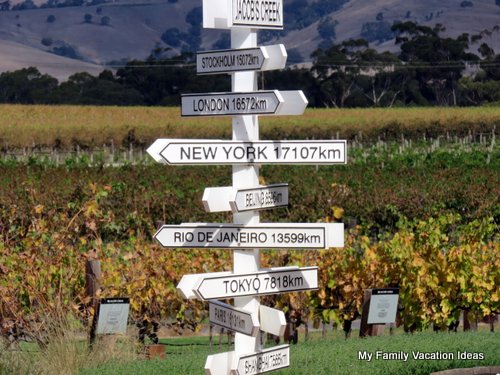 Taking your kids to the Barossa Valley sounds more like a little indulgence for mum and dad than an equitable family friendly experience, and in part this was true about our trip too. But there is nothing wrong with seeking out destinations more suited to adults than kids if you take the right approach.  Dad does like red wine, but driving the family around to vineyards while I got to experience the subtle flavor's of the famous red wines of the area was not going to cut it, if we were all going to have an enjoyable time.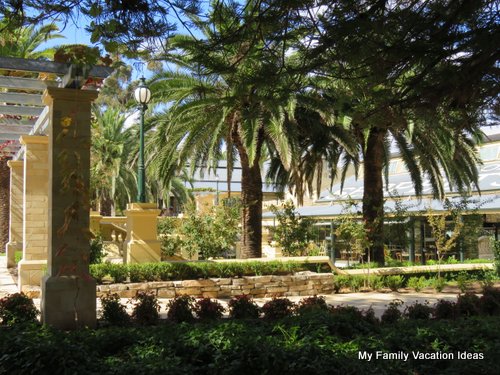 Vineyard in the Barossa
First up was the farm where Maggie Beer. Inside Australia Maggie doesn't need an introduction she simply is Australian cooking, in the rustic tradition. We get out of the car at Pheasant Farm and are immediately greeted by a pair of peacocks strutting their enormous feathers around the carpark. We're relieved that the Barossa valley may prove after all that it is a family friendly place. Pheasant Farm was not initially established as the location of a cookery empire, and even today you can walk around the orchards and look in on the pheasants. "Maggie Beer is a generous person to let people walk around her farm like this" my wife remarks as we marvel at some of the interesting bird species.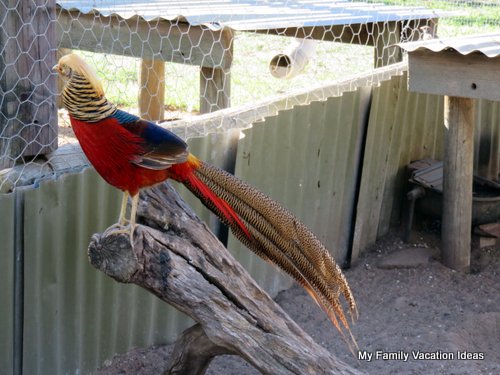 Inside the farm shop and we take the opportunity to sample her entire range which has expanded from pates to include a whole range of delicacies with lots of great ingredients and without the junk. We are always encouraging our daughter to try new healthy things and she loves Maggie Beers pate. Mum and daughter got to try the entire range of one of their cooking hero and then watch a cooking demonstration on the set of the famous food show: the Cook and Chef in which Maggie features. And yes April did have the chance to briefly meet the cook herself, who was making a chance visit to the set / kitchen.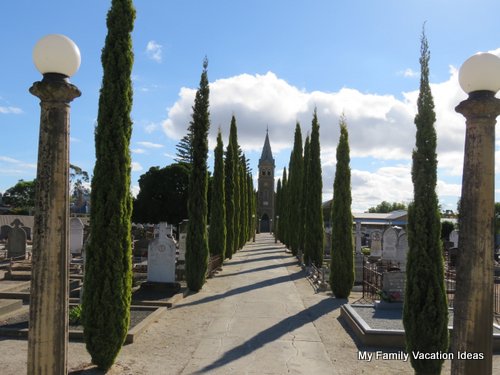 The other days in the Barossa were spent visiting the wineries, farmers markets and playgrounds. The farmers market is one of the most authentic anywhere and it's hard to believe all this wonderful food could come from one dryish little valley. The artisan craftsmen and women make the difference here as traditions have been passed down along family lines and on YouTube as to what to do with the original ingredients. At the farmers market you get a chance to sample the wares including some outstanding meat products and breads. Some people come and simply do bakery tours because of the Martinson traditions that have been kept alive.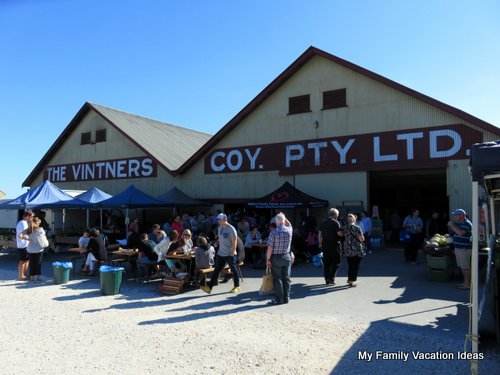 Farmers Market Barossa
For our family these traditions are important, and we see visiting these type of places more valuable than many of the established family tourism hot-spots like the Gold Coast - Queensland or Orlando -Florida.

Hahndorf with Kids
The old German town of Hahndorf dating back to the 1830 has a rich history and has transformed into an attractive and laid back place to visit on a day trip from Adelaide. 
  is not you classic family holiday spot. The fancy shops with gold and red fall leaves on the day we visited were rather suited  to a romantic day trip.

 But why not take the little one and enjoy a family date. While we took a picnic to enjoy by the playground , but there were also a good variety of bakeries and family friendly food stores. Overall I would have to say it was a successful family date. On any family holiday it's worth while having a lot of activities directed towards kids, but mum and dad need to know they are special sometimes too. There was more than enough activities to keep the whole family entertained throughout the day.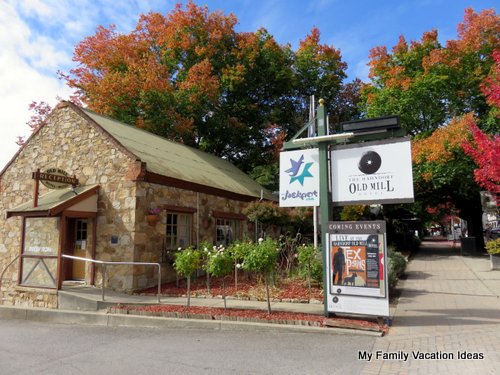 From the moment we decided to visit the old German village of Hahndorf we knew it was a decision about what our daughter is especially interested in.  Three year olds have difficulty with concepts like the difficulties the early  1800's , Lutheran community had to overcome to make a living, and survive here. I can't imagine the women having to take their goods over the Adelaide hills to sell with little to arm themselves off against thieves but big sticks. They were Tough!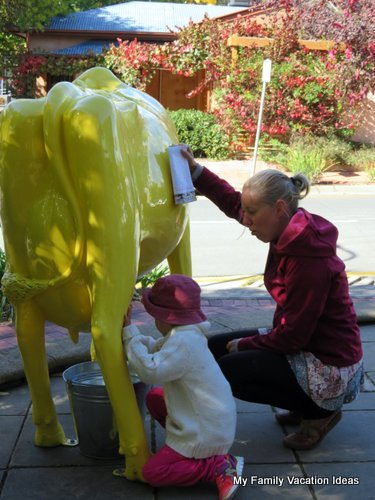 Visiting a cheese shop while our little on learned what cows utters look like and where and how milk, butter and cheese are made. Such conversations see inevitable when confronted with a large cow with a milking bucket located directly under.

Understanding Hahndorf
Older kids will get the history of Hahndorf as long as you yourself have a bit of a grasp yourself. This video can show how the German settlement made such a success  from humble beginnings.
Visiting an industrial scale food factory that makes jams and condiments from locally grown produce.  Although the factory had too many additives added to make it our style of food there is an impressive viewing platform to watch the huge vats of food get made and caned. On the day we visited they were making a specialty tomato sauce we could recognise as before we even walked in the showroom.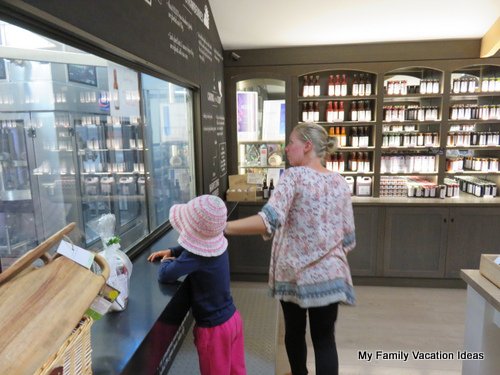 There are two good playgrounds, an IGA supermarket and plenty of kid friendly shops. The girl in the puppet shop was especially friendly to our daughter despite us not  intending to buy anything. Another shop has a fairyland garden, and there are also numerous kids sweet, and toy shops located along the strip.

Penguin Island Australia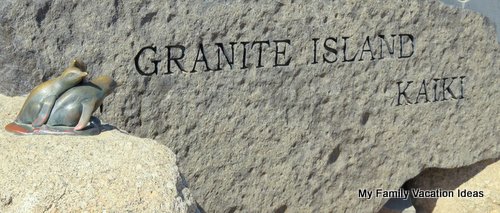 Our review of Penguin Island South Australia - Otherwise officially known as Granite Island off Victor Harbor.

Victor Harbour and walking the long boardwalk to Granite (Penguin Island is a right of passage for many South Australians. 
Penguin Island is the best place in Australia to view penguins in our opinion. This may have something to do with our passion for all things affordable but there are lots of other reasons to locate yourself in the Victor Harbor area. We had the choice of going here or Philip Island near Melbourne (where we also saw penguins at the aquarium).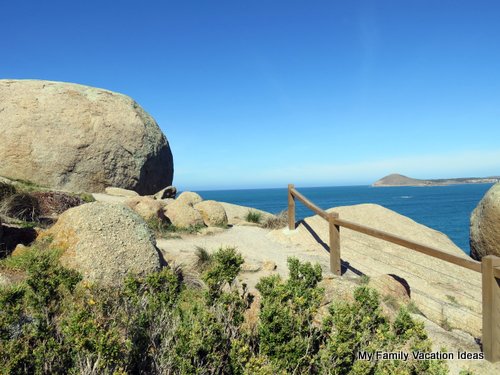 Granite Island
Granite Island Penguin Tours
Granite Island sits off the coast of Victor Harbor and is home to a colony of fairy penguins. These are the smallest of all the penguin species and one of the cutest. Visiting this colony was one tourist activity I was willing to dig into my deep pockets to attend. Especially since the tour is designed to help protect the little guys. 
I'm saddened there are only a few dozen left now: in living memory people can remember hundreds getting around. After we all weather the rainy windy evening to make our way across the bridge to the island we find ourselves waiting in the shelter by the restaurant for the tour to begin. 

Victor Harbor - Granite Island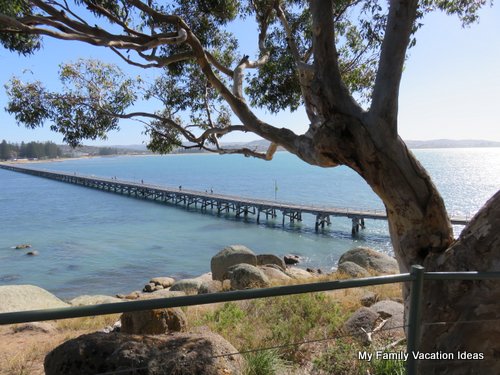 The guide tells us that the penguins are not bothered by "rain or water" and we can expect to see them tonight. It's early April and the penguins have finished malting their old skins for a fresh set of feathers. When the arrive back from the days fishing we can expect to see them make their way across the trails and there I will shine my infra-red flash-light nearby but not at them. We are told that it is expressly forbidden to use a regular torch because of the disturbance and harm this can cause.

The evening goes well and our little girl manages to make it past the usual bedtime because of all the excitement generated by the group on each new penguin sighting. During the procession we come across a rouge well to do couple of penguin hunters looking for a sightseeing opportunity. Our guide politely informs them that their using of a torch is "a big no no" and that the island is closed as per the signs while the tour is operating.  This seems to have little effect but to amuse the sightseers who make some mumbling complaints about the signs and continue on their ways, quite entertained by the encounter. Is it any wonder that the penguins are in trouble.

On our way back carrying the now sleeping child we follow the guides advice and keep a look out for seals near the bridge and are rewarded with a sighting for our efforts. 

Port Elliot Family Holiday Review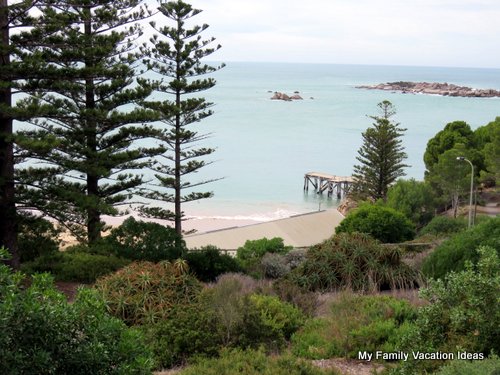 Our kid centered Port Elliot Family Holiday Review:

Because Victor Harbour has such a to offer we decided to visit Port Elliot as well and expand our range of experience in this wonderful holiday coastline that South Australian families are  familiar with.  When the school holidays once again tick around these are the first places which are sought out by the locals. 

We even met families that had travelled all the way to make the area their regular holiday destination.  "Our family doesn't have and holiday traditions, than mum said we are going to come here every year to make one for ourselves", said one of the kids our daughter had befriended at the  Victor Harbor Beach front Holiday Park. 

This region has such a lot to offer families and we decided while we were there that we could happily live in the area if it were not for the cool winters and winds in the shoulder seasons. Others seem to share our sentiment and only this week on the radio I hear that this is the happiest political area in the country according to a national study.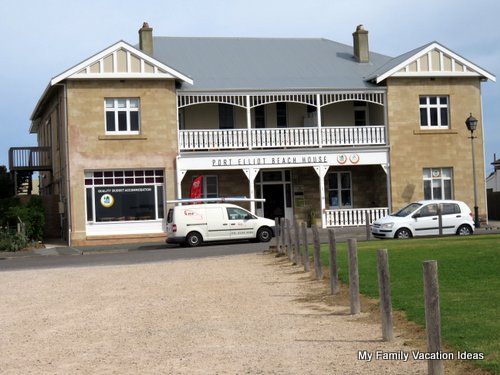 We spent the day mostly at the historical port. A large horseshoe shaped bay which was also pivotal linchpin in the Development of early Australia.  Murray River trade ended not far from here , and as it was too difficult to bring the cargo out at the river mouth Port Elliot was chosen as the destination where the trains would bring the goods across for further shipping onto the international port of Adelaide.  However it was not a great choice and over the following years scores of boats would sink it the harbour as more and more attempts were made to make it safe.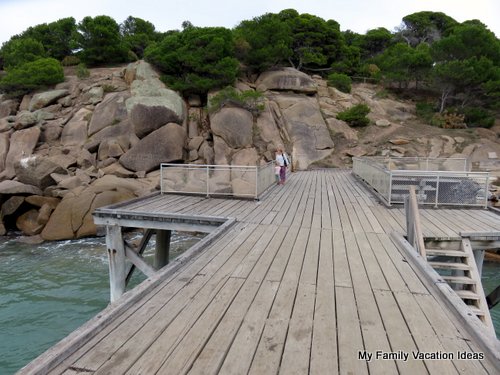 Eventually rising insurance costs and the realisation of the futility meant it Port Elliot was abandoned as a commercial harbour.  Australians first steam railway that serviced it needed extending down to Victor Harbour where a calmer harbour was found from the harsh winter winds and storms.

Adelaide Holiday Ideas
Adelaide is a charming city that exudes a relaxed and friendly vibe. From the picturesque architecture to the lush green parks and gardens, there's plenty to love about this South Australian capital. During my visit, I had the chance to explore the city and its surrounding regions, and I was impressed by the variety of experiences available.
One of my favorite neighborhoods in Adelaide was North Adelaide, a historic district with tree-lined streets, colonial-era buildings, and a lively cafe scene. I enjoyed wandering the area's streets and stopping for coffee and brunch at local cafes, such as The Store and The Loose Caboose. I also visited the Adelaide Oval, a world-class sports stadium that offers behind-the-scenes tours and stunning views of the city skyline.
Another highlight of my Adelaide trip was a visit to the Adelaide Hills region, located just a short drive from the city. This hilly region is known for its cool-climate wines, artisanal food, and charming towns. I particularly enjoyed visiting the historic German settlement of Hahndorf, which has retained its old-world charm and offers a range of shops, galleries, and restaurants. I also visited the Mount Lofty Botanic Garden, a beautiful garden with native and exotic plants, walking trails, and panoramic views of the surrounding countryside.
In addition to the city and the Adelaide Hills, I also explored the Fleurieu Peninsula, a coastal region known for its stunning beaches, rugged cliffs, and delicious seafood. I visited the picturesque town of Victor Harbor, where I took a horse-drawn tram to Granite Island and spotted dolphins swimming in the bay. I also visited the McLaren Vale wine region, which produces some of Australia's best Shiraz wines, and enjoyed a leisurely lunch at one of the local wineries.
 My wife and I become interested in making Adelaide the furthest point in our road trip months before our departure. And then when time pressures forced us to limit our around Australia trip to five months there was a lot of pressure (mostly from myself) to scrap the whole of South Australia and make the Great Ocean Road the furthest destination, I'm glad we didn't.

The charming aspects of Adelaide, are it's ease of navigation, and it's cultural legacy. Glenelg Beach is also nice.  We opted not to take the one of two tram routes the city has too the beach, but instead drove there, and would have found a free parking spot if we had looked a little harder. 

Most impressive were the kids playgrounds, slides by the beach front, and an endless variety of rides and mini trampolines. There are also amusement style merry go rounds, dodgems and show type activities which looked like they would only reach full capacity on the warmer days of the summer school holidays. This was a great place to enjoy the family vibe, and enjoy letting our little one mix with the polite, South Australian kids. While Glenelg Beach was a real hit for it's active family friendliness other beaches were more laid back but equally pretty.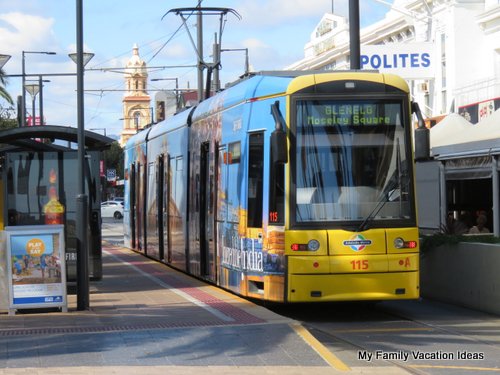 Tram to Glenelg Beach
Adelaide Botanic Garden provided good respite for us o n the days we went into the city. There is enough variety here to spend the good part of a day and then go home having missed large parts. The fountains by the café were especially popular with our little one.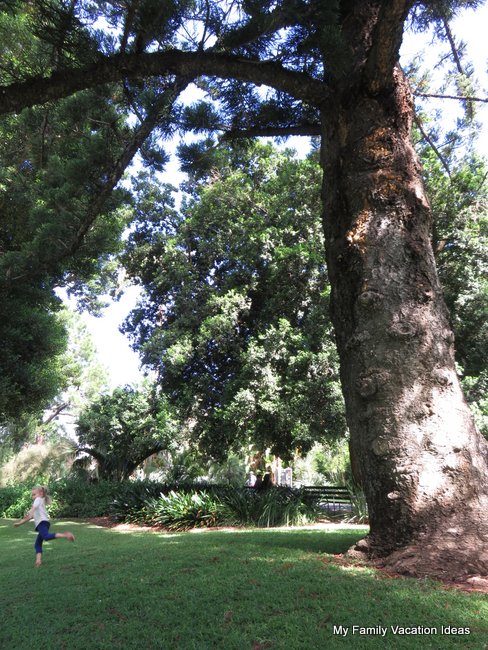 Trip Highlights
The trip only about 20 minutes out of Adelaide to Hahndorf was special, and one of our highlights of South Australia.
Wondering the down-town Central Adelaide Markets on the days they are open and sampling a variety of foods from different culture. Since we are big fan of super cook, Poh this was especially special for us.
A visit to the Himeji Garden was another worthwhile escape to top up on some Zen.
We have heard that Adelaide Zoo is one of the best in Australia.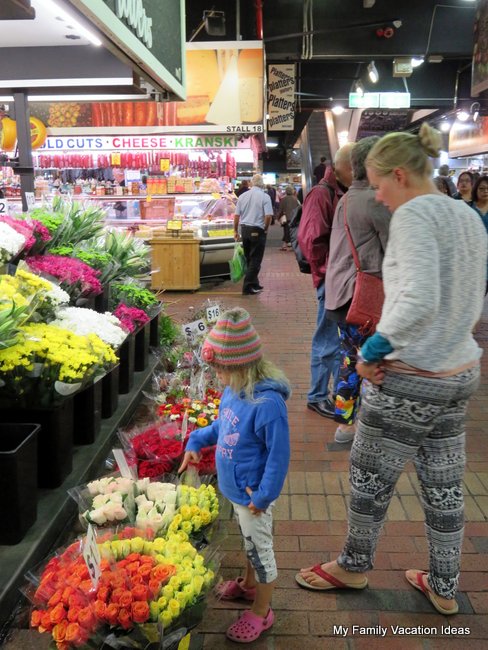 I'm not going to say not that South Australia is an ideal family vacation place. Adelaide has lots of charm but it lacks the energy of other Australian states. Before heading out I was aware that Adelaide had a bit of a reputation as the bogan capital of Australia ( Australia is the bogan capital of the world). Unfortunately this reputation has too much truth, and it has prompted South Australians to lower their expectations of themselves. You have seen the guy walking obliviously trough the mall with stained tract suit pants and you know that they simply don't care any more. This is the person that personifies Adelaide. Of course these are generalisations and there are some people and places that do care ( mostly these are run by outsiders or are tourists) but the lack of ambition is not something you would want to expose your children to for too long.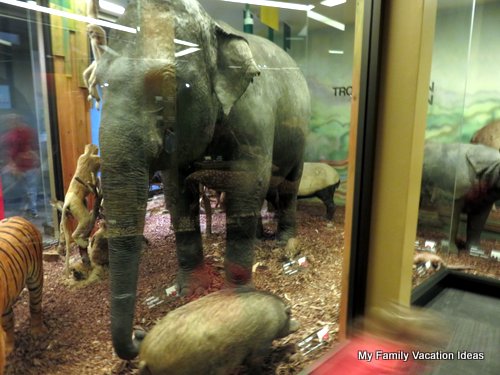 Adelaide Museum
The advantage of the South Australian  slacker mentality is that there has not been enough progress to fill up the car parks surrounding the down-town, which makes it possible to actually find a car park. Also if you head to many of the tourist attractions it's unlikely you will find them overcrowded. Buses were easy to catch from our Browns Creek camp-ground which we recommend. We had a little discrepancy with the price changing upon our arrival that was sorted out, but the space to move and easy transport into town made it a good choice.

The gardens have quite an imaginative flair, and we let our little-one take charge of directions for a while knowing that most paths would take us back to the playgrounds, beach, restaurants and facilities below.

💼 We cherish our independence! ✈️ Our travel recommendations are carefully researched, bias-free, and powered by human expertise by April and Ricky of LRB (we have personally researched and travelled to many of these destinations and researched others thoroughly through first-hand accounts). 🌍✨
We try to keep everything up to date, but please always do your own research and contact us if you know any issues for us to help others as best we can as a small but professionally focused team! 🧐📚⚠️