Top Antigua Resorts (2023)
Looking for some great Antigua resorts? Here are our top 6 resorts in Antigua. The best resorts in Antigua are often all inclusive and if that's what you're looking for, you can go straight to the best Antigua All Inclusive Resorts.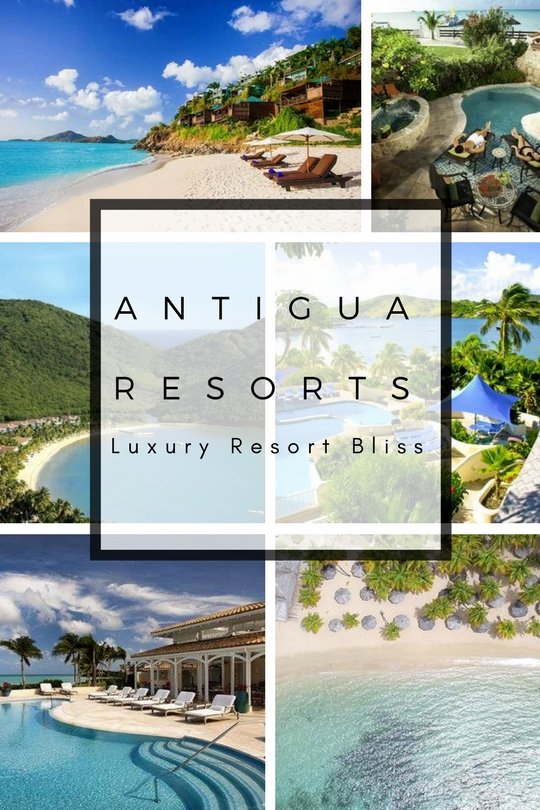 When to Go To Antigua & Climate?
Except for the outside chance of Hurricanes the period from May to November is a great time to visit with great prices on rooms available and beautiful balmy days. The dry season is also great from December until Easter, but you are also competing with others and room rates are at their highest.
Average Temperatures for Antigua:
---
Top Resorts in Antigua
Antigua Tourism Overview Video:

Galley Bay Resort & Spa Antigua All Inclusive - Adults Only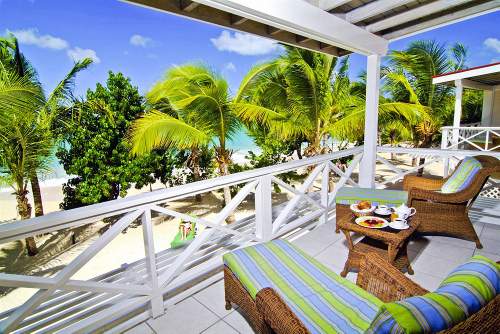 Galley Bay Resort & Spa Antigua All Inclusive
Located on a white sand beach, this 4 star resort is know as one of the most romantic in the Caribbean. There are 2 open-air restaurants, 3 lounges, live entertainment, Caribbean bbq, water sports, pools, jogging trails and tennis courts.

Note that children under 16 are accepted only 2 weeks of the year as the resort strives for a peaceful and tranquil atmosphere. There are 98 guestrooms in suites or cottages. Many have a beachfront location. They have lowered living rooms and floor to ceiling doors that open to let in the ocean breeze.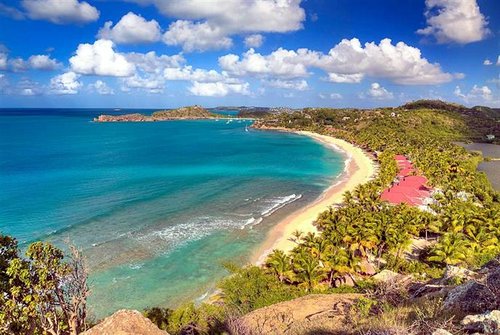 Galley Bay Resort & Spa
Reviewers say: nothing is too much trouble for the staff, great room locations, excellent food. Generally, people only have good things to say about this resort. We have been following this resort for some years and it has been consistently outstanding and has made the grade. Although it is getting older, it remains one of the top options for a quality authentic Antigua experience. See the latest reviews here. 

More information: Galley Bay Resort & Spa All Inclusive deals @ expedia
Video of Antigua Island and the Galley Bay Resort and Spa
---
Blue Waters Antigua & The Cove Suites
Blue Waters Antigua Luxury Resort
This family-owned, 4 star resort is right on the Caribbean Sea. There are 3 pools, water sports, tennis, 2 restaurants, evening entertainment, children's activities, beach cricket and more.

Golf is 10 minutes away. There are 77 guestrooms and suites. They have spacious balconies or patios and are a few minutes walk to the beach.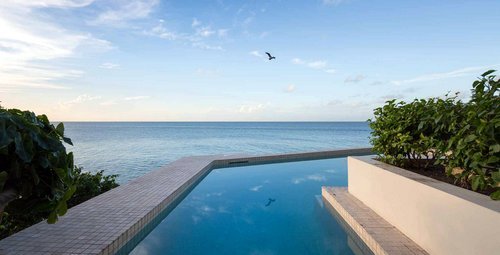 Blue Waters Antigua Luxury Resort
Reviewers say: relaxing and friendly with good amenities, beach is smaller than others but has an established feel, safe swimming, recommended for a wedding as they book only one per day. This resort also receives fantastic reviews and is highly recommended. Latest reviews here. 

More on Blue Waters Antigua & The Cove Suites

---
Carlisle Bay Resort, Antigua All Inclusive Resort
Carlisle Bay Resort, Antigua All Inclusive Resort
This 5 star resort is one of the priciest on the island and located on the south coast. There's a spa, golf nearby, game room, water sports, 2 restaurants, tennis and more.
There are 80 rooms with a sophisticated room design. They are spacious and comfortable.
Reviewers say: very good food, service with a smile, perfect location, hotel is well laid out, great beach.
More on Carlisle Bay, Antigua

---
---
Jumby Bay Resort Antigua
On a private island, this 5 star resort is just 2 miles off the coast of Antigua. Naturalists love this resort as there are lots of flowers, trees and foliage. There are 3 beaches, 3 tennis courts, snorkeling, scuba, sailing, fitness centre and more. Meals are included and can be taken at 3 restaurants.
There are 40 suites and 11 villas. They are secluded and tastefully decorated.
Reviewers say: great for a honeymoon, very relaxing, staff takes time to know your name, fantastic food. If anything, the reviews for this resort have improved over the years and now it receives constantly good reviews. From the cold bottled water you receive on arrival through to check out you can expect the best. Couples are especially impressed.
More on Jumby Bay, A Rosewood Resort, Saint Johns

---
Curtain Bluff Resort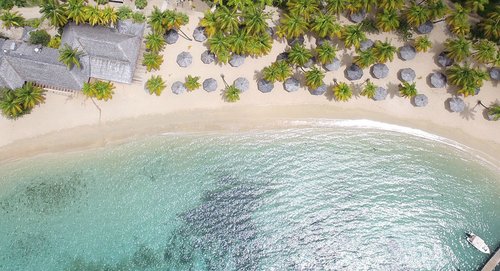 Curtain Bluff Antigua Resort
This all inclusive resort in Antigua was rated #2 in the Caribbean and #75 in the world. It's located on the southern tip of Antigua. There's a surf beach, a calm beach, water sports, tennis and resident pros, a large pool, yoga, squash, a spa and kid's programs.
There are 72 guestrooms and suites up on a bluff. They have marble or granite bathrooms. They are decorated in wicker, sea grass and wood furnishings.

Reviewers say: excellent food, spacious rooms, hotel staff very accommodating, great location, fantastic spa. Overall, reviews are excellent. 

More on Curtain Bluff Resort

---
Sandals Luxury Antigua Resort Vacations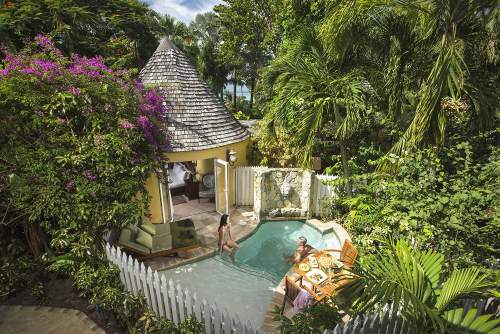 Sandals Grande Antigua Resort
A top Antigua couples only all inclusive resort. The Sandals Grande Antigua Resort & Spa and Mediterranean village is renowned worldwide and has won numerous awards. The stats don't really do it justice. The quality of service and facilities at the resort largely justify its place at he top of the rankings. The 6 pools, swim-up bars, whirlpools, variety and quality of restaurants and an outstanding spa make this a good choice. 
Save up to 60% off and 1 Night free plus a $100 Red Lane Spa Credit at Sandals Grande Antigua Resort & Spa

Sandals Resorts have luxury included vacations in Antigua resorts at:
Sandals Grande Antigua Resort & Spa
Grand Pineapple Beach Antigua
These Antigua deals change but have included of late: INSTANT SAVINGS of $555 / Spa Credit of up to $175 / Free Catamaran Cruise when you book 5 nights / Save up to 65% plus 1 night Free and your Companion Flies Free / Free Weddings At Sandals Resorts. 

---
Did you like the look of these resorts in Antigua? If so, great! If not, take a look at some of the other resorts in the Caribbean.

---
Sarah loves to check out all-inclusive resorts and find great packages and report about what real travelers are saying, Sarah is an indicative character created for the purpose of providing insights uncovered during our research.  These reviews are indicative of others first-hand experiences using our research methodology designed to uncover the best  (as opposed to those that are simply marketed as the best).

While our reviews are founded on real accounts and stories and thoroughly researched do your own research and exercise your best judgment when making travel decisions. And keep in mind all-inclusive packages are always changing.