sandals grande antigua resort & spa
Sandals Grande Antigua Resort & Spa
Whispers from Antigua's Best-Kept Secret: Sandals Grande Antigua Resort & Spa
The sun cast a golden hue, bathing the pristine white sands of Dickenson Bay as I stepped onto what is heralded as Antigua's best beach. The waves whispered promises of romance as the palm trees swayed gently in the trade winds. My adventure into the heart of Caribbean luxury had begun at Sandals Grande Antigua Resort & Spa.
See also the top all-inclusive resorts with private plunge pools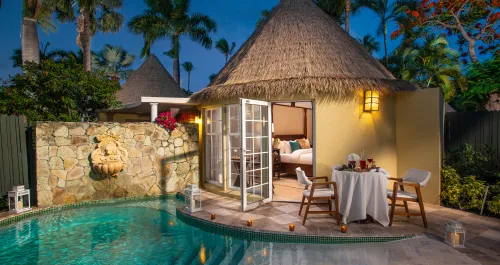 Sandals Grande Antigua Resort & Spa Review
Nestled on the pristine shores of Dickenson Bay, the Sandals Grande Antigua Resort & Spa has long been hailed as a haven for couples seeking a romantic getaway. As a luxury, all-inclusive resort, it has been the talk of many travel enthusiasts, promising an unforgettable Caribbean escape. But does it truly live up to its name? Here's an in-depth review:
Location: 4.5/5 Situated on Antigua's most famous beach, Dickenson Bay, the resort enjoys unparalleled beachfront access. Nearby attractions, including the Museum of Antigua and Barbuda and Her Majesty's Prison, are a testament to the island's rich history. The property's vicinity to the beach, however, does mean occasional encounters with local vendors. While some travelers might relish the local flavor, others might find it a tad intrusive. The good news in Antigua is better than many Caribbean Islands in this regard. 
Accommodation: 4.7/5 With 373 rooms spanning across 27 acres, the resort offers diverse lodging options. From rooms boasting plush four-poster beds and marble bathrooms to lavish suites with private pools and personal butlers, the variety is commendable. The private terraces accompanying each room are a delightful touch. However, the sheer expanse of the property can be a bit overwhelming, particularly for those seeking a more intimate experience.
Amenities: 4.6/5 Sandals Grande Antigua shines in its amenities. The 11 restaurants, ranging from beachfront dining to gourmet establishments, promise a culinary journey. The seven bars ensure that a refreshing drink is never too far away. Wellness enthusiasts will find solace in the tranquil Red Lane Spa and the state-of-the-art fitness center. Sports enthusiasts have a variety of options, from volleyball to scuba diving. However, during peak seasons, the restaurants and pools can get crowded, slightly marring the otherwise delightful experience.
Service: 4.3/5 By and large, the service at Sandals Grande Antigua is of high caliber. Staff are often described as responsive and attentive. The free airport transfers are a noteworthy bonus. However, the resort's vastness occasionally means longer wait times in certain areas, especially during busy periods.
Value for Money: 4.2/5 Given the plethora of amenities and the sheer luxury on offer, the resort provides considerable value. All-inclusive rates covering a diverse range of dining and recreational options are a significant draw. However, certain premium services come at an extra charge, and some guests have noted the necessity of dinner reservations, which can be a mild inconvenience.
Recommendation: The Sandals Grande Antigua Resort & Spa is ideal for couples seeking a luxurious, all-inclusive romantic getaway. It's especially suited for those who don't mind a larger resort atmosphere and are keen on a plethora of dining and activity choices. However, solo travelers and families might want to consider other options, given the resort's couples-only policy.
See also the best all-inclusive resorts in Antigua
Featured Vlogger Review
In this vlog, Josh begins his journey with an unexpected discovery: the "Magic Coffee Company." Despite his initial skepticism, he finds himself indulging in the coffee. Following this, the scene shifts to their arrival at Sandals Grande Antigua.
Upon reaching the resort, Josh and Taylor do a quick check-in using an iPad. They're delighted to find that everything is included, including some refreshing rum punch drinks. They're particularly excited about the stunning beachfront view from the resort, emphasizing the close proximity of the ocean.
However, there's a bit of a wait before their room is ready, so the duo decides to explore the resort's dining options. There are various quick-service style restaurants available. During their exploration, they also meet other agents present for a familiarization trip. Taylor opts for a quesadilla while Josh goes for an all-American cheeseburger for their lunch.
The couple emphasizes their intention to strike a balance between work and relaxation during their stay, noting their past struggles with slowing down during vacations. They briefly discuss the difference in mask requirements at Sandals compared to other places like Walt Disney World.
The highlight of their accommodation is the club-level one-bedroom suite they've been assigned. It boasts a king-size bed, a spacious bathroom with a rainwater shower, a work table, a TV, and an assortment of beverages, including coffee and alcohol for club-level guests. The room offers a breathtaking view of the beachfront.
Post settling in, the duo attends a cocktail party, mingling with other travel agents. At the party, they enjoy a variety of hors d'oeuvres, including shrimp, chicken, and a notably tender beef teriyaki kebab.
As the vlog progresses, they appreciate the peaceful ambiance of the resort, particularly the calming sound of ocean waves crashing onto the shore. They also discuss the room options available right next to the beach for those looking for a closer experience with the ocean.
Exhausted from their day, they return to their room to discover a delightful turn-down service, which Taylor particularly appreciates. They decide to postpone their night photography plans for the next day, given their tiredness.
Overall, the vlog offers a sneak peek into the luxurious experiences at Sandals Grande Antigua, showcasing the beauty of the resort, the delightful culinary options, and the relaxing ambiance that makes it a perfect vacation spot.
Vlog Review
Whispers from Antigua's Best-Kept Secret: Sandals Grande Antigua Resort & Spa
The sun cast a golden hue, bathing the pristine white sands of Dickenson Bay as I stepped onto what is heralded as Antigua's best beach. The waves whispered promises of romance as the palm trees swayed gently in the trade winds. My adventure into the heart of Caribbean luxury had begun at Sandals Grande Antigua Resort & Spa.
I'd heard of Sandals Grande Antigua's reputation as the "World's Most Romantic Resort," but experiencing it was an entirely different tale. As I walked through the Caribbean Beachfront Village, I felt transported to a tropical Eden. Majestic palms stood guard over meandering pathways that opened up to reveal charming alcoves and cozy gazebos. A few steps ahead, the resort morphed into a Mediterranean dream with its all-suite Oceanview Village, reminiscent of a European paradise with its chic sophistication.
It's the duality of this resort that's enchanting. On one side, the rustic, breezy charm of the Caribbean meets you, and on the other, European elegance beckons. It was hard to believe I was still on the same resort, let alone the same island.
My suite, a testament to luxury with its four-poster bed, marble bathroom, and a private terrace, beckoned me to relax. But the adventurer in me couldn't resist exploring. With 11 world-class restaurants and seven bars, choices felt endless. I opted for a seafood restaurant with views that made the ocean feel like an extended part of the dining area. As I indulged in sumptuous cuisine, I couldn't help but eavesdrop on tales of couples renewing their vows, engagements by the beach, and anniversaries celebrated with champagne under the stars.
The next day's adventure began with aerobics at the health club. The promise of unlimited scuba diving lured me to the azure waters. My dive was a dream-like dance among colorful fish and mesmerizing coral reefs. Back at the resort, the Red Lane Spa was the sanctuary I hadn't realized I needed. As I surrendered to a soothing massage, I realized it's the myriad of these experiences, coupled with impeccable luxury, that defines Sandals Grande Antigua.
But it wasn't without its quirks. The vastness, while impressive, was slightly daunting. And while the resort pulsated with intimacy, the occasional crowd at peak times nudged me to seek the quieter corners.
Yet, it's these contrasts that make Sandals Grande Antigua an enigma. It's where endless options meet personal niches, where global luxury blends seamlessly with Caribbean warmth, and where every couple can script their own unique love story.
For those seeking a smaller, more intimate Antiguan experience with local charm, there are boutique resorts dotting the island's coastline. But for those who yearn for opulence, romance, and an all-inclusive experience that's unparalleled, Sandals Grande Antigua stands as an undisputed choice.
As I sipped my cocktail by the fire pit on my final night, watching the sun dip below the horizon, I realized the resort's essence isn't just in its luxury or offerings. It's in the memories it crafts, the stories it births, and the promise that every return would be a new chapter in an everlasting romance with Antigua. - Sarah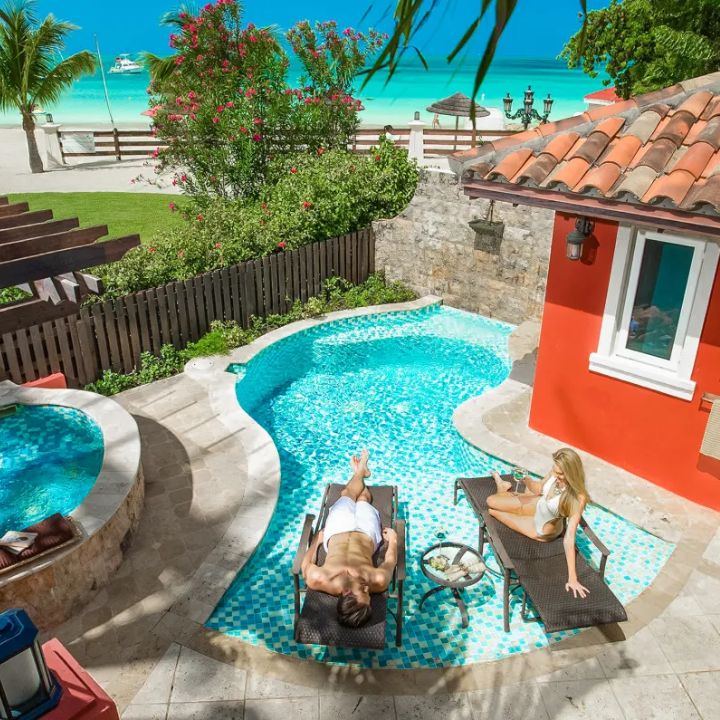 Discover the World's Most Romantic Resort on Antigua's Best Beach at Sandals
Sandals and Beaches resorts are owned and operated by Sandals Resorts International, which was founded by the late Gordon "Butch" Stewart.
Sandals resorts offer a luxury all-inclusive experience which includes gourmet dining, premium drinks, a range of activities, and often upscale accommodations. The price reflects the level of service, amenities, and the overall experience they aim to provide.
Each Sandals resort has its unique layout and size. Sandals Carlyle, located in Montego Bay, Jamaica, is among the smallest with just 52 rooms.
Sandals resorts often have sales and promotions throughout the year often around seasons and special holidays. It's best to check their official website or subscribe to their newsletter to stay updated on current deals and offers. 
Sandals Grande St. Lucian was built and subsequently opened to the public in 2002.
Choosing a Sandals resort depends on your preferences. Each resort has its own unique offerings and ambiance. Sandals Grande Antigua, for instance, is known for its romantic setting. Researching each resort's features or consulting with a travel advisor can help you decide the best fit for your vacation needs.
Sandals Grande Antigua is approximately a 15-minute drive from V.C. Bird International Airport in Antigua.
Sandals Grande Antigua is located on Dickenson Bay in St. John's, Antigua.
Sandals resorts are known for their all-inclusive luxury experiences. Many guests have praised the resorts for their high level of service, diverse dining options, and beautiful beachfront locations. As always, guest experiences might vary, but in general, Sandals has built a solid reputation in the luxury vacation market.
Yes, Sandals markets itself as a luxury included resort chain, offering all-inclusive packages that often encompass gourmet dining, premium drinks, water sports, and other amenities.
Yes, Sandals Grande Antigua, like all Sandals resorts, is an adults-only resort. This means that guests must be 18 years or older to stay.
Sandals has one resort in Antigua, which is the Sandals Grande Antigua Resort & Spa.
Choosing Your Sandals Resort
Sandals: More Than Just Resorts; It's an Experience
When you think of Caribbean luxury and romance, Sandals is the brand that comes to mind. With a variety of all-inclusive resorts scattered throughout the most picturesque landscapes, there's a Sandals for every type of traveler. Let's delve into the nuances of some of these resorts, including the newly opened Sandals Dunn's River in Ocho Rios, Jamaica.
Sandals Grande Antigua: Ideal for couples, this resort boasts a mesmerizing Mediterranean Village, six pools, and 11 restaurants. The beach here is often described as stunningly white, and the nightlife vibrant. If relaxation is your goal, the Red Lane Spa awaits.
Sandals Barbados: Tailored for individual travelers, you can soak in a rooftop pool or engage in a fun bowling session at the 4-lane alley. With 11 restaurants, you won't be short of dining options. The beach offers a tranquil ambiance, and the nightlife is nothing short of exciting.
Sandals Royal Barbados: This is your go-to for a girls' getaway. It's hard to resist a rooftop bar and craft beer spot. Plus, you get exchange privileges with Sandals Barbados. The beach is calm and picturesque, making it perfect for relaxation.
Sandals Grenada: For couples seeking an intimate setting, this is it. The resort offers romantic sky pool suites and 10 restaurants. The pristine calm beach complements the intimate nightlife setting.
Sandals Royal Bahamian: If you're traveling solo, this one's for you. With a private offshore island, ten specialty restaurants, and luxury airport transfers, you're in for a royal treat. The beach is exquisite and clear, and the dynamic nightlife ensures you're never bored.
Sandals Ochi Beach Resort, Jamaica: Perfect for girls' getaway. With a unique speakeasy bar and beach club accompanied by 16 restaurants, fun never ends. The beach is vibrant and always buzzing with activity.
Sandals Dunn's River, Ocho Rios, Jamaica: The latest addition to the Sandals family as of 2023. Located in the iconic Ocho Rios region, this resort is a blend of luxury and local culture.  Early birds can avail up to 55% off rack rates with the Sandals Dunn's River Opening Offer
Share Your All-Inclusive Adventures and Questions! 🌴 Have a memorable experience from a luxury all-inclusive vacation? We'd love to hear it at Luxury Resort Bliss. We're on the lookout for top-quality, insightful tales that'll inspire our community. Dive in and be a part of our sun-soaked stories! 🌊🍹✨
The story is a fictionalized account founded on travel expertise, research, and experience. Always refer to recent guest reviews and perform due diligence before booking.
💼 We cherish our independence! ✈️ Our travel recommendations are carefully researched, bias-free, and powered by human expertise by April and Ricky of LRB (we have personally researched and travelled to many of these destinations and researched others thoroughly through first-hand accounts). We also have put in the hard miles, and Ricky has worked for decades for resort and hotel chains  Hyatt, Hilton, Shangri-La and Radisson before starting Luxury Resort Bliss in 2007. 🌍✨ Unlike some other resort review websites we are concerned on the guest experience rather than mere corporate interest.