Review: Sandals Dunn's River - The Jewel of Ocho Rios
Sandals Dunn's River, the latest gem in the Sandals Resorts International portfolio. Situated in the heart of Ocho Rios, the 25-acre property, named after the famed falls, isn't new to the Sandals brand. Acquired in the 90s, it briefly left their hands in 2010, only to return, reimagined, during the COVID era.
Sandals Dunn's River
A Luxury Immersion: Sandals Dunn's River Unveiled
Beyond Jamaica's famous rum, reggae beats, and radiant sunsets lies an emblem of opulence that few have had the privilege to truly experience - the Sandals Dunn's River resort. This was not just another trip for me; it was a lesson in luxury, culture, and the delicate art of Jamaican hospitality.

Stepping into the resort, here are its standout features:
Water Wonderland: Boasting Jamaica's largest pool, a sprawling 18,600 square feet, this hydro haven taps into the mineral-rich waters of the surroundings, also feeding the rejuvenating Red Lane Spa. And for those dreaming of undisturbed serenity? No splashing kids, as it's adults-only!
Butler Bliss: For the discerning guest, a choice of three luxurious suites awaits, all attended by your own personal butler. From the Tufa SkyPool suites with infinity pool effects to the beachfront Mammee Bay suites with tranquility tubs, there's a pampering experience for every whim.
Stellar Stays: Those with celestial inclinations can opt for the Coyoba Sky Villa Rondoval suites. Along with private pools and open-air rooftops, a unique Stargazing Concierge serves up desserts, wine, cheese, and, importantly, a telescope for heavenly views.
Gastronomic Adventures: From Latin fusion at Zuka to Greek delights at Edessa, 12 international dining options promise to take your palate on a global journey. Yet, the heart of Jamaica beats strong with the ever-reliable Jerk Shack. And for those seeking elevated sips, Ocarina, the first Jamaican rooftop bar by SRI, awaits.
Artistic Flourishes: Within the resort, the interplay of nature and artistry is evident. Local artist Amy Laskin's unique flora-inspired works and Ammoy Smith's intricate crafts made from natural materials provide a visual feast. The award-winning Plant the Future studio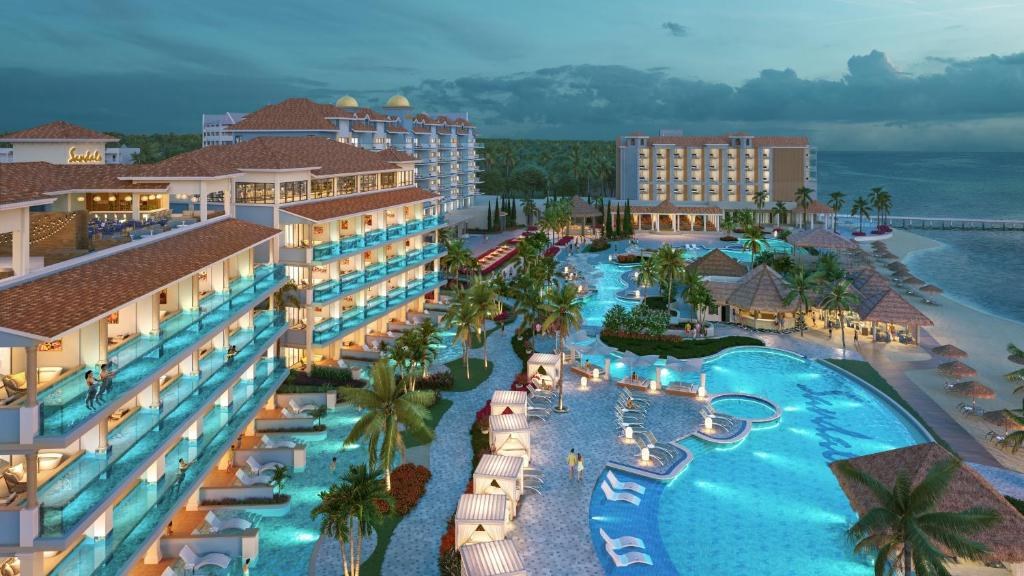 Sandals Dunn's River Resort
Overview: 

Nestled along the stunning coastline of Ocho Rios, the Sandals Dunn's River resort pays homage to Jamaica's iconic Dunn's River Falls. This adults-only all-inclusive resort emerges as a new jewel in the Sandals crown. From its cascading waterfall in the lobby to its pristine beach, the resort promises luxury, relaxation, and adventure.
1. Location: 4.5/5
Situated in the scenic Ocho Rios area, Sandals Dunn's River benefits from its proximity to major attractions like the renowned Dunn's River Falls. Its accessibility from two airports, especially the closer Ocho Rios airport, adds to its allure. However, guests arriving from the Sangster International Airport may find the 2-hour transfer time a slight inconvenience.
2. Accommodation: 5/5

The resort's accommodations are nothing short of spectacular. Particularly noteworthy are the Skypool Suites and Coyaba Sky Rondovals, both offering unparalleled luxury and views. Each room and suite seems designed with the utmost attention to detail, ensuring comfort, aesthetics, and functionality.
The rooms ooze romantic charm. Imagine opening French balcony doors to reveal a sun-kissed ocean view, with gentle breezes rustling sheer white curtains. The beds are cloud-like sanctuaries, and the luxurious bathrooms might just persuade couples to spend more time indoors than they'd expect!
3. Amenities: 4.8/5
With 12 restaurants, 9 bars, and a range of water and land activities, guests will never run out of things to do. The spa, inspired by the nearby falls, is a haven for relaxation. Additionally, the opportunity to access Sandals Ochi's amenities is a major plus. A minor suggestion would be the inclusion of more cultural activities to deeply immerse guests in Jamaican culture.
4. Service: 4.7/5
The resort prides itself on offering world-class service. From butler services in the suites to the warm Jamaican hospitality at the bars and restaurants, guests can expect top-notch service. However, as with any new resort, there may be minor service hiccups as they navigate their initial months.
5. Value for Money: 4.6/5
Considering the luxury accommodations, variety of dining options, and numerous amenities, Sandals Dunn's River provides solid value for its price point. Yet, it's worth noting that such luxury comes at a premium, which may not be within every traveler's budget.
Recommendation:
Sandals Dunn's River is perfect for couples seeking a romantic getaway, honeymooners, or even solo travelers looking for a luxurious retreat. The resort is specifically designed to provide a romantic and relaxed atmosphere, and it excels in this. Those who value luxury, comfort, and a plethora of dining and activity options would find it an ideal destination.
Barefoot in Sandals: A Dance at Dunn's River
The Jamaican sun had an ethereal quality to it, as if each ray carried a tune from a Bob Marley classic. Sandals Dunn's River, the luxury resort where I'd decided to drop anchor for a week, sprawled elegantly along the shoreline. As a curious New Yorker named Sarah, I found its rhythm distinct yet comforting, a dance between luxury and nature.
I remember the morning I decided to wander off from the plush confines of my suite, with its canopy bed and view of the turquoise Caribbean waters. The aim? To befriend Dunn's River Falls, the cascading jewel in Jamaica's crown, which the resort is named after.
While making my way, I crossed paths with Keisha, a local guide. She wore her braided hair like a crown and her laughter was infectious. "First time climbing the falls?" she inquired with a playful smirk.
"It's that obvious?" I laughed, my sandals squeaking against the wet stones.
She shared stories of her childhood, playing hide-and-seek behind the veil of these very waters, her tales peppered with Patois phrases that danced off her tongue. The hour-long climb felt fleeting as we shared stories, her local anecdotes juxtaposed against my city tales.
Back at the resort, the evening was young. The in-house Calypso band's vibrant rhythms merged seamlessly with the clinking of glasses at the Sundowner Bar. Seated there was Liam, a British novelist escaping London's grey for some Caribbean inspiration. Over a cocktail masterfully concocted with Appleton Estate rum, he wove tales of his travels, but admitted, "This place? It's magic."
The nights were as alive as the days. From candle-lit dinners on the beach to reggae-infused dance-offs, every experience seemed to be painted with a touch of Jamaican soul.
Best Suited For: Couples seeking a romantic getaway with a blend of adventure and relaxation. Sandals Dunn's River offers the intimacy of secluded beaches with the thrill of activities like climbing the famed falls.
Alternate Suggestion: For those looking for a more tranquil experience, perhaps with fewer adventures and more serenity, consider the Sandals Royal Plantation. It's an all-butler resort, perfect for those who desire pampering over adventure.
By week's end, as I traced the imprint of my footsteps on the golden sands, I realized this wasn't just a resort. It was a tapestry of human stories, nature's whispers, and the pulse of a culture. The tune of the Caribbean sun had found its way into my soul, and I knew, this dance was far from over.
A Deeper Dive: Situated a mere stone's throw from iconic Jamaican landscapes such as Mammee Bay Beach and Old Fort Bay Beach, Sandals Dunn's River provides unparalleled access to some of the island's most cherished sites.

Guests can expect rooms that are a harmonious blend of modern aesthetics and natural Jamaican elements, echoing the serene backdrop of the rainforest and the cascading waters of the Dunn's River. The culinary journey is no less impressive, with 12 restaurants offering a plethora of dining options, ensuring that every palate is catered to.
The All-Inclusive tag extends beyond just food and accommodation. From PADI-Certified SCUBA diving to a state-of-the-art fitness center, the resort ensures that every need, whether adventure or relaxation, is catered to.
Final Thoughts: In an age where luxury resorts are aplenty, Sandals Dunn's River offers something profoundly unique. It's not just a stay; it's a narrative, a journey of discovery, love, and authenticity, all set against the magnificent backdrop of Ocho Rios.
Frequently Asked Questions (FAQ) for Sandals Dunn's River
Sandals Dunn's River is situated in Ocho Rios, Jamaica, close to the renowned Dunn's River Falls.
Yes, Sandals Dunn's River offers an all-inclusive package which covers accommodations, meals, beverages, and many resort activities.
Absolutely! The resort is named after its proximity to Dunn's River Falls, one of Jamaica's most famous attractions. Guests can arrange excursions to the falls through the resort.
The resort offers a range of gourmet dining options representing both local Jamaican and international cuisines.
Yes, many water sports activities, including snorkeling, kayaking, and windsurfing, are included as part of the all-inclusive package.
Typically, Sandals resorts offer airport transfers in their packages, but it's always a good idea to confirm this when making your reservation.
Sandals Dunn's River is primarily an adult-only resort, catering especially to couples.
Yes, complimentary Wi-Fi is typically available for guests throughout the resort.
Share Your All-Inclusive Adventures and Questions! 🌴 Have a memorable experience from a luxury all-inclusive vacation? We'd love to hear it at Luxury Resort Bliss. We're on the lookout for top-quality, insightful tales that'll inspire our community. Dive in and be a part of our sun-soaked stories! 🌊🍹✨
The story is a fictionalized account founded on travel expertise, research, and experience. Always refer to recent guest reviews and perform due diligence before booking.
💼 We cherish our independence! ✈️ Our travel recommendations are carefully researched, bias-free, and powered by human expertise by April and Ricky of LRB (we have personally researched and travelled to many of these destinations and researched others thoroughly through first-hand accounts). We also have put in the hard miles, and Ricky has worked for decades for resort and hotel chains  Hyatt, Hilton, Shangri-La and Radisson before starting Luxury Resort Bliss in 2007. 🌍✨ Unlike some other resort review websites we are concerned on the guest experience rather than mere corporate interest.