All-Inclusive Resorts in Maui
Looking for the perfect vacation at one of the nine All-Inclusive Resorts? 
There are also 5 luxury resorts we recommend in Maui. They have great locations, service, activities and receive very good reviews from past guests. Then how do these options stack up. How "All Inclusive" are these AI resorts really, and how do they compare to the best luxury, family, and adult only resorts in Maui? Read on.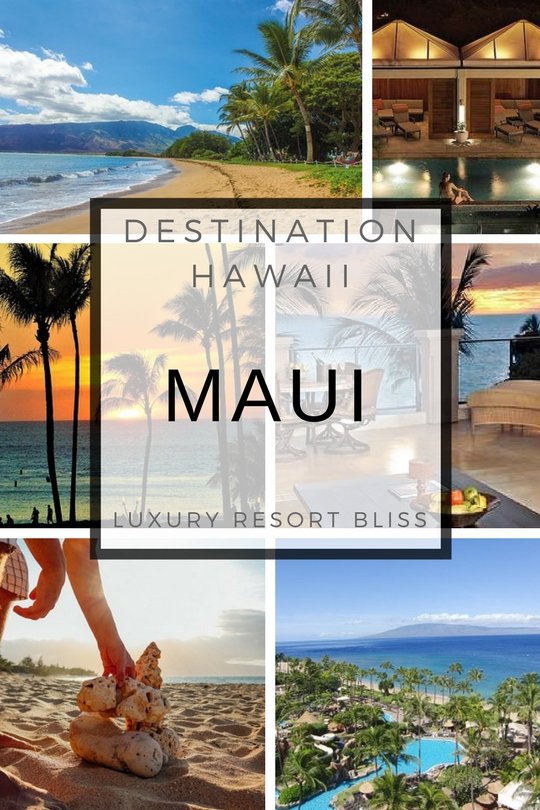 All-Inclusive Resorts in Maui
Maui, the "Valley Isle" is the second largest of the Hawaiian Islands and offers a wide variety of all-inclusive resorts. Visitors are welcomed to experience Maui's rich culture, breathtaking scenery, and abundant natural resources.
Deals - Find All-inclusive Resorts in Maui, HI
Maui offers a variety of all-inclusive resorts that offer visitors a range of activities such as snorkeling, kayaking, hiking, and more. BUT these resorts are not the usual all you can eat and drink extravaganzas you find in other places in the world. Rather the all-inclusive concept is facilitated by packages which vary a bit more wildly in their completeness than in other areas.
Video Resview: Top 10 Best Luxury Hotels & All Inclusive Resorts In Maui Hawaii
The Best All-Inclusive Resorts in Maui:

Ka'anapali Beach Hotel
Aston Kaanapali Shores
Wailea Beach Resort - Marriott, Maui
Royal Lahaina Resort & Bungalows
Aston Mahana at Kaanapli
Hana-Maui Resort
Grand Wailea
Aston at Papakea Resort
All-Inclusive Resorts in Maui—find the best deal, compare prices, and read what other travelers have to say
Some of these resorts also offer a variety of dining options from casual to fine dining with plenty of fresh fruits and vegetables from their onsite gardens. All in all there are only nine all-inclusive resorts listed in Maui on TripAdvisor which is a bit different to other destinations. 
Then we will look at how these resorts stack up to some other alternatives.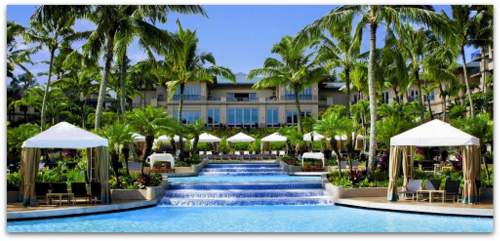 The Ritz-Carlton Kapalua, Lahaina
VIDEO: Maui, Hawaii Travel Guide - Must-See Attractions


25 Resort Maui Deals with Reviews on TripAdvisor
If you're not familiar with Maui, check out the official Maui tourism site here. 

---
Hotels in Maui with Free Breakfast
While not quite all-inclusive there are a number of quality hotels in Maui which offer free breakfast. This can save a lot on the hustle and complications of organizing your own while trying to keep an eye on the budget. 
Residence Inn by Marriott Maui Wailea
Wailea Ike,
Maui Seaside Hotel
Kohea Kai Maui, Ascend Hotel Collection
More information: Find & compare all-inclusive resorts in Maui, HI
Adult Only Resort Maui 
A short drive away, nestled on a hillside overlooking the sparkling Pacific Ocean, lies the adults-only Hotel Wailea. This boutique resort offers a serene and intimate experience, perfect for couples seeking a romantic getaway.
At the Hotel Wailea, the emphasis is on personalized service and attention to detail. The spacious suites, adorned with natural materials and sleek modern furnishings, invite you to unwind and reconnect with your loved one. Each suite boasts a private lanai, ideal for savoring the warm Maui breeze while admiring the breathtaking ocean views.
The resort's pièce de résistance is undoubtedly the highly acclaimed Restaurant at Hotel Wailea. The menu showcases a symphony of locally sourced ingredients in creative, artfully presented dishes. Paired with an extensive wine list and the mesmerizing sunset, it is an unforgettable dining experience.
While the Hotel Wailea may not have as many on-site activities as the Fairmont Kea Lani, it more than compensates with its tranquil atmosphere and bespoke experiences, such as the romantic beachside dinner or the rejuvenating couple's massage.
Score: 9/10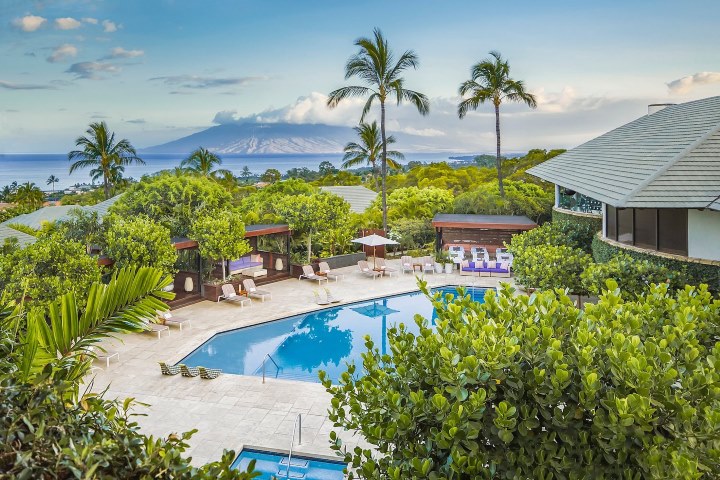 Adult Only Resort Maui
Top Adult Only Resort in Maui: Hotel Wailea
Hotel Wailea describes itself as the only adults-only resort in Hawaii, this peaceful retreat is nestled in 300-feet above the sea. You'll have easy access to the islands' adventures during the day. From beaches, water sports, and golf to restaurants and more—there will be something for everyone.
This is a romantic and intimate 5-star resort with spectacular  views of three Hawaiian islands.
Hotel Wailea, located in Maui, is considered one of the best and most luxurious resorts in the area. The location is perfect for those looking to combine their vacation with a business trip. The hotel has incredible amenities such as an award-winning spa, an 18-hole golf course and the only beachfront hotel in Kihei.
Hotel Wailea is an AAA Four-Diamond resort on Maui's south shore. The hotel is well known for its supreme service and luxury amenities.
Find the best deal, compare prices, and read what other travelers have to say
Video Reeview: Is This the Best Maui Resort for a Honeymoon? | Hawaii's only adults-only hotel tour
Best Beach Resorts in Maui
This section will provide you with the best beach resorts in Maui, Hawaii.
Top 10 Beach Resorts in Maui and Who They Suit Best

Four Seasons Resort Maui at Wailea Why: This luxurious resort boasts world-class amenities, an award-winning spa, and exquisite dining options. Who it suits: Ideal for couples, families, and luxury travelers who appreciate high-end experiences and attentive service.
Fairmont Kea Lani Why: With spacious suites and villas, a kids' club, and a variety of on-site activities, it's perfect for a well-rounded vacation. Who it suits: Best suited for families and travelers seeking a balance of relaxation and adventure.
Andaz Maui at Wailea Resort Why: This modern resort features contemporary design, multiple infinity pools, and a renowned farm-to-table restaurant. Who it suits: Couples and design-conscious travelers who appreciate a trendy atmosphere.
The Ritz-Carlton, Kapalua Why: Set on a stunning beach, this resort offers golf courses, a spa, and cultural programs that showcase Hawaiian traditions. Who it suits: Golf enthusiasts, couples, and families interested in immersing themselves in Hawaiian culture.
Grand Wailea, A Waldorf Astoria Resort Why: Known for its massive pool complex, exceptional spa, and art collection, this resort caters to a variety of interests. Who it suits: Families, art lovers, and travelers seeking a mix of relaxation and entertainment.
Montage Kapalua Bay Why: This upscale resort offers spacious residential-style accommodations, a spa, and a serene ambiance. Who it suits: Ideal for multi-generational families and groups who value privacy and spacious living arrangements.
Hotel Wailea Why: As an adults-only boutique resort, it provides an intimate atmosphere and personalized service. Who it suits: Perfect for couples and honeymooners seeking a romantic and tranquil retreat.
Westin Maui Resort & Spa, Ka'anapali Why: With a prime beachfront location, water slides, and a variety of dining options, it's a crowd-pleaser. Who it suits: Families and travelers who love a lively atmosphere and a range of on-site amenities.
Napili Kai Beach Resort Why: This laid-back resort offers beachfront accommodations, complimentary cultural activities, and a family-friendly environment. Who it suits: Budget-conscious families and travelers who appreciate a more casual and authentic Hawaiian experience.
Hyatt Regency Maui Resort and Spa Why: Featuring an on-site wildlife tour, water sports, and the Drums of the Pacific Luau, there's never a dull moment. Who it suits: Families and adventure-seekers who want to experience a variety of activities without leaving the resort.
Maui Beach Resorts on Tripadvisor: Find the best deal, compare prices, and read what other travelers have to say at Tripadvisor
So, without any further ado, here are the top beach resorts in Maui, Hawaii reviews.
Wailea Beach Villas, Kihei 
Location: Oceanfront, Wailea, Maui, Hawaii.
Perfect for: family vacations, honeymoons, swimming, residential resort experience.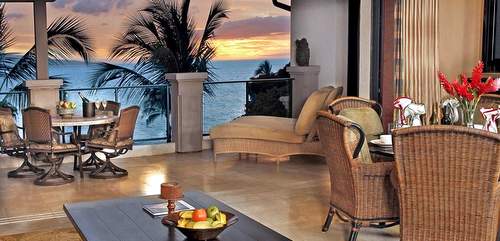 Kihei Maui Resort Vacation
Accommodations: 98 penthouses and villas, spacious, great views of ocean or garden, within a gated community, lanais with BBQ's, 20 elevators, Internet, full kitchens, walk-in closets. Some have pools.
Resort highlights: 2 pools - one for kid/families and one adults only, jacuzzis, fitness facility, activity room, many area activities nearby, championship golf nearby, beach toys, spa services, beach.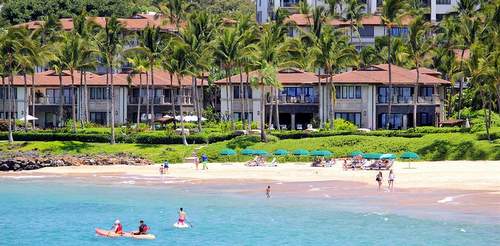 Kihei Maui Resort Vacation
What reviewers say: excellent hotel alternative, great concierge services, very nice kid's pool, really amazing views - can see the crater, services of a top notch hotel combined with the conveniences of a condo, great location - right on the beach.

Everyone so far has rated this resort a 5/5! (This is not typical and a great sign for you if you want to stay there!)
See the latest reviews and get more inforatmion on Wailea Beach Villas, Kihei.

See more Maui Beachfront Vacation Rentals.

---
Four Seasons Maui Luxury Resort at Wailea
Location: Ocean front, Wailea, Maui, Hawaii.
Perfect for: Honeymoons, spa, great service
Accommodations: 380 rooms or suites, furnished lanais, local artists work as part of decor.
What reviewers say: staff and service are 5 star, everything was fabulous - food, spa, room and location; best property in Maui, on-site restaurants were flawless, staff very responsive to needs, large and densely populated hotel.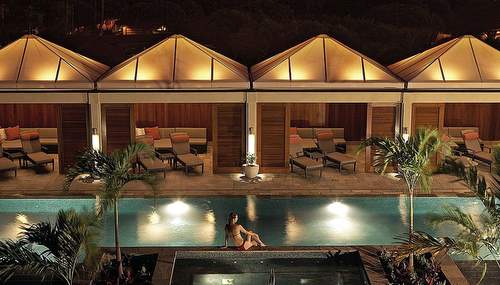 Four Seasons Maui Luxury Resort at Wailea
Resort highlights: spa with Hawaiian treatments, health club, 3 restaurants, pools, beach, spa tubs, live music nightly, snorkeling, beach concierge, classes - sports and exercise, 24 hour business center, pet friendly, kid's program, tennis, game room.
More information and reviews for the Four Seasons Resort Maui at Wailea
Video review: Four Seasons Resort Maui at Wailea | Resort Tour
---
---
The Ritz-Carlton Kapalua Lahaina Maui Resort
Location: Oceanfront, Kapalua, Maui, Hawaii. Great for sunsets.
Perfect for: families, swimming, water sports.
Accommodations: 445 rooms, spacious lanais, Hawaiian artwork, decor inspired by the mountains and ocean, ocean/partial-ocean/garden views, Internet.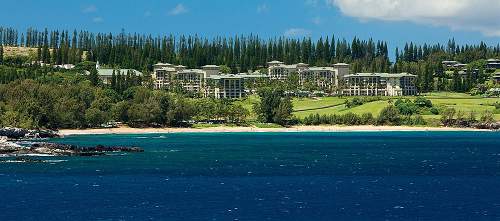 The Ritz-Carlton Kapalua Lahaina Resort
What reviewers say: staff go out of their way, great location, beautiful grounds, nice Hawaiian touch in the service, food is great, short walk to the ocean, great views.
This resort receives many perfect ratings – people specifically love the service and location.
See the latest reviews and get more information for the Ritz in Maui.

---
The Fairmont Kea Lani Maui Luxury Resort
Location: Polo Beach, Wailea, Maui, Hawaii.
Perfect for: swimming, water sports, spa, golf.
Accommodations: Only suites and villas, large lanais, marble bathrooms,villas have private plunge pools and a BBQ.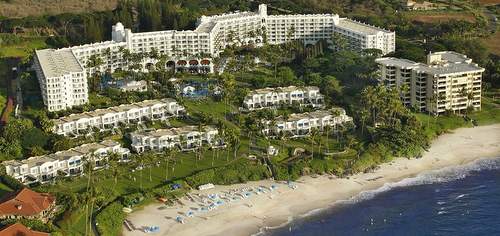 The Fairmont Kea Lani Maui Luxury Resort
Resort highlights: award-winning, huge water complex, water slide, adults only pool and hot tub, 24-hour fitness center, close to 3 championship golf courses, 11 tennis courts, shopping, water sports and activities, full-service spa, weddings, outrigger canoe excursions, 3 restaurants, small pets allowed.
What reviewers say: rooms are nice and spacious, amazing bathroom, doesn't feel crowded even when near capacity, some staff are warm and friendly while others are not, upgraded our room once they found out it was our honeymoon, attentive staff, beautiful property. 
Get more information and see the latest reviews for the Fairmont Kea Lani. 

Review:
Fairmont Kea Lani: For the Family that Wants it All

The Fairmont Kea Lani sets the bar high for luxury and family-friendly experiences. Nestled on 22 oceanfront acres, this resort is a paradise for families seeking adventure and relaxation in equal measure. The spacious suites and villas, with their minimalist yet sophisticated design, exude a sense of understated elegance.
What sets the Fairmont Kea Lani apart from its competitors is the sheer array of activities and amenities available for guests of all ages. Children will revel in the Keiki Lani Kids Club, a haven for young explorers featuring Hawaiian cultural activities, arts and crafts, and games. Meanwhile, parents can indulge in the award-winning Willow Stream Spa or enjoy a round of golf at the nearby Wailea Golf Club.
The resort's four restaurants offer a diverse range of culinary delights, from the fresh catch of the day at Ko to the tropical flavors of AMA Bar & Grill. And with the all-inclusive package, you can truly indulge without a worry in the world. Sarah
Score: 9.5/10
---

Grand Wailea, A Waldorf Astoria Maui Luxury Resort
This top Maui resort is highly recommended with families and has been widely sighted as having the best pool facilities in the United States with an excellent water park to go with it.
See the latest reviews and special offers on Grand Wailea.
---
You might have noticed some top all-inclusive resorts in Hawaii were also the top beach resorts. I'll let you draw your own conclusions from that.
Destination Resorts in Hawaii are opening up their doors for visitors who may not be able to afford the typical luxury resort. These resorts sometimes offer all-inclusive options that include the vacationer's stay, food, activities and more. They also provide a variety of amenities such as transportation, activities, and even excursions at a discounted price. But not always. These reviews will help you find great Hawaii All Inclusive vacation options.
---
Frequently Asked Questions About All-Inclusive Resorts in Maui
While all-inclusive resorts are not as common in Maui as they are in other tropical destinations, such as the Caribbean or Mexico, there are a few options available. These resorts typically offer luxurious accommodations, a range of dining options, and an array of activities and amenities to enhance your stay. Mostly we are talking about package options here then don't expect the more common conception of an all inclusive resort.
In many destinations an all-inclusive package usually covers accommodations, meals, snacks, beverages (including alcoholic drinks), and a variety of on-site activities and entertainment. But don't expect that in Hawaii. While some resorts may also include airport transfers, gratuities, and access to off-site excursions as part of the package it's less common to include food and drinks here. It's important to check the specific inclusions at each resort, as offerings can vary.
Yes, many all-inclusive resorts or resorts with packages in Maui cater to families, offering spacious accommodations, kids' clubs, and family-friendly activities. The Fairmont Kea Lani, for example, is a family-friendly resort that provides a wide range of amenities and services tailored to families with children.
Yes, Maui does have adults-only all-inclusive resorts or resorts with packages, such as the Hotel Wailea, which cater specifically to couples and provide a more intimate, serene atmosphere for a romantic getaway.
Maui's all-inclusive resorts or resorts with packages typically offer multiple dining options, ranging from casual poolside eateries to fine-dining restaurants. The menus often showcase local ingredients and traditional Hawaiian flavors, as well as international cuisine options.
Some resorts may allow you to customize your all-inclusive package based on your preferences and interests. This could include adding or removing certain activities, excursions, or services. It's best to contact the resort directly to discuss your options and ensure that your stay is tailored to your specific needs and desires. This is more common in high-end places and really the only way you can really ensure you really are getting the real deal in Hawaii. 
While tipping is not required at most all-inclusive resorts in Maui, as gratuities are often included in the package price, it is always appreciated if you feel that the staff has gone above and beyond to make your stay exceptional. You can either tip individually or leave a lump sum at the end of your stay to be distributed among the staff.
All-inclusive resorts in Maui can offer great value, especially for travelers who want a hassle-free vacation experience. By bundling accommodations, meals, drinks, and activities into one package, you can save on overall costs and avoid unexpected expenses during your stay. However, it's essential to compare prices and inclusions to ensure that you're getting the best deal for your budget and preferences.
💼 We cherish our independence! ✈️ Our travel recommendations are carefully researched, bias-free, and powered by human expertise by April and Ricky of LRB (we have personally researched and travelled to many of these destinations and researched others thoroughly through first-hand accounts). 🌍✨
We try to keep everything up to date, but please always do your own research and contact us if you know any issues for us to help others as best we can as a small but professionally focused team! 🧐📚⚠️