Guyana All Inclusive Resorts
Guyana All Inclusive Resorts
Guyana is a small South American nation known for its awe-inspiring nature and friendly people. Being South America's only English-speaking nation means Guyana is also a very pleasant place to travel for Americans.
Being friendly and conversing with the local people (without the language barrier) offers a completely unique South American holiday.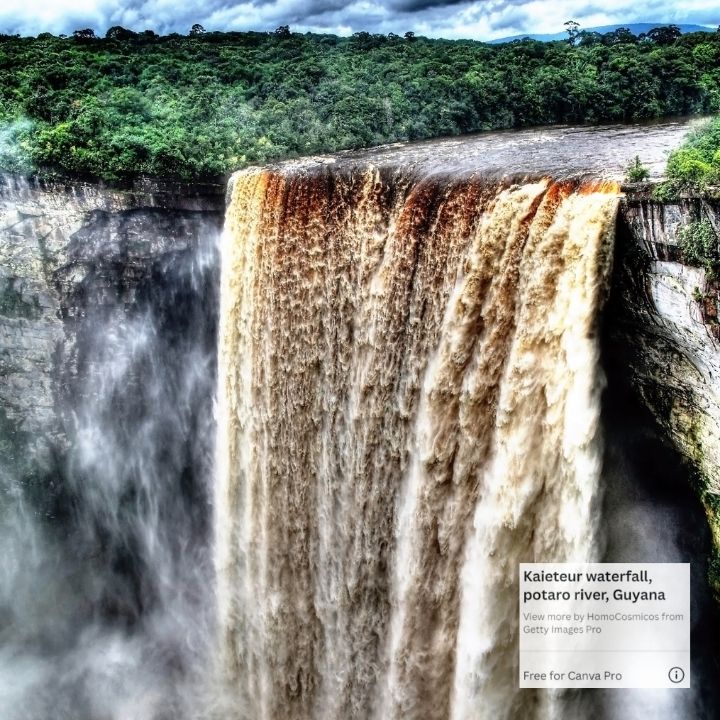 This widespread use of English is a result of Guyana's not-too-distant British colonial rule, and the capital of Georgetown's architecture is a telling sign of this also.
Sure, Guyana is a developing nation with some precarious areas, but that doesn't mean a holiday to Guyana is a dangerous one.
Especially if you choose to stay in one of the first-rate resorts below. Resorts that make sure you are well looked after, catered for, and safe during your stay.  
Known for its dense rainforest, majestic waterfalls, idyllic beaches, Creole roots, and Caribbean flavors, there is so much more than meets the eye in Guyana. So, ditch the preconceptions, and get ready to discover the cultural melting pot that is Guyana.
See also Gayana vacation packages on Travelocity  
Surama Eco-Lodge Inclusive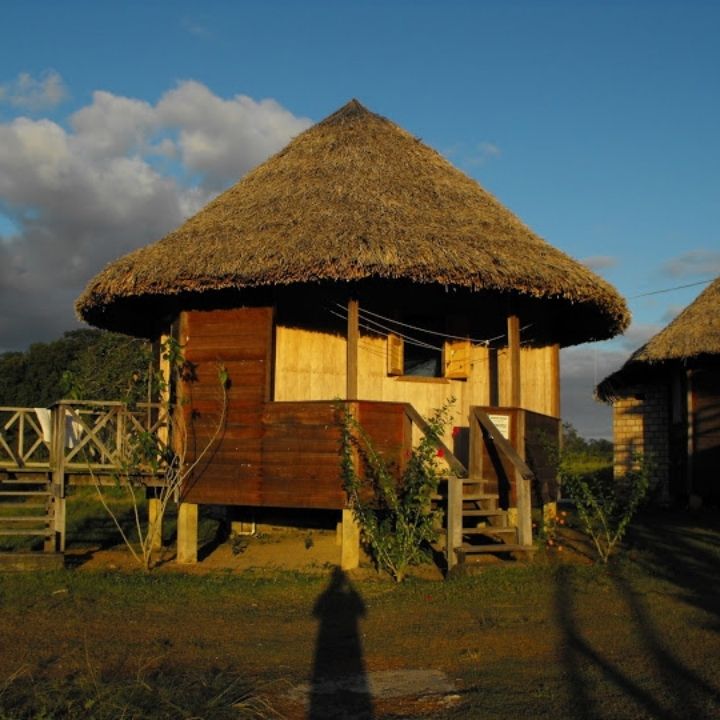 Via Surama Eco-Lodge
Surama Eco-Lodge in the mist covered Pakaraima Mountains, often shrouded in mist, This is not exactly in the tradition of your over the top indulgent all-inclusive resort, rather a more minimalist solution to exploring an authentic culture, including their cuisine and activities. And yes these are included but you will have to make your own way there.
This is a great place then to explore the best of Guyana including the wildlife (including monkeys and jaguar) which are part of the thick forest which surrounds the resort. 
Villagers then look after all the details of your stay and including you in the local culture and celebrations.
VIDEO: GUYANA Vlog: Kaieteur Falls, Surama Eco Lodge & the Rainforest
💼 We cherish our independence! ✈️ Our travel recommendations are carefully researched, bias-free, and powered by human expertise by April and Ricky of LRB (we have personally researched and travelled to many of these destinations and researched others thoroughly through first-hand accounts). 🌍✨
We try to keep everything up to date, but please always do your own research and contact us if you know any issues for us to help others as best we can as a small but professionally focused team! 🧐📚⚠️

An oasis of extravagance, the Marriott Hotel Georgetown can be retreated back to after exploring the many city sights, and further afield.
Georgetown is the ideal destination in Guyana as it presents visitors with a vibrant vibe and excitement, but it's also conveniently located close to nature.
Guided tours are ready to pick you up directly from the hotel and take you to see what Guyana is really made of.
This 4-star hotel has an impressive selection of room types to suit every style of traveler.
From the super functional deluxe rooms to the uber-suave executive suites, whether you're a solo traveler or a  family of five, there's room for you at the Marriott.
If you like to keep your fitness regime tight when on holiday, you'll be pleased to know of the hotel's state-of-art fitness gym facility. 
If taking it easy poolside is more your thing, then the delightfully designed, palm-tree-lined pool area will offer you ample opportunities to work on your tan.
The Marriott knows that sitting in the sunshine with your feet up can be such hard work, which is why their conveniently located Caribe Boardwalk Pool Bar & Grill is ready and waiting to fulfill your every need, and serve you lunch. 
The in-house Terra Mare restaurant also does a very good job at bringing fine dining to Georgetown with a dazzling display of fine wines and curated Mediterranean dishes to delight in.
If you'd prefer a more low-key setting, then you really must try the hotel's KAIE Sushi & Tapas bar one night.
The perfect 4-star sanctuary where you can let go of your stresses and soak in the tropical warmth from a high-end vantage point - yeah, you could say the Marriott Georgetown does the Marriott name proud.
As for all-inclusive, we can only score this property about a 4 /10. Guaya is simply not there yet when it comes to this format, but is you are looking for a quality resort like experience by the beach, this is a good option.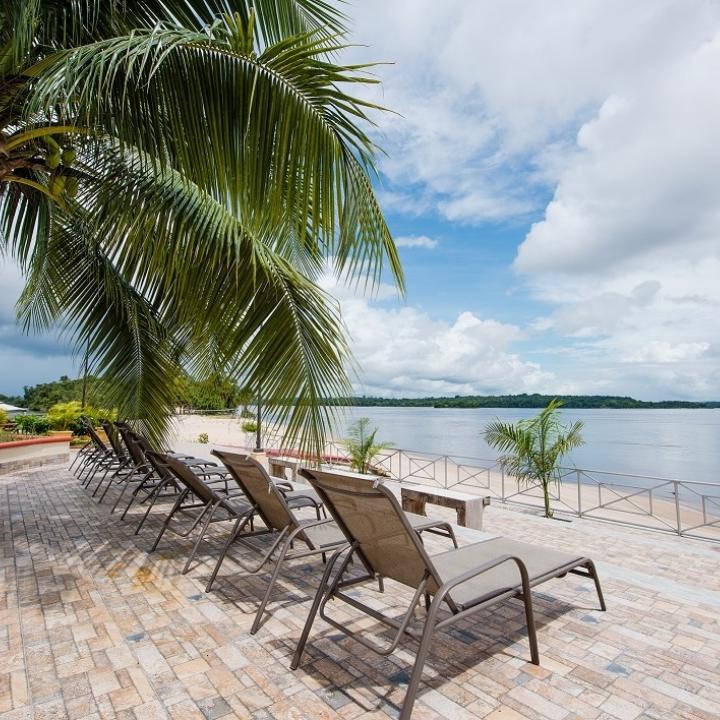 How does a holiday on a private island sound? Sounds rather nice, doesn't it? Nestled into the forested beachfront of Baracara island on the lower end of the Mazaruni River, Aruwai Resort is a picturesque 3-star with a difference.
Its unique spot on the river means it is supremely located for quick access to waterfalls and many other naturally diverse landscapes and wildlife. 
Activity is a big part of the "why" behind how Aruwai operates, so expect daily chances to venture beyond the resort's walls for something exotic and adventure-filled.
That might be kayaking downriver, cruising upriver on a jet ski, playing a big game of beach volleyball, or simply roasting marshmallows and stargazing by the fireside at night. 
The resort pool is just as impressive with various levels that cater to little kids, big kids, and adults separately.
The light-up pool features slides and diving for anyone with a penchant for thrills, and the subsequent spills.
For a truly unique experience, the guided tour to Baracara falls through a rainforest that is teeming with exotic birds and wildlife could be considered a once-in-a-lifetime experience. 
Whether you're staying in a standard room or the Yarapima presidential suite, you will notice old-style, colonial furnishings which lean on veneered headboards and vintage lampshades to create a rather exquisitely British appeal, we dare say.
With an in-resort restaurant serving up a fine display of international and Creole cuisine, it's safe to say you'll be eating well at Aruwai as well.
We score this resort highly as a comprehensive resort that has a lot of activities available even if not a fully all inclusive resort. 
Splashman's Resort, as the name suggests, features an in-resort water and fun park ready to give the kids and big kids at heart plenty of splashy fun times, a stay at Splashman's is a family-friendly destination, to say the least. 
Just as Guyana is a melting pot of South American and Caribbean culture, Splashman's strives to showcase this through all that they do and serve.
A true "all-inclusive" package is surprisingly hard to come by in Guyana, so it's with great pleasure that we can 100% confirm Splashman's offers an all-inclusive package with food and drinks included. 
However, this comes with some compromises, and we are hard-pressed to rate Splashmans more than about a 6 out of 10. There are issues meeting even the professionalism of other resorts in the area in terms of services and cleanliness in our reckoning. 
Whether you're considering the romantic honeymoon, the fun-filled family, or the standard package, you will be dining in a delightful array of Creole, Caribbean, and South American dishes at Splashman's. 
The resort features 24 clean and modern villas, that each come fully air-conditioned, naturally. Just behind the resort, guests have access to football fields, basketball courts, and cricket facilities.
Sporting facilities that are known to bring on some iconic in-resort family rivalries and friendly competition. Using what nature had to offer, and running with it, Splashman's has created a ¼ mile long man-made lake with a sandy beach that is both clean and super inviting for a swim.
Peddle boats, jet boats, whatever you fancy, you can do it on this safe and controlled stretch of water. Splashman's dedication to their cultural roots and having a splashy fun time is infectious and a big reason why so many visitors stop by each year.
Back in the capital and we've got a real treat for you. Ramada Georgetown is a premium city hotel that makes sure its guests are well catered for.
The hotel features a varied array of amenities and facilities, ranging from an in-house casino, gym, movie theater, games arcade, and fun park (depending on how you get your kicks). 
Okay, so teppanyaki and sushi may not be authentic Guyanese food. However, Ramada's Royal Teppanyaki & Sushi restaurant is in a delicious league of its own and simply must be experienced.
On top of doing the highest-quality Japanese food in town, the Ramada also serves a bunch of international favorites from its poolside restaurant and bar. 
Each room is furnished in a clean and modern taste, with a simple aesthetic that is both familiar and pleasing to the eye.
The hotel has a choice between standard and executive rooms, or, you  can upgrade straight to a Corner or Presidential suite if you happen to win big at the casino's blackjack table.
Whichever room type you decide upon, you'll be treated to a complimentary, continental-style breakfast to set you up for a big day of sightseeing. 
Just when you thought you'd heard it all, in steps Ramada's 300-person capacity nightclub, giving you the chance to cut loose in.
Whether you want to rent the entire venue for a corporate event, a private function, or party with hotel guests and people of Georgetown, Club Next is the place to hang when the sun has set and the night is calling
Ramada Georgetown with reviews on TripAdvisor

The Pegasus Hotel, Georgetown brands itself as "the premier International hotel of Guyana''.
Having hosted the British royal family, Former President Jimmy Carter, Rolling Stones frontman Mick Jagger, as well as a string of diplomats, business executives, and the like, it's rather easy to agree, wouldn't you say?
Sure, their business rooms are made up to a very high standard with king-size beds and every modern amenity that Royalty would expect.
And sure, the 360° ocean and city views from the chic and sophisticated rooftop Aura bar & lounge are breathtaking, to say the least.
But, do you know what elevates Pegasus above the rest? Their dedication to service, that's what.
With highflyers and business travelers regularly checking into the Pegasus for leisure and business trips, the hotel's staff and management have risen to the occasion to offer the highest level of service in Guyana. 
Boasting six dining and entertainment outlets, guests will make no mistake that they are staying at the Pegasus.
The hotel's El Dorado is the kind of fine-dining Italian restaurant that can be found nowhere else in Guyana. With the freshest seafood, meat, and pasta dishes in town, the restaurant tends to book up rather quickly, so booking ahead is advised. 
The Pegasus poolside is a casual setting where you can tuck into a delectable display of grilled meats and seafood. On weekends, Pegasus gets lively local bands to play and create a special ambiance - perfect for making memories with loved ones by dancing, drinking, and laughing the night away.
The Pegasus Hotel Georgetown is an ideal base to lean into luxury and plan your next adventure from.
Summary



Guyana may not have the most amount of all-inclusive resorts to boast about. But, the first-rate resorts it does have are so unique and inspiring, they will undoubtedly make your holiday a memorable one. 
Guyana is a developing nation with a vast amount of untouched natural beauty and experience just waiting to be explored, and it really feels like the potential of their tourism industry is only just starting to be realized. 
Don't delay and wait until Guyana becomes a big-time holiday destination, book a trip today, and allow yourself the pleasure of discovering the wonder that is Guyana before everyone else does.