Best Haiti Resorts All Inclusive
Best Haiti Resorts All Inclusive
If you're looking for an exciting place for your next vacation, why not try Haiti?
Update: Please check with your travel advisory before proceeding with planning a trip to Haiti.  While usually I am too busy to offer travel advise and keep up with all the various warnings which are constantly changing I think personally it seems a little unsafe at the moment. 
I will leave links to other nearby Caribbean Islands here: 
This beautiful country has everything you need for a luxurious beach getaway: sun, sand, sea, and a whole host of stunning views to boot.

Immerse yourself in the rich history and culture that Haiti has to offer, while relaxing under a gorgeous Caribbean sky in one half of the Hispaniola Island - you may not have considered it before, but it really can be an attractive destination for tourists.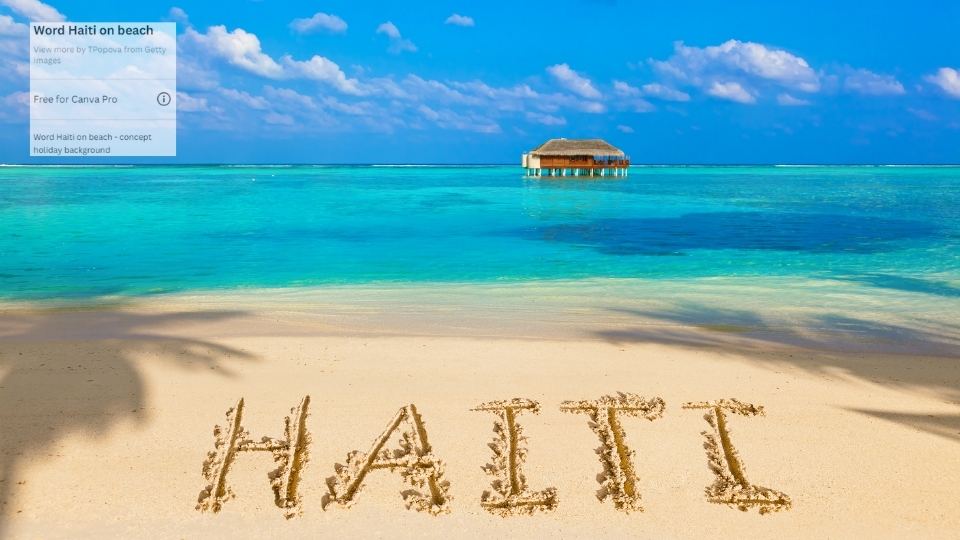 Haiti Beach Resort
There are so many great resorts in certain parts of Haiti that it's sometimes tricky to know where to start.
However, the lure of an all-inclusive package is hard to resist - everything is already paid for, so you don't need to worry about budgeting additional money, and you can take full advantage of your food and drinks card.
See also the Haiti All Inclusive Deals on Travelocity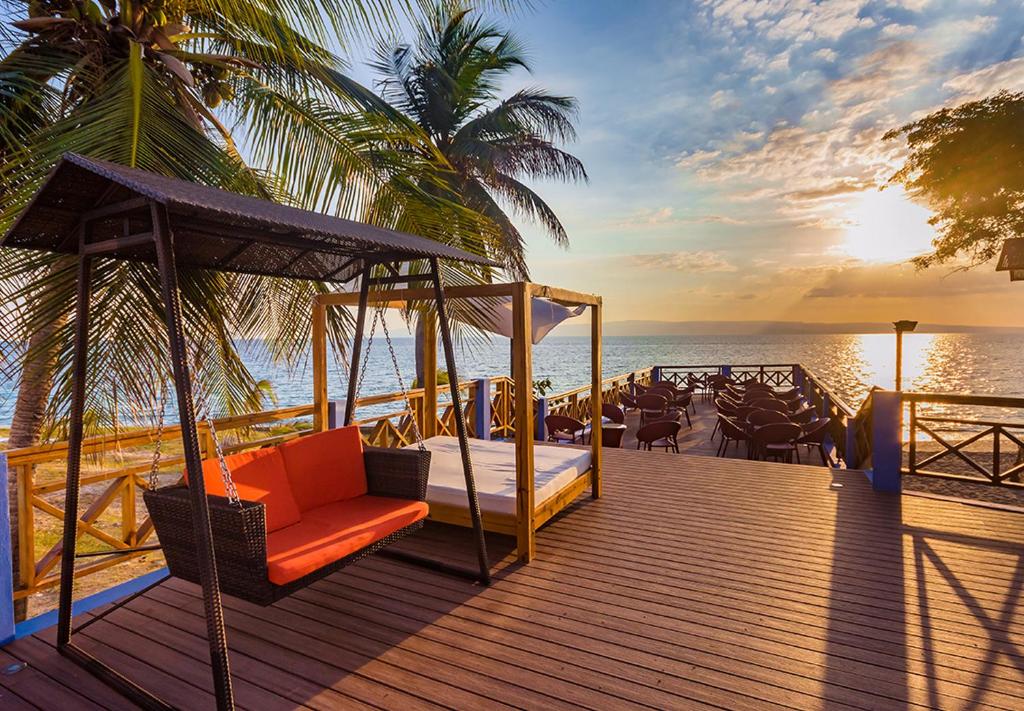 Royal Decameron Indigo
While most hotels there offer a bed and breakfast package only, there are still some where you can choose to go all-inclusive.

Here are the best all-inclusive resorts in the country that will hopefully make your accommodation decision a little easier when you're planning a trip there.
These places have been tried and tested on a range of features and found to have the most positive reviews from previous visitors.
The Royal Decameron Indigo Beach Resort & Spa lies on the Côte des Arcadins, which is easily accessible from the Toussaint Louverture International Airport, the capital's airport that runs direct flights to and from various US cities. 
It is in the grounds of an expansive 55-hectare nature reserve, with gorgeous white sand beaches nearby to relax on (it almost feels like you have your own private beach!).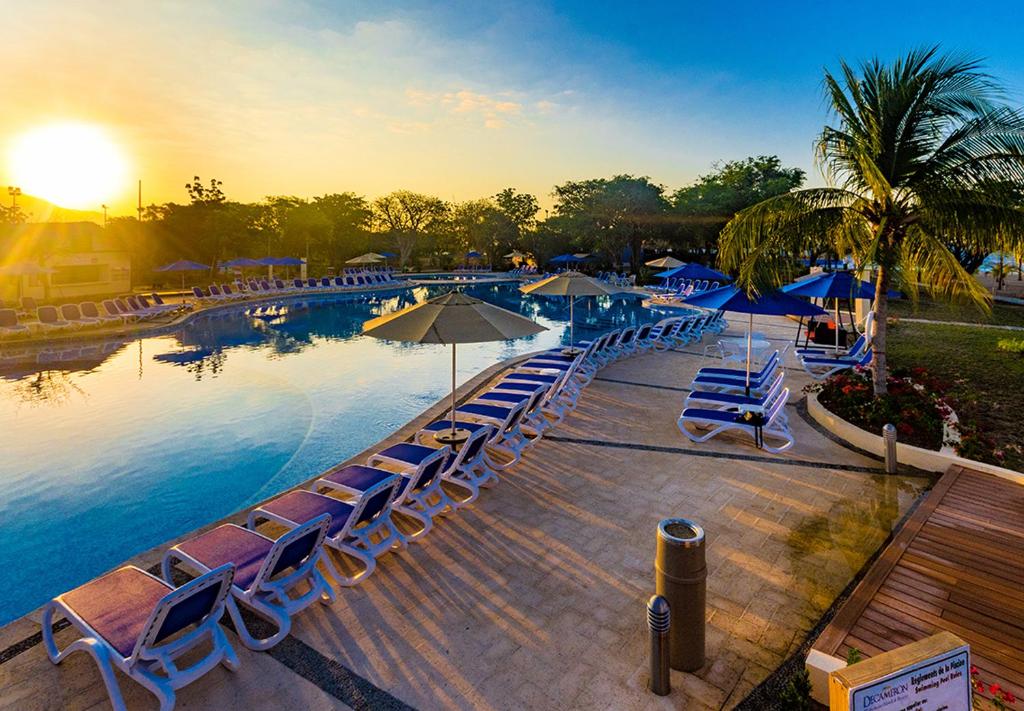 There is a definite sense of tranquility permeating through the place, which is the ideal ambience for a restful break.

At meal times, you can gorge yourself on the buffet-style breakfast, lunch and dinner to your heart's content; they're definitely not stingy about portions here! 
They also offer snacks throughout the day, and adults can enjoy unlimited alcoholic drinks at the hotel's nightclub. There's plenty of nightly entertainment on offer too at the Royal Decameron Indigo, with daily activities organized for both children and adults. 
You can take part in a range of sports on the premises - from water sports like beach kayaking and windsurfing, to ball sport facilities like soccer pitches, tennis courts and a golf course, this hotel has you covered!
Main Attractions
Friendly and helpful staff
Varied choice of activities
Royal Decameron Indigo - All Inclusive on Hotels.com

Just a short drive from the Royal Decameron, you will find another all-inclusive resort located on the Côte des Arcadins. 
In fact, this one is even closer to the airport, so it is if anything the more convenient of the two - all you need to do is follow the coastline of beaches and you'll get there. 
It just depends what sort of hotel you're looking for, as they offer different holiday experiences. Kaliko Beach Club consists of separate bungalows that guests can stay in as a couple, a family or even a group of friends.
Alongside the usual all-inclusive offerings, guests at the Kaliko Beach Club can enjoy being in close proximity to beautiful beaches, outdoor pools and restaurants. 
With 3 different spacious bungalows available, you can choose between OceanFront, Ocean View and Garden View - all for a very reasonable nightly price!
The theme of your stay will definitely be luxury, and the staff will do all they can for you; guests particularly recommend the full-service spa for relaxation , or activities like JetSkiing for a taste of adventure!
Main Attractions
Very close to fabulous beaches - perfect for beach lovers!
 Amazing food and staff
Kaliko Beach Club - All Inclusive Resort, Arcahaie, Ouest Department, Haiti on Hotels.com

Bed And Breakfast Hotels Haiti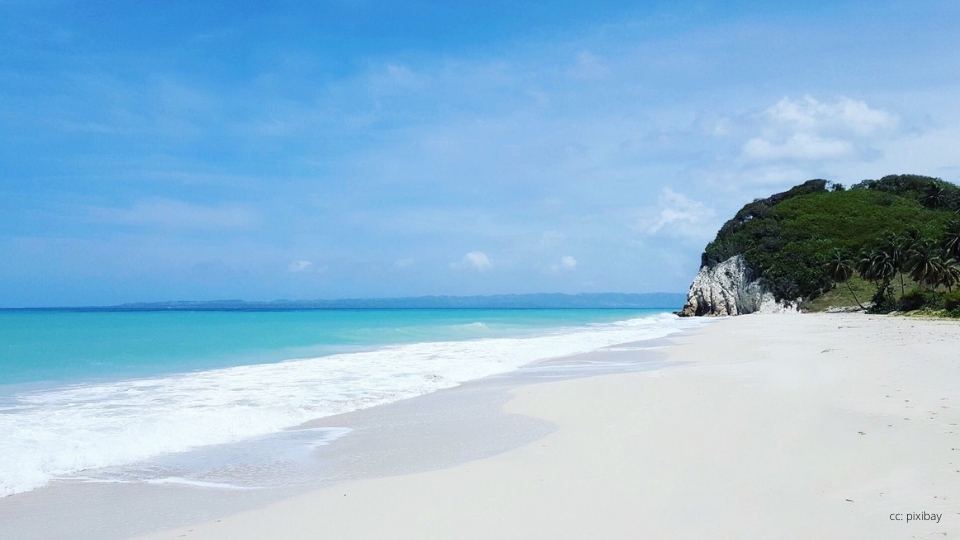 Haiti Beach
As you can see, the selection of tru all-inclusive hotels in Haiti is limited, but there are many other hotels that offer bed and breakfast deals at a cheap rate. 
These allow you to try out the varied cuisine that Haiti produces, while you take in the fascinating history of the food there in a way you might not be able to at an all-inclusive hotel. 
Restaurants all around have authentic a-la-carte dinners cooked by the Haitian people, and may even have exclusive prices for guests staying at the hotels.
Nighty prices per person will usually not be as much at one of these as they would be at an all-inclusive property, but you will have to factor in additional money for your meals. 
It's a good idea to get a cross-section of what's on offer, so that you can budget properly for your beach holiday.
Bed and Breakfasts in Haiti from TripAdvisor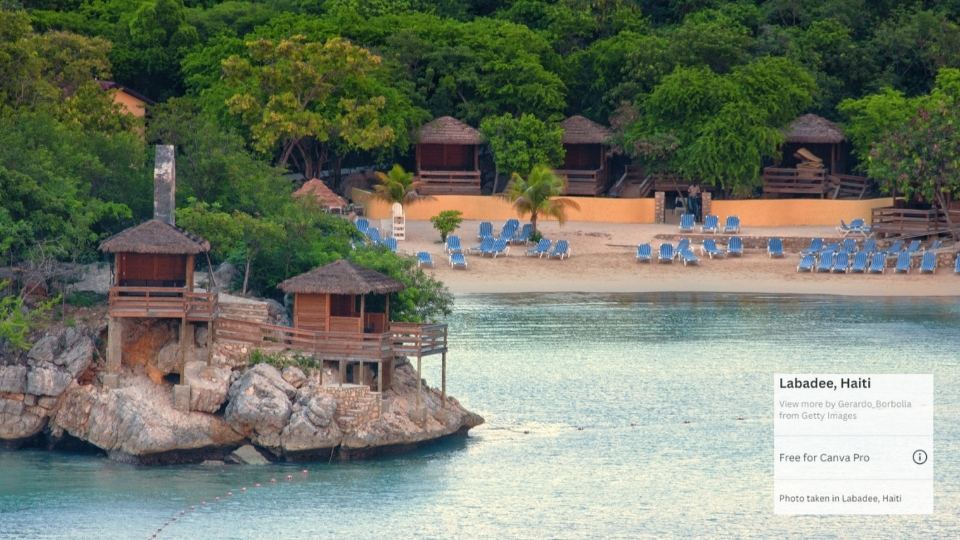 Labadee Beach, Haiti
Situated in the Port-au-Prince suburb of Pétion-Ville, the Hotel Royal Oasis has a total of 128 rooms for their guests to enjoy a relaxing beach holiday.
There are also fully-equipped meeting facilities that are available to book, which have wifi access throughout, as well as various other amenities to make any stay a special one. These include adult pools, a fitness room, a quality clothing store and a small boutique where you can purchase toiletries and souvenirs.
The A8 Restaurant is where guests can enjoy dinner or lunch, and it is exquisitely furnished for a luxury feel. Treat yourself to a special dinner from the Chinese menu, which is the main cuisine served here. 
There is also La Villa, where guests are invited to dine at breakfast/dinner; this fine restaurant serves Creole food and offers a delicious taste of Haitian cuisine.
This is where guests eat a buffet-style breakfast that is included in the nightly price. Additionally, Petit Gourmand is an outdoor cafe serving snacks and hot drinks whenever they are required.
Main Attractions
Transport to the hotel included in overall price
Plenty of on-site restaurants to choose from
Royal Oasis, Petionville, Ouest Department, Haiti on Hotels.com

In the same area, you will find this delightful hotel, with 174 modern rooms that have anything you could possibly need for a relaxing stay.
The price per person is a little more expensive than some other hotels nearby, but you certainly get good value for money.
It is owned by Buteau Hospitality, a family group that runs several hotels and has been in the industry for around 100 years.
 If you can rely on anyone to look after you during your stay, it is certainly these people and their hardworking staff.
As you walk into the hotel, you'll find yourself standing in a spacious foyer, where you can sit and sip a drink or two while you wait.
You can also enjoy drinks in the bars located around the hotel, or in the rooftop lounge - the perfect hangout on a warm evening, where you can take in stunning views of the city. 
All private rooms, public areas and conference rooms in the Karibe Hotel have free wifi access, so it's easy to attend to any business you need to do, or simply surf the net in your spare time.
Main Attractions
Large choice of rooms
Superb fitness facilities, including a gym and outdoor tennis courts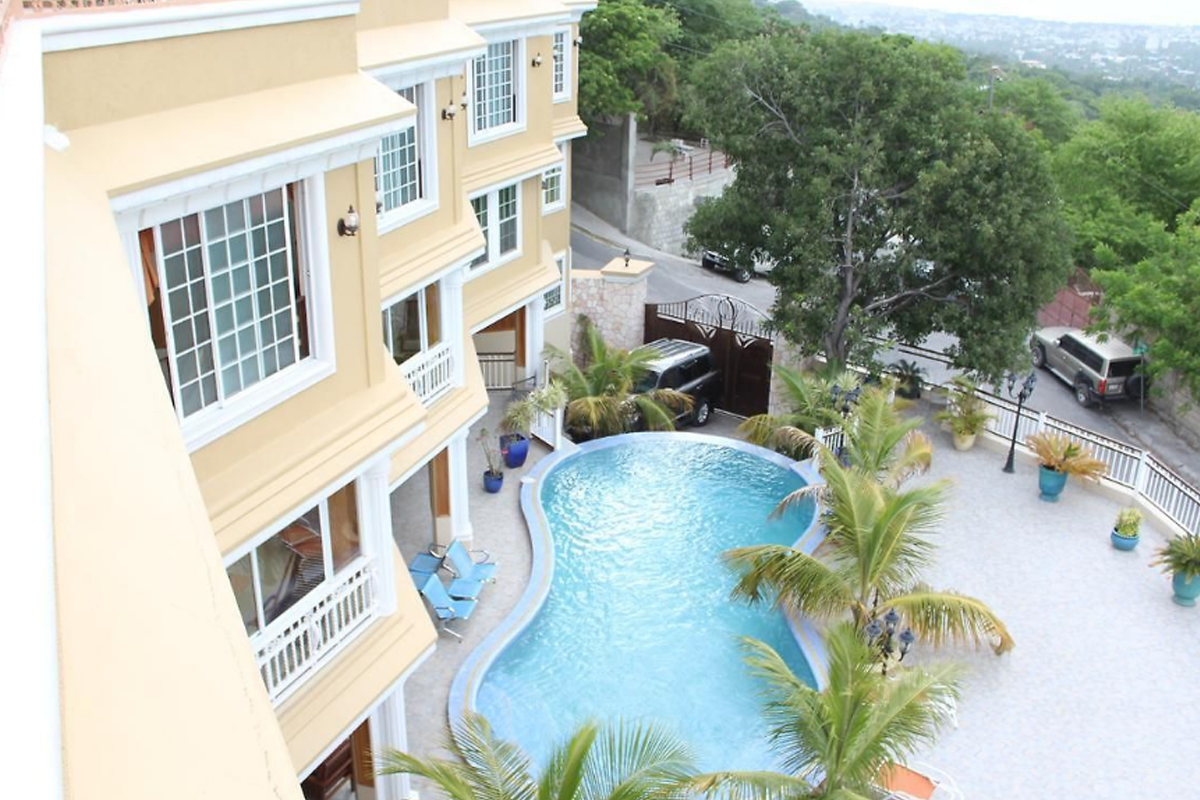 Here's a budget option if you're looking for cheap rates while still getting the most out of your stay, so you have some extra money to spend on seeing the cultural history - there are many sites of interest within easy walking distance. 
Guest reviews for this hotel particularly mention the cleanliness and security as great reasons to book.
While there may not be quite as many luxury facilities as some other hotels in the vicinity, there is still plenty to get you excited. 
The 20 rooms are equipped with everything you need to have an excellent time, including wifi access, a private safe, and hot drink making facilities.
There is a gastronomic restaurant on the site, where you can enjoy a continental buffet-style breakfast, as well as trying some of the local cuisine.
Beautiful art adorns the walls inside, contributing to the overall decor and ambience of the place. 
Make use of the excellent laundry services, so you can have clean clothes whether you're staying for one day or a few weeks at a time.
There is even an onsite barber shop, where you can go to get a cool holiday haircut.
Main attractions
Especially flexible check in time (09:00-23:59)
Prices per person are very reasonable
LEBON Appart Hotel, Port-au-Prince, Ouest Department, Haiti on Hotels.com

Stay in this 4 star hotel for a premium and unforgettable holiday where you can enjoy golden beaches and a verified traveler experience. 
The 72 rooms here are generously sized, and they get cleaned regularly to make them as comfortable as possible - staff are extra attentive in this area. 
You can even choose to book a superior room, a premium room, or a luxurious suite to house your whole family. 
The hotel is child-friendly, with a babysitting service on hand to help with childcare, and you are even allowed to bring pets onto the premises.
There are plenty of facilities around the hotel to keep you occupied and cater for your every need. These include a 24 hour gym, so you can work out whenever you want, a central pool for swimming, and a large casino, where you can gamble responsibly from the comfort of your residence. 
Dine in the restaurant between 6:30am and 11pm, and you can also take advantage of the 24 hour room service (you don't even have to leave your room to enjoy the delicious food cooked here).
Main Attractions
Large rooms leave you plenty of space to relax
Oasis of calm among a bustling city 
NH Haiti El Rancho, Petionville, Ouest Department, Haiti on Hotels.com

Final Thoughts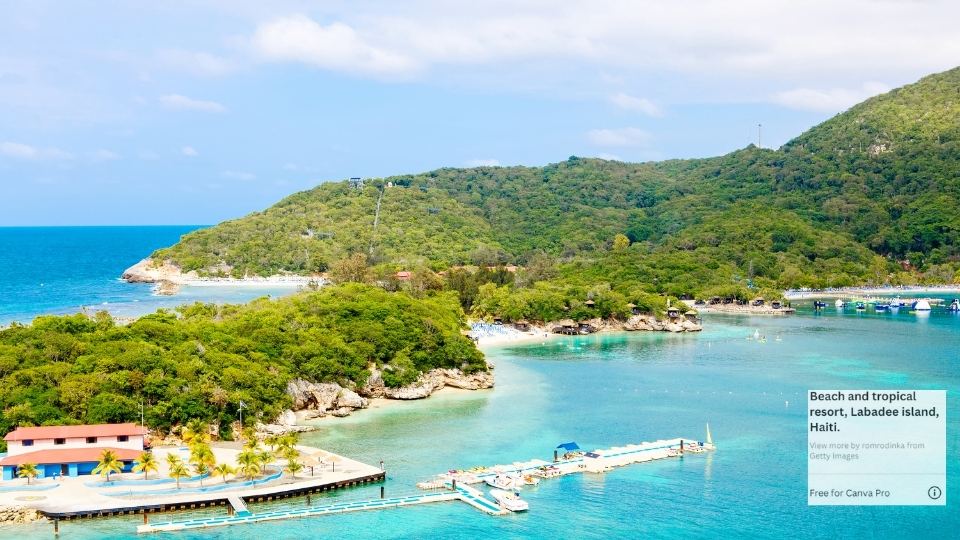 Labadee Island Haiti
As you can see, there are not many hotels that offer all-inclusive deals in the country of Haiti. However, there is an all-inclusive property or two available, and these are top hotels with a lot of facilities to provide an excellent stay. 
The Decameron Hotel and Kaliko Beach club - All Inclusive Resort are both great places if you don't want to face any additional charges from your holiday. 
The other hotels we have recommended don't include all your meals, but you can certainly make use of the convenient room service, family activities and flexible check-in/check-out times, as well as enjoying a continental breakfast every morning.
These hotels are all well-situated in or near to Haiti's capital, Port-au-Prince, which gives you great access to a varied collection of museums - a stay here opens up a combination of history and delicious food that is difficult to top elsewhere. 
The prices per person per night are reasonable, making Haiti one of the most exciting destinations in the world at this moment.
Share Your All-Inclusive Adventures and Questions! 🌴 Have a memorable experience from a luxury all-inclusive vacation? We'd love to hear it at Luxury Resort Bliss. We're on the lookout for top-quality, insightful tales that'll inspire our community. Dive in and be a part of our sun-soaked stories! 🌊🍹✨
The story is a fictionalized account founded on travel expertise, research, and experience. Always refer to recent guest reviews and perform due diligence before booking.
💼 We cherish our independence! ✈️ Our travel recommendations are carefully researched, bias-free, and powered by human expertise by April and Ricky of LRB (we have personally researched and travelled to many of these destinations and researched others thoroughly through first-hand accounts). We also have put in the hard miles, and Ricky has worked for decades for resort and hotel chains  Hyatt, Hilton, Shangri-La and Radisson before starting Luxury Resort Bliss in 2007. 🌍✨ Unlike some other resort review websites we are concerned on the guest experience rather than mere corporate interest.