About Punta Cana Tourism
Punta Cana, located on the eastern tip of the Dominican Republic, is a tropical oasis that offers something for everyone. Whether you're looking to lounge on pristine beaches, explore lush jungles, or indulge in local culture and cuisine, this destination has it all.
About Punta Cana, Domincan Republic
One of the standout features of Punta Cana is its beaches. With crystal-clear waters and soft, white sands, they are simply breathtaking. And, with over 20 miles of coastline, you'll never be far from your own slice of paradise. From the lively shores of Bavaro Beach to the secluded coves of Macao Beach, there's a beach for every mood and occasion.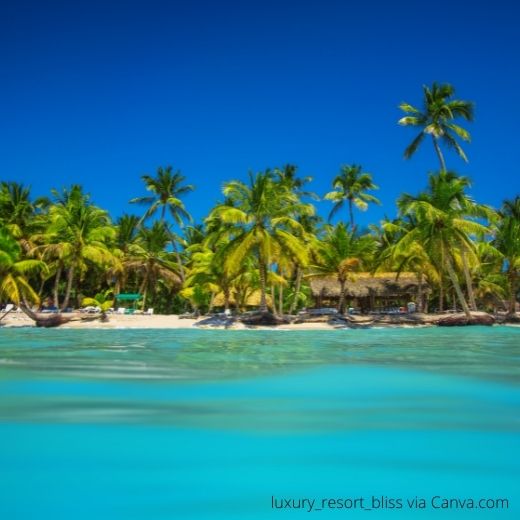 Punta Cana Beach
Punta Cana is far off (200km) to the east of the capital, but seems like it is at the heart of all the new developments. It is often talked about as a place built solely around tourism.

VIDEO: Punta Cana in 4K
While it is true there was not too much development before the big resorts Punta Cana today is becoming a major destination in it's own right – even if everything is built around the resorts.  There are new spectacular all inclusive resorts opening all the time and we are constantly upgrading our reviews for this destination. 

Punta Cana Tourism
Punta Cana Tourism
The attraction is obviously the great weather where rain hardly ever seems to spoil vacations, clear blue waters, on white sandy beaches, which go on for miles and miles (30km) fringed by those in-numerous palm plantations.
However, you find the development now, check back on this page in a few years time and you may find the area has been completely changed again with the next wave of developments set the area up as the premier Caribbean all inclusive resort destination.
Top 10 Things To Do In Punta Cana, Dominican Republic
When to go to Punta Cana?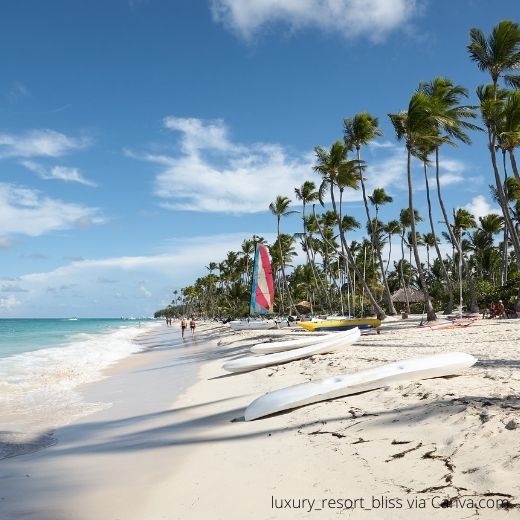 When to go to Punta Cana?
The best time to travel to Punta Cana depends if you would like to spend a lot of time in the water.  Winter has the obvious advantage of the relatively balmy weather compared to most of north America but brings higher prices and crowds.  The summer months bring sudden tropical downpours but otherwise warm humid weather and the extremely occasional hurricane. From about March you can enjoy good weather and there are fewer people around. Prices also begin to drop.
For adventure-seekers, Punta Cana offers a wealth of opportunities to explore the great outdoors. Take a jungle hike through the lush tropical forests, go ziplining through the trees, or take a horseback ride along the beach. The options are endless and the scenery is simply stunning.
And, of course, no trip to Punta Cana would be complete without a visit to its vibrant local communities. Whether you're looking to sample the local cuisine, explore the colorful markets, or interact with the friendly locals, you'll find plenty to keep you entertained.
trip to Punta Cana
From its stunning beaches to its lush jungles, Punta Cana is a true Caribbean paradise. With so much to see and do, you'll never want to leave. Whether you're a seasoned traveler or a first-time visitor, this destination is sure to delight and inspire. So pack your bags, grab your sunscreen, and get ready for an unforgettable adventure.

Nestled along the Eastern coast of the Dominican Republic, Punta Cana is a tropical paradise that lures travelers from all corners of the world. With its pristine beaches, lush palm trees, and turquoise waters, it's the perfect destination for those seeking a breathtaking escape.
As you step off your plane and into the warm, salty air, you'll feel your worries melt away. You'll be greeted by the vibrant energy of the locals, who are known for their hospitality and warm smiles. From here, your journey begins.
One of the most striking features of Punta Cana is its gorgeous beaches. Whether you're looking for a serene and intimate setting or a lively and bustling atmosphere, you'll find it here. Each beach boasts its own unique character, with varying textures of sand and vibrant hues of the water. You'll want to take a stroll along the shores and breathe in the salty air, feeling the sun on your skin and the sand between your toes.
Punta Cana
Beyond its beaches, Punta Cana also offers a wealth of adventure and cultural experiences. Take a catamaran tour along the coast to snorkel in crystal-clear waters and swim with colorful fish. Or head to the indigenous village of Indigenous Eyes Ecological Park & Reserve, where you'll learn about the local culture and have a chance to spot exotic wildlife.
No visit to Punta Cana is complete without sampling the delicious local cuisine. From seafood and traditional Caribbean fare to international dishes, you'll be spoilt for choice. Take a food tour through the local markets and taste your way through the local offerings, sampling everything from spicy sauces to juicy tropical fruits.
As the sun sets and the sky transforms into a canvas of orange, pink, and red, you'll realize that Punta Cana is more than just a beach destination. It's a place where memories are made, where adventures are had, and where you'll feel a sense of peace and tranquility like nowhere else on earth.
So pack your bags, grab your sunscreen, and head to Punta Cana for an unforgettable experience in this tropical paradise.
💼 We cherish our independence! ✈️ Our travel recommendations are carefully researched, bias-free, and powered by human expertise by April and Ricky of LRB (we have personally researched and travelled to many of these destinations and researched others thoroughly through first-hand accounts). 🌍✨
We try to keep everything up to date, but please always do your own research and contact us if you know any issues for us to help others as best we can as a small but professionally focused team! 🧐📚⚠️