Top Queensland Island Resorts
Queensland Island Resorts
Welcome to the Queensland Island Resorts Guide. These Queensland Islands are often accessed by a flight to Hamilton Island or one of the hub ports on the Great Barrier Reef like Palm Cove, Cairns and Port Douglas.  Airlie Beach is generally the hub port for the Whitsunday Islands. But there are plenty of more ways to explore the Great Barrier Reef.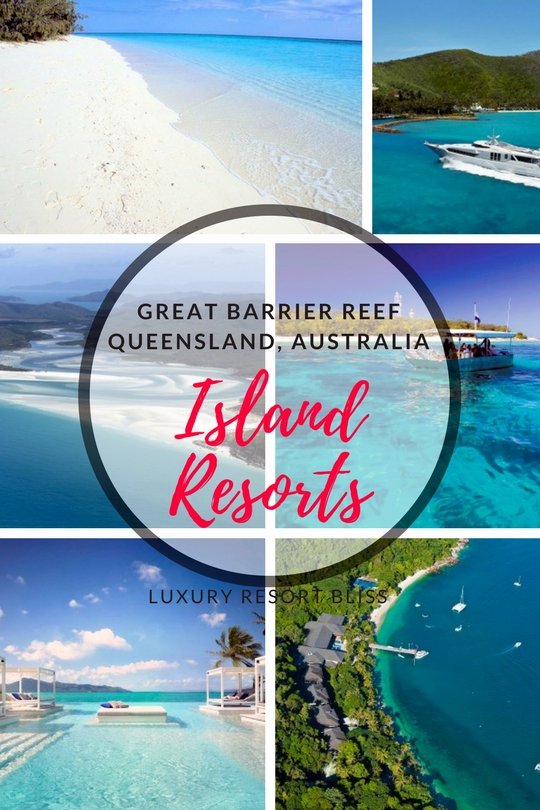 If you're unfamiliar with Queensland, we describe the area with a map below.
For a while now, my wife and I have cruised some of the Queensland Island Resorts and decided it's about time to write up some of our impressions as well as review the best options for a Queensland Island holiday. 
Fitzroy Island,  off the coast of Cairns is a favorite of ours as it's accessible more easily than some other island resorts.
Occupying about 240 hectares of lush tropical vegetation, Fitzroy Island juts out of the water like the nearby mountains clearly within view of the mainland.
The island has both white sandy beaches and beaches with an interesting coral arrangement. Most of the beach activities and where you land is located on the coral beach with the white sands of nude beach only a short walk or snorkel away. Indeed this is the best snorkeling on the island from the main beach to Nudey offers a spectacular array of diversity of coral and fish life and will both surprise and impress you with it's quality (even though you have already read this).
Clearly there is a lot to do on the island and the good people at Raging Thunder who run one of the better cruise options to the islands can cater for all types of visitors
Fitzroy Island Resort which is a  4 .5  Star Resort with 99 rooms family friendly rooms.  Right on the best spot on the island and the only resort this is the hub for most things and activities that happen.  A top restaurant, pools and a dive and adventure centre are only the start.

Here are some of the magnificent islands you can enjoy a fantastic vacation on the reef or elsewhere on one of the sand islands in Queensland.

Great Barrier Reef Island Resorts
Some great Queensland island resorts offer easy access to the reef. Especially those in North Queensland, the Whitsundays and a couple of others destinations. The great thing about the Far North Islands is they are closer to the reef.
By the time you are North of Port Douglas the reef almost meets the coastline. But the Southern Great Barrier reef also has some great pristine environments and are sometimes less toured. There's a map here: Map of the Great Barrier Reef is you'd like to get your bearings before looking at the island resorts. Enjoy the reviews and your vacation!
Video: Great Barrier Reef Islands
---
Lady Elliot Island Eco Resort
At the southern end of the reef is Lady Elliot island which sits on its hiring hundred acre Coral cay and only 100 guests can visit the resort of any one time because of it's protected status. There is technicolor reef in every direction, turtles, rays and lots of tropical fish.
Fortunately Lady Elliot island has its own airstrip with flights available Bundaburg, Hervey Bay and Brisbane.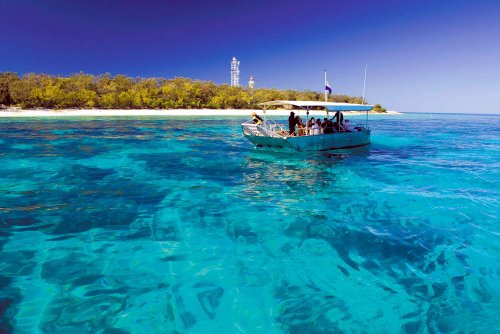 Lady Elliot Island Eco Resort
Click here for more information on Lady Elliot Island Eco Resort.

Lady Elliot Eco Resort guests can step off the beach & snorkel, swim or dive in an underwater world of brilliantly colored species.

---
Click above to see our review of this magnificent Far North Queensland resort. Located north of Port Douglas, it really is one of the most northern resorts and is world renowned. A great place to explore the reef from.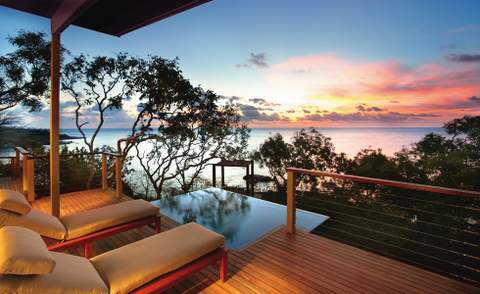 Lizard Island Resort
---
Heron Island Resort
Heron island isn't one of the closest islands to the shore and in fact is more than 70 km off Gladstone. The trip itself will cost you a couple of hours of your time but it's well worth the effort despite the sometimes bumpy journey. 
The 20 acre island is known as the most eco-friendly and has a spectacular array of fish. It's a 2.5 hour journey by ferry - a bit too long for a day trip. That makes this spot a bit less crowded and a good place to get away from it all. There are also only about 250 guests on the island that any one time.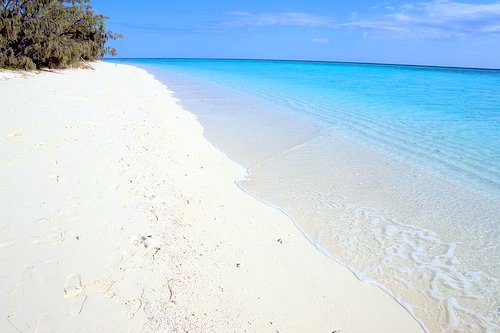 Heron Queensland Island Resort
Click here for more information and reviews on Heron Island.

Join a guided reef walk to learn more about the unique ecology of the Great Barrier Reef or snorkel off the beach:

---
Fraser Island, Queensland, Australia
Fraser Island is located off of Hervey Bay (a great whale-watching spot). It is World Heritage Listed and a great place to see dingoes in their natural element. You need a 4WD to drive here.
Ancient rainforests, mighty sand dunes, pristine freshwater lakes and streams and an abundance of birds and wildlife are what you'll find in this spot.
The recommended place to stay here is Kingfisher Bay Resort.
See other Hotel Special Deals in Fraser Island here.

---
Green Island Resort

Green Island Resort
Green Island Resort is one of the most unique and romantic destinations in Tropical North Queensland. Enjoy white sandy beaches, crystal clear waters. Green Island is close to Cairns and a great place to snorkel the reef right off the beach.
Special Hotel Deals in Green Island, Australia

---
---
Fitzroy Queensland Island Resort
Fitzroy Island Resort is located a one hour boat trip away from the Cairns reef Fleet Terminal.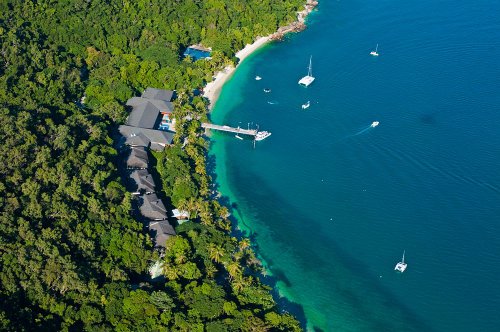 This is the classic tropical island close to Cairns that the locals adore and that Luxury resort Bliss sees as one of the very best. The amazing surrounds and ability to stroll out of your room to enjoy snorkeling from the beach are a bonus.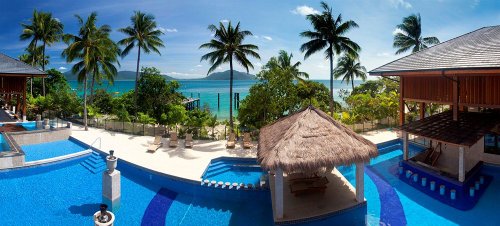 The resort itself features a restaurant which serves quality breakfast, lunch, and dinner is located in this compact resort which provides all the creature comforts you would desire but in a spectacular setting. While not a mega-sized resort by any means, there are features that remind you that you are getting a quality experience. 
There is a swim-up bar, a marina, an arcade/game room, and gift shops/newsstands. Rooms are modern with Plasma televisions and there is housekeeping daily.
More information on Fitzroy Island Resort.

---
Great Keppel Island
17 white sand beaches encircling its 17.5 miles shoreline, the Great Keppel Island Resort offers a unique holiday destination.

Hotel Special Deals in Great Keppel Island

---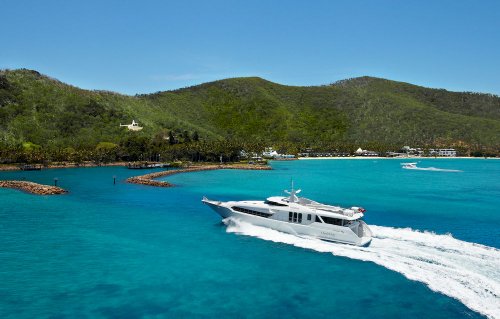 Whitsunday Island Resorts Queensland
Check our also our full review of the Whitsunday Queensland Island Resorts by clicking the link above. This is an iconic location off of Airlie Beach, QLD.
Daydream Island Resort, located in the heart of Queensland's Great Barrier Reef, offers a world of possibility for fun, adventure, romance and relaxation. This is in the Whitsundays, off of Airlie Beach.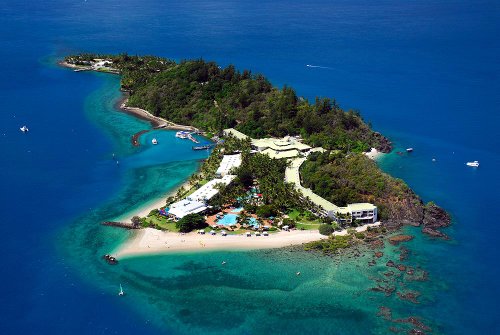 ---
North Queensland Vacation
Your likely going to combine your Queensland island resort holiday with a North Queensland Vacation.
Palm Cove along with Cairns and Port Douglas are great places to explore the Great Barrier Reef and wet tropics rain forest. I choose to live in this region because of it's outstanding beauty and there's so much to do!
Hayman island is the closest to the Great Barrier Reef and a quick trip takes you out to the coral at Knuckle Reef Lagoon. Hayman is also recognized as one of the top Queensland Island Resorts and often wins international awards for outstanding service.
Hayman has a luxury lagoon located right by the resort as well. Trips are available from payment to Heart Reef, around the Whitsundays and to Whitehaven Beach.  See more on our Whitsunday Island Resorts page.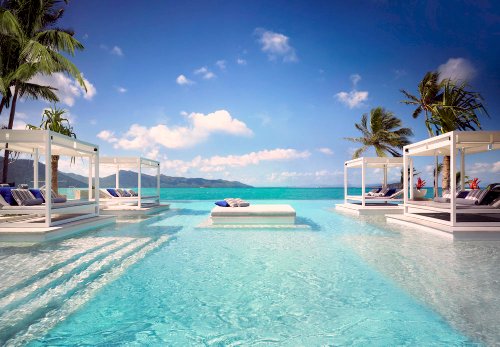 Haymen Island Resort
---
Great Barrier Reef Vacations
Here are some awesome pictures of the reef and help you to gain an understanding of its importance and why it has world heritage status This Map of the Great Barrier Reef will give you an idea of how vast this unique area is.
Great Barrier Reef Map
This Great Barrier Reef map below shows the vastness of this remarkable world heritage site.

UNESCO describes The Great Barrier Reef as "a site of remarkable variety and beauty.... with 400 types of coral, 1,500 species of fish.

This is an amazing place with 2900 individual reefs squeezed in to 20,000 km2. The Great Barrier Reef map will help give you an appreciation of it's size and amazing beauty.

As you can see the reef stretches out for a big chunk of the Queensland coastline and gets closer to the mainland the further up you go. The outer reef can take a couple of hours to get to on a cruise and it is worth making the trip.

The Far North of Queensland is an ideal place to enjoy the reef. Warm in the middle of winter places like Palm Cove,
Cairns and Port Douglas also boast another world class attraction in the Wet Tropics National park and serve as an Ideal place to enjoy both locations. The imagery of these two unique places meeting is simply breathtaking in it's beauty and I am not sure if this happens any where else.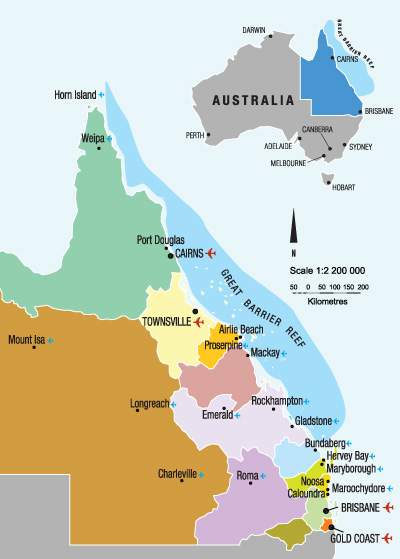 Another place rich in beauty is the Port of Airlie Beach. This trendy and popular nook makes for easy access to the Whitsunday Islands and the Great Barrier Reef. 
There are more than 70 breathtakingly natural islands in the Whitsunday group as well as more Queensland Island Resorts you can stay at on your Great Barrier Reef Adventure.

Great Barrier Reef Map https://commons.wikimedia.org/wiki/File:Wikitravel_QLD_Map.jpg
Share Your All-Inclusive Adventures and Questions! 🌴 Have a memorable experience from a luxury all-inclusive vacation? We'd love to hear it at Luxury Resort Bliss. We're on the lookout for top-quality, insightful tales that'll inspire our community. Dive in and be a part of our sun-soaked stories! 🌊🍹✨
The story is a fictionalized account founded on travel expertise, research, and experience. Always refer to recent guest reviews and perform due diligence before booking.
💼 We cherish our independence! ✈️ Our travel recommendations are carefully researched, bias-free, and powered by human expertise by April and Ricky of LRB (we have personally researched and travelled to many of these destinations and researched others thoroughly through first-hand accounts). We also have put in the hard miles, and Ricky has worked for decades for resort and hotel chains  Hyatt, Hilton, Shangri-La and Radisson before starting Luxury Resort Bliss in 2007. 🌍✨ Unlike some other resort review websites we are concerned on the guest experience rather than mere corporate interest.