Cable Beach Club Resort & Spa
Cable Beach Club Resort & Spa
Looking to discover the ultimate oasis at Cable Beach Club Resort & Spa in the breathtaking Kimberley region where you can indulge in a luxurious 5-star experience?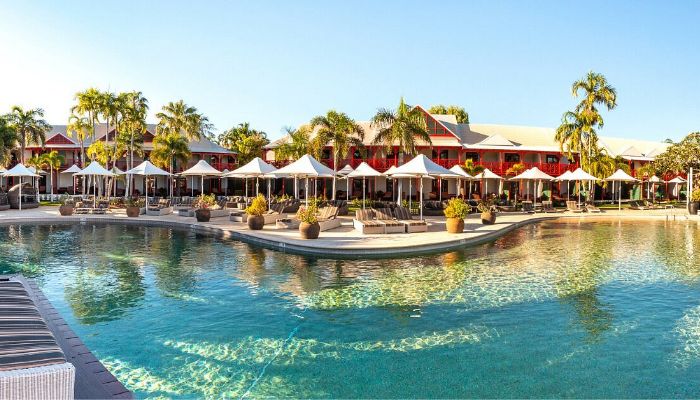 Location: 4.5/5

Cable Beach Club Resort & Spa is spectacularly positioned on the pristine shores of Cable Beach, offering stunning views of the Indian Ocean. Its proximity to the airport adds to its accessibility. Broome, with its unique cultural and historical attractions, is a short drive away, allowing guests to experience both the beach and city life. Deductions arise from its remoteness from major cities, which could be a challenge for some travelers.
Accommodation: 4.5/5

The resort's accommodation is a beautiful blend of colonial charm and Asian influences. Rooms and suites are spacious, tastefully furnished, and equipped with modern amenities. The balconies offer mesmerizing views of the beach and surrounding tropical gardens. Some visitors might miss the availability of contemporary high-tech fixtures found in ultra-modern hotels, but the rooms' comfortable, homely feel offsets this.
Cable Beach Club Resort & Spa on Expedia
4.5 star property
Upscale hotel on the beach, with 2 outdoor swimming pools
9.2 out of 10 Wonderful
Cable Beach Club Resort & Spa on Kayak
1 Cable Beach Road, Cable Beach, WA 6725, Australia
+61 891 920 400
Amenities: 4/5

Cable Beach Club Resort & Spa provides a rich array of amenities, including a world-class spa, two outdoor pools, several restaurants, and bars. The dining options are diverse, featuring Italian cuisine at the Cichetti Club and a fine selection of seafood at Sunset Grill. However, there's room for improvement in terms of recreational activities, especially for kids, which could have made the resort more family-friendly.
Service: 4.5/5

Service at the resort is generally excellent, with staff reported to be warm, responsive, and knowledgeable about the local area. A round-the-clock concierge service, express check-in, and friendly spa therapists all contribute to an overall pleasant experience. Some guests might expect a more personal butler-type service that isn't offered here.
Value for Money: 4/5

Given the range of amenities, stunning location, and level of service, Cable Beach Club Resort & Spa offers good value for money. However, for budget-conscious travelers, the cost might seem a bit steep.
In conclusion, Cable Beach Club Resort & Spa scores a commendable 4.3 out of 5. It's ideal for honeymooners, couples, and adventure-seekers drawn to the charms of a luxurious, laid-back beachside resort. For families or those seeking a more child-centric holiday, other resorts might be a better fit.
Exploring Broome and Cable Beach 
My first impression of Broome was its distinctive laid-back atmosphere, its languid pace of life like a comforting lullaby that slowed my inner tempo. The sunsets, exploding in hues of violet, crimson and gold, were awe-inspiring, particularly from Cable Beach. With 22 kilometers of pure white sands and clear turquoise waters, Cable Beach is Broome's crowning jewel. I could spend days lazing on the sand, reading a book, occasionally diving into the ocean to cool off.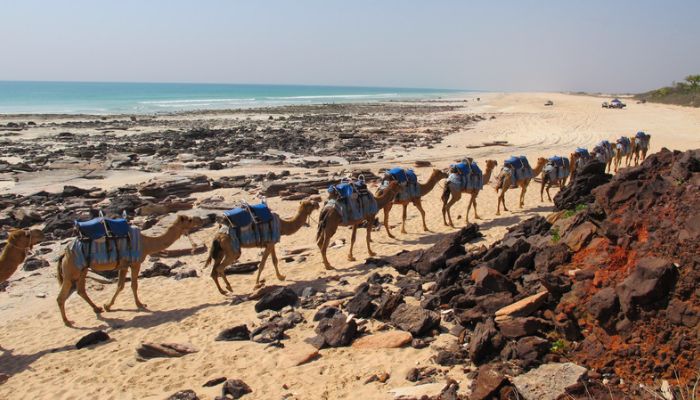 But Broome and its surroundings offered more than just a pretty beach. The town itself was a melting pot of cultures and history. It's said that 57 languages are spoken in the Shire of Broome, a testament to its multicultural heritage. Strolling through the streets of Chinatown, I marveled at the pearl luggers and pondered over the stories of the town's past as a thriving pearling port.
Then there was Gantheaume Point, at the southern end of Cable Beach. This ancient red rock formation was like stepping back in time, its craggy cliffs housing dinosaur footprints said to be 130 million years old. Standing there, I could almost envision those majestic creatures roaming this earth.
Exploring the wider Kimberley region, the natural beauty was breathtaking. I ventured to the Horizontal Falls, a natural phenomenon described by David Attenborough as 'one of the greatest wonders of the natural world'. The exhilarating speed boat ride through the falls, where massive tidal movements create a waterfall effect, was one of the most thrilling experiences I've ever had.
My trip wasn't complete without a visit to the pearl farms. I took a tour around Willie Creek Pearl Farm, learning about the fascinating process of culturing pearls and ended up with a small souvenir to remind me of this unique place.
In Broome and Cable Beach, I found a balance between relaxation and adventure, a mix of beach life and cultural exploration. It was far removed from the skyscrapers and bustling streets of New York, but therein lay its charm. As my trip drew to an end, I knew one thing for sure - I'd be back to explore more of this wild, beautiful part of the world.
Cable Beach is located in Broome, a small town in the Kimberley region of Western Australia.
Cable Beach is renowned for its 22 kilometers of pure white sands, turquoise waters, and breathtaking sunsets. It's also famous for its camel rides along the beach.
Cable Beach is easily accessible by car or bus from the town center of Broome, about a ten-minute drive. The public bus service, Broome Explorer Bus, offers regular services to and from the beach.
Yes, Cable Beach offers a range of facilities, including public toilets, showers, picnic areas, and a playground. There are also nearby cafés and restaurants.
I would love to say that generally, swimming at Cable Beach is relatively safe, but as with any beach, you should always be aware of ocean conditions. The beach is patrolled by lifesavers during the dry season (usually from May to October). Be mindful that dangerous box jellyfish can be present during the wet season (November to April) and sometimes beyond.
Besides swimming and sunbathing, Cable Beach is a great spot for fishing, beachcombing, and photography. The beach is also famous for its sunset camel rides.
Pets are allowed on some sections of Cable Beach. There's a designated dog exercise area between Gantheaume Point and the rocks at the southern end of Cable Beach. Please remember to clean up after your pet.
Dinosaur footprints aren't at Cable Beach itself, but nearby at Gantheaume Point, a short distance from Cable Beach. At very low tide, it's possible to see these 130-million-year-old dinosaur footprints.
The best time to visit Cable Beach is during the dry season, from May to October, when the weather is pleasant, and the beach is patrolled. The wet season can bring heavy rain and humidity, but also fewer tourists and lush landscapes.
Yes, there are various accommodations near Cable Beach ranging from resorts like Cable Beach Club Resort & Spa to camping sites, making it suitable for all types of travelers.
💼 We cherish our independence! ✈️ Our travel recommendations are carefully researched, bias-free, and powered by human expertise by April and Ricky of LRB (we have personally researched and travelled to many of these destinations and researched others thoroughly through first-hand accounts). 🌍✨
We try to keep everything up to date, but please always do your own research and contact us if you know any issues for us to help others as best we can as a small but professionally focused team! 🧐📚⚠️