All-Inclusive Resorts In Western Australia
All-Inclusive Resorts in Western Australia
Looking for All-Inclusive Resorts in Western Australia
My trip to Western Australia began on an unseasonably cool Perth morning. I sipped my coffee, the rich aroma mingling with the city's salty sea breeze, as I planned my journey into the heart of the state's top all-inclusive resorts.
TripAdvisor Advised that there are five all inclusive properties in Western Australia.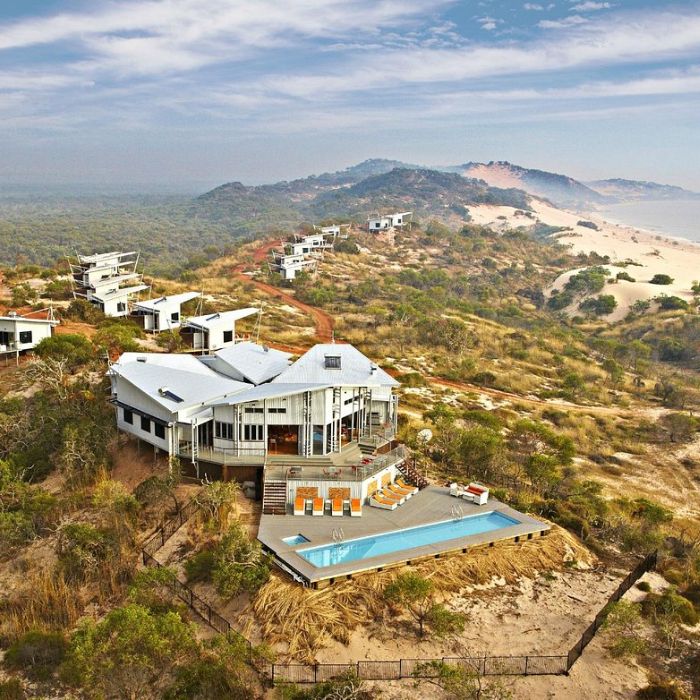 My first stop was the Berkeley River Lodge, a secluded oasis nestled between the Timor Sea's turquoise waters and the rusty outback. I caught a plane from Kununurra, a journey that revealed an aerial tapestry of remote landscapes. As we descended, the eco-lodge emerged like a mirage, its minimalist design blending seamlessly into the rugged Kimberley landscapes.
The adventure begins with an exhilarating plane ride, soaring above breathtaking landscapes to land on the lodge's private airstrip. Offering all-inclusive luxury villas, indulgent gastronomic experiences, and personalized itineraries, the lodge effortlessly melds opulence and nature. From river cruises to ancient aboriginal art exploration, every aspect is thoughtfully designed to create lifelong memories for its guests.
Upon my arrival, I was greeted with a refreshing lemongrass-infused drink and an unrivaled view of the untouched Berkeley River. I was led to my private villa with its outdoor deck and the cantilevered pool that stretched out towards the river. The rooms, I observed, were tastefully adorned with contemporary decor that resonated with the natural surroundings. Yet the lodge's true luxury was its invitation to disconnect; with no cell service or internet, I was fully immersed in the environment's tranquility.

At the heart of Australia's stunning Kimberley region, the allure of all-inclusive luxury beckons. This immersive package includes scenic flights from Kununurra that offer an unrivaled aerial perspective of this vast landscape, leisurely 4WD tours along the pristine beachfront, and casual yet decadent dining at the renowned Dunes restaurant.
Every aspect of your stay is taken care of, beginning with accommodation in one of our stunning villas, each featuring our unique outdoor bathrooms for an authentic yet luxurious connection with nature. Your culinary journey is also catered for, with all meals meticulously crafted by our world-class chefs, complemented by a wide selection of beverages, including an extensive wine list that showcases some of the best Australian vintages. (For those who fancy something more special, top-shelf spirits, cocktails, and a reserve wine list are also available at an additional cost, which can be charged back to your room for payment at the conclusion of your stay.)
Beyond these creature comforts, the package offers a rich array of experiences to quench your thirst for adventure. These include visits to serene rock pools, enchanting waterfalls, and sites of ancient Aboriginal art. You will also have the opportunity to cruise the waters of the amazing Berkeley property and to try your hand at Kimberley coastal fishing, guided by our experienced staff.
To ensure your visit is a truly personalized one, we will create a bespoke itinerary for you on arrival. Our mission is to make sure that you leave the lodge with not just beautiful photographs, but memories that will last a lifetime. It's more than an all-inclusive package—it's an all-encompassing Kimberley experience.
The Berkeley River Lodge on Expedia
4.0 star property
4-star lodge near the beach
El Questro Homestead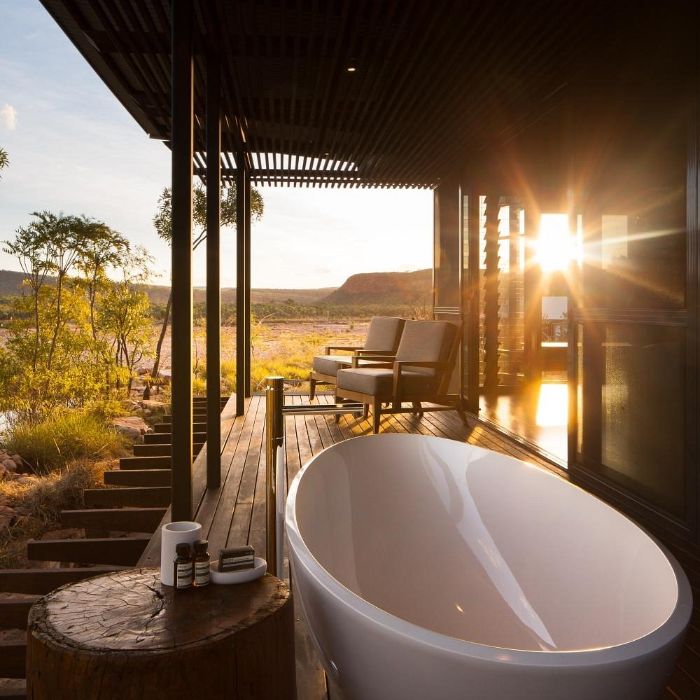 El Questro Homestead
Nestled within the vast and ancient landscape of the Kimberley region, tucked between the vivid burnt-orange cliffs and vibrant, green lawns, the El Questro Homestead emerges as an all-inclusive luxurious oasis, inviting guests into a world of comfort, exclusivity, and awe-inspiring beauty. This ten-suite hideaway is a sanctuary of chic interiors where rooms hover over the tranquil Chamberlain River, capturing the heart and soul of the outback.
Every day at the Homestead is an adventure in itself, beginning with the melodious songs of local birds and ending under a blanket of shimmering stars while guests relish in locally sourced three-course dinners, paired with the finest wines. Dining at El Questro Homestead is an integral part of the guest experience, with menus that echo the richness of the local produce from the fertile Ord River Valley.
This tucked-away haven encourages you to immerse yourself in the breathtaking beauty of the Kimberley. With nearly 700,000 acres to explore, there's a piece of the wild for everyone, from adventurous explorers to novice hikers and first-time four-wheel drivers. To facilitate this exploration, the Homestead offers a range of tailored, inclusive experiences guided by El Questro's knowledgeable rangers, allowing guests to journey through the landscape via helicopter, 4WD, boat, or on foot.
The Homestead takes pride in offering luxurious experiences that include cruising through sunlit gorges, indulging in the peaceful serenity of the thermal springs, and embarking on wildlife and history tours. For those seeking an elevated perspective, helicopter tours to untouched areas of the property provide an unforgettable vista of lush rainforests, sunlit cliffs, and cascading waterfalls.
In essence, El Questro Homestead isn't merely a place to stay—it's a journey into the heart of Australia's awe-inspiring outback, providing unforgettable experiences that marry the beauty of nature with luxurious comfort and hospitality.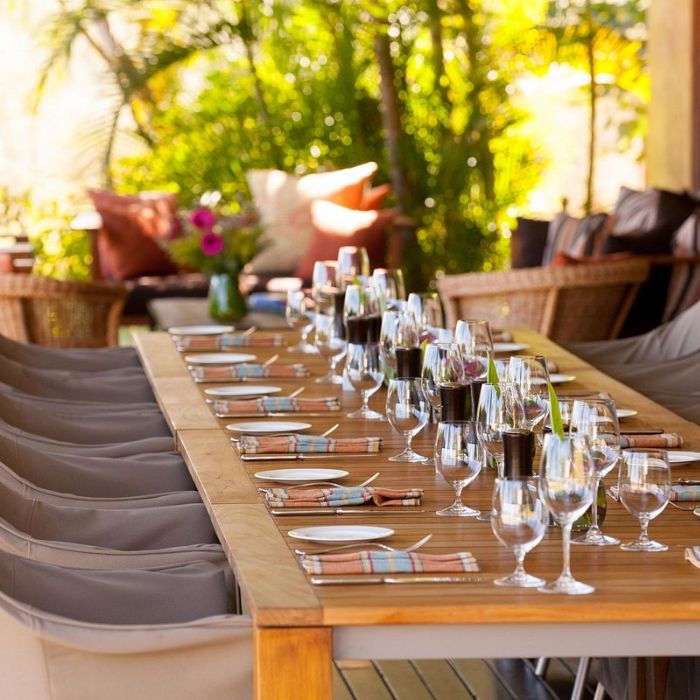 All-Inclusve Packages At El Questro Homestead
The El Questro Homestead offers a number of all-inclusive packages designed to offer guests a comprehensive, luxurious experience in the Kimberley region of Western Australia.:
Luxury Accommodation: Guests at El Questro Homestead can look forward to staying in one of the property's ten chic and comfortable suites, each offering fantastic views of the surrounding landscape.
Gourmet Meals: The packages typically include daily gourmet meals inspired by the local produce of the Ord River Valley. Breakfast, lunch, and dinner are all included, and guests can enjoy these meals in the homestead's scenic dining areas.
Beverages: The packages also usually include a selection of wine, beer, basic spirits, and sparkling wine.
Selected Tours and Experiences: These could include:The Chamberlain Cruise: A boat cruise to experience the breathtaking Chamberlain Gorge.The Bush Culture, History & Nature Tour: A guided exploration of the area's natural beauty and local culture.Bird Watching Tour: A chance to spot and learn about the region's native bird species.Use of the Zebedee Thermal Springs each afternoon: These naturally heated thermal springs offer a perfect place to relax.Guided walks to some of the most beautiful gorges in the Kimberley region.Sunset viewing at Buddy's Point: A serene way to end the day.
Exclusive Homestead Experiences: Tailored experiences facilitated by the resort's knowledgeable rangers, allowing guests to explore the property and its surroundings in a customized manner.
Please note that this is a broad overview, and the actual inclusions can vary. For the most accurate and updated information, it is always best to contact El Questro Homestead directly or check their official website.
Monkey Mia Dolphin Resort
Next, I made my way to the RAC Monkey Mia Dolphin Resort, a perfect blend of tranquility and adventure located in the Shark Bay World Heritage area. I was greeted by the resident pelicans and a breathtaking panorama of the calm blue bay. I stayed in a beach-view villa, complete with a well-equipped kitchenette and an alfresco dining area where I watched the dolphins frolic at sunrise. The resort was abuzz with families, the laughter of children echoing in the air as they made their way to the daily dolphin feeding sessions—a highlight of my stay.
RAC Monkey Mia Dolphin Resort on Expedia
3.5 star property
Ocean-view hotel with a bar/lounge, near Monkey Mia Beach
8.0 out of 10 Very Good
8.0/10 Very Good
Perth's Crown Metropol
Finally, I traded the untouched landscapes of the outback and coastal beauty for the cosmopolitan charms of Perth's Crown Metropol. The resort was an oasis of luxury and sophistication, with contemporary rooms boasting city views, a world-class spa, and multiple dining options. My favorite was the famed Rockpool Bar and Grill, where I savored a succulent steak, a testament to Western Australia's renowned beef.
Traveling from a secluded river lodge to a beach resort teeming with local wildlife, and finally, a city's luxurious oasis was indeed a whirlwind. But the experiences offered something truly unique: an immersion into Western Australia's diverse beauty, its pristine landscapes, and its warm hospitality. It's an adventure I'd recommend to all—solitude seekers, wildlife enthusiasts, and city lovers alike.
For those seeking to combine nature and comfort, the Berkeley River Lodge and RAC Monkey Mia Dolphin Resort are an excellent choice. If cosmopolitan luxury is more to your liking, then Crown Metropol Perth will more than satisfy your needs. Every resort offers a different facet of Western Australia, a diverse state that leaves every visitor enchanted.
Find the best deal, compare prices, and read what other travelers have to say at Tripadvisor

Scorecard for All-Inclusive Resorts in Western Australia
Compared to other popular all-inclusive resort destinations globally, Western Australia's resorts offer a unique and luxurious experience, though they may not always fall strictly under the "all-inclusive" label as known in other regions. Here's a general comparison:
Western Australia All-Inclusive Resorts
Variety: 3/5 - Limited number of truly all-inclusive resorts.
Luxury Level: 5/5 - The resorts available are typically high-end, offering top-notch services.
Natural Beauty/Location: 5/5 - Resorts are often located in stunning, unique natural settings.
Adventure Activities: 5/5 - Abundance of unique outdoor and adventure activities.
Cultural Experiences: 4/5 - Good opportunities for Indigenous cultural experiences and exploration of Australian history.
Value for Money: 3/5 - Higher-end resorts can be pricey, and extras like adventure tours and premium beverages may come at an additional cost.
By comparison:
Caribbean All-Inclusive Resorts
Variety: 5/5 - A vast array of resorts to suit all tastes and budgets.
Luxury Level: 4/5 - While many high-end options exist, there's also a wider range of mid-tier and budget resorts.
Natural Beauty/Location: 4/5 - Beautiful beachfront locations are typical, though less variety than Western Australia.
Adventure Activities: 3/5 - Some water-based activities are typically included, but may be less variety overall.
Cultural Experiences: 3/5 - Cultural experiences can be found, though these are often secondary to beach/resort activities.
Value for Money: 4/5 - A range of price points and more traditionally inclusive (meals, drinks, activities) packages provide good value.
Keep in mind that these ratings are generalized and can vary based on the specific resort or individual preferences.
fAQ on all-inclusive resorts in Western Australia
What is included in an all-inclusive resort package in Western Australia? All-inclusive resort packages usually cover accommodation, meals (breakfast, lunch, dinner, and sometimes snacks), a variety of beverages, and a selection of activities. Some resorts also include airport transfers. However, offerings can vary significantly between resorts, so it's essential to check the specifics at the time of booking.
Are all drinks included in an all-inclusive package? Most all-inclusive resorts in Western Australia offer a range of beverages as part of their packages, including non-alcoholic drinks and selected alcoholic beverages. However, premium drinks, such as top-shelf spirits, cocktails, or certain wines, may be excluded from the package and available for an additional fee.
Are off-site activities included in all-inclusive packages? Typically, on-site activities are included in all-inclusive packages. Off-site activities might be available for an additional fee. Some resorts might offer packages that include specific off-site excursions or activities.
Are spa services included in all-inclusive packages? Generally, spa services are not included in the standard all-inclusive package and are available at an extra cost. However, some resorts may offer specific spa-inclusive packages.
Can dietary requirements be catered for at all-inclusive resorts? Most all-inclusive resorts in Western Australia can cater to various dietary requirements, including vegetarian, vegan, gluten-free, and other specific diets. It's best to communicate your dietary needs at the time of booking.
Is tipping included in an all-inclusive package? Tipping policies vary from resort to resort. Some include gratuities in their all-inclusive packages, while others leave tipping to the discretion of guests. It's recommended to check the resort's tipping policy before arrival.
Is it worth paying for an all-inclusive resort in Western Australia? This depends on what you want from your vacation. All-inclusive resorts can offer excellent value, especially if you plan to take advantage of the included amenities, meals, drinks, and activities. However, if you intend to spend a lot of time exploring off-site, an all-inclusive package might not provide the best value.
💼 We cherish our independence! ✈️ Our travel recommendations are carefully researched, bias-free, and powered by human expertise by April and Ricky of LRB (we have personally researched and travelled to many of these destinations and researched others thoroughly through first-hand accounts). 🌍✨
We try to keep everything up to date, but please always do your own research and contact us if you know any issues for us to help others as best we can as a small but professionally focused team! 🧐📚⚠️