Top Clearwater Beach Resorts & All Inclusive
There are some great Clearwater resorts and St. Petersburg resorts. If you're looking for a relaxing holiday on the beach, we've listed the best resorts in the area below. Our top choices are based on past and present performance as well as customer reviews.
Popular Awards: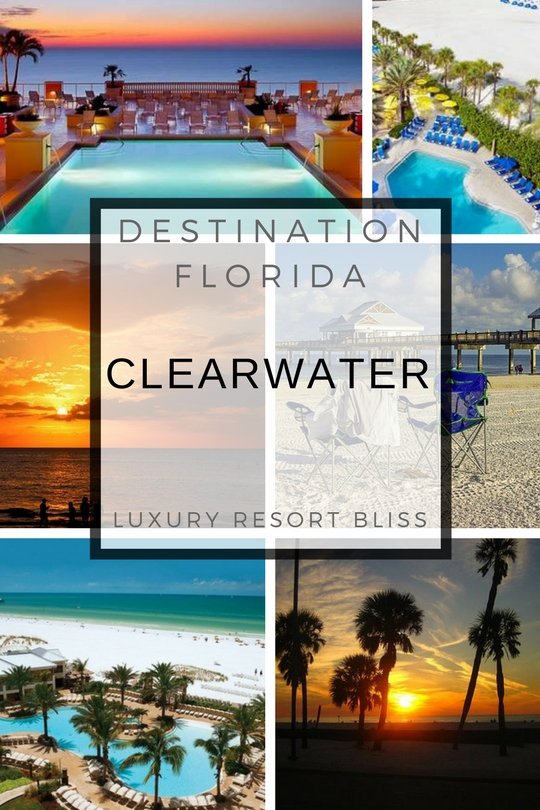 This video show a day trip to Clearwater, but this area has more to offer than only day trips with fine white sand beaches and attractions. Thankfully there are more than a few good resorts to help you enjoy.
VIDEO: Top Things To Do In CLEARWATER BEACH | Visitors Guide

Best Clearwater Beachfront Resort
These are our top Clearwater beach resorts ideal for rest and restoration.  They are selected because of the outstanding service, locations, and ratings by both guests and experts. 
Resorts and hotels on the beach in Clearwater Florida are not in the majority. In fact one 25 of the nearly 200 properties are beachfront. 
Also see Top Clearwater Vacation Rentals
---
Hyatt Regency Clearwater Beach Resort 
It's hard to miss this big 250 room pink resort from anywhere on the beach in Clearwater set near many of the shops and restaurants. 
For couples and families alike there is something for everything all done with a touch of class. Enjoy the luxury spa, the view from the pool on the eighth floor or some of the best fine dining and seafood in the area. Or if you are up for a night in there are full kitchens as well.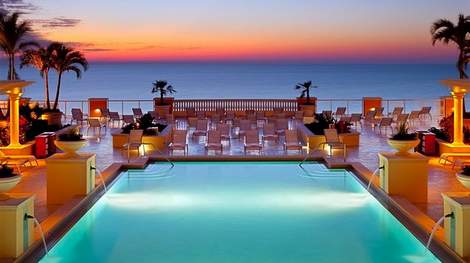 Hyatt Regency Clearwater Beach Resort
Location: Between the Waterways and the Gulf of Mexico. Near the boardwalk with good access to beaches and the aquarium.
Amenities: Include fully equipped kitchens, private cabanas with a bar and lots of other luxury features, an exceptional luxury spa and meals with notable thought given to sustainability.
Reviews: This is clearly an exceptional resort which rates above average in comparison to many other resorts in it's class. The outstanding location, well maintained facilities and thought given and attention to detail of the restaurants set this above many of the other five star resorts at Clearwater Beach.
Read reviews, find more information, and see special offers for Hyatt Regency Clearwater Beach Resort.
---
East Shore Clearwater Resort Apartments
Location: Close to the beach but on on the island of Clearwater Beach.
This is not a huge luxury resort but is constantly rated as one of the top options at Clearwater Beach. The complete immaculate kitchens go down a treat with families who stay here. You always a chance of spotting a dolphin of the back deck.
More information and reviews for East Shore Clearwater Resort Apartments
---
Marriott Suites Clearwater Beach on Sand Key
A luxury Clearwater Bay resort with facilities for kids and couples alike. The kids are well catered for with wading pools, and activities at the kids club. While it is not on the beachside the views over the bay and a free shuttle to save you the 10-minute walk make up for this. 
Location: An all-suite resort on Sand Key and 12 miles from the Airport.
Amenities include restaurants and lounges, a boardwalk with 20 shops, pool area, 35-foot, waterfall into a heated, free-form pool, massage services, spa, and a fitness facility.
Marriott Clearwater Resort
Rooms: Two-room suites with a separate bedroom, private balcony, "Stay for Breakfast" with complimentary daily breakfast from the hot buffet, also full menu room service. 
Reviews: Guests rave about pool because they stay there most of the day. Don't missLisa the macaw at the hotel entrance. The suites were found comfortable for four people. Service was above average. There is a short walk to get to the course sand, but it's a clear water beach.

More on Marriott Suites Clearwater Beach on Sand Key

---
Sheraton Sand Key Clearwater Resort
Location: On Clearwater Beach at a barrier island. A short drive from Tampa International Airport.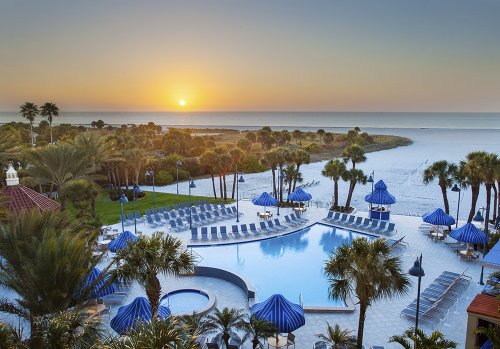 Sheraton Sand Key Clearwater Beach Resort
Amenities: Include Island Grille Bistro restaurant, poolside Turtle Bar, wireless Internet, summer kids camp, fitness center and tennis club.
Rooms: 375 100% smoke-free with a 37" flat screen TV, coffee maker, pay-for-view movies, cable TV, private balcony, in-room wireless or wired high-speed Internet access for a charge.
Reviews: Refurbished rooms and the cocktails by the pool were spoken highly of. The walk down by the pool to the well positioned beach is a delight. Rated equally and exceptionally well both with families and couples alike. A real and rare quality resort atmosphere in Florida.
More on Sheraton Sand Key Resort 
---
Best All Inclusive Resorts in Clearwater Florida
Clearwater beach does not rat highly on the all-inclusive scale because properties here generally do not include drinks, meals, and things like beach sports in their activities.
But there are exceptions. One of the few resorts registered as all-inclusive on multiple platforms is the Sand Pearl. Fortunately it is also a pearl pf a resort for both families and adults alike.
Best All Inclusive Resorts In Clearwater Florida: Sandpearl Clearwater Beach
Saying that, the resort is not all-inclusive in the sense that you might find all-inclusive resorts in the Caribbean or Mexico.  However, what the resort offers with its packages as well as credits you receive with these will mean you will have to put your hands into your pockets to pay less during your stay.  

For example, you can enjoy four nights and pay for three with the current package (on writing) and receive additional  'resort credit' to use at the outlets. 
You would also do well to make a comparison with the best Florida All Inclusive Resorts.
And the nearby all-inclusive resorts to Clearwater are the Marco Island all-inclusive resort and the Naples Beach all Inclusive resort which are a couple of hours down the coast but also on the gulf side of Florida. 
For all-inclusive vacation packages and complete trips see the Florida all-inclusive vacation deals.
Sandpearl Clearwater Beach Resort
Best All Inclusive Resort in Clearwater Award: Sandpearl Clearwater Beach Resort
Another quality resort with a fabulous seafood restaurant and prime sunset beachfront location - where the historic Clearwater hotel once was. 
Enjoy nightly fires by the beach, a well supervised kids club,  a classy spa, yoga lessons. With a four diamond restaurant and stacks of facilities this is a good choice for families and couples alike.
Location: On 700 feet of Clearwater's beachfront.
Amenities include a world-class spa, signature cuisine, fully equipped fitness center, cuisine by the pool, Starbuck's coffee, cappuccino  and pastries, lagoon-style pool and private cabanas.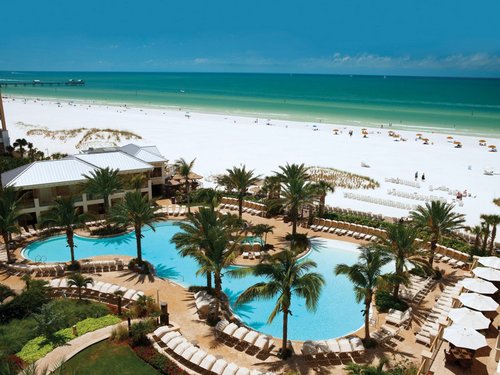 Sandpearl Clearwater Resort
Rooms: 253 guestrooms and suites. They have balconies, complimentary high-speed wired and wireless Internet access, flat-screen LCD televisions and mini fridges.
Reviews: A resort where they rave about the experiences they have. Restaurant was exceptional for food and good service. Fire on the beach at sunset - nice. Some guests recommend paying the $30 for a beach cabana. Good new addition to the existing Clearwater resorts.

More on Sandpearl Resort.

---
---
Hilton Clearwater Beach Resort
Location: on 10 acres of white sandy beach.
Amenities: Kids Fun Factory, beachside pools, go on a wave runner, parasail, deep-sea fishing tours, snorkeling, fitness center, cabanas, Restaurant, Grill and poolside dinners.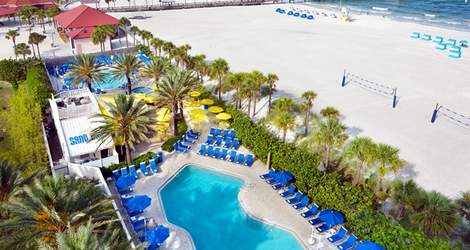 Hilton Clearwater Beach Resort
Rooms: mostly with balconies, have video games, high-speed Internet access, in-room safes. 
Reviews:  this is good value for money for the family with children - who rate this place highly. Seems to have made a big comeback since its days as the holiday inn. The staff and service were great. Check-ins seem to go consistently smoothly.

More on Hilton Clearwater Beach Resort.

---
Holiday Inn Hotel & Suites Clearwater Beach
Location: A good value quality Clearwater resort atop a 30-foot bluff at the Intracoastal Waterway. Five miles from Sand Key Park and Clearwater Beach.

Amenities: Victorian architecture, oaks with Spanish moss, Cabana Club Restaurant, private beach, Magnolia Café,  Palm Grill which has live piano music, golf lessons, spa, murder mystery dinner theater, historical walking tours.

Rooms:  Choose from 244 some of which have water views, refrigerators, decorative fireplaces or 14-foot ceilings. All with mahogany furnishings.
More information and reviews on Holiday Inn and Suites, Clearwater.

---
Great Budget Option: Sea Captain Resort on the Bay
It gets great ratings and under $100 a night.

Want to see more? Visit Florida resorts for more resorts in the area.

---
Things to do in Clearwater
St. Petersburg/Clearwater Area Official Site

Clearwater Beach Rentals Information about hotels in Clearwater beach, Resorts in Clearwater bleach, types of rentals and things to do in Clearwater bleach.
See also the best Clearwater Florida vacation home rentals or the best Clearwater Florida inclusive vacation packages.


VIDEO: Clearwater Beach and Honeymoon Island Tour

💼 We cherish our independence! ✈️ Our travel recommendations are carefully researched, bias-free, and powered by human expertise by April and Ricky of LRB (we have personally researched and travelled to many of these destinations and researched others thoroughly through first-hand accounts). 🌍✨
We try to keep everything up to date, but please always do your own research and contact us if you know any issues for us to help others as best we can as a small but professionally focused team! 🧐📚⚠️