9 Best Guatemala All Inclusive Resorts (The Hidden Gems)
9 Best Guatemala All Inclusive Resorts (The Hidden Gems)
Are you planning a trip to Guatemala? This neighboring country to Mexico has a long and rich history, full of Mayan culture, but booking an all inclusive resort may be challenging. 
Guatemala has fantastic food, culture, and nature for everyone to explore but goes outside the box when offering accommodation.
We've rounded up top Guatemala all inclusive resorts and similar accommodation recommendations, so the only thing you have to do is pack sunscreen!
Be prepared for beautiful beaches and stunning sunsets in this Mayan masterpiece.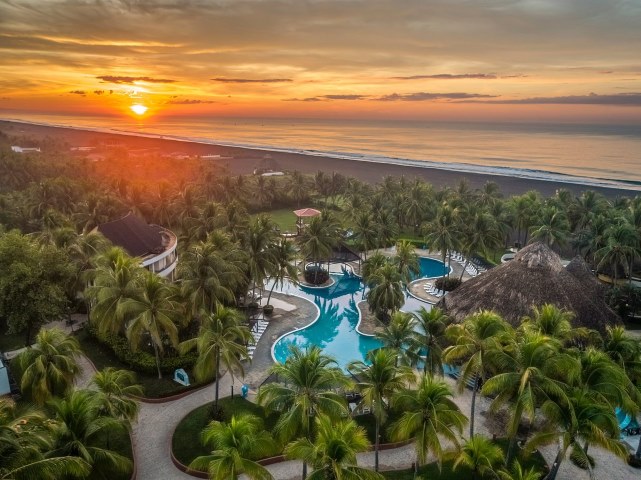 Hotel Soleil Pacifico
In Guatemala, Location Is Everything!
The most challenging part about planning an all inclusive vacation in Guatemala is choosing the correct location. Guatemala is known to attract tourists for beaches, Mayan ruins, and delicious food, and deciding what kind of vacation you want is the pinnacle for having the best experience. 
Antigua city is a popular destination in Guatemala for its stunning colonial-inspired neighborhoods and the proximity to volcanoes and hikes. 
Tikal National Park: For our history buff travelers, Tikal National Park is located in the Petén Basin region of Guatemala and became a UNESCO heritage site in 1979. You will have the best tours and guides available to explore ancient ruins, including the Temple of the Masks atop Pyramid II.
 If you want to go off the grid and embrace the hidden jewels and gems found in Guatemala, then it's more likely you won't be booking an all inclusive vacation property. Guatemala has several boutique hotels or nature reserve lodgings to fulfill your dream vacation ideals and goals.
Top All Inclusive Resorts in Guatemala
Discover the top two all inclusive resorts in Guatemala
Oceana Resort & Conventions - All Inclusive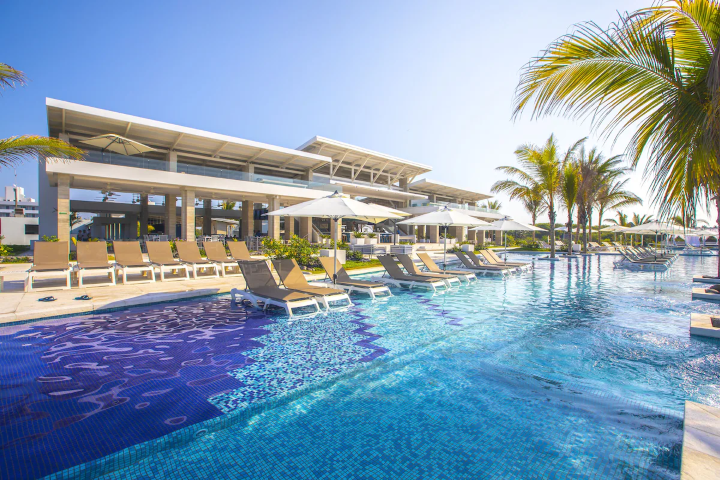 Oceana Guatemala all inclusive resort
Oceana Resort & Conventions - All Inclusive
Resort Award: Best All-Inclusive Offerings
Resort Introduction
This beachfront property is located in Puerto San Jose and offers a traditional all inclusive experience. While other resorts have the option to create all inclusive packages, the Oceana Resort & Conventions curate a care-free vacation from the minute you click 'reserve' on the website to the day you check out. 
This Guatemala all inclusive property stands apart in the niche of delivering an all inclusive Guatemala experience. The all inclusive package includes Wi-Fi, food, drinks, entertainment, and 24-hour reception support. 

June Prices via Google
Hotel Soleil Pacifico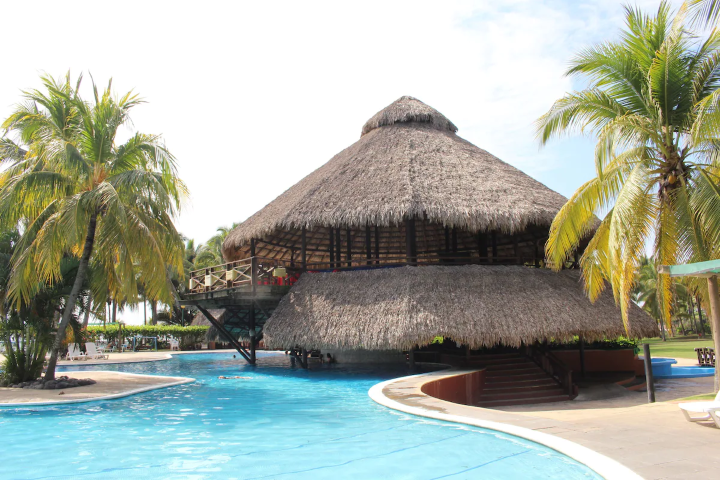 Hotel Soleil Pacifico
Resort Award: The Best Sail Fishing Location
Resort Introduction
The second dedicated all inclusive property on our Guatemala list is the Hotel Soleil Pacifico. This resort is a nature retreat perfect for travelers looking to commune and be one with the diverse Guatemala landscape. 
Each of Soleil's 128 rooms offers views of the Pacific Ocean, and guests can relax by the three outdoor pools. Booking this hotel directs you to their Facebook page and social media accounts. The Soleil team is standing by to help design your all inclusive Guatemala vacation. 
Hotel Soleil Pacifico (video not in English)
Great Alternatives for Guatemala All Inclusive Resorts
Don't focus on the void; focus on the destination. With many alternative resorts or reserves, Guatemala is prepared to show travelers everything they have to offer. When building out a budget for this destination, remember to keep a little extra aside for splurging on unique resort tours.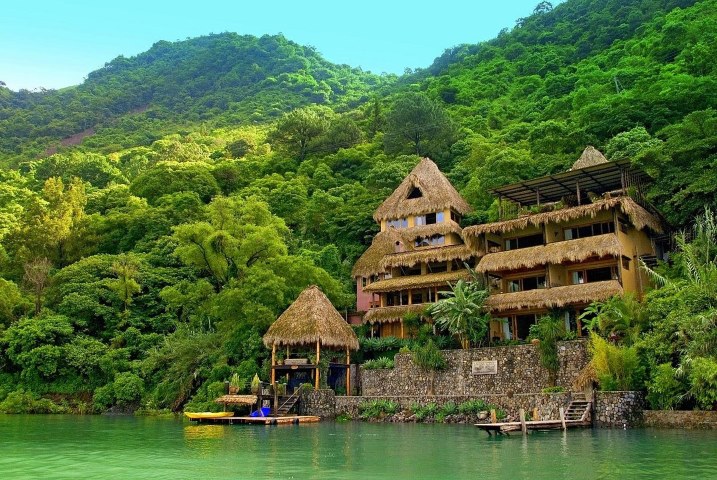 Laguna Lodge Eco-Resort & Nature Reserve
Laguna Lodge Eco-Resort & Nature Reserve
Resort Award: Best Access To Lake Atitlan
Resort Introduction
The Laguna Lodge is breathtaking and puts Guatemala visitors right into a Mayan historical pilgrimage. The reserve is built on 100 acres of an escarpment, and its primary focus is to preserve the natural beauty and habitat. 
Lake Atitlan is formed in a massive volcanic crater located in Guatemala's southwestern highlands. This reserve is only accessed by boat, and guests are encouraged to pack lightly. The Laguna team will plan hikes or nature experiences designed to your fitness level; simply ask at check-in. 
The Laguna reserve has eight styles of suites for travelers to choose from and an on-site restaurant and spa. Guests can book packages to include a variety of meals and treatments or add on as you go during your stay.
https://thelagunalodge.com/

Bolontiku Hotel Boutique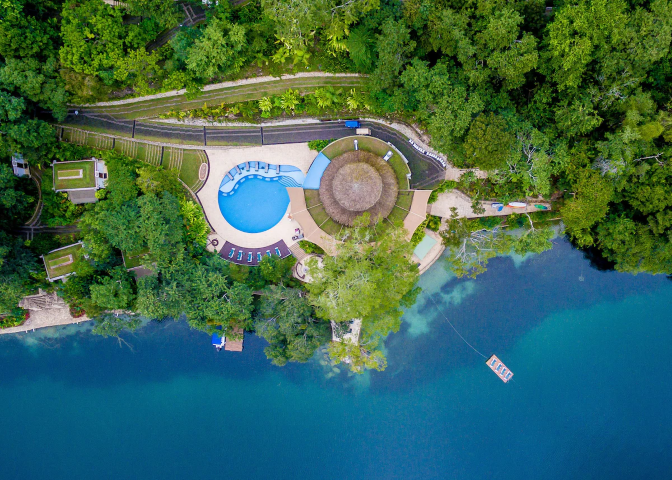 Bolontiku-Hotel-Boutique
Resort Introduction
Bolontiku comes from the Mayan belief of nine gods ruling the subterranean worlds. All nine gods were referred to as the "Bolontiku" and would have individual responsibilities for the mortals on earth. This term connects to the grounds and traditions the beautiful Bolontiku Boutique Hotel stands on. 
This Guatemala boutique accommodation has fifteen rooms and three different styles of suites. With each booking, guests receive two complimentary breakfasts, access to a private deck, and roundtrip transportation from Flores Island Seaway. The on-site restaurant, Mirador Itza, has western and Mayan traditional influenced seafood dishes for all guests. 
The guests can use paddleboards, canoes, and designated bird trails at their leisure and have a slice of paradise for their stay. 
https://bolontikuhotel.com/
VIDEO: BOLONTIKU HOTEL BOUTIQUE: The perfect hideaway for a couple or family in Guatemala
Villa Sumaya Retreat Center
Resort Award: The Best Mindful Awakening
Resort Introduction
Villa Sumaya is an excellent alternative to all inclusive packages. This retreat center has been an evolving project since 2001. Initially designed to be a private guest house and now has two private bungalow accommodations, a spa, and a boutique restaurant. The center focuses on offering rejuvenating holistic practices and healing modalities, preserving Mayan traditions, and facilitating outdoor adventure in the heart of the Altiplano with all inclusive packages. 
Guests can book one of four style retreats lasting anywhere from 3 to 7 nights. It promises to be an experience unlike any other found in Guatemala. 
https://villasumaya.com/personal-retreats/

Piedraluna Hotel
Resort Award: The Best Downtown Option

Resort Introduction
Piedraluna Hotel is located in the middle of downtown Guatemala City. Booking at this hotel guarantees a super location for exploring and seeing more Guatemalan metropolitan lifestyles. Suites are cozy and quaint with microwaves and fridges, in the larger suites are full kitchenettes. Prepare a light breakfast before exploring the town or take advantage of the included breakfast from 7-10 am. 
This hotel is a modern option that is great for guests with a full itinerary or more independent travel plans. Depending on your flight schedule, this Guatemala hotel is close to the airport, making it an easy choice for early or late arrivals.
Piedraluna Hotel on TripAdvisor

Posada Del Angel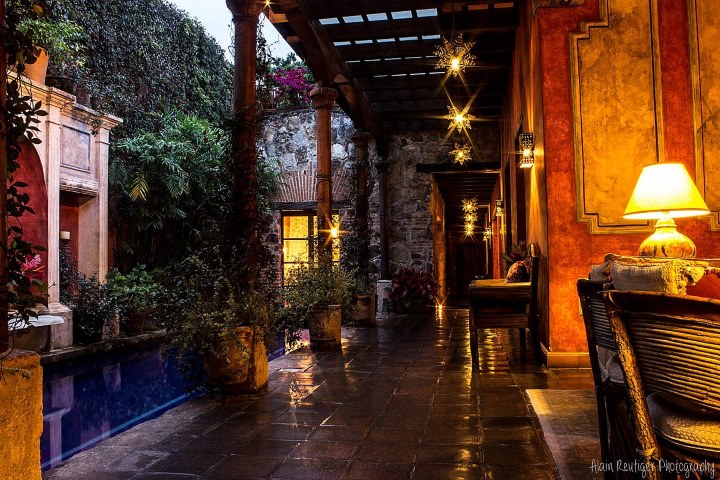 Posada Del Angel
Posada Del Angel on TripAdvisor
Resort Award: A romantic destination in the heart of the city
Resort Introduction
Posada Del Angel is different from other accommodations on our list due to its size and one unique room detail. While this Guatemala property only has seven rooms, each one comes with a fireplace. Guests can create a romantic atmosphere for the perfect quick or long escape. 
The Posada Del Angel Guatemala hotel has a pool on-site and gives every booking a complimentary breakfast. The hotel is built into a colonial-style building with a rooftop terrace, and guests can rent bicycles to explore the city. Nearby attractions include Iglesia de San Francisco El Grande and Convento Santa Clara. 
El Convento Boutique Hotel
Resort Award: The best blend of business and pleasure
Resort Introduction
Winner of excellence from Conde Nast in 2019, the El Convento Boutique Hotel is the perfect place for a business function or relaxation. With modern facilities in a small boutique hotel landscape, the El Convento team pays attention to the little details. 
This Guatemala accommodation has twenty-five rooms available. Each one opens with a hand-carved door adorned with an image of a famous place or person from Guatemala's rich history. Guests can book a standard suite or a luxurious two-storied grand mastered suite complete with an interior patio, jacuzzi, and fireplace. 
El Convento Boutique Hotel has an on-site restaurant with separate menus for breakfast, lunch, and dinner. Guests can dine a la Fresca and take advantage of the hikes within walking distance!
https://www.elconventoantigua.com/

Eco Hotel Uxlabil
Resort Award: Best creative outlet
Resort Introduction
The Eco Hotel Uxlabil is a secure and creative solution for travelers of all ages and sizes. The property is securely outside the downtown district but will assist guests with traveling back to see sights, including the La Aurora Zoo and Torre del Reformador. 
Eco Hotel Uxlabil offers daily, weekly, or monthly rates and is focused on building a community. Staying here will introduce guests to the "La Antigua" community and provide a distinct look at local life and flair. 
The rooms are designed for solo travelers or groups of up to five. The hotel is happy to add various items a la carte to your stay. Options include laundry service, buying toiletries from toothbrushes to shower gel, and even buying a pair of socks!
https://uxlabil.com/

Share Your All-Inclusive Adventures and Questions! 🌴 Have a memorable experience from a luxury all-inclusive vacation? We'd love to hear it at Luxury Resort Bliss. We're on the lookout for top-quality, insightful tales that'll inspire our community. Dive in and be a part of our sun-soaked stories! 🌊🍹✨
The story is a fictionalized account founded on travel expertise, research, and experience. Always refer to recent guest reviews and perform due diligence before booking.
💼 We cherish our independence! ✈️ Our travel recommendations are carefully researched, bias-free, and powered by human expertise by April and Ricky of LRB (we have personally researched and travelled to many of these destinations and researched others thoroughly through first-hand accounts). We also have put in the hard miles, and Ricky has worked for decades for resort and hotel chains  Hyatt, Hilton, Shangri-La and Radisson before starting Luxury Resort Bliss in 2007. 🌍✨ Unlike some other resort review websites we are concerned on the guest experience rather than mere corporate interest.