Morocco All Inclusive Resorts
10 Mind-blowing Morocco All-Inclusive Resorts
(From Marrakesh to Tangier)

Find the Morocco all-inclusive resort to make your vacation fantasy come to life! Morocco is known for stunning architecture, a mesmerizing color palette, mint tea, and the Sahara Desert.
This country is incredible to travel within, but securing an all-inclusive resort will guarantee your safety and optimization of tours. From the northern beautiful blue city of Chefchaouen to the marvelous Marrakech, find your Moroccan all-inclusive resort today.
Here's What You Need To Know About Morocco

Morocco is a North African country with two primary languages. You'll primarily hear Berber, Arabian and French when you leave the airport. Staying at a Morocco all-inclusive resort will guarantee an English-speaking experience, but the romance of different dialects will follow you as you explore and go on exhilarating tours.
Worried about what to pack? The best time to visit Morocco is between the fall season and early spring. The best months for travel are September-November or March-April. While Morocco is beautiful year-round going between these months will avoid freezing nighttime temperatures and comfortable daytime heat.
Remember, you will be expected to dress conservatively when leaving your resort to adhere to traditions and culture. You'll want to pack items you can layer while keeping fabrics lightweight for comfort.
Best All-Inclusive Resorts In Morocco

Book the Morocco all-inclusive experience you've been dreaming of at one of these top rated resorts.
Marrakech all-inclusive resort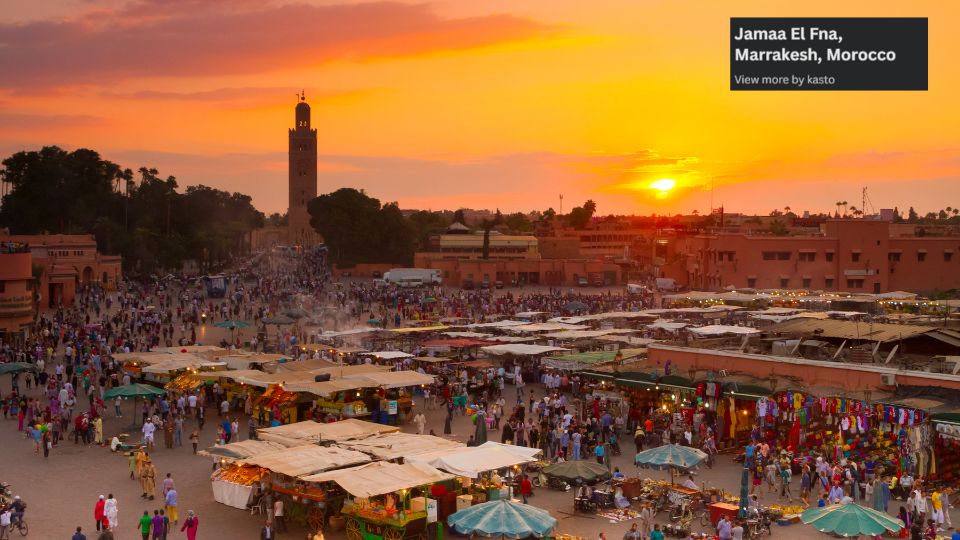 Marrakech
Looking for a Marrakech all-inclusive resort? TripAdvisor lists about 20 out of 2600 properties in Marrakech as all-inclusive. 
This is a colorful city with gardens and a distinct Moorish influence. A gem to explore as the review below looks at.
Video Review: Your Travel Guide to Marrakesh - Prices, Food and Why You SHOULD Visit!
Aqua Mirage Marrakech Hotel Club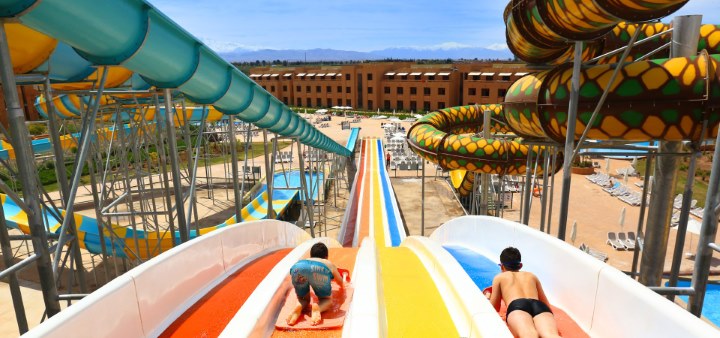 Aqua Mirage Marrakech Hotel Club is at the top of our Morocco all-inclusive resort list. This sprawling hotel delivers on its promise to keep everyone, young and old busy and entertained while traveling. With a prime location to explore the fourth largest imperial city, you will struggle to find a resort offering more in-house activities.

The Aqua Mirage Marrakech Hotel Club sets luxury to a new standard by having a soccer field, six tennis courts, basketball and volleyball courts, plus an assortment of water activities, including Water polo and aerobics. The hotel has an indoor fitness center for guests interested in Zumba or Aerobics classes.
After an active day, choose one of the three restaurants for a culinary creation you won't forget. If you want more intimate dining, you can reserve a spot at two different lounges or dance the night away at Barachicha Shisha Bar.
https://en.aquamiragemarrakech.com/
Video: Aqua Mirage Club Hotel Tour & Review
Find the best deal, compare prices, and read what other travelers have to say at Tripadvisor
Kenzi Club Agdal Medina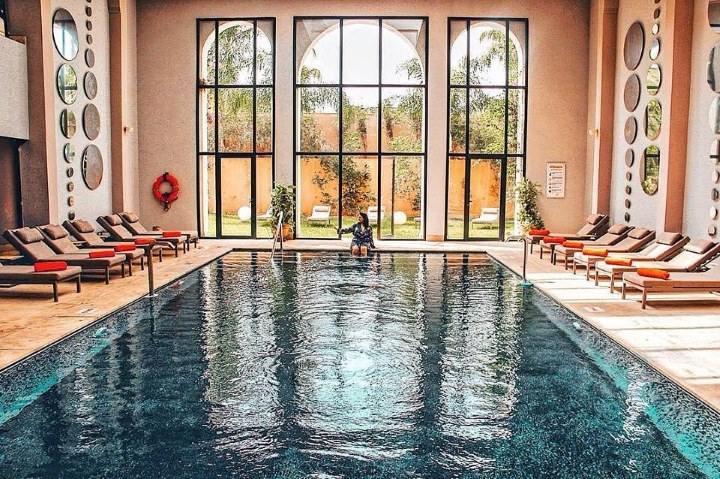 The Kenzi Club Agdal Medina, Morocco all-inclusive resort is a work of art. Each room, from the lobby to the suites, has been designed by French Architect Imaad Rahmouni. His focus on geometric design and space can be admired across Europe and North Africa, adding an extra level of elegance to your vacation space.

A definite highlight is the booking within the Privilege Riad, which houses six suites. This separate accommodation space features a private pool and highlights traditional riad experiences with vaulted ceilings and mosaic artwork. Regardless of which option you choose for your venture, each room at the Kenzi Club Agdal Medina comes equipped with free wifi, a private balcony or terrace, a bathtub, and air conditioning.
This Moroccan all-inclusive resort is built adjacent to a golf course and nearby to local attractions, including, Jamaa el Fna square and market, The Almazar shopping center, and the newly opened Nouba Marrakech.
https://www.kenzi-hotels.com/kenzi-club-agdal-medina/
Video: Hotel Kenzi Club Agdal Medina **** - Marrakech, Morocco
Find the best deal, compare prices, and read what other travelers have to say at Tripadvisor
Hotel Riu Palace Tikida Taghazout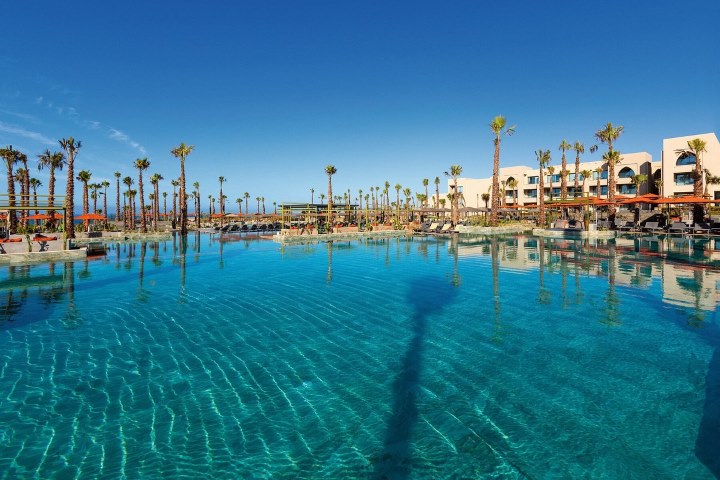 Hotel Riu Palace Tikida Taghazout
The Hotel Riu Palace Tikida Taghazout takes guests out of the Marrakech city center and into a beach-lovers paradise. Located in the town of Agadir, it's only three hours by car if you fly to the Marrakech airport to begin your holiday.

Agadir is known for its surfing and gorgeous sandy beaches. Booking your stay at the Hotel RIU Palace Tikida Taghazout means waking up in paradise and sleeping to the sounds of crashing waves.
With access to Taghazout Bay, guests have the choice to swim in the sea or one of the property's seven outdoor pools. Spend the day at the pool bar or on a private lounger in the shade with a good book before confirming a spa treatment and enjoying freshly prepared Moroccan cuisine.
The Hotel RIU Palace Tikida Taghazout wants to personalize each guest's journey and offers entertainment under different packages. Guests can try the RiuFit for athletic excursions or the RiuArt to inspire their creativity. The hotel hosts live music and entertainment at one of their seven bars and lounges every night.
The international RIU chain was founded in Mallorca by the Riu family in 1953 and prioritized travel that immerses guests in luxury and local life. The Hotel RIU Palace Tikida Taghazout is pleased to help guests book tours to the Kasbah, the Medina, Tamraght Valley, and the Souss-Massa National Park.
Video: Best 5 star hotel morocco 2022 outside Marrakesh - Riu PalaceTikida Taghazout | vlog incl tips | 4 k
Lixus Beach Resort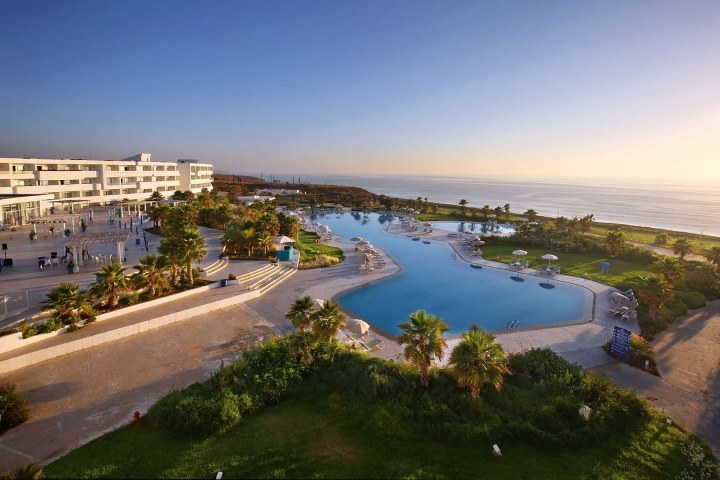 Lixus Beach Morocco all-inclusive
Located in the northern town of Larache, the Lixus Beach Morocco all-inclusive resort brings Greek mythology to life. Tap into the celestial power of peak relaxation and enjoy all the amenities available.

Choose from three different suite styles spread across two floors. Each room will have a sea view, or guests can wake up to look at the golf green. After a filling breakfast, try one of the main on-site activities, including paddle boarding, surfing, kayaking, beach yoga, or rest under one of the Spanish-influenced Chiringuito. Grab a table at one of the two signature restaurants for lunch or dinner. While both have their own approach to Moroccan fusion, neither is to be missed.
The front desk team will ensure you are on a guided tour if you are familiar with the mythology surrounding the ancient city of Lixus. Feel the soil where Hercules completed one of his twelve tasks and ate a golden apple from the enchanted garden of Hesperides.
https://www.lixusbeachresort.com/
Find the best deal, compare prices, and read what other travelers have to say at Tripadvisor
Royal Decameron Tafoukt Beach Hotel
We recommend this next all inclusive resort in Morocco for the young at heart. Friends old and new or couples without children will love this all-inclusive beach resort's dedication to keeping the party going.

When you check in to the Royal Decameron Tafoukt Beach Hotel, you'll be in awe of the stunning views. The infinity pool will capture every detail of the night sky and mirrors the complete perfection of the surroundings. Whether you want to relax on a lounge chair by the pool or the nearby beach, the helpful Royal team will make sure each one of your needs is met. The on-site nightclub will begin with local and international DJs as you watch the sunset surrounded by old or new friends.
Guests will have a variety of activities and stay wholly engaged in this Morocco all-inclusive resort experience. If the nightlife isn't what you are looking for, daytime activities range from archery to aerobics. The talented staff on-site also speak Arabic, German, English, Spanish, and French to ensure nothing is lost in translation.
Royal Decameron Tafoukt Beach Hotel
Caribbean Village Agador
This Agadir Morocco all-inclusive resort property imitates a Caribbean vacation. Pinch yourself to remember where you've traveled while taking in the bright and colorful decorations and finishing touches.

If this will be your first time traveling to Morocco and slightly out-of-your comfort zone, each member of the Caribbean Village Agador crew will go above and beyond to bring a daily smile to your face.
If the way to your heart is through your stomach, this Morocco all-inclusive resort houses five different restaurants. From traditional Moroccan to Steaks and Japanese cuisine, whichever flavor your desire that day is within reach. Work up your appetite at the resort's private pool or sample the fitness activities.
Brush the worries of the mundane every day aside while you rejoice and rejuvenate in this gorgeous Morocco all-inclusive resort property.
https://groupe-sahara-hotels.com/
Video Review: Caribbean Village Agadir Trip Vlog: ATOL The Way to Agadir
Find the best deal, compare prices, and read what other travelers have to say at Tripadvisor
Iberostar Club Palmeraie Marrakech
Iberostar Club Palmeraie Marrakech
The Iberostar brand reaches 35 countries and has over fifty years of experience delivering unique, thoughtful, all-inclusive accommodation. Staying in their Morocco all-inclusive resort location is to the same standard, and guests enjoy an expansive and lush property with high-end facilities.

With a dedication to remaining eco-conscious, the property has planted over 100,000 palm trees building an oasis and multiple locations for guests to receive shade in the peak of the summer holidays.
The location of Iberostar Club is second to none, with the Medina and Bahia Palace a quick 15-minute drive. Take advantage of the included round-trip transportation into the city and be a tourist, worry-free.
While this Morocco all-inclusive resort has several styles of suites ranging from simple to spectacular, they have several characteristics that make them stand out. Guests can eat at a food truck for mid-afternoon snacks or dine under three different high-end culinary experiences. This is an excellent location for family-friendly fun with the Ibero Star Camp, perfect for children 4-12 years old.
https://www.iberostar.com/en/hotels/marrakech/iberostar-club-palmeraie-marrakech/
Video: Full Tour of The Iberostar Club Palmeraie - Marrakech - 4 Star Hotel
Find the best deal, compare prices, and read what other travelers have to say at Tripadvisor
All Inclusive Resorts in Casablanca
Tripadvisor lists for example only one all-inclusive resort (Mazagan Beach & Golf Resort, listed below) in the Cassablanca Settat area out of  about 400 hotels. This provides for a very low score on the all-inclusive index of 3/10. 
Video: Casablanca, Morocco: A City of Contrasts | Morocco's Rawest City
Mazagan Beach & Golf Resort
Moroccan Hideaway: Best all-inclusive resort in Casablanca, Morocco. 
The Mazagan Beach & Golf Resort has enough all-inclusive vacation packages to fly in under the radar, although not fully authentically all-inclusive in the traditional sense (5/10 rating). 
An example of the package on offer includes accommodation, savings of 20% on your half-board stay, breakfast for for 2 adults and 2 children, dinner excluding drinks. 
There are also all-inclusive golf packages and other variations. 
https://www.mazaganbeachresort.com/
Promotions video review: Mazagan Beach & Golf Resort: an Oasis in the Atlantic
Find the best deal, compare prices, and read what other travelers have to say at Tripadvisor
Other Unique Accommodation Experiences In Morocco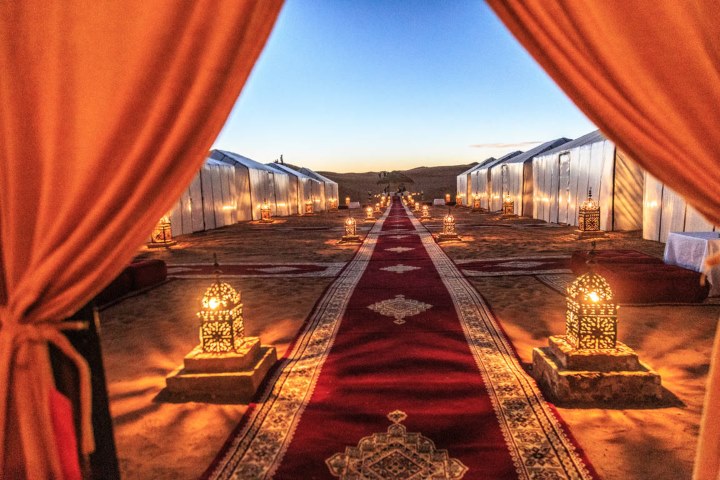 Sahara Desert Luxury Camp
When you dream of a Morocco all-inclusive vacation, we know there's a flicker of hope to spend a night in the Sahara Desert. Don't deny yourself this outstanding opportunity and relish the moment in comfort and style.
The Sahara Desert Luxury Camp is the closest available Morocco all-inclusive resort experience within the dunes and night skies you've seen in films and social media. Booking one or two nights here will give guests the option of a luxury tent that comfortably sleeps two to four. Each tent consists of a private bathroom with a toilet, shower, and a blend of traditional Moroccan style and contemporary decor.
Booking your stay here will also include breakfast, dinner, wifi service, and the option to include several Sahara desert tours from sand-boarding, camel rides, or quad bike tours of the infamous Merzouga dunes.
Hotel Riad Cherifa
If you are looking specifically for a Morocco all-inclusive experience in the breathtaking blue city of Chefchaouen, we've found the next best option. Due to the small and intimate size of the city, all-inclusive accommodations and resorts are yet to become available.
Many hotels and Morocco accommodations on our list will provide helpful advice on booking a day tour, but we highly recommend spending one or two nights at the Hotel Riad Cherifa for an unforgettable blue experience.
Booking your stay at this riad in the heart of Chefchaouen includes breakfast but will also encourage you to explore the safe and artistic community beyond the walls. This communal style choice will also introduce you to other travelers and provide an excellent opportunity to swap stories on plush cushions at the riads rooftop lounge.
The Hotel Riad Cherifa will help you find a knowledgeable guide and make the most out of your time in the city. After a long day of exploring, head back and book a signature spa treatment consisting of steam, mild exfoliation, massage, a ghassoul wrap, and finished with a spritz of flower water spray.
Oum Palace Hotel & Spa Casablanca
From the black and white cinematic archives, find the Casablanca, Morocco accommodation that will enhance your trip. Explore the historical and romantic town of Casablanca at this prime location. Only 50 meters away from the Casablanca Central Market in the renowned Sidi Belyout district and a quick 5 minutes walk to the historic Old Medina. The twenty-four concierge desk will be happy to recommend many more ways to spend the day.

The Oum Palace Hotel & Spa has five styles of suites for the full spectrum of travelers to enjoy. Onsight, a daily breakfast buffet is included, plus the chance to dine at two restaurants or indulge in room service.
If Casablanca is ending your Moroccan vacation, the Oum Palace Hotel & Spa is happy to organize a convenient airport transfer for a stress-free early morning or late night flight.
https://www.oumpalace.com/
Video: Hôtel Oumpalace & SPA
Find the best deal, compare prices, and read what other travelers have to say at Tripadvisor
💼 We cherish our independence! ✈️ Our travel recommendations are carefully researched, bias-free, and powered by human expertise by April and Ricky of LRB (we have personally researched and travelled to many of these destinations and researched others thoroughly through first-hand accounts). 🌍✨
We try to keep everything up to date, but please always do your own research and contact us if you know any issues for us to help others as best we can as a small but professionally focused team! 🧐📚⚠️