Best Port Douglas Resorts
Welcome to the best Port Douglas resorts and travel guide. Here you can find all you need to know about visiting this tropical North Queensland paradise.
The tropical north is easily one of the most beautiful places in Australia with the easiest access to the Great Barrier Reef and rainforest of any of the Queensland resort town.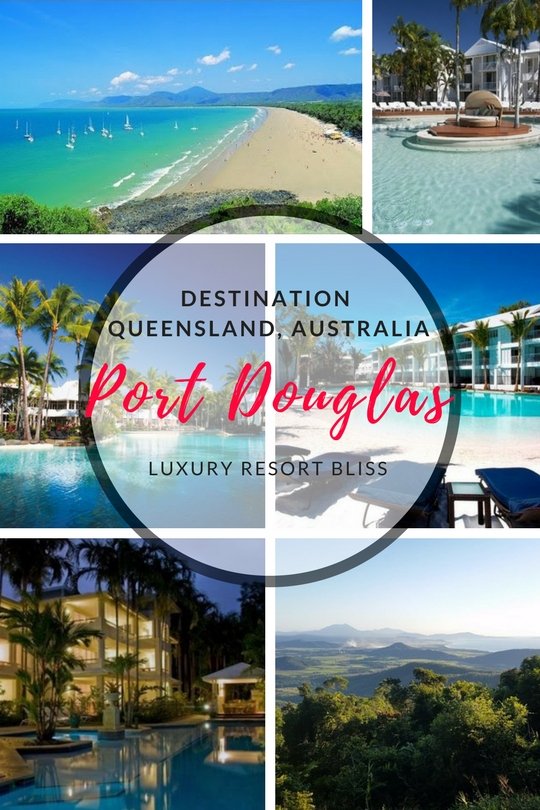 VIDEO: Port Douglas holiday travel video guide, Queensland Australia
There really are a lot of attractions and things to do in Port Douglas. Port is an ideal place for a honeymoon or family beach holiday with one of the most spectacular beaches on the planet in four mile beach.
Many of the Cairns attractions are also accessible with a day trip from Port Douglas as well. If you are looking to head into the spectacular Cape Tribulation rainforests of the Daintree tours are easily available from here.
The atmosphere is incredibly relaxed worlds away from the hustle and bustle of the state's capital, which is thousands of kilometres away to the south. 
VIDEO: Things to do in Port Douglas Tropical North Queensland

---
Port Douglas Accommodation and Holidays
Port Douglas does have a few larger resorts but most properties are smaller boutique hotels and resorts situated close to the main street beach intersection.
These are the best choices for your next Port Douglas, Honeymoon, Wedding, or Family Holiday to this tropical paradise.
Sheraton Mirage Port Douglas Resort
When you are ready to head to the beach from this really stylish beach resort in to walk barefoot to stunning Four Mile beach.  With acres of manicured gardens, big lagoon plunge pools nestled up to rooms, restaurants, gyms and bicycles this is the fullest scaled resort in the region.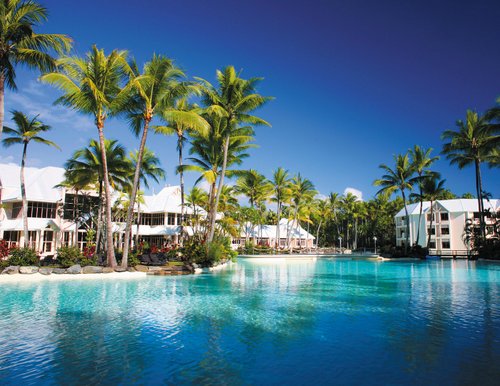 Expensive, but reviews are good, and you can always pick up some great specials. This 4-star resort with more than 250 rooms really has everything you would expect in a world-class resort. One of the top resorts on our Port Douglas Travel Guide.


Click here for more on Sheraton Mirage Port Douglas

---
QT Port Douglas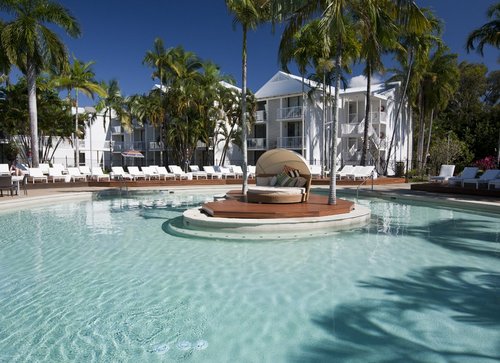 A great little resort nestled by the rainforest and only moments to the ocean and minutes to the reef.
A mid-sized resort of 160 rooms and villas of bright and airy design with free Wi-Fi and a great pool area. The quality Bazaar restaurant has a good range of offerings and prices set on the age of your kids. Despite the catering for families the resort is not too busy and quite suitable for a destination wedding or honeymoon retreat. 
We've given it a 3.9/5 rating for this top Port Douglas resort.
Click here for more on QT Port Douglas
---
Mandalay Port Douglas Luxury Beachfront Apartments
A great Port Douglas accommodation option for a family beach holiday or romantic getaway. The Mandalay luxury beachfront apartments occupy a quiet spot on the main beach and feature vibrant gardens.
Leading resort in Port Douglas with a great location and fantastic guest reviews.

More on Mandalay Luxury Beachfront Apartments

---
Peppers Beach Club Resort Port Douglas
Pepper's Beach Club Resort, Port Douglas lies overlooking famous Four Mile Beach and just a short stroll from Macrossan Street. We give it a 4.3/5 rating.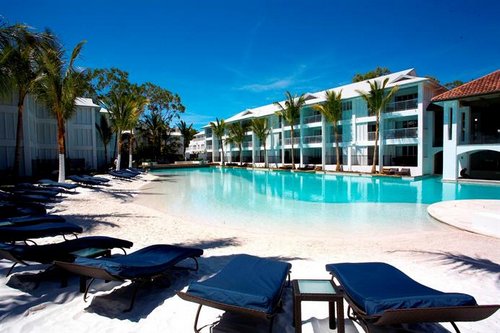 Rooms are made up of stylish  suites a with private swim-up pool decks. While this does accommodate families well, one of their specialities are the beach weddings on the nearby sands of Four Mile Beach.
Click here for more on Peppers Beach Club Resort Port Douglas

---
---
Reef Resort Port Douglas
Rendezvous Reef Resort, Port Douglas offers a wide choice of accommodation styles and superb recreational facilities, perfect for those seeking a relaxing getaway.


Click here for more on Rendezvous Reef Resort Port Douglas

---
Treetops Resort Port Douglas
Treetops Resort Port Douglas lies between the World Heritage listed Daintree Rainforest and one of the wonders of the natural world, the Great Barrier Reef.
More on Treetops Resort Port Douglas

---
VIDEO: 4 Mile Beach Walk - Port Douglas Australia
---
Mantra Aqueous On Port
Close to Four Mile Beach. 4.6/5 for Mantra Aqueous On Port on our review scale.

More information Mantra Aqueous On Port

---
Sea Temple Resort Port Douglas
Sea Temple Resort Port Douglas has been designed with the utmost luxury and relaxation in mind. 4 star resort.  We give it a 4.3 rating.
More on Sea Temple Resort Port Douglas

---
Mantra Portsea Resort Port Douglas
Soothing sounds of cascading water falls and flowing lagoon pools. Port Douglas Travel Guide stand out. 5 star resort.

More information on Mantra Portsea Resort Port Douglas

---
Bay Villas Resort Port Douglas
Bay Villas Resort Port Douglas has is large with a choice of Studio, one, two and three bedroom holiday apartments. 4.2/4 rating

More on Bay Villas Resort Port Douglas

---
For more in this neck of the woods, check out: