Top 7 Bermuda All Inclusive Resort  (2023)
Bermuda is well known as the British colony that sits somewhere off the coast of New York and is one of the corners of the Bermuda Triangle but this island has a lot of original site specific charm which is unique to itself. Sitting 1000 km Northwest of North Carolina this island remains the largest British territory in these parts. The pink sand beaches and clean waters and good old-fashioned character make this a great place to take the family for a safe island adventure.
Buildings have the old world charm and are almost all done in historical colonial or Caribbean designs with pastels dominating.
Looking for a great Bermuda all-inclusive resort? We've found a few little gems that will definitely interest you. 
---
---
Best Bermuda All Inclusive Resort:
Grotto Bay Beach Resort Bermuda
Grotto Bay Resort Bermuda
Grotto Bay is a family friendly Bermuda resort located at Bailey's Bay Hamilton, this is one of the only resorts you will find with it's own cave. Surrounded by the small islands of the bay, these cottages on a little over 20 acres provide something a little different and intriguing.
The amazing attraction are the natural grottoes and cave spa. But you will also find three restaurants,  lots of attractions around the resort including  pools with swim-up bars, beach sports, kayaks and boat rentals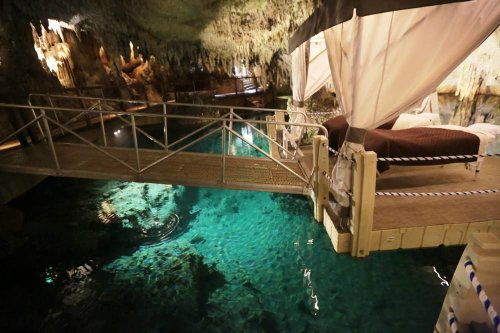 Grotto Bay Beach Resort Bermuda
Although Grotto Bay has had some inclusive packages, it's the most like a full all inclusive Bermuda resort you are likely to find anywhere. Really the idea and the advantage of this type of package is you know the cost of your vacation before you go.

The packages are achieved by simply adding an all inclusive tariff on top of your booking. At the time of writing the additional cost to upgrade was $109 per person a day for adults and for kids from 4 to 16 years the cost is $79. Apart from food and drinks there are a few extra activities around the resort which you can take advantage of.
The hotel also has an  inclusive supplement which includes all meals and brand drinks, Buffets, and Non- Motorized water sports, a transport pass and some activities.

All Inclusive Bermuda Watersports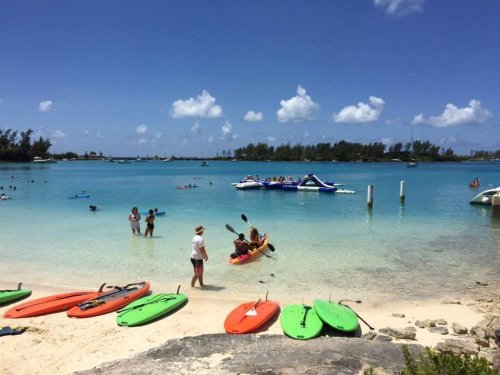 All Inclusive Bermuda Watersports
A whole host of Watersport activities are included in the all inclusive package , although you may require to have had some prior experience with some of these. Things like snorkel equipment, kayaks, paddle boards, sail boats and windsurfers really help you take advantage of the beautiful and pristine marine environment.  

Bermuda All Inclusive Resort
Once paid the All Inclusive Package of course all meals which are buffet style. There are a few exceptions like the Tuesday and Friday nigh BBQ (Seasonal Changes). 

Drinks included are beers, house labeled beverages, glasses of wine and of course your non alcohol beverages.
You will also have a transportation pass, to take buses and ferries around the island. The system works well and you can hop on and off to explore different beaches and attractions.
Throw in the occasional managers rum swizzel, afternoon teas, cave swimming and you end up with a more than reasonable Bermuda all inclusive package vacation.
Overall this is the only all inclusive Bermuda resort you will find and a top rated resort in any case. Definitely worth consideration.
More information on Grotto Bay Beach Resort Bermuda 
---
The Reefs Bermuda Vacation Packages
The Reefs Bermuda offer a couple of vacation packages. One example is a five night Romantic Package for couples and includes round trip airport transfer, welcome drinks , daily breakfast, afternoon tea and dinner, 60-minute spa massage for couple, and a beach dinning opportunity.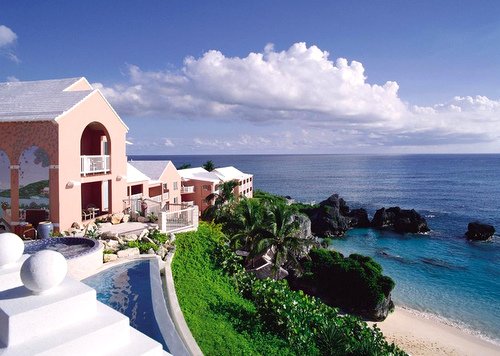 Bermuda All Inclusive Resort Packages
Another great package is a scrumptious Ala Carte Package with options like a delicious six course beach dinner, $150 spa voucher, picnics, golf, an island cruise, scooters and many more.
More information and offers on The Reefs Bermuda
The Reefs Hotel and Club, Southampton Parish, Bermuda on Hotels.com

---
Packages at the Fairmont include a couples one with inclusions like a balcony room, transfers, welcome drink, couple massage for 60 minutes, a romantic meal and a $50 resort credit.
Their Family Getaway Package for a family of four includes a discounted second room and under 12's can eat free (when this option is available in the quieter seasons). Teens get a 50 % discount. Kids Camp is also included in this package. 
They also have a good golf package available. 
Fairmont Southampton, Bermuda Beach Resort, Southampton Parish, Bermuda on Hotels.com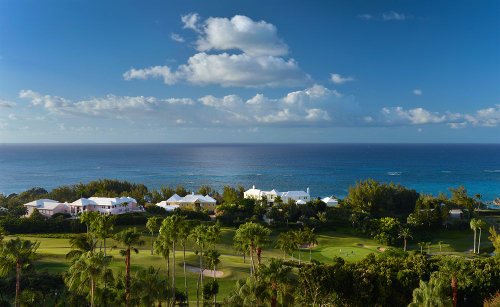 The Fairmont Southampton Bermuda All Inclusive Resort Packages
---
Take a look at the Top 25 Bermuda Resort Deals.

---
Elbow Beach has Bermuda vacation packages for families with two children. They offer daily breakfast, aquarium passes, 50-minute massage for mom and dad, baby sitting, and a heavily discounted second room. 
Elbow Beach Bermuda All Inclusive Resort Packages
---
The Fairmont Hamilton Princess Bermuda Packages
---
---
Our Bermuda Bliss List:
The Bermuda Bliss List is not all inclusive but the great resorts on the island. Most are great for families but be careful about which one you choose. Some are overpriced while others are great value.

Best Bermuda Resorts with Free Breakfast
Sometimes it is not easy to find an all inclusive resort in Bermuda that consistently offer AI packages.

The best Bermuda hotels and resorts with free breakfast listed consistently are:
Best Bermuda Resorts with Kids Activities
---
More great Bermuda Vacation Resorts
Rosedon Hotel *** 47 Rooms Hamilton Honeymoons, Excellent!
Surf Side Beach Club *** 37 Rooms, Warwick Great pool.
Clear View Suites And Cottages, Bermuda, ** 30 Rooms Hamilton Only the pool rates well.
Cheap Bermuda Vacation Ideas for Families
Cheap Bermuda vacation ideas including biking the old rail trail, Crystal Caves adventure to make your experience all inclusive.

You won't find a single neon sign or billboard and safety and the quality of the natural beaches and colonial setting make this a quality family friendly option with great beach, trail, caving and cruise opportunities.
To begin let's get a bit of an idea of what an inexpensive vacation to Bermuda can look like.
Crystal Caves - Bermuda Family Cave Adventure
One of the top attractions in Bermuda for families is to tour the limestone caves discovered by children retrieving their cricket ball over 100 years ago.
Best Beaches in Bermuda
Some of the best beaches in Bermuda for families include:

Horseshoe Bay in Southampton has a lifeguard on duty from May to September and water sports for families
Church Bay is also good to snorkel with mostly calm waters.
Shelly Bay is also good for families looking for calm waters and pink sand.
Tobacco Bay Beach In Bermuda. Great For Kids And Snorkeling
This video will continue through some of the best beaches in Bermuda.
10 Best Beaches Review
Bermuda Bike the Rail Trail

Go the length of the island and visit lighthouses and other amazing attractions on the old rail line. You can either take your time and walk the line or hire bicycles.
Bermuda Family Cruise Vacation

There are family cruise deals available to Bermuda from a host of American cities including New York and Boston. The advantage of a family cruise is you maximize time together and minimize time booking in and out of hotels and off flights. Check out these recent Bermuda discount cruise deals. You can also video from the different Bermuda cruise lines on this page.

Family Vacation Cruise To Bermuda - By Domenic Nardones

My Family Vacation Cruise to Bermuda. We sailed Norwegian Gem to Bermuda from New York City.
---
If you'd still like more in Bermuda, visit Bermuda Luxury Resorts or for more all inclusives, Caribbean All Inclusive Resorts.
---
We anticipate the opening of 9 Beaches Resort
9 Beaches Resort  *** 84 Rooms at Sandy's beach. This is a "wonderful place to unwind, relax and totally forget."