Couples Resorts
There are some really fantastic couples resorts around. Perfect places for romance, being catered to and relaxation.  This is my A to Z journey of the best of the best.
With each resort, the journey became more captivating. As I penned my experiences, every location, from the majestic beaches of Dominican Republic to the vibrant rhythm of Jamaica, echoed a unique melody of romance and adventure. From the serene landscapes of the Philippines to the lush tropics of St Lucia, every resort offered a unique story, a unique experience.
The best couples resorts around the world.
Armed with my curiosity and a yearning to uncover the unique soul of each location, I stepped first onto the sun-soaked shores of Aruba. This was 'A,' the beginning of my story. It was here, in a secluded corner of 'Bucuti & Tara Beach Resort,' that I found something beyond a mere holiday destination. A serenade of turquoise waters and a symphony of rustling palm leaves whispered tales of romance. Aruba with its vibrant culture and pristine beaches made for the perfect start.
A is for Aruba. The adults-only 'Bucuti & Tara Beach Resort' is situated on the white sands of Eagle Beach, offering couples a serene retreat with a Caribbean breeze. The resort's beachfront dining with sustainable, locally-sourced cuisine promises a memorable gastronomic adventure.
A is for Arizona, the desert jewel of the United States, with landscapes so diverse they seem borrowed from different corners of the world.
There's a place in Sedona, 'Enchantment Resort,' nestled in the heart of red rock country that creates an enchanting oasis for couples.  You can spend your day exploring the craggy trails or indulging in the Mii amo spa. See Arizona couples resorts.
A is for the Amalfi Coast, Italy, where the cliffside 'Belmond Hotel Caruso' overlooks a cerulean sea and pastel-painted houses, an idyllic retreat for lovers seeking European charm.
B is for Bali, Indonesia. Nestled amid lush greenery, the 'Hanging Gardens of Bali' features villas with private pools, each overlooking the mystical Ayung River — a perfect hideaway for couples seeking tropical tranquility.
C is for Cancun, Mexico, where 'Le Blanc Spa Resort' offers luxurious, adults-only tranquility and panoramic views of the Caribbean Sea, a true lovers' paradise.
D is for Dubai, UAE. 'One&Only The Palm' is an elegant beachfront oasis offering the perfect balance between opulence and privacy — an Arabian dream for couples.
E is for Edinburgh, Scotland. The 'Balmoral Hotel' is a historic charm that combines traditional Scottish heritage with five-star luxury, perfect for lovers of history and grandeur.
F is for Fiji, where 'Likuliku Lagoon Resort's' overwater bungalows provide couples an intimate sanctuary amid the exotic beauty of the South Pacific.
G is for Goa, India, a quaint beach paradise where the 'Taj Exotica Resort & Spa' promises romantic sunset walks along the Arabian Sea.
H is for Hvar, Croatia. The 'Amfora Hvar Grand Beach Resort' offers sun-drenched balconies with splendid views of the Paklinski Islands — a gem in the Adriatic for sun-loving couples.
I is for Ibiza, Spain. 'Ushuaïa Ibiza Beach Hotel' perfectly balances exhilarating parties and tranquil beach moments — a haven for couples seeking both thrill and chill.
J is for Jamaica, where the idyllic 'Jamaica Inn' in Ocho Rios cocoons couples in its colonial-style charm. Its breathtaking location, perched on a private cove with an extensive sandy beach, creates an intimate ambience for lovers. Picture yourselves indulging in a private, candlelit dinner on the beach, listening to the symphony of waves, while savoring local culinary delights. It's a haven for couples seeking to bask in the rhythm of Caribbean love, the warmth of the sun, and the rich cultural tapestry of Jamaica.
J is for Jaipur, India. The 'Rambagh Palace' offers a royal retreat for lovers, with ornate architecture and regal gardens that echo tales of historic romance.
K is for Kyoto, Japan. 'The Ritz-Carlton, Kyoto' offers the perfect blend of traditional Japanese aesthetics and modern luxury, providing an intimate retreat for couples in the heart of a historic city.
L is for Los Cabos, Mexico. 'Las Ventanas al Paraíso' exudes romance with its private beachside dinners and infinity pool suites — a true window to paradise.
M is for the Maldives, where 'Soneva Fushi' offers robinson crusoe-esque luxury villas amid azure waters, an idyllic retreat for couples seeking both adventure and tranquility.
M is for Miami, where the Kimpton EPIC Hotel in downtown Miami welcomes couples with stunning views of the city skyline and the sea, offering a blend of urban chic and beachside tranquility for a truly unique romantic getaway.
N is for Napa Valley, USA. 'Auberge du Soleil' provides couples a taste of French sophistication amid California's vineyards — a haven for wine lovers.
O is for Ocho Rios, Jamaica. At 'Sandals Royal Plantation,' couples can enjoy all-inclusive luxury on a stunning Caribbean beach.
P is for Paris, France. 'Le Meurice' overlooking the Tuileries Garden, offers the charm and elegance of a historic palace with the comfort of a luxury hotel — perfect for those seeking a quintessential Parisian retreat.
Q is for Queensland, Australia. The 'Qualia Resort' on Hamilton Island offers couples a unique experience of the Great Barrier Reef, with panoramic views of the Coral Sea.
R is for Rome, Italy. 'Hotel de Russie' with its secret garden, offers a romantic escape right in the heart of the Eternal City.
S is for Seychelles. Seriously. 
T is for Tulum, Mexico. The 'Azulik Resort' is a tranquil oasis where eco-friendly architecture meets stunning Caribbean views — perfect for couples seeking a rejuvenating retreat in harmony with nature.
U is for Udaipur, India. 'The Oberoi Udaivilas' offers lovers the grandeur and elegance of a royal palace along the serene Lake Pichola.
V is for Venice, Italy. The 'Aman Venice,' housed in a historic palazzo, offers couples a taste of Venetian opulence amid the city's enchanting canals.
W is for the Whitsundays, Australia. The 'Qualia Great Barrier Reef' offers couples an intimate experience of one of the world's natural wonders, with private pavilions offering breathtaking views of the Coral Sea. Specifically, the 'InterContinental Hayman Island Resort' is a private island retreat that offers the epitome of luxury. Framed by the turquoise waters of the Coral Sea, the resort provides stunning beachfront villies and lagoon-side suites, offering spectacular views of the Whitsundays. The resort's private charters to the Great Barrier Reef and the romantic beachside dining under the stars provide couples an intimate getaway in the heart of one of the world's natural wonders. It's an idyllic paradise for couples yearning for a retreat where the sand, sea, and sky blend seamlessly into a canvas of love.
X marks the spot in Xcaret, Mexico. The 'Hotel Xcaret' offers couples an all-inclusive resort experience, combining the natural beauty of the Riviera Maya with authentic Mexican hospitality.
Y is for Yucatán, Mexico. 'Chablé Resort & Spa' offers couples a wellness retreat amid the Mayan jungle, with private villas, each featuring a personal plunge pool.
Z is for Zanzibar, Tanzania. 'Zuri Zanzibar' offers an intimate beachfront retreat for couples on the beautiful shores of the Indian Ocean, complete with stunning sunsets and a distinct blend of African and Arabian influences.
The best Couples Only All Inclusive Resorts.

See All the Dominican Republic Couples Resorts
---
Jamaica is a lovers' paradise, a land where the melody of the sea syncs with the rhythm of your heart. 'Couples Tower Isle' in Ocho Rios embodies this charm, cradled by lush landscapes and the turquoise waters of the Caribbean. This adults-only haven pampers you with an array of experiences tailored for two — from private island picnics to couples massages at the spa, each moment is an ode to love.
Jewel Grande Montego Bay Resort & Spa
Jamaica is not only home to the couples resort brand, but also some spectacularly romantic destinations at laid back Bohemian Negril as well as on the other beaches around the island. See the top Jamaica Couples resorts review.
Then there is 'Sandals South Coast,' set within a 500-acre nature reserve. Here, over-water bungalows offer a direct route from your room to the sea, while the resort's global gastronomy brings the world to your plate. Another gem is 'The Caves' in Negril, an all-inclusive resort tucked into the cliffs. Picture yourselves sharing a candlelit dinner in a private cave, savoring the delectable flavors of Jamaican cuisine while the waves whisper tales of love. Whether you seek adventure or tranquility, these resorts in Jamaica offer a backdrop to write your very own love story.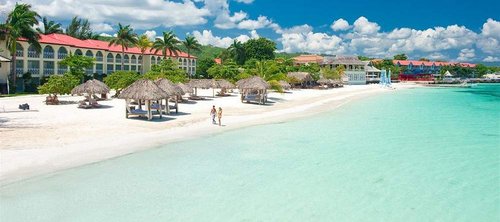 Sandals Montego Bay
Couples Swept Away All Inclusive, Jamaica
An all-inclusive beach front resort in Negril, Jamaica.
Included are most meals, drink and water sports. Nightlife and shuttle services are also complimentary. This resort gets really excellent reviews from past guests - many of whom return often.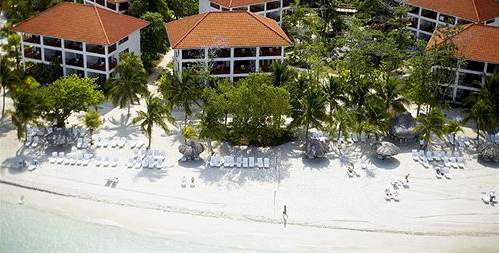 Couples Swept Away All Inclusive
More on Couples Swept Away All Inclusive, Jamaica

Couples Sans Souci All Inclusive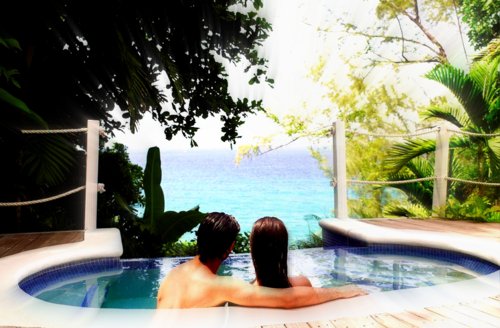 Couples Sans Souci All Inclusive
Intimate 4.5 star resort made for romance and includes 4 restaurants, a swim up bar, and a poolside bar-lounge, a spa tub as well as a full service health spa for body treatments.

Couples Only arises majestically from the cliffs of Jamaica's emerald mountains. A highly rated resort with visitors with 150 rooms. 

More on Couples Sans Souci All Inclusive
Here's a curated list of the top 10 resorts for couples in Jamaica:
Couples Tower Isle: Known for its private island and all-inclusive luxury, this resort in Ocho Rios offers a perfect blend of privacy and adventure.
Sandals Royal Plantation: This adults-only resort boasts ocean view suites and a private beach, creating an intimate retreat.
The Caves Hotel: Located in Negril, this resort features cliffside cottages and an Aveda spa, offering a unique, serene escape.
Half Moon: With its elegant suites and villas, and a variety of activities, this Montego Bay resort offers a tailored luxury experience.
Jamaica Inn: An intimate boutique resort in Ocho Rios with a charming colonial style and a focus on tranquillity and personalized service.
GoldenEye: Once the home of James Bond author, Ian Fleming, this Oracabessa Bay resort offers beach huts and lagoon villas for a unique stay.
Rockhouse Hotel: Set on the cliffs of Negril, this boutique hotel offers thatched-roof villas and a gorgeous natural setting.
Iberostar Grand Hotel Rose Hall: This all-inclusive, adults-only resort in Montego Bay is known for its luxury suites and personalized butler service.
Sandals South Coast: Set on a 2-mile white-sand beach, this all-inclusive resort offers over-water bungalows and European-style gardens.
Moon Palace Jamaica: Located in Ocho Rios, this luxury all-inclusive resort offers multiple dining options, a flow-rider, and a luxurious spa.
More couples only resorts in Jamaica.
---
The 'Secrets Cap Cana Resort & Spa' is another luxurious adults-only escape located in the exclusive gated community of Cap Cana. Imagine yourselves in a Preferred Club Bungalow Suite, enjoying your private terrace, soaking tub, and direct swim-out access. The resort's 'Unlimited-Luxury®' concept promises unlimited gourmet dining and premium drinks, creating an elevated romantic experience.
5-Star Adult Only All-Inclusive Resorts In Punta Cana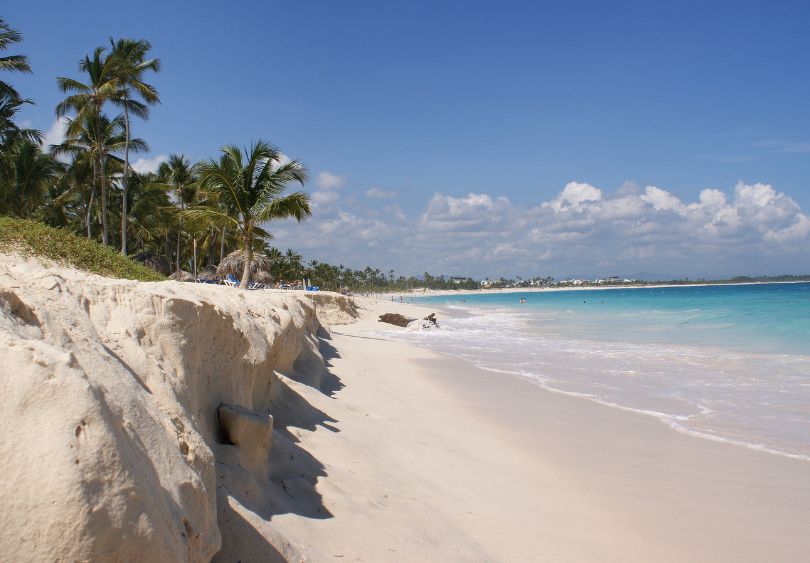 Dominican Republic Couples Beach
See all the Dominican Republic Couples Resorts.
Excellence Punta Cana:
Luxury, Adults Only, All Inclusive
Dominican Republic, with its Caribbean allure and alluring landscapes, provides an exquisite backdrop for couples seeking a romantic retreat. A jewel among the many resorts is the 'Excellence Punta Cana.' This adults-only, all-inclusive resort is nestled amidst a palm grove on a pristine beach. From private plunge pools and beachfront suites to gourmet dining and a world-class spa, the resort offers an idyllic sanctuary of romance.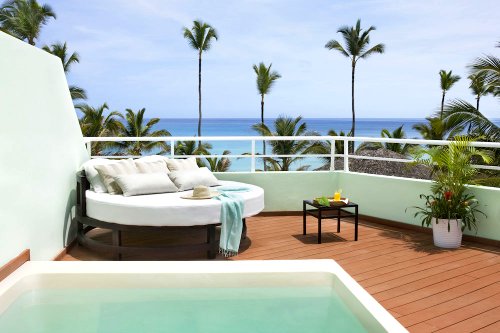 Excellence Punta Cana
On a 2.5 kilometer stretch of powder white  beach. The all inclusive package includes meals, non-motorized water sports and tons of activities. There are many reports of people just not wanting to leave. (A very good sign!)

More information and latest reviews on Excellence Punta Cana.
More Dominican Republic Couples Only Resorts (One of the top places for all inclusive resorts.)

---
The Mexican Riviera is the ideal location for couples getaways. While Cancun has a number of high-profile adult only all-inclusive resorts we would really recommend checking out the adult only resorts in and around Playa del Carmen as well. 
This is a review of the best hotels in Playa Del Carmen Mexico for couples.
An adults only all inclusive resort occupying a 305-meter strand of soft, white Caribbean beach.
Located between the towns of Cancun and Playa del Carmen in Mexico. There are many restaurants, a full-service spa and downtown is 15 km away. Great reviews from past guests!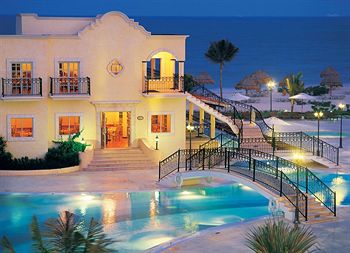 Excellence Riviera Cancun Couples All Inclusive
Special offers and reviews for Excellence Riviera Cancun All Inclusive.
If you like all inclusive resorts, also take a look at Adults Only All Inclusive Resorts for a great big list!
---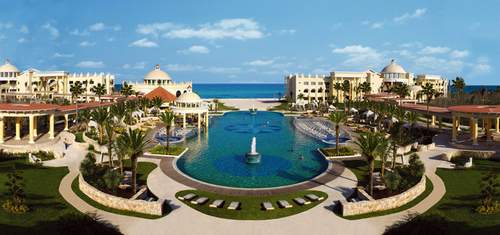 Iberostar Grand Hotel Paraiso Adult Only
---

Secrets SilverSands Riviera Maya Resort
---
Oh, how I vividly recall my time at the 'Le Blanc Spa Resort.' I was in my late twenties then, a young writer with a thirst for adventure and the unknown, journeying through Mexico with a light heart and a heavy suitcase. The call of Cancun, with its promise of sun, sea, and tranquility, was too enchanting to resist.
My first day at Le Blanc unfolded like a dream painted in hues of blue and white. From the moment I set foot in the sleek marble lobby to the sight of my chic suite, complete with its personalized butler service and an ocean view, I felt like I had stumbled into an oasis of opulence, nestled within the vibrant heart of Cancun.
Stepping out onto the soft, white sand, I felt the warmth of the sun on my skin and the cool sea breeze in my hair. I watched couples stroll hand-in-hand along the shore, their laughter and whispers caught in the wind, a testament to the romantic ambiance of the resort.
One particular evening remains etched in my memory. I had just enjoyed a gourmet dinner at Lumière, Le Blanc's French fusion restaurant. Feeling adventurous, I had let the sommelier choose my wine — a delightful blend with hints of cherry and dark chocolate that danced on my tongue, complementing the taste of the tender duck breast perfectly.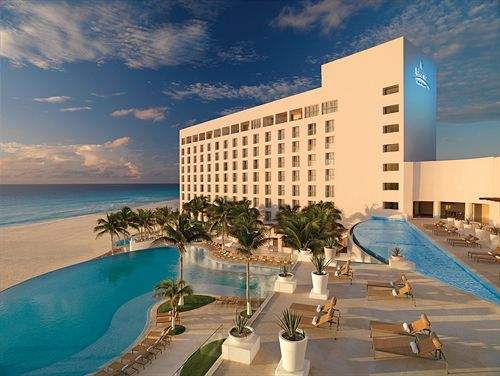 Le Blanc Cancun All Inclusive Couples Spa Resort
---
See more of the best:
---
Best honeymoon destinations in Caribbean

Looking for a romantic honeymoon in the Caribbean with endless beaches, romantic meals and lots of space for yourselves? These  tropical islands and from St. Lucia and to Anguilla offer something a little different. 

Video: 10 Best Honeymoon Destinations in the Caribbean

Barbados, a Caribbean paradise, offers a tranquil retreat for couples at the 'Sandals Royal Barbados.' This all-inclusive resort offers romantic beachfront suites with soaking tubs on the balconies and a rooftop pool that allows you to swim under the stars. Next is the 'Cobblers Cove,' a charming English Country-style hotel on the west coast, known for its privacy and gourmet restaurant that serves a mix of Caribbean and international cuisine. For those seeking luxury, 'The House by Elegant Hotels' offers an adults-only experience with complimentary jet lag revival massage upon arrival and a personal ambassador service. Each of these Barbadian resorts provides the perfect backdrop for a memorable romantic getaway.
The new Sandals Barbados
The House, St. James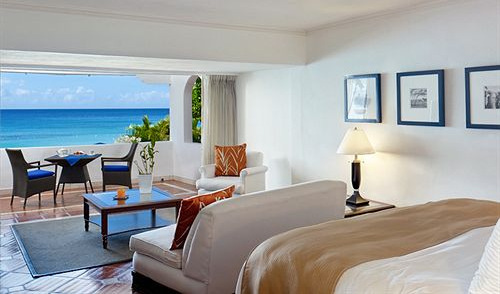 This resort in St. James, Barbados, epitomizes lavish luxury and indulgence from first greeting to final farewell. Nestled in the pristine beaches of the Gold Coast, this adults-only, couples-oriented resort greets guests with a welcome beverage and "jet lag reviver massage." Each couple is assigned a personal ambassador who has one simple task: cater to the guests' every comfort.
More information and special offers on The House Barbados.
See more great romantic Barbados Resorts.

---
Antigua, with its turquoise waters and 365 beaches, is a haven for couples. The 'Cocobay Resort,' an exclusive adults-only getaway, offers intimate cottages with private plunge pools and hammocks, all overlooking the stunning Ffreyes Bay.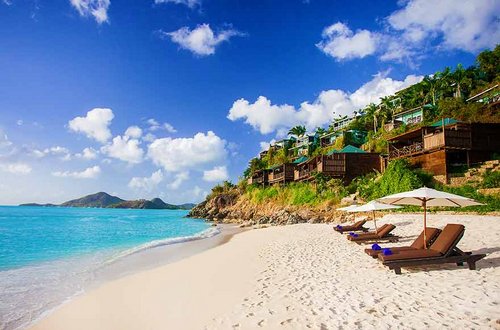 Cocos Antigua
Next is 'Hermitage Bay,' where luxury meets serenity. Set in a secluded cove, the resort offers hillside pool suites with breathtaking views of the Caribbean Sea. It's an all-inclusive retreat where you can enjoy farm-to-table dining and unwind at the Garden Spa.

Sandals Grande Antigua Couples Resort & Spa
'Sandals Grande Antigua,' voted "World's Most Romantic Resort" year after year, offers an exotic escape for couples. Its beachfront suites, 11 gourmet restaurants, and unlimited scuba diving create a lover's paradise.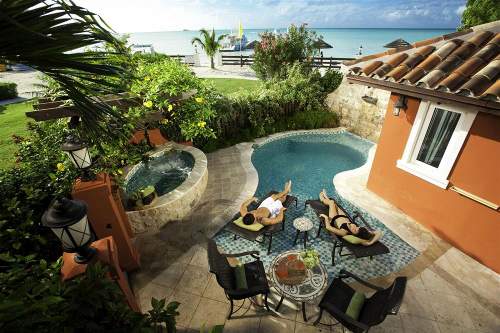 Sandals Grande Antigua Couples Resort & Spa
A couples-only resort which has won awards for the worlds best honeymoon location (on the beach). There are five freshwater pools, swim-up pool bar, five soothing whirlpools, six other bars, and four restaurants. There are a wide variety of activities included in the nightly rate.

Companion Flies Free to ALL Sandals Resorts Destinations!

See more great Antigua Resorts ready made for couples.

---
St Lucia, a jewel of the Caribbean, is home to several enchanting resorts ideal for couples. The 'Ladera Resort,' located on a forested ridge nearly 1000 feet above the Caribbean Sea, offers a unique open wall concept, presenting an unobstructed view of the iconic Piton Mountains from your private plunge pool.
The 'Sandals Grande St. Lucian' is an idyllic all-inclusive beach resort known for its stunning beachfront rondoval suites, panoramic views, and a variety of watersports. It's perfect for couples seeking adventure and relaxation in equal measure.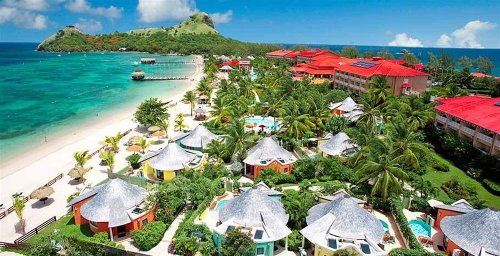 Sandals Grande St. Lucian Spa
Framed by mountain views and edged by the Caribbean Sea on Gros Islet, St. Lucia. Pigeon Island National Historic Park is positioned 1km from the resort. This property partners with two other Sandals resorts located nearby. Complimentary shuttles transport guests between the properties. Guests have full access to all three resorts facilities.

Sandals Grande St. Lucian. Save up to 55% off!
---
Interested in more couples resorts? Visit couples only all inclusive resorts or couples only resorts in Jamaica. You might also want to check out the best honeymoon resorts. They are really romantic destinations. 

---
Best Resorts in the USA for couples
USA, with its diverse landscapes and vast size, offers a myriad of romantic getaway options for couples.
In the rugged charm of Montana, 'The Resort at Paws Up' provides an excellent glamping experience. The private tents, decked with luxurious amenities, offer breathtaking views of the expansive American wilderness - an escape perfect for adventure-loving couples.
Head down south to the 'Ocean Key Resort & Spa' in Key West, Florida. Its Sunset Pier is the best place in town for a sundowner, with the sun setting into the Gulf of Mexico as your romantic backdrop.
Post Ranch Inn' in Big Sur, California
On the west coast, the 'Post Ranch Inn' in Big Sur, California, perched on the cliffs of the Pacific Ocean, offers luxury and peace in the midst of nature's grandeur. The treehouses and their ocean views make it a romantic getaway that's hard to beat.

In New England, 'Twin Farms' in Vermont provides a charming country retreat. This all-inclusive resort offers cottages with unique personalities, and its Farm-to-Table dining and on-site activities like fly fishing and skiing make it a fantastic choice for couples looking for a cosy getaway.
You may also like to check out our Couples All inclusive resorts review to find some of the best resorts which has lots of options for romantic couples getaways in the Poconos to California spa resorts for couples. 
In this video Delores  goes on a romantic getaway to the Poconos. Experience a luxury romantic  suite,  delicious food, and our wine at Pocono Palace Resort, Cove Haven. 
Hawaii has some awesome Couples resorts.  The island of Oahu is a good choice with options like the romantic Turtle Bay Resort.
The Midwest is not the first place couples usually think about for a romantic getaway. But when the leaves are changing in the fall it is simply magic to wind your way through the back roads on a self-guided adventure. 
Romantic resorts for lovers
Here are some more awesome, romantic resorts for lovers: 
There are several resorts around the world that cater specifically to couples. Some of these include:

Le Blanc Spa Resort, Cancun, Mexico
Couples Tower Isle, Ocho Rios, Jamaica
Excellence Punta Cana, Dominican Republic
Sandals Royal Barbados, Barbados
The Resort at Paws Up, Montana, USA
Many couples resorts offer all-inclusive packages. This often includes accommodations, meals, drinks, and a variety of activities. Resorts like Sandals, Excellence, and Couples Resorts are known for their all-inclusive packages.
Most couples resorts offer luxury accommodations, gourmet dining, spa services, and a range of activities such as watersports, hiking, or cultural excursions. Many also offer private dining experiences, couples massages, and other romantic touches.
Yes, many couples resorts are adults-only to maintain a peaceful and romantic atmosphere. Examples include Le Blanc Spa Resort in Cancun, Sandals Royal Barbados, and Excellence Punta Cana in the Dominican Republic.
Absolutely! Couples resorts are designed with romance in mind and offer a range of packages specifically tailored to honeymooners.
Many couples resorts offer wedding packages and have dedicated wedding planners who can help you plan your big day.
Yes, many couples resorts offer villas or suites with private pools or jacuzzis. Resorts like Cocobay in Antigua and Jade Mountain in St Lucia are known for their private accommodations.
💼 We cherish our independence! ✈️ Our travel recommendations are carefully researched, bias-free, and powered by human expertise by April and Ricky of LRB (we have personally researched and travelled to many of these destinations and researched others thoroughly through first-hand accounts). 🌍✨
We try to keep everything up to date, but please always do your own research and contact us if you know any issues for us to help others as best we can as a small but professionally focused team! 🧐📚⚠️