Chablé Sea of Cortez 2024
In the shimmering embrace of Baja California Sur, where the desert dances with the mighty Sea of Cortez, a new bastion of luxury emerges—Chablé Sea of Cortez. This soon-to-be unveiled retreat offers more than just opulence—it promises an immersive experience, blending seamlessly with the desert's untamed beauty.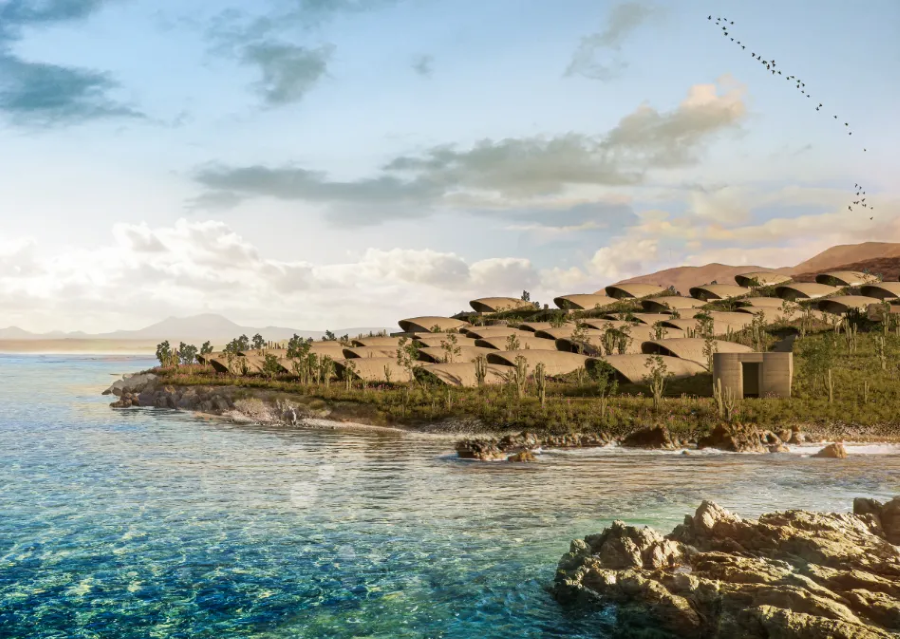 Chablé Sea Of Cortez impresion (chablehotels.com)
The Vision of Luxury Amidst the Wilderness

Stretched over nearly 700,000 square feet of raw, untouched desert, Chablé's upcoming masterpiece is an embodiment of sophistication. Jacques Costeau once hailed the Sea of Cortez as the "World's Aquarium," and this oasis promises the same enchantment but on land. Set to house 50 meticulously crafted suites, each dwelling at Chablé Sea of Cortez is an ode to intimate luxury. Can you imagine stepping out to a private terrace, with the undulating dunes as your backyard and the distant murmur of the sea as your morning wake-up call? Each suite promises this and more, featuring its own garden, plunge pool, and an uninterrupted vista of the Sea of Cortez.
Architectural Genius in the Heart of Baja
Drawing its inspiration from the serenity of its surroundings, Mexican design studio, Sordo Madaleno Arquitectos (SMA), was given the challenging task of ensuring each of the 50 units enjoyed an unspoiled ocean view. Their solution? A series of luxury "pods," nestled on either hill flanking the pristine beach, ensuring that every guest wakes up to the vast expanse of the Gulf of California.
It's fascinating how SMA's vision for Chablé was about more than just aesthetics. It was about ensuring that the resort flowed organically with the desert topography. The undulating design, akin to the rhythmic ebb and flow of the nearby sea, ensures a sense of seclusion, a hideaway where guests can feel they are the only souls for miles around.
More Than Just a Resort: An Experience
The Chablé brand, already renowned for its properties on the Gulf of Mexico, is poised to redefine luxury once again. The new resort is not merely about living in opulence—it's about experiencing Baja. From its sprawling spa that seems to evolve organically from the desert itself to its three gourmet restaurants serving delicacies sourced from the local landscape, every aspect of Chablé Sea of Cortez beckons guests to immerse themselves in the spirit of Baja.
An Ode to Timelessness
Slated to open its magnificent doors in early 2024, the journey of Chablé Sea of Cortez has been one of patience, resilience, and undying passion. Announced in 2019 with an initial completion date in 2021, the world's sudden halt did delay its unveiling. However, what is a brief pause in the grand tapestry of time? Especially when what's to come is a resort that promises timelessness.
For Those Seeking Something Else
Chablé Sea of Cortez might be the beacon for those wanting to experience Baja in the lap of luxury, but for travelers looking for a more rustic, raw experience, Baja offers numerous eco-lodges and camps, bringing you closer to its natural wonders.
As we stand on the cusp of 2024, with the world slowly unfolding again, Chablé Sea of Cortez seems to be not just a luxury resort but a symbol—a symbol of resurgence, hope, and the timeless beauty of Baja.
Find the best deal, compare prices, and read what other travelers have to say at Tripadvisor on Baja Hotels

Chablé Sea Of Cortez: An Oasis Destined To Flourish (chablehotels.com)
As the golden hues of the Baja California Sur peninsula paint another mesmerizing sunset, whispers of a new gem in luxury hospitality have begun to resonate. Chablé Sea of Cortez, with its promises of unparalleled luxury nestled in the embrace of raw desert beauty, seems poised to become a new beacon for discerning travelers. But beyond the architectural marvels and bespoke experiences, what really underscores the potential success of this resort? Let's delve into why we believe Chablé Sea of Cortez isn't just a retreat, but a renaissance.

1. A Symphony of Design and Nature
In an era where travelers are increasingly seeking authentic, organic experiences, Chablé Sea of Cortez hits the right notes. It's not just about creating luxury spaces; it's about curating luxury within the natural tapestry of the destination. The resort's architecture, envisioned by the Mexican studio Sordo Madaleno Arquitectos (SMA), does not overpower but rather blends in, becoming a part of the desert's narrative. This integration suggests not just a stay, but a communion with the land.
2. A New Chapter for Baja
The Baja California Sur peninsula is no stranger to luxury. However, its potential has often been overshadowed by other more commercial Mexican destinations. The arrival of Chablé, a brand synonymous with opulence and authenticity, heralds Baja's readiness to step into the limelight. With Chablé's commitment to creating an experience deeply rooted in the destination's essence, Baja's rich tapestry of culture, nature, and history will find a new, eloquent voice.
3. Proximity and Accessibility
Baja's strategic location, with its close proximity to the United States, has always been an advantage. Yet, it's been waiting for icons like Chablé to leverage this. For American travelers, the lure of an exotic escape, coupled with relatively short travel times, makes Chablé Sea of Cortez an enticing proposition.
4. The Rise of Eco-Tourism
Baja's vast biological reserves make it an ecological paradise. As the world moves towards sustainable travel, Chablé's commitment to eco-luxury – where opulence meets responsibility – positions it perfectly. Travelers can indulge guilt-free, knowing that their footprint is being minimized even in the lap of luxury.
5. A Pioneering Spirit
While many resorts pride themselves on luxury, few venture into redefining it. The idea of luxury "pods", each offering a unique communion with nature, is groundbreaking. It's a call to those who seek the extraordinary, not just the extravagant.
6. A Tapestry of Experiences
Baja is not just a destination; it's a mosaic of experiences. From its rich marine life, as celebrated by Jacques Costeau, to its desert wonders, there's a story waiting at every corner. Chablé promises to be the golden thread weaving these tales together, offering guests a curated journey through Baja's many wonders.
7. The Resilience of Time
The very journey of Chablé Sea of Cortez, from its announcement in 2019 to its awaited launch in 2024, is a testament to its vision and resilience. Despite global upheavals, the resort's commitment to bringing its dream to fruition has remained unwavering. Such determination speaks volumes about its future.
As Chablé Sea of Cortez prepares to welcome the world, we stand at a unique juncture – where anticipation meets assurance. While the sands of time will pen the final tale, we believe that this resort is not just poised to work but to redefine luxury hospitality in Baja and beyond.
Chablé Hotels
Chablé Hotels is a chain renowned for its fusion of luxury and nature, offering guests an experience that seamlessly blends the boundaries of indoor and outdoor living, all while maintaining a strong commitment to sustainability and wellness. Here's a deeper dive into the world of Chablé Hotels:
Chablé Hotels: A Sanctuary of Luxury and Nature
Philosophy: Chablé Hotels places a significant emphasis on creating sanctuaries that connect people with nature. Each resort aims to capture the essence of its surroundings, offering a one-of-a-kind experience deeply rooted in the region's culture, history, and geography.
Signature Spa Experiences: Chablé is celebrated for its spa facilities. These aren't just places for relaxation but are built around holistic well-being concepts, often incorporating Mayan traditions, rituals, and native ingredients. Each spa session is not merely a treatment but a journey towards rejuvenation.
Chablé Yucatán: Located just 25 minutes from Merida in the Yucatan Peninsula, Chablé Yucatán is set on 750 acres of lush Mayan forest. Its standout feature is the cenote, a natural sinkhole considered sacred by the Mayans, which the entire wellness facility surrounds. This resort beautifully refurbishes the old walls of a historic hacienda to incorporate 38 casitas and 2 expansive villas.
Chablé Maroma: This resort is situated on Maroma Beach, consistently recognized as one of the world's best beaches. With 70 luxurious casitas and villas, each featuring its private pool and outdoor terrace, guests are promised privacy amidst paradise. The design is influenced by the rich Mayan culture, and its location offers activities like snorkeling, diving, and exploring the nearby cenotes.
Gastronomy: One cannot mention Chablé without highlighting its culinary experiences. Both Chablé Yucatán and Chablé Maroma celebrate Mexican cuisine's richness with restaurants that have garnered international recognition. Ingredients are often sourced from the on-site gardens, ensuring fresh, organic, and sustainable meals.
Sustainability: A core pillar of Chablé's ethos is sustainability. The resorts invest in eco-friendly technologies and practices, from wastewater treatment systems to solar panels. The architecture and design prioritize local materials and craftsmen, ensuring that the resorts not only blend into their natural surroundings but also support the local community.
Awards and Recognition: Chablé Hotels' commitment to luxury, wellness, and sustainability hasn't gone unnoticed. Both Chablé Yucatán and Chablé Maroma have been recipients of numerous international awards, a testament to their exceptional service and unique offerings.
The introduction of Chablé Sea of Cortez in La Paz only underscores the brand's vision to offer luxury retreats in settings that celebrate and protect their natural and cultural surroundings. With its unique pod-like architecture set against the stark beauty of the Baja desert and the azure waters of the Sea of Cortez, it's poised to be another jewel in the Chablé crown.
Chablé Sea of Cortez: An Immersive Dance with the Desert
Imagining the very first sight of the Chablé Sea of Cortez is transformative. As your vehicle navigates the sinuous roads of Baja California Sur, the ethereal silhouette of the resort begins to emerge from the desert landscape. The seamless blend of luxury "pods" with the rough, untamed topography of the peninsula speaks of a sanctuary that has made peace with nature.
As you step out, the gentle breeze carries a hint of salt from the nearby Gulf of California, mingling with the distinct, earthy aroma of the desert. The staff, exuding the signature warmth of Mexican hospitality, greets you with refreshments crafted from indigenous ingredients — perhaps an herbal infusion with agave nectar or a zesty lime cooler.
Your suite is a revelation. Mexican craftsmanship shines through in the details, from the handwoven textiles to the intricately carved wood. Yet, modern comforts are everywhere, ensuring a luxurious stay. Each suite, true to the promise, offers a pristine view of the Gulf. The private plunge pool beckons, its waters reflecting the vast desert skies.
But it's not just the tangible luxury that captivates. It's the silence, the vastness, the sense of being cocooned in a space that time forgot. The occasional bird call or the distant rustle of a desert creature are the only reminders that you're not alone.
As dusk approaches, the resort comes alive in a different hue. The ambient lighting around the resort mimics the soft glow of fireflies, and you can't help but be drawn to one of the three onsite restaurants. The culinary experience is an ode to Baja's rich bounty. Fresh seafood, locally sourced produce, and age-old Mexican recipes are given a contemporary twist. Perhaps a ceviche with a hint of mango or a mole sauce enriched with local spices.
During the day, the experiences are endless. You could venture out on a marine expedition, diving into the "World's Aquarium" to marvel at the diverse marine life Jacques Cousteau once celebrated. Or perhaps, indulge in a spa therapy inspired by ancient Mexican healing traditions, with products derived from native plants and herbs.
For the more adventurous, a desert hike or a visit to the local biological reserves offers an education in biodiversity. And every evening, the resort hosts local artisans or musicians, allowing guests to immerse themselves in the rich cultural tapestry of the Baja region.
Yet, amidst all the activities, there's a pervasive sense of calm. Whether you're sipping on a cocktail by the ocean-front pool, stargazing from your private terrace, or simply listening to the whispering waves, Chablé Sea of Cortez offers a profound connection — not just to luxury, but to the soul of Baja.
As your stay concludes, and you prepare to depart, there's a realization. That Chablé isn't just a resort. It's an emotion, a dance with the desert, a song sung by the sea, and an experience that lingers, long after the journey home.
Frequently Asked Questions (FAQ) for Chablé Sea of Cortez
Chablé Sea of Cortez is located in La Paz, nestled in the stunning desert landscape of Baja California Sur, Mexico.
The resort boasts 50 luxury suites, each offering its own garden, terrace, and private plunge pool.
Yes, the unique design ensures that every suite has an uninterrupted view of the Gulf of California.
Guests can indulge in culinary delights at three different on-site restaurants, each promising an exquisite dining experience.
Absolutely! Chablé Sea of Cortez features a large spa facility, offering a range of treatments designed to rejuvenate and relax.
Yes, the design and architecture by Sordo Madaleno Arquitectos emphasize integrating the resort into the natural landscape of Baja California Sur, showing a commitment to environmental preservation.
The resort is situated near vast biological reserves, making it a prime destination for eco-tourism. Additionally, its proximity to pristine beaches and the Gulf of California offers numerous water-based activities.
The resort is conveniently located near main roads leading to La Paz. It's recommended to check with the resort for specific transport options or shuttle services.
The resort was initially set to open in 2022 but has been rescheduled for a Q1 2024 opening.
Yes, Chablé Hotels operates other luxury resorts, including Chablé Yucatán and Chablé Maroma, both located on the Gulf of Mexico side of the country.
Share Your All-Inclusive Adventures and Questions! 🌴 Have a memorable experience from a luxury all-inclusive vacation? We'd love to hear it at Luxury Resort Bliss. We're on the lookout for top-quality, insightful tales that'll inspire our community. Dive in and be a part of our sun-soaked stories! 🌊🍹✨
The story is a fictionalized account founded on travel expertise, research, and experience. Always refer to recent guest reviews and perform due diligence before booking.
💼 We cherish our independence! ✈️ Our travel recommendations are carefully researched, bias-free, and powered by human expertise by April and Ricky of LRB (we have personally researched and travelled to many of these destinations and researched others thoroughly through first-hand accounts). We also have put in the hard miles, and Ricky has worked for decades for resort and hotel chains  Hyatt, Hilton, Shangri-La and Radisson before starting Luxury Resort Bliss in 2007. 🌍✨ Unlike some other resort review websites we are concerned on the guest experience rather than mere corporate interest.