Coffs Harbour Resorts and Holidays Reviews
Coffs Harbour Resorts
Many of the best Coffs Harbour Resorts are situated on the beaches north of the city renowned as having the best climate in Australia. Coffs Harbour has been our go to summer holiday destination for some years now. The area  dubbed the Banana Holiday Coast the area does really deliver something a little deliciously balmy and exotic in comparison to some of the other more droll coastal offerings.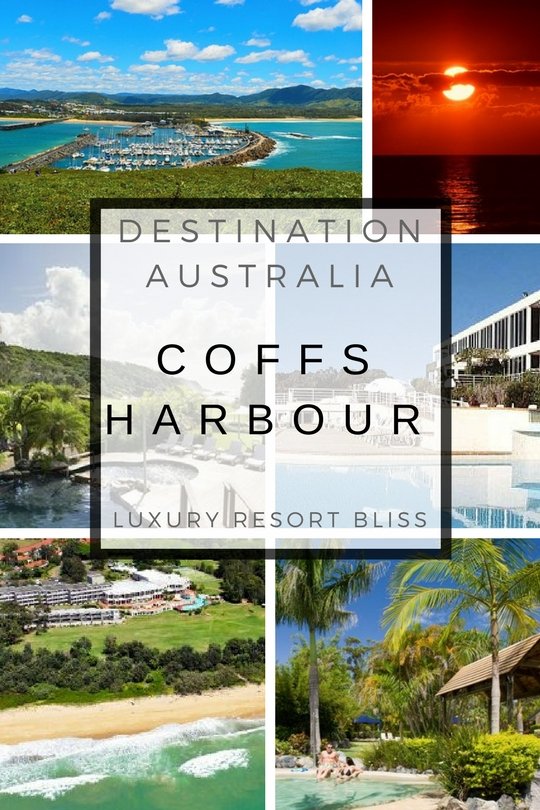 Coffs Harbour really is a spectacular location and sits at the bottom of a massive rain forest wilderness area the size of some small countries and right by the sparkling Pacific. The wonderful grassy headland make an idyllic home for lots of kangaroos which are easy to spot at places like Emerald Beach.

Located halfway between Sydney and Brisbane, the city, or better yet the beaches, make an excellent spot to jump off and enjoy the nearby mountain escarpments, near 100 km of beaches or the islands of the marine national park.

When to go to Coffs Harbour?
As far as the best weather to go to Coffs Harbour pretty well every  month enjoys reasonable weather. Coffs Harbour doesn't have the reputation of having the best weather in the world for nothing.  March and April are the wettest months but expect some rain overnight at any time in this green oasis. 
If you are planning to swim a lot than winter water temperatures are likely not warm enough.  Water temperatures get down to 18C in August but warm up to about 24C in Midsummer.  Summer and especially the period from Boxing Day oto when the kids go back around February is peak time.  
---
The Luxury Resort Bliss team spent a few days around Coffs Harbour recently to check things out and find the best resorts. In the area nestled along the shoreline with a rain forest backdrop and a long drive to the busy busy of the nearest capital cities lies this great resort "hot spot".
Special Hotel Deals in Coffs Harbour, Australia
Last Minute Hotel Deals in Coffs Harbour, Australia

Best Resorts in Coffs Harbour, NSW
These are our favorite resorts in Coffs Harbor. On a scale of 1 to 10 these resorts all score above an eight (8) because of the level of service, proximity to the beach and the all-inclusive vibe they present.
(Not that they are all-inclusive resorts, but rather offer a lot of features that provide a quality holiday experience).
Laid back Coffs Harbor is comparable as a beach destination to the more Hippie and glitzy northern NSW beach resort town of Byron Bay.  
Smugglers on the Beach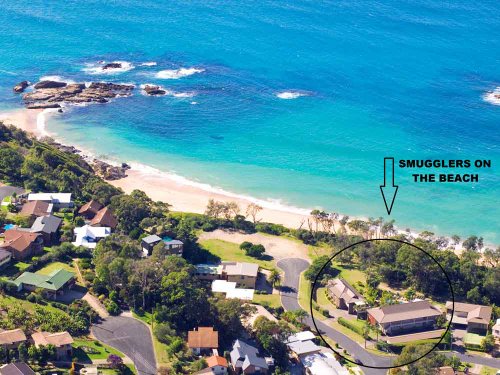 This great little place is only a few minutes from town and located where you can hear the waves crash against the shore. Well worth making the booking.

Click here to find out more on Smugglers on the Beach.
---
Beachfront Opal Cove Coffs Harbour Resort
This 4 star Coffs Harbour resort has a 9 hole golf course, will serve you a cocktail and provide a nice relaxing atmosphere to relax or enjoy time with your family.

This is one of the older resorts in Coffs Harbour and while not yet passed it's glory days, it has not really continued to improve and generally receives average to good reviews.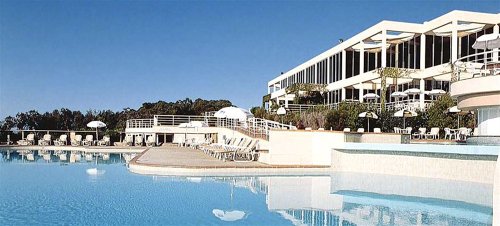 Attractions like the sandy beach, the pool with good slides to keep some families returning however. If you like the look of it and get a good deal then go for it.
Click here for more information and reviews.
---
Darlington Beach Resort & Holiday Park
I stayed at this eco-friendly resort recently during a road trip up the NSW beaches and loved it. Large kangaroos hop around the resort and mingle with the guests, there is a magnificent beach on hand, and the setting with little lagoons around is spectacular. Certainly also a surprise to see such a lot of activities and family things to do in what really is a resort caravan park, but with a big range of more luxurious villas, cabins and sites.

As well as having kids activities all year round they have their own golf course, a huge resort pool and spa complex, archery, tennis courts, soccer fields and a host of other activities.
If you happen to arrive in school holidays you are sure to find the swathes of kids and teenagers running the place overwhelming (if you're not bringing them along yourself). But what an opportunity for them to make memories hanging out with their new friends in a safe and secluded 110 acre environment.
As for the restaurant, my wife commented that she would frequent it often if she lived in the area.
More information and reviews on Darlington Beach Resort & Holiday Park
---
BreakFree Aanuka Beach Resort
A great Coffs Harbour resort accommodation option, BreakFree Aanuka Beach Resort is well suited to families and couples.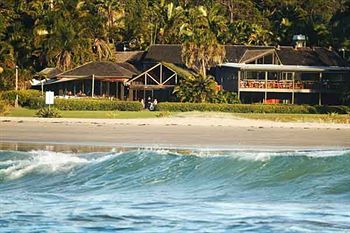 Located on Diggers Beach, you can keep active with the tennis courts, multiple swimming pools, and a spa.
I had the chance to stay at a nearby resort recently and the area is truly spectacular. A lovely eco environment with a great big sandy surf beach to explore.
More information and reviews for BreakFree Aanuka Beach Resort

---
---
Novotel Coffs Harbour Pacific Bay Resort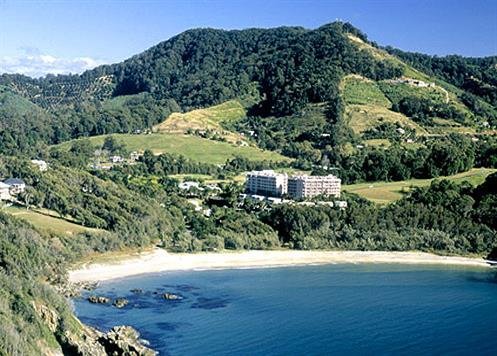 Grassy areas and a clean environment attract families looking for a golf or beach vacation to this resort. Lots of room to move with 3 pools, kids club and more at this 4 star, 170 room resort on the beach at Coffs. More good than excellent reviews which perhaps has a little to do with the value for money.
Information and Reviews on Novotel Coffs Harbour Pacific Bay Resort
---
What to do on your Coffs Harbour Holiday
Coffs Harbour is greener and receives a little more rain than the coastal holiday towns to the south like Port Macquarie and the vegetation and wildlife seem a little more bigger and exotic thanks to this and it's wonderfully distanced location about half way between Brisbane and Sydney.  Coffs Harbour is also the coastal starting point for the wonderful Waterfall Way scenic road trip into the lush mountains beyond. 

Looking from Dorrigo to Coffs Harbour
The first time we went to Coffs Harbour we were underwhelmed it regarded it for a long while as an over-busy  coastal city. Only over time exploring the many beaches, coastal headlands and rainforests that surround the city did we really begin to appreciate what is really available for families. While in town there are opportunities to;
catch a marine show, 
walk along the extended jetty and spot fish in the clear waters, 
catch a feed of fish and chips and watch the fishermen offload their catches of huge ocean tuna at one of the busiest fishing ports in NSW.
Visit a working miniature Ducth village at the Clog Barn for free!
See how overrated yet iconic a place the Big banana is to get an ice cream.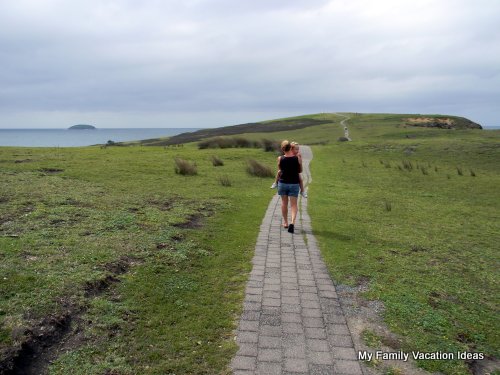 Look at Me Now Headland
Out of town there are as many outstanding family destinations as there are locations; it all seems nice. Get out and explore. Some of our recommendations include;
Wading in shallow waters and beaches by the miles long cross water board walk at Urunga.
Taking a drive up to the Hinterland Towns of Bellengen and Dorrigo.
Walk the boardwalk or explore the Dorrigo Rainforest Station.
Drive the Waterfall Way between Coffs Harbour and Armidale.
Check out the many coastal headlands and beaches.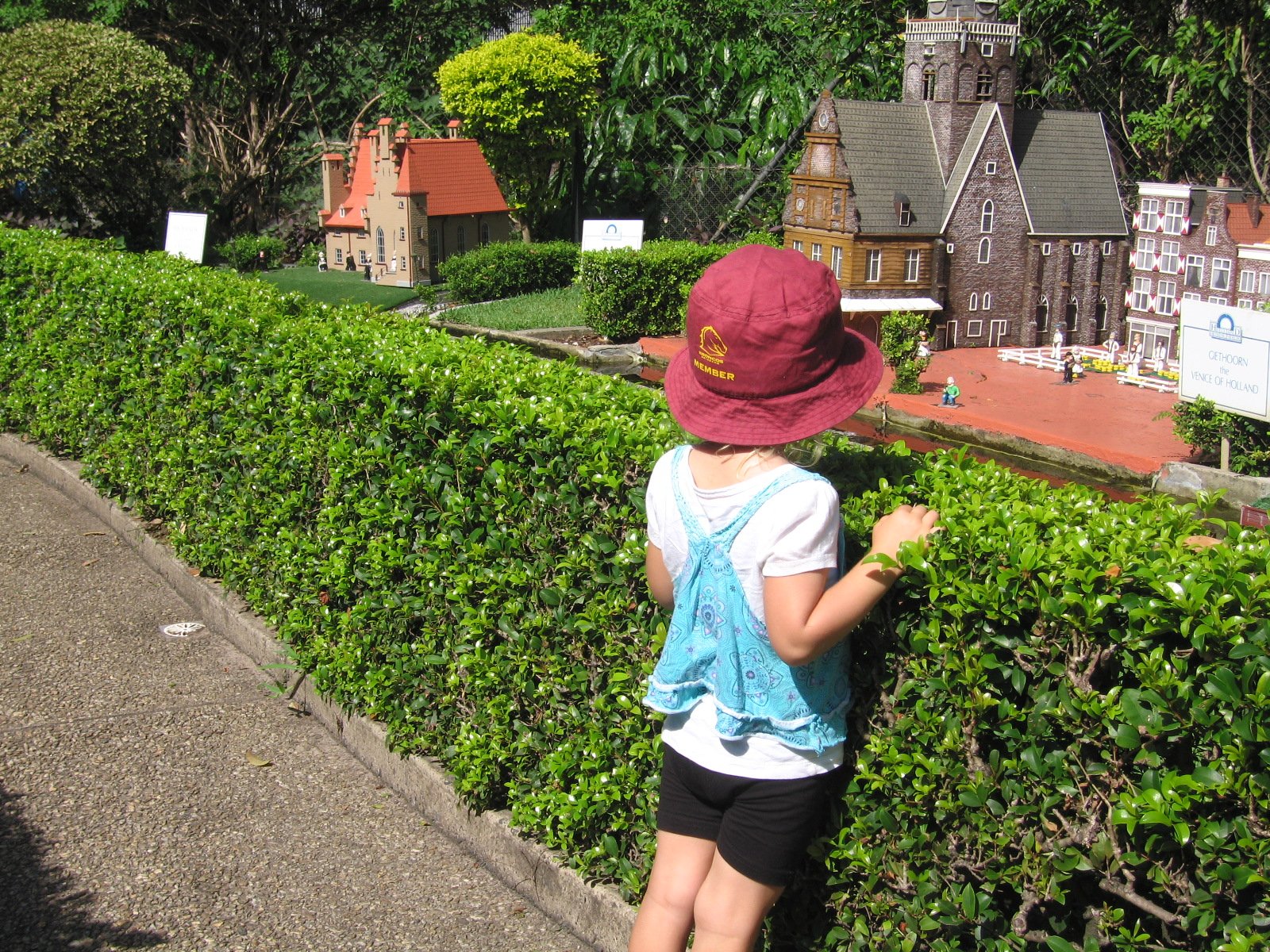 The coastal scenery is magnificent and there are quite a few green grassy headlands frequented by large populations of sizable kangaroos. From the beaches these look like large boulders which periodically move around. Spend a few hours walking around Look at Me Now Headland down by Emerald Beach and you will get an appreciation of what I mean. When we camp at any one of the beaches out of town we inevitably surrounded by these large roos in our camp sites and it is kind of interesting to hear them fumbling around the tent ropes at night; sometimes tripping over them.

We often stay and Emerald Beach or Nearby Darlington Beach because we have a big four family parks membership and we always find these outstanding value outside of the school holidays and vacation times. But these are not the only good family friendly holiday parks located in the area, and some of the best tourist parks in NSW are located here. Our main recommendation is to insist on getting out of town and take advantage of the many isolated beaches along the highway to the north and south.  

Want to keep looking? Check out our Australia Resorts page. See also Byron Bay resorts.
Authors Unleashed: Unveiling the Ultimate Travel Experience through Expert Reviews, Ratings, and Research
💼 We cherish our independence! ✈️ Our travel recommendations are carefully researched, bias-free, and powered by human expertise. We use AI sparingly for editing purposes, ensuring an authentic and reliable experience. Join us on our unbiased journey! 🌍✨
Always do your own research! 🧐📚⚠️