Luxury Resort Mauritius Review
Luxury Resorts in Mauritius Reviews
A luxury resort Mauritius: great for watersports, the beach, lagoons, reefs and relaxation. Here are the top resorts that we can really make a great vacation happen. While there are dozens of Mauritius hotels and resorts around this sun drenched, white sand Indian Ocean island off the cost of Africa. Many great resorts are close to Le Morne but there are also a lot of great getaways and hidden gems.  
Because of it's location, many flights come from Europe (more than 30 a week), with the Air France route from Paris a popular one. Flights arrive near the capital of Port Louis, from which you are whisked of to your accommodation. 
Mauritius has a great climate, from about 22°C in winter to the mid 30's in summer.  You generally won't need to arrange and special visas or immunisations.

You can also see the Top 25 Mauritius Resort Deals by Catagory

---
Dinarobin Mauritius Golf and Spa Resort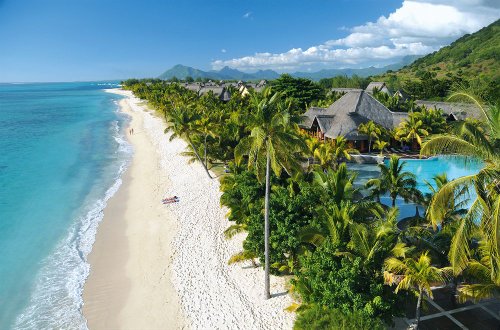 Dinarobin Mauritius Golf and Spa Resort
This is a resort hotel comprising bungalow-like suites. It's located in a 48-acre tropical garden at  the foot of Le Morne Mountain.

The hotel's Clarins Spa has an extensive range of treatments. It also has two Balneo therapy rooms and a hydro-massage suite.
Other activities include water sports (water-skiing, windsurfing, snorkeling, glass-bottomed, more), table tennis, volleyball, mountain biking and aerobics classes. Golf is available at the neighbouring hotel. Dining at the restaurants includes fusion dishes, French cuisine and seafood. 

Dinarobin Mauritius Golf and Spa Resort
The 172 guestrooms feature Colonial-style decor in warm earth tones with wicker seating, rich fabrics and indigenous exotic touches. All have verandas with views over the lagoon.


Reviewers say it was a great spot for a honeymoon. They say it's 5 star all the way, food is priced well, the kids club is great and that it has some minor flaws but great overall.
More information on Dinarobin Mauritius Golf and Spa Resort Dinarobin Hotel Golf & Spa

---
The Oberoi Mauritius Resort
On a wonderful Balaclava beach, The Oberoi Mauritius is friendly to families and couples alike. Within  easy reach, Pointe aux Piments and with all the facilities you could need in a luxury resort including Water-skiing, scuba, and snorkeling.
This resort is a top choice and enjoys some of the best reviews in the area. A 72 rooms 5 star, luxury resort in Mauritius. Guests love the luxury pavilion, spa, private pools, cookery class, wine tasting, yoga and tai chi.
More information on the The Oberoi Mauritius Resort

---
Constance Belle Mare Plage Luxury Resort Mauritius
Located close to Mont Choisy Beach and 70 km from the airport. This resort is a complex of 15 bungalows and studios. 
There's a pool, garden, multilingual staff and tour assistance. There is no restaurant in this self-catering complex, but typical Mauritian food can be prepared by a maid. A BBQ is on site and there's a supermarket nearby.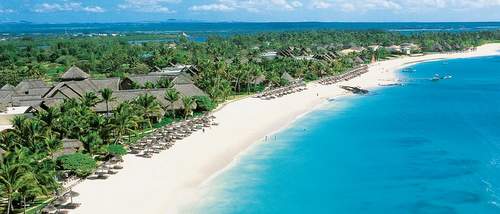 Constance Belle Mare Plage Luxury Resort Mauritius
The beach is 75 metres away and one of the longest and largest in the area. There you can sail, motor-boat, fish, dive, water ski and more. The nearest golf course is 40 km away.

The 10 bungalows and 4 suites have air conditioning, living areas, kitchens and verandas, terraces or balconies.

Reviewers said the sea-facing junior suite was worth the extra cost, it's very classy, maybe the best resort in Mauritius (or close to it), it's in a great location and there's something for everyone.

More on Constance Belle Mare Plage

---
The Residence Mauritius
Located along a sandy beach and in tropical gardens, this resort takes its inspiration from plantation houses. 
The spa has 9 treatment rooms and overlooks the lagoon. Activities include complimentary watersports (pools, water skiing, wind surfing, snorkeling, more), tennis and volleyball. There's also a sauna, fitness equipment and a kids club (ages 3-12).

There are a lot of options for dining. They include lunch and dinner buffets at the dining room as well as some restaurant options and a bar.

There are 135 guestrooms and 28 suites. Bathrooms are a mix of marble and wood. Each room or suite has a butler who will unpack for you, iron for you and more. At night, they put a few drops of Ylang Ylang on a ceramic ring beside your bed.

Reviewers say it's a great place both for a honeymoon and for families with young kids. Past guests really love this resort saying that the service is fantastic and beachfront rooms have great views. Be aware that there are sometimes a lot of kids here.

More on the The Residence

---
Hilton Mauritius Resort & Spa

Hilton Mauritius Resort & Spa
This 5 star with an outdoor pool, a health club, a spa tub, a sauna, gets great reviews (better than most). Guests like the happy hour (although an expensive resort) water sports the vista bar and access to the glass bottom boat. (Not our top pick but good.)
More on Hilton Mauritius Resort & Spa  - Mauritius @ expedia
Video: Overview of the  Hilton Mauritius Resort & Spa
---
Constance Le Prince Maurice Luxury Resort Mauritius
Constance Le Prince Maurice Luxury Resort Mauritius
This beachfront resort consists of traditional-style huts set in tropical gardens and overlooking a lagoon. The airport is 45 km away.

A gangplank leads through mangrove trees to the unique floating restaurant that serves grills, seafood and Mauritian specialties.
There's a pool on the end of the beach, 2 18-hole championship golf courses, tennis courts, a fitness club, beauty treatments and massage and watersports.
The kids club has a separate games room, dining area and pool.

The 76 thatched roof suites with vibrant colours and rich dark wood furniture. All have air conditioning and Internet.

Reviewers say it has great food, has a real French influence, great for families with small kids and it's really relaxing.

More on Constance Le Prince Maurice

---
Outrigger Resort & Spa Mauritius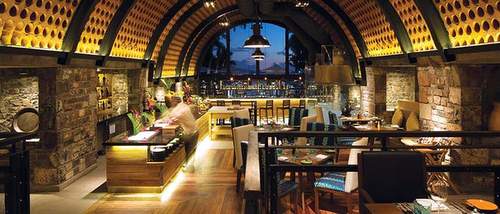 Outrigger Resort & Spa Mauritius
Families and Couples seem to enjoy this five star Mauritius Luxury Resort with 4 pools and 3 restaurants to a high degree.
More information and special offers on Outrigger Resort & Spa Mauritius
---
One & Only Luxury Resort Mauritius @ Le Saint Geran
The late 2017 upgrades are seen big improvements on what has already been an outstanding resort.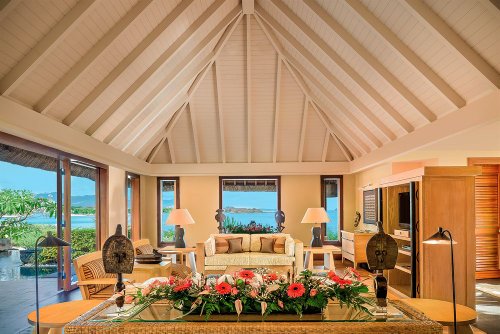 One & Only Luxury Resort Mauritius
Located on the Belle Mare peninsula on the north-east coast of Mauritius. It's under an hour from the  airport and capital city.
The highlights include a 9-hole golf course (18-holes also nearby), a full-service spa (8 treatment rooms plus a hairdressing salon), the Matt Roberts Fitness Center (personal training, stress management and nutritional advice available).
Other activities include tennis, watersports (including hobiecats, snorkeling, PADI certification and deep sea fishing), a kids club and Club One (for 12-18 year olds).
There are a number of restaurants and bars here. You can choose from Asian, Indian, French or Chinese food.

There are 175 guestrooms and suites. Beds have Egyptian linens and goose down pillows. Bathrooms have mist-free mirrors and aromatherapy oils. There's also Internet, satellite TV and a range of DVDs available.

Reviewers give this resort almost perfect scores. They note that the rooms a large, the Indian food is great, it's a true 5 star hotel and there's great service. Some made complaints about the beach and rooms during cyclone season.

More on the One&Only Le Saint Geran

Video: Le Saint Geran One & Only Resort Mauritius Holiday

---
If you liked these, you may also like these African resorts.
---
Authors Unleashed: Unveiling the Ultimate Travel Experience through Expert Reviews, Ratings, and Research
💼 We cherish our independence! ✈️ Our travel recommendations are carefully researched, bias-free, and powered by human expertise. We use AI sparingly for editing purposes, ensuring an authentic and reliable experience. Join us on our unbiased journey! 🌍✨
Always do your own research! 🧐📚⚠️