Singles All Inclusive Resorts
The singles all inclusive resorts category is anything but a generic group. While some seek a hedonistic, no boundaries adventure and escape from everyday conventions others seek a more reserved resort experience but with the opportunity to mingle and connect with like-minded others.  
From singles party resorts to places for the more mature minded this review looks to guide you through some of these the options and provide resources to help you find your perfect singles vacation. 
Caribbean singles resorts

The Body Holiday, St Lucia Singles Resort

The Body Holiday St Lucia takes singles travel seriously and waives the singles supplement and has dedicated singles events. This is a luxury resort a little more at the woke and holistic end of the scale than some of the more hedonistic resorts. 
Rather than destroying and degrading yourself this resort pampers the body mind and soul with one of the top spas in the Caribbean.  Look out for their Solo September promotions as well. 
See more on this resort and other great  all-inclusive resorts in St Lucia
Singles resort for all-inclusive over 40s

Singles resort for  'Mature' singles

Many singles are looking for a vibrant vacation, but something a little more subdued than some of the party destinations that can have more of a continual spring break vibe. Cancun stands out as it does carry the perception that it is fully geared towards the young, but the reality is that Cancun and areas of the Riviera Maya cater exceptionally well for singles of all age groups and there is a relatively even spread in the demographics. 
But all in all there are more than a few great singles resorts in and surrounding Cancun like this one which explicitly cater for singles and make socializing part of proceedings. 
Video: Melody Maker Cancun
For the 40 plus age group and even older groups there are plenty of sports bars, resort areas, karaoke rooms and the like to hang out. Cancun also has enough activities on offer that you can get on with all the thing that you like about the freedom your singles lifestyle provides while having the opportunity to vibe with someone with similar interests.  
Best Mexican resorts for singles

Temptations Resort in Cancun for Singles
Of the Cancun resorts for singles on that is often brought up in discussion is Temptations.  While there are a lot of couples and there are younger people visiting as well, there really is a mix of people from diverse backgrounds. One of the stand-out features is the ease in which people have in meeting other people even with hours of arriving at the resort guests have the opportunity to mix easily - facilitated by the culture of the resort. 
The resort is promoted as a 'playground for grownups' and if you are over 21 the resort is there to cater and inspire this philosophy with entertainment geared towards 'free spirited' travelers. There are even topless optional areas. If this is starting to sound like a party to out of control for its own good the reality on the ground is a little more subdued.
The 426 brightly decorated rooms with clean lines offer a modern look. Guest areas designed for mingling and a hand full of restaurants and gourmet eateries are well received and offer top class service. 
Each night an array of 'sensual' entertainment is on offer and there is lots happening around the resort and in the six bars   and the three pools. 
The resort is situated on  Kukulcan Boulevard in the hotel zone. This means it is about a  30 minute trip to Cancun International Airport.
See our reviews of the top Adult Only Resorts in Cancun
If you are looking to bring it back a few notches from Cancun but do want a stunning beach destination with great nightlife and more than enough to keep you occupied around the beaches than Playa Del Carmen also has a whole swag of great adult only resorts which are great for singles.  
Best Caribbean resorts for singles
All Inclusive Cuba Resorts for Singles:

Varadero in Cuba  is well known for its resorts for singles.  Solo travelers from around the world come to enjoy this hive of activity and at certain times of the year the some resorts waiver the single supplement.
See the all inclusive resorts in Cuba for singles
Singles only resorts
Hedonism 2 Singles Resort in Jamaica: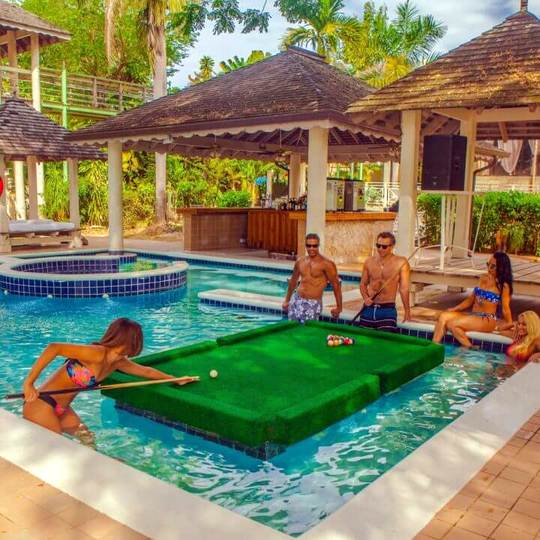 Hedonism 2 Singles Resort in Jamaica
Hedonism II is all about making up new rules about how you want to live as an adult in a clothing optional resort. Promoted as lifestyle friendly the idea is, like hedonism itself, that you can have to much of something good. Not surprisingly the resort attracts a fair crowd of individuals for far flung destinations  who come to let their hair down. The opportunity to explore new boundaries free of the usual limitations provides a sense of a place far removed from the usual everyday. 
Here you can stay up as late as you like, liberate yourself from clothing, talk to strangers  or go skinny dipping. 
There are a number of resort destinations in South East Asia that make it really easy to meet singles.  These great destination in Thailand bring out the adventurous in spirit and you are sure to mingle with many like minded solo travelers and adventure seekers.
Like Thailand, Bali Indonesia is another great place to find great nightlife and plenty of activities to keep your days filled up. 
Mykonos in Greece has similarities to the island of Ibiza of Spain which is renowned for its parties and nightlife.  Places like have a great summer vibe for adventure as well as plenty of beaches and ocean activities. Travelling solo and single here is is as much the norm as the exception.
Solo Adventures
Beyond the resorts there are a few destinations that are particularly friendly towards singles. In fact if you are single the expression that the world is your oyster is really pertinent. Nearly any destination that makes for a great vacation can make for a great singles vacation but here are a few destinations that consistently stand out fro solo travelers.
What about a singles cruise?
While we acknowledge you can have a great time on a singles cruise there are a few things that hold us back from recommending this option. Cruises lines promote the great destinations and the huge range of activities offers but what is left out is the huge environmental impact cruising has due mainly to the amount of dirty fuel these monsters burn.