Best Palawan Beach Resorts
Looking for the best Best Palawan Beach Resorts? Palawan island is the largest  in the Palawan archipelago on the western half of the Philippines and is characterized by palm tree fringed beaches against limestone cliffs, exotic wildlife, isolated rustic fishing villages, hidden lagoons, and crystal clear waters.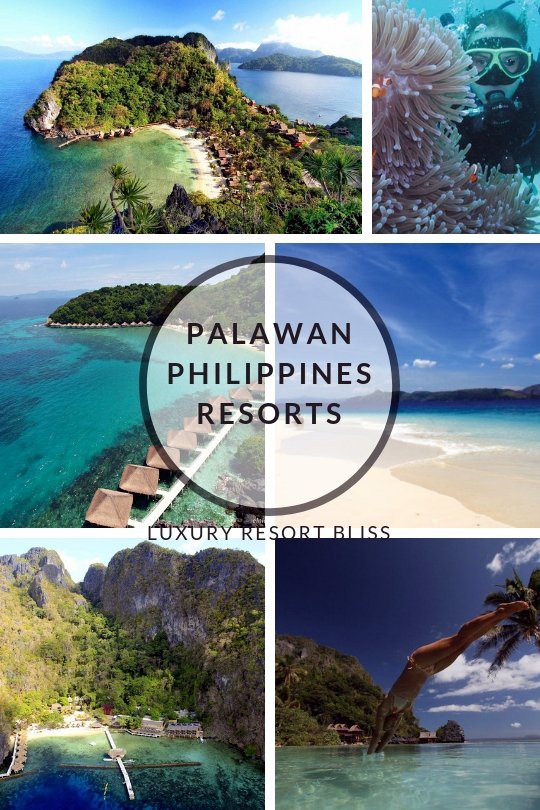 Palawan has quickly become one of the worlds most sought after exotic island paradises  for good reason. You will often find it listed in the worlds best island resorts and was recently rated the third best island in Asia by Travel and Leisure magazine.

This video has a good overview of some of the top things to do.

Palawan tourism
Palawan is getting trendier by the year and it's stunning images make it a go to destination for attractive spread in glossy magazines. In some ways it seems like the new, yet undiscovered Thailand of old. Many visitors head directly for the northern areas of the Bacuit Archipelago and Calamian Islands. Flights from Manilla can become expensive dring peak season.

In recent year the island has a renewed trust to embrace sustainable practices with some clamping down on dodgy practices. While sustainability has been the national policy in regard to tourism development in the Philippines for some time resorts on  Palawan were employing sustainable practices before the laws were introduced . El Nido Resorts for example have their own native reed bed sewage plant , rainwater catchment systems, solar panels, and plans to maximize nature conservation.
The 1800 Palawan island archipelago  stretches out over 1,200 miles of coastline and some areas of Palawan  remain some of the most untouched  ecological frontiers on earth.

By Eugene Alvin Villar (seav) (English Wikipedia) [GFDL or CC-BY-SA-3.0], via Wikimedia Commons
Palawan Travel Packages

There are a couple of companies that run some pretty cool travel packages in Palawan:
Philippines Palawan Adventure with GAventures

Climate on Palawan
There are town main climates on Palawan depending if you are on the east or the west of the main island. The western coastline has a six month wet season and a six month dry season while the eastern portion has a longer dry season. The Northern half of the island can also experience typhoons and rain depressions from July to August.
Weather for Coran Below

Getting There
Flights are possible from Manila, Boracay (Caticlan) and Cebu or you can cruise to the ports of Coron or Puerto Princesa from Manila.  It is better to choose the destination of the place on the island where you want to fly into because once you are there travelling can become difficult.  El Nido Airport, Puerto Princesa City Airport, Taytay and Busuanga are your options.
On the island there are not any direct flights from Puerto Princesa to El Nido and you will need to book a full days bumpy ride overland to make this connection.
There is a flight from Busuanga to El Nido. Expedia has flights to Palawan
EL NIDO

El Nido is a small fishing village in the northern part of the main island. But not any fishing village. The beaches here are often regarded as the best in the world, and they are surrounded by magnificent coral reefs which are perfect for snorkeling complete with five species of sea turtles, huge cliff drop offs, manta rays, seahorses and cat sharks.
The ecological village itself is spectacular the way it is surrounded by limestone cliffs with hundreds of species of birds, in the thick jungle.
Getting there: Southeast Asian Airlines flies from Puerto Princesa to El Nido.
Some of the top attractions include:
The clear blue waters of Bacuit Bay which are filled with exotic marine life. 


Climbing the largest peak on the big island of Cadlao along with its beautiful secluded lagoons,.


The white sands of Dilumacad Island.


You can also visit some of the more beautiful island resorts on a day trip or explore a mangrove habitat tour.
Cauayan Resort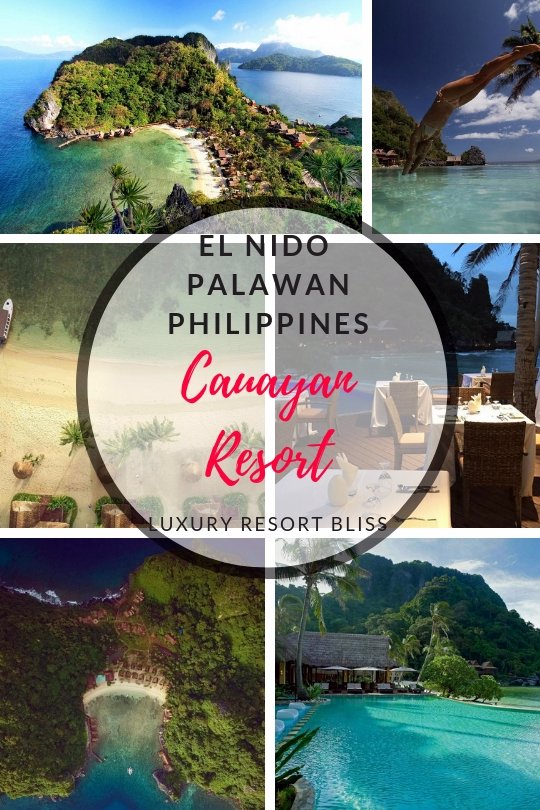 Cauayan Resort is one of a handful of really world class luxury resorts which showcase what a wonderful destination El Nido really is. Sure it is a bit isolated but that is what has preserved it as such a pristine environment. And even though it is a little hard to get to more and more people are finding a way to get here because of the obvious natural attractions and that's why staying at a luxury resort like this makes sense. 
You get to enjoy this exquisite piece of paradise  in your own spacious luxury villa  and enjoy sensational dining experiences. Or enjoy the sumptuous spa where you can pick up a foot massage.
More information and special offers on Cauayan Resort
El Nido Resorts' Pangulasian Island
Travel magazines around the world post this as a pin up resort for good reason. These are some stylish villas set in a wonderful location.  The remarkable eco- sustainable resort and its 42 villas  are set in a real life paradise.
Spacious modern villas set in perfect turquoise waters , jungle fringed, Bali style furniture and fittings.
Lot's of activities to keep you active in the clear waters including  snorkeling and diving the reef. You can even grab a , kayak and explore for yourself.
More information and bookings on El Nido Resorts' Pangulasian Island.

---
Coron
Coron on Busuanga island is accessible by ferry or direct flights from  Manila, Puerto Princesa, or El Nido.
The place is visually stunning and offers some great dive experiences and natural attractions. 
See the best Coron resorts with reviews on TripAdvisor
Club Paradise Palawan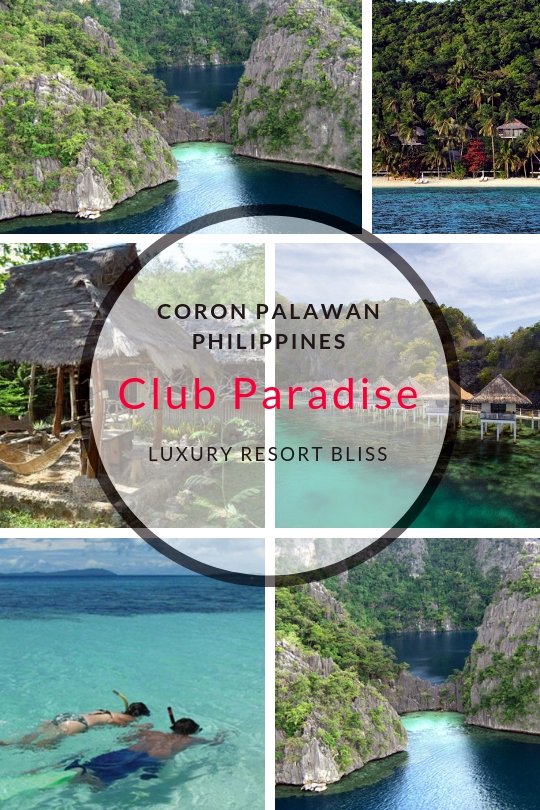 Club Paradise Coron Palawan
Around Coron check out the  rather fancy Club Paradise Palawan which is basically Dimkaya Island. The resort looks a little like some of the small island paradises in Fiji or the Maldives where the resort is the main focal point.

There are only 55 luxury rooms from which you get to explore your own little Gilligan's island.  Make sure to set some time for diving or snorkeling in the world class reef, and don't miss the fresh caught seafood.

More information and reviews on Club Paradise Palawan

Puerto Princesa
In this video Travel Gretl visits the Puerto Princesa Subterranean River National Park by boat and then takes the jungle tour, or otherwise known as the monkey trail, back.  This is one of the top attractions of the island and something special.

Puerto Princesa Underground River
You might get a surprise at the size of Puerto Princesa which has almost 200 000 inhabitants who give it an urban vibe.  But the population does mean a range of dinning experiences and access to some good nearby excursions.  Many treat this place as a mere transfer station but if you stay over take a trip out to Honda Bay or try some of the local delicacies. I wont spoil the fun by telling you about them here.

On the  Iwahig River enjoy  the display made by wonderful array of fireflies as they do their thing in the mangroves.
Daluyon Beach and Mountain Resort

If you are looking to stay near the river the best resort to do that from is the Daluyon Beach and Mountain Resort.
More information and reviews on the Daluyon Beach and Mountain Resort.
Top Choice: Daluyon Beach and Mountain Resort. Find the best Puerto Princesa resorts with special offers on TripAdvisor
---
San Vicente
Top Choice; Secret Paradise Resort & Turtle Sanctuary. The best San Vicente resorts on Tripadvisor with reviews and special offers.
By the fishing village San Vicente, reachable  by bangka, you will find  Long beach, whose 14 km of white sand, is regarded on e of the best beaches in the Asia Pacific.
The best San Vicente resorts on Tripadvisor with reviews and special offers.
💼 We cherish our independence! ✈️ Our travel recommendations are carefully researched, bias-free, and powered by human expertise by April and Ricky of LRB (we have personally researched and travelled to many of these destinations and researched others thoroughly through first-hand accounts). 🌍✨
We try to keep everything up to date, but please always do your own research and contact us if you know any issues for us to help others as best we can as a small but professionally focused team! 🧐📚⚠️