Top 5 Exuma Resorts (2023)
You Must Visit!
Fancy taking a trip to one of the great Exuma resorts in the Bahamas? If you're looking for unspoiled white sandy beaches, crystal clear water and more nature than city, you're on the right track. 
There are 5 really excellent resorts we've found that others have really loved and you will too.
 But first, we'll just let you all know a bit about the Exumas.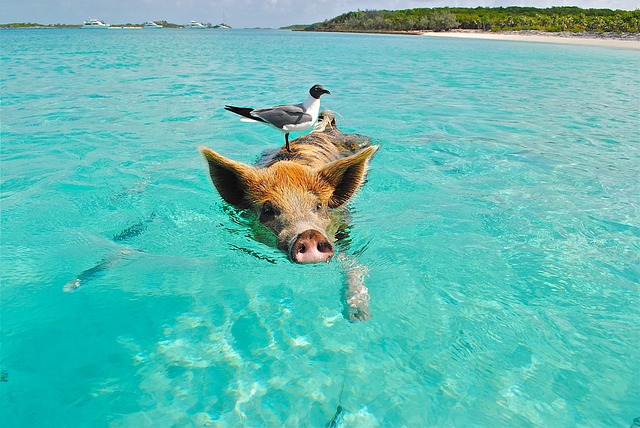 The Famous Swimming Pigs of Exuma
Exuma Deals
The Top Hotels in Great Exuma. How much will you save on Priceline?
Why Visit The Exumas?
The Exumas are a bit different than some of the more built-up areas of the Bahamas.
They are:
more laid-back 
the resorts are smaller and more intimate
contain 365 cays and islands 
made up of 3 main spots - Great Exuma, Little Exuma and The Exuma Cays
The Exuma Cays tend to be the area for the rich and famous to stay and play while Great Exuma and Little Exuma are more relaxed.
The resorts we've listed here are all around Great Exuma.
Main Sight in Exuma:

Swimming Pigs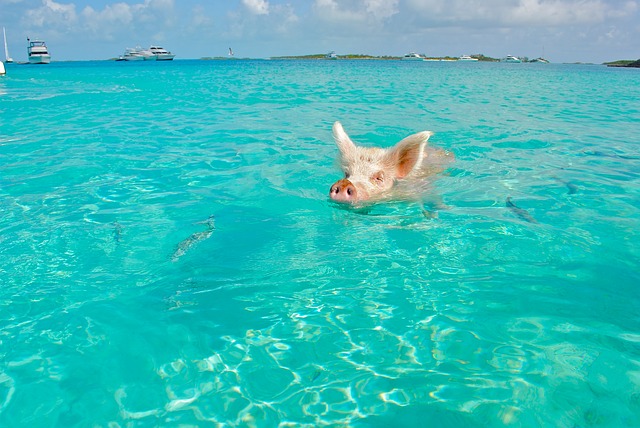 Located on Major's Spot Cay
Stromatolites: "The oldest known macro-fossils on earth"

Top 5 Exuma Resorts
1. Grand Isle Resort & Spa, Great Exuma

Located on Emerald Bay on Great Exuma, The Grand Isle Resort is set beautifully on a crescent-shaped pristine beach and is our number one pick for Exuma resorts. 
This resort will work very well for both families and couples and is similar to (but a leader in) the accommodation style of much of the Exumas. Here you choose to stay in 1-4 bedroom villas that are full luxury.
The resort also features:
the Seastar Spa
complimentary kids activities
a grill as well as private dining
golf (including lessons for kids)
facilities for weddings and group events
Reviewers really rate this resort highly stating:
nicest place I've stayed in in my life
villas are spacious and clean
on-site restaurant is great
exceeded our expectations
there are many great (and personal) comments about the staff as well
For prices and the latest reviews check out The Grand Isle Resort here. 

2. Sandals Emerald Bay, Great Exuma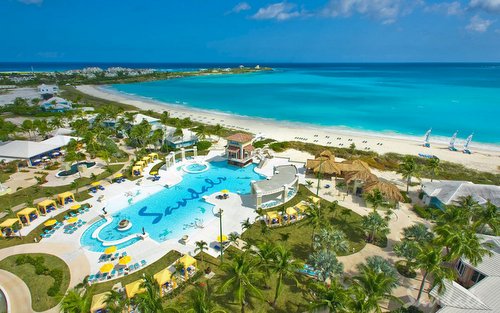 In case you didn't catch it, that is a huge half-acre pool!
We love Sandals Resorts and Sandals Emerald Bay does not disappoint! It is sophisticated and luxurious with great attention to service. It is definitely one of the best Exuma resorts. 
Sandals resorts are ideal for couples and this one features:

3 awesome pools (including one with a fire pit in the middle)
11 restaurants to choose from
a Greg Norman golf course
lots of activities on land and water like: snorkeling, sailing, tennis, yoga, Pilates and much more.
Sandals Emerald Bay is surrounded by 500 acres of nature at it's finest and set in it's own little enclave. 
There have been over 4000 reviews for this resort, can you believe it?
And the good news?
People love it here. They love the grounds, the staff, formal and casual meals and they note that the excursions aren't too far out. 
Take a look at prices & booking or check out latest reviews for Sandals Emerald Bay. 
3. Fowl Cay Resort, Exumas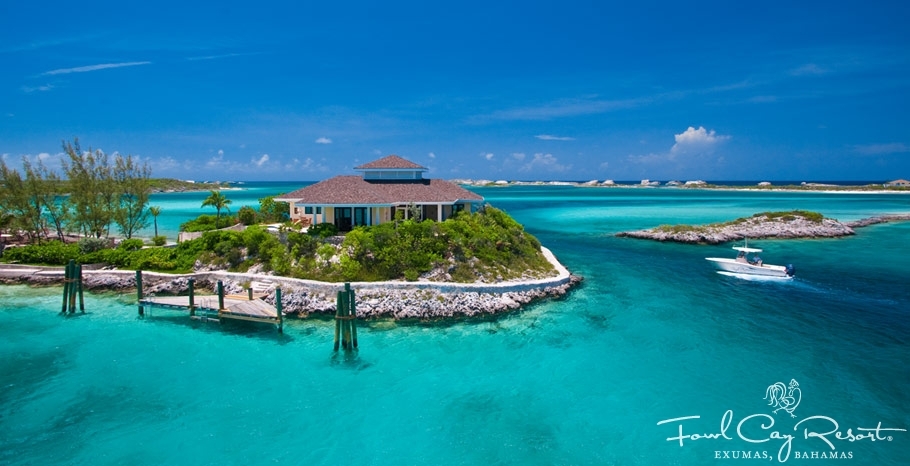 Fowl Cay Resort is really interesting and definitely different than many resorts. It is set on a 50-acre private island and has 6 unique villas spread across it.  
This is also an all inclusive resort of sorts with the following included in the price:
power boats (with unlimited gas) - never seen this offered before!
food and drinks (in villa and at Hill House restaurant)
golf cart - a great way to make your way around the island
pool
the only tennis court in this whole area of the Exumas
kayaks and other water equipment like sailboats and snorkelling gear
fishing gear
good ole internet
93% of past guests have scored this resort a 5/5! Wow, that's is a real achievement and something that has definitely raised our eyebrows (yours too?).

Reviewers note:
this is an excellent resort for people who love to be active
everything is amazing
vacation of a lifetime
what's so great is that there's a new adventure every day
the boats provide a real freedom to go around all the islands and explore
Learn more about Fowl Cay Resort, prices, booking and latest reviews here.
4. Lumina Point Resort & Spa, Stocking Island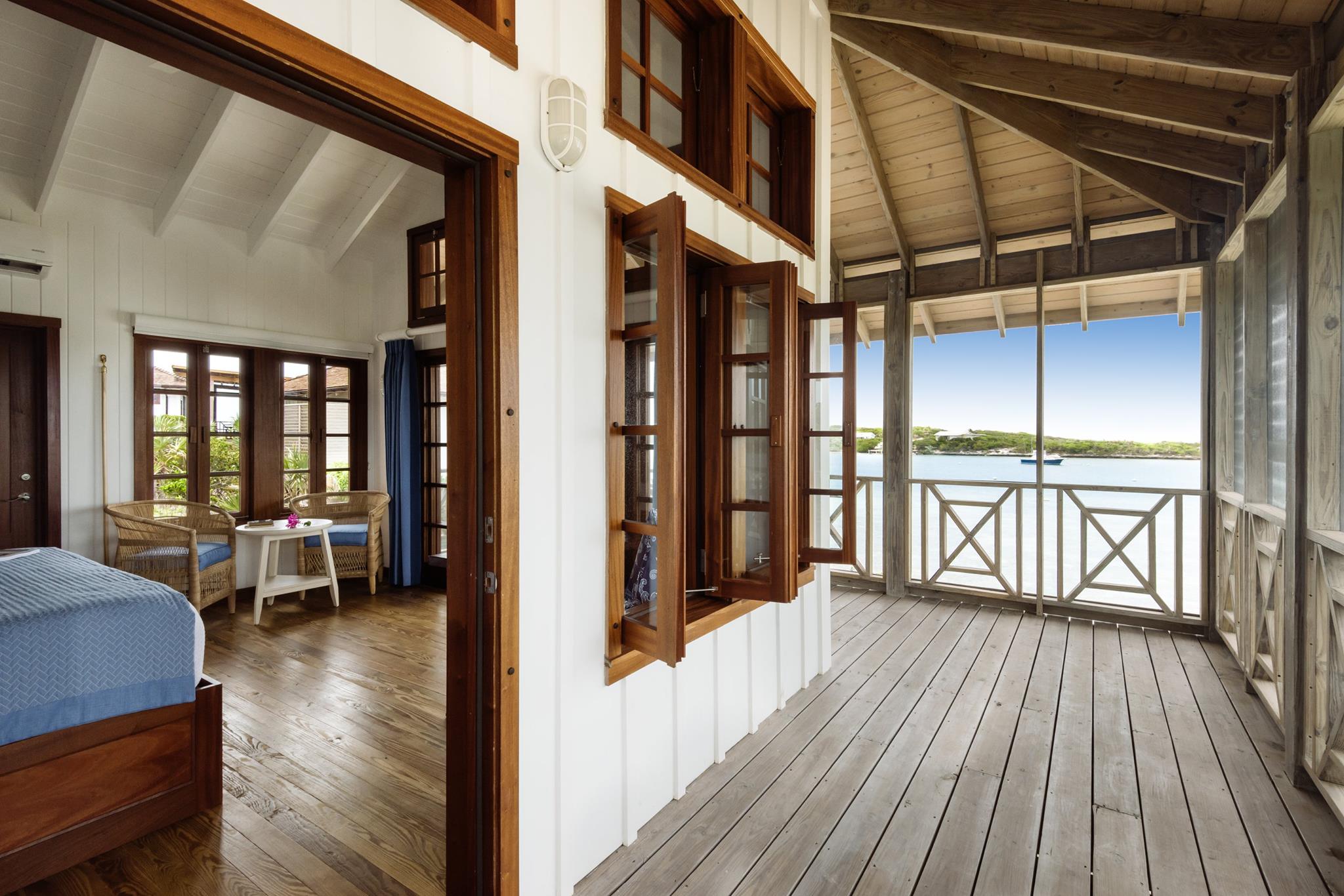 Exuma Resorts: Lumina Point
Lumina Point Resort is located on the remote Stocking Island. This is just off of Great Exuma.  It's a beautiful, intimate boutique eco-resort. 
This resort has a wonderful "green"ethic and is working hard at being sustainable and eco-friendly. 
You can access Lumina Point Resort only by private boat so as you may imagine, this is an unspoiled, non-commercialized, luxury resort spot. 
There are just 12 water-front rooms with farm-to-table restaurants: The Beacon and The Lookout. 
Activities include  the spa (by appointment), yoga, Hobie Cat sailboats, kayaking, paddleboards, snorkeling, and hiking.
Reviewers:
 call this spot a little private piece of paradise
like the friendly service that starts at the airport
point out that the pictures don't do justice for the place
say the staff always have a smile (and why wouldn't you, working in a wonderful peaceful spot like this?)
If you're looking for something smaller and private, this is definitely a spot to keep high on your list. 
Take a look at prices, booking and see the latest reviews for Lumina Point Resort here. 
5. St. Francis Resort, Stocking Island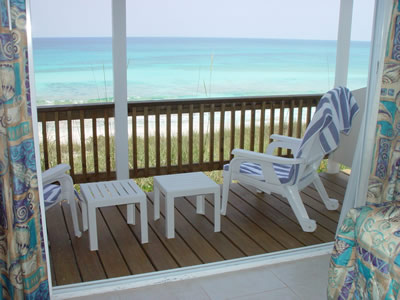 St. Francis Resort is on Stocking Island which is a 5 minute ferry ride from the mainland (and Great Exuma).
Here you'll find an amazing 5 mile beach, reefs to snorkel, Hobie Cat sailing, blue holes, underwater caves, wildlife and more.
Rooms overlook the Atlantic and your stay has breakfast and internet included. The restaurant is open for lunch and dinner. 

Reviewers do love this resort saying:

love the laid-back restaurant
Stocking Island is amazing and we love coming here
such a beautiful beach and great location
best lunch spot in Exuma
Check out more on this St. Francis Resort here. 
Those Were Our Top 5 Exuma Resorts!
We hope you found the resort you were looking for. The Exuma area is really unique and has so much to offer. 
If you're still looking, you can also check out:
The Best Bahamas All Inclusive Resorts
The Best Luxury Resorts in the Bahamas