Old Bahama Bay Resort
| | |
| --- | --- |
| Old Bahama Bay Resort is one of our featured luxury resorts. It's known for it's seclusion, great service, beautiful rooms and great location. A place you go to get away from it all. | |
Old Bahama Bay Beach
Old Bahama Bay is one of our featured resorts. At a glance: On the West End of the Bahamas, OBB is a beautiful, beachfront, secluded resort. It's perfect for diving, snorkeling, fishing and boating.
Go directly to price comparison and review links.
Location:

Old Bahama Bay Resort is on Grand Bahama Island at the western-most tip.

56 miles from the Florida coast. 26 miles from the airport and major destination amenities.
Old Bahama Bay Resort has a full-service marina that is an official port-of-entry to Grand Bahama.
Video preview:
Activities at Old Bahama Bay Resort
There are some fantastic reef formations here. Also, because the gulf stream is close by and the water depth varies, it's a really great place to see marine life and aquatic plants. You can schedule a snorkeling trip to a nearby shipwreck.

It's also an excellent place to fish - world-class bone, reef and deep-sea fishing.

Swimming: there's a huge, beachfront, heated swimming pool with an infinity edge overlooking the beach (freshwater).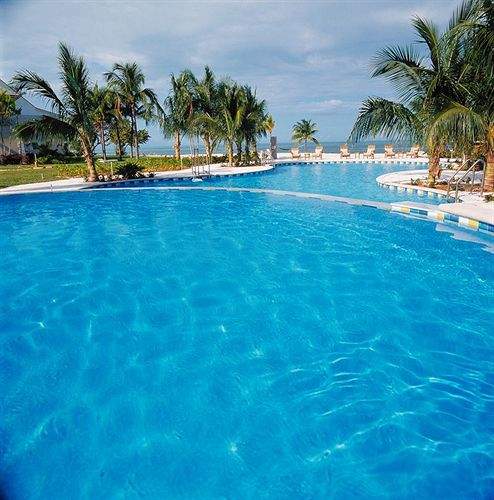 Old Bahama Bay Pool
For kids: there are a number of water sport activities and beach toys available.
Golf: available in Lucaya (not on-site.)
The Fitness Center: includes treadmills, Lifecycles, step machines, a cross trainer, a multigym, abdominal stations and free-weights.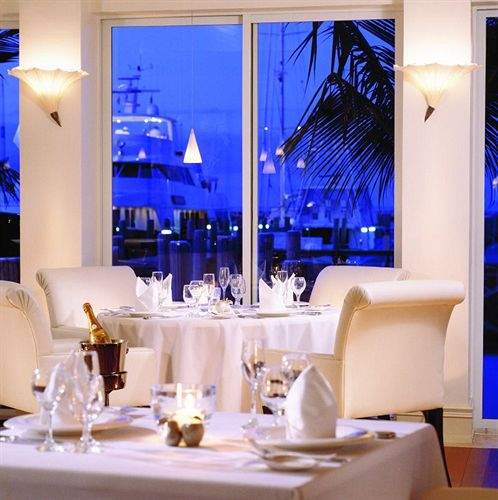 Marina in the background
Dining: there is one main restaurant serving lots of great seafood (of course) and a smaller restaraunt for breakfast,  lunch and lighter fare. Both offer a "cook your catch" service. 
The Spa at  Old Bahama Bay Resort
Includes: Swedish Massage, Reiki, Couples Massage, Serenity Massage (85 minutes), Total Bliss Massage (2 massage therapists, 45 mins), Salt Glow (complete body polish using essential oils followed by a Swiss Shower and lotions), Reflexology and manicure/pedicure.
Accomodation at OBB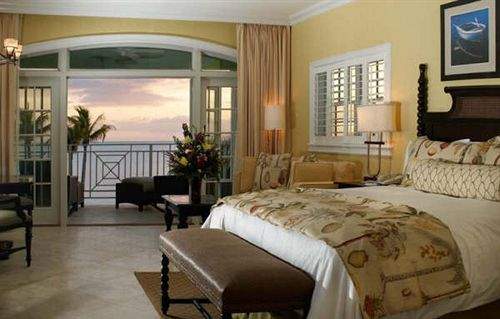 Rooms at Old Bahama Bay
There are 3 different types of rooms: 1) Junior Suite British Colonial style, 2) Junior Suite Island style, 3) 2 Bedroom Suite.

Junior Suite One
Designed in the British Colonial style. 
It has: a kitchenette, washer/dryer, whirpool tub, marble bath, king size bed (and pull-out sleeping sofa).
Views: Pool View rooms (ground floor) have partial ocean views. Beachfront rooms (2nd floor) have yacht basin and sunset views. Premium View rooms have 180 degree ocean views.

Junior Suite Two
Designed with a "brighter, island feel".
It has: a kitchenette, direct beach access , sitting area, marble bath, choice of queen (1 or 2) or king size beds, oceanview balcony or terrace.
Views: ocean.
  
Two Bedroom Suites
It has: master and second bedroom (2 doubles), living room, dining area, 2 balconies/terraces, 3 full bathes, whirpool tub.
Views: ocean, (Premium terrace suites have the best panoramic views)
What Reviewers Say About Old Bahama Bay Resort


 ~ the staff were helpful but unobtrusive, always pleasant.
 ~ king beds were extremely comfortable, furnishings are comfortable and on the newer  side, so in very good condition.
 ~ The bathrooms were very nice and had great water pressure and plenty of hot water.
 ~ photos on the OBB website are accurate
 ~ looks better in the pictures than in person
 ~ not a late night party place
 ~ wonderfully private and remote
 ~ not fast food, it is fresh and very good.
 ~ small size

See the latest reviews here 

(*Note: you have complementary transportation from the airport to the hotel.)
Compare prices and get more information:
---
More Luxury Resorts in the Bahamas.

---
Sarah loves to check out all-inclusive resorts and find great packages and report about what real travelers are saying, Sarah is an indicative character created for the purpose of providing insights uncovered during our research.  These reviews are indicative of others first-hand experiences using our research methodology designed to uncover the best  (as opposed to those that are simply marketed as the best).

While our reviews are founded on real accounts and stories and thoroughly researched do your own research and exercise your best judgment when making travel decisions. And keep in mind all-inclusive packages are always changing.