Old Bahama Bay Resort
Old Bahama Bay Resort is one of our featured luxury resorts. It's known for it's seclusion, great service, beautiful rooms and great location. A place you go to get away from it all.
Old Bahama Bay Beach
Old Bahama Bay is one of our featured resorts. At a glance: On the West End of the Bahamas, OBB is a beautiful, beachfront, secluded resort. It's perfect for diving, snorkeling, fishing and boating.
Go directly to price comparison and review links.
Location:

Old Bahama Bay Resort is on Grand Bahama Island at the western-most tip.

56 miles from the Florida coast. 26 miles from the airport and major destination amenities.
Old Bahama Bay Resort has a full-service marina that is an official port-of-entry to Grand Bahama.
Video preview:
Activities at Old Bahama Bay Resort
There are some fantastic reef formations here. Also, because the gulf stream is close by and the water depth varies, it's a really great place to see marine life and aquatic plants. You can schedule a snorkeling trip to a nearby shipwreck.

It's also an excellent place to fish - world-class bone, reef and deep-sea fishing.

Swimming: there's a huge, beachfront, heated swimming pool with an infinity edge overlooking the beach (freshwater).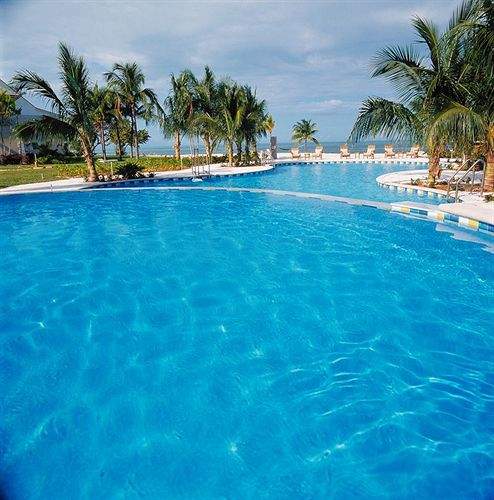 Old Bahama Bay Pool
For kids: there are a number of water sport activities and beach toys available.
Golf: available in Lucaya (not on-site.)
The Fitness Center: includes treadmills, Lifecycles, step machines, a cross trainer, a multigym, abdominal stations and free-weights.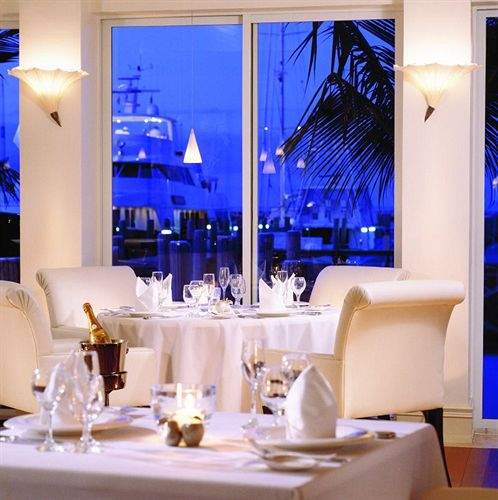 Marina in the background
Dining: there is one main restaurant serving lots of great seafood (of course) and a smaller restaraunt for breakfast,  lunch and lighter fare. Both offer a "cook your catch" service. 
The Spa at  Old Bahama Bay Resort
Includes: Swedish Massage, Reiki, Couples Massage, Serenity Massage (85 minutes), Total Bliss Massage (2 massage therapists, 45 mins), Salt Glow (complete body polish using essential oils followed by a Swiss Shower and lotions), Reflexology and manicure/pedicure.
Accomodation at OBB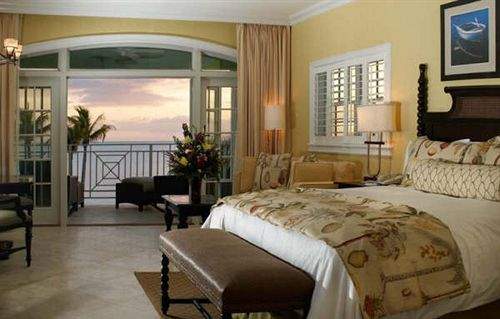 Rooms at Old Bahama Bay
Pros Cons Features
Pros of Old Bahama Bay Resort:
Tranquil Location: Situated in a rural area and on a private beach, Old Bahama Bay Resort offers a peaceful and secluded atmosphere away from crowded tourist destinations.
Beautiful Setting: The resort's location on the oceanfront provides stunning views and opportunities to enjoy the pristine beach and crystal-clear waters.
Luxury Accommodations: The exquisitely designed suites, with modern West Indies colonial furnishings, provide a comfortable and stylish stay for guests.
Array of Amenities: Old Bahama Bay Resort offers a range of amenities, including a marina, playground, gym, outdoor pool, and two on-site restaurants serving Caribbean cuisine.
Activities and Excursions: Guests can engage in various activities such as boat tours, fishing, basketball, and more, ensuring there's always something to do.
Spa Services: The resort offers spa services, including deep-tissue massages, allowing guests to relax and rejuvenate during their stay.
Cons of Old Bahama Bay Resort:
Remote Location: While the resort's seclusion offers tranquility, it also means that it may take some time and effort to reach other popular tourist attractions or amenities outside the resort.
Limited Dining Options: While the on-site restaurants offer Caribbean cuisine, guests seeking a wider range of dining choices may need to explore options in the surrounding area.
Accessibility: Depending on the chosen mode of transportation, getting to the resort may involve additional arrangements such as boat or air charter services.
Features of Old Bahama Bay Resort:
Private Beach: The resort boasts a private beach where guests can relax, sunbathe, and enjoy the beauty of the ocean.
Marina Facilities: With its own marina, Old Bahama Bay Resort caters to boating enthusiasts, offering convenient access to the waters for exploration or fishing excursions.
Luxury Suites: The resort's suites feature premium amenities, including marble baths, whirlpool soaking tubs, kitchenettes, and sitting areas, providing a comfortable and indulgent experience.
On-Site Dining: Guests can enjoy Caribbean cuisine, al fresco dining, and ocean views at the two on-site restaurants, providing convenient and delicious dining options.
Activities and Recreation: Old Bahama Bay Resort offers a range of activities, such as boat tours, basketball, and fishing, ensuring guests have opportunities for both relaxation and adventure.
Spa Services: The resort's spa services, including deep-tissue massages, offer guests a chance to unwind and pamper themselves in a tranquil environment.
Rooms
There are 3 different types of rooms: 1) Junior Suite British Colonial style, 2) Junior Suite Island style, 3) 2 Bedroom Suite.

Junior Suite One
Designed in the British Colonial style. 
It has: a kitchenette, washer/dryer, whirpool tub, marble bath, king size bed (and pull-out sleeping sofa).
Views: Pool View rooms (ground floor) have partial ocean views. Beachfront rooms (2nd floor) have yacht basin and sunset views. Premium View rooms have 180 degree ocean views.

Junior Suite Two
Designed with a "brighter, island feel".
It has: a kitchenette, direct beach access , sitting area, marble bath, choice of queen (1 or 2) or king size beds, oceanview balcony or terrace.
Views: ocean.
  
Two Bedroom Suites
It has: master and second bedroom (2 doubles), living room, dining area, 2 balconies/terraces, 3 full bathes, whirpool tub.
Views: ocean, (Premium terrace suites have the best panoramic views)
What Reviewers Say About Old Bahama Bay Resort


 ~ the staff were helpful but unobtrusive, always pleasant.
 ~ king beds were extremely comfortable, furnishings are comfortable and on the newer  side, so in very good condition.
 ~ The bathrooms were very nice and had great water pressure and plenty of hot water.
 ~ photos on the OBB website are accurate
 ~ looks better in the pictures than in person
 ~ not a late night party place
 ~ wonderfully private and remote
 ~ not fast food, it is fresh and very good.
 ~ small size

See the latest reviews here 

(*Note: you have complementary transportation from the airport to the hotel.)
As I arrived at the resort, I couldn't help but be enchanted by the tranquil atmosphere that surrounded me. The gentle lull of the ocean waves and the soft caress of the sea breeze welcomed me with open arms. It was as if time had slowed down, allowing me to savor every moment of my stay.
The resort itself was a sight to behold. With a 4-star rating, it effortlessly combined luxury and comfort, providing an escape that surpassed all expectations. As I explored the grounds, I discovered a private beach that seemed to stretch on forever, inviting me to dip my toes in its pristine waters. The allure of the ocean was irresistible, and I surrendered myself to its embrace, relishing in the pure bliss of the moment.
Each room at Old Bahama Bay was a sanctuary of indulgence. Adorned with premium bedding and air conditioning, it cocooned me in a haven of relaxation. The attention to detail was impeccable, from the carefully crafted kitchenettes to the plush furnishings that exuded a sense of West Indies colonial charm.
As I ventured further, I uncovered a world of culinary delights. Two on-site restaurants beckoned me with the aromas of Caribbean cuisine, and I eagerly savored every bite while being treated to breathtaking ocean views. The dining experience was an enchanting blend of flavors and ambiance, creating memories that would linger on my palate long after my departure.
But Old Bahama Bay was more than just a resort—it was an invitation to embark on a multitude of adventures. The possibilities seemed endless as I engaged in boat tours, basketball matches, and even tried my hand at fishing. The resort's dedication to providing a variety of activities ensured that boredom was banished, leaving room only for laughter, excitement, and treasured moments of connection.
As I mingled with fellow guests, their stories echoed with joy and satisfaction. One family, returning year after year for lobster season, praised the attentive staff and the well-maintained marina. Another guest, arriving by boat, was captivated by the delicious dinner, the friendly encounters, and the evident care invested in the resort's upkeep. Their words only affirmed the sentiment that resounded within me—Old Bahama Bay was a sanctuary where happiness thrived.
For those seeking a retreat from the ordinary, Old Bahama Bay Resort & Yacht Harbour is the epitome of tranquility. It is a haven where one can unwind, rejuvenate, and rediscover the beauty of simplicity. Whether you arrive by boat or choose to fly via the resort's preferred air charter service, prepare yourself for an experience that transcends the boundaries of paradise.
As my journey drew to a close, I couldn't help but feel a bittersweet pang. Old Bahama Bay had become a part of me, an oasis of peace that would forever hold a special place in my heart. So, dear traveler, if you're seeking a destination that nurtures the soul and offers respite from the chaos of everyday life, look no further. Old Bahama Bay Resort awaits, ready to weave its magic and create memories that will forever linger in your dreams.
Alternate Resort Recommendation: If you crave a livelier atmosphere with vibrant nightlife and bustling city streets, I recommend exploring Nassau Paradise Island. It offers a contrasting experience to the tranquility of Old Bahama Bay, promising excitement, cultural immersion, and an abundance of entertainment options.
Compare prices and get more information:
---
Frequently Asked Questions (FAQ) for Old Bahama Bay Resort:
How far is Old Bahama Bay Resort from the nearest airport?
Old Bahama Bay Resort is approximately 56 miles east of Palm Beach. You can fly directly to the resort via our preferred air charter service offered by Island Coastal Charters, or you can access the resort by boat.
What amenities are available at the resort? Old Bahama Bay Resort offers a range of amenities for your enjoyment, including:Marina facilitiesPlaygroundLaundry facilitiesPrivate beachBeachfront diningBeach massagesDeep-tissue massage and spa servicesTwo on-site restaurants serving Caribbean cuisineGym and fitness activities such as boat tours, basketball, and fishingOutdoor pool with sun loungers and pool umbrellasFree self-parkingCooked-to-order breakfast (surcharge)Free bike hire2 outdoor tennis courtsMotorized watercraft on-siteConcierge servicesFront desk safe
What types of rooms are available at Old Bahama Bay Resort? Old Bahama Bay offers exquisitely designed suites with modern West Indies colonial custom-made furnishings. All suites have complimentary high-speed wireless internet access and come with luxury amenities such as marble baths, whirlpool soaking tubs, kitchenettes, and sitting areas. The resort offers a variety of room configurations suitable for families or couples.
Is there internet access available at the resort?
Yes, Old Bahama Bay Resort provides free in-room WiFi for all guests, allowing you to stay connected during your stay.
Are there any nearby attractions or activities?
Yes, Old Bahama Bay Resort is located in close proximity to various attractions and activities, such as the Old Bahama Bay Yacht Harbour and Dead Man's Reef. The resort also offers boat tours, fishing opportunities, and basketball facilities for guests to enjoy.
How do I make a reservation at Old Bahama Bay Resort?
To make a reservation, you can visit our official website or contact our reservations team directly. We recommend booking in advance to secure your preferred dates and accommodations.
Is there parking available at the resort?
Yes, Old Bahama Bay Resort provides free self-parking for guests.
Can I bring my pet to Old Bahama Bay Resort? Unfortunately, pets are not allowed at the resort, with the exception of service animals as required by law.
Are there dining options available outside the resort?
While Old Bahama Bay Resort offers two on-site restaurants serving Caribbean cuisine, there may be dining options available in the nearby West End area for those looking to explore alternative culinary experiences.
Is there a cancellation policy for reservations?
Old Bahama Bay Resort has a specific cancellation policy. It is advisable to review the terms and conditions or contact the resort directly for detailed information regarding their cancellation policy.
More Luxury Resorts in the Bahamas.

---
💼 We cherish our independence! ✈️ Our travel recommendations are carefully researched, bias-free, and powered by human expertise by April and Ricky of LRB (we have personally researched and travelled to many of these destinations and researched others thoroughly through first-hand accounts). 🌍✨
We try to keep everything up to date, but please always do your own research and contact us if you know any issues for us to help others as best we can as a small but professionally focused team! 🧐📚⚠️