All Inclusive Cancun Family Resorts
All-Inclusive Cancun Family Resorts
Finding quality all inclusive Cancun family resorts in Mexico is a challenge because of the massive variety. We have singled out a about 20 of the best. Take a look at which ones we recommend and why. See the reviews of the top Cancun All Inclusive vacation resorts and what makes them particularly family friendly here.
See also the top All-Inclusive Cancun Family Resorts with Water Parks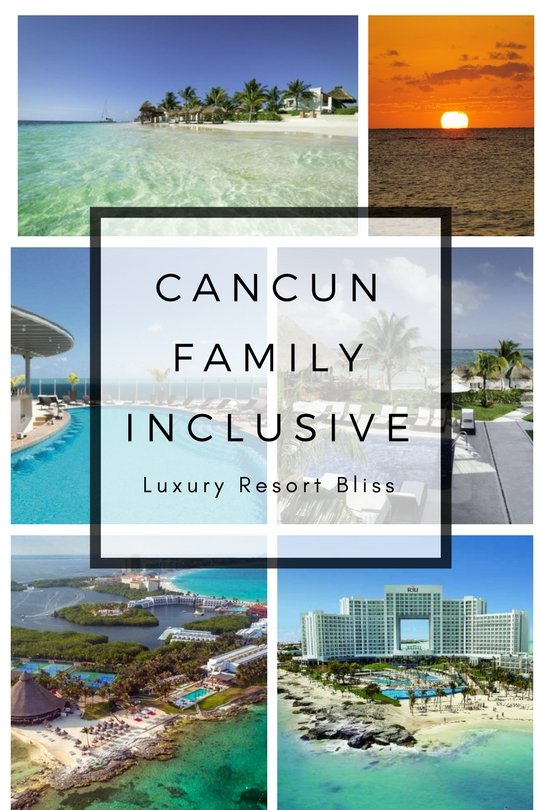 50 of 838 of the Places and properties to satay in Cancun are all-inclusive family resorts according to TripAdvisor:
Cancun all-inclusive family resorts: find the best deal, compare prices, and read what other travelers have to say at Tripadvisor
We will review many of these resorts below and in articles linked. 
The Best All-Inclusive 5-star Family resorts in Cancun
There are 10 All-Inclusive 5-star Family resorts in Cancun with the top 5 as:
Moon Palace The Grand - Cancun
Paradisus Cancun
Crown Paradise Club Cancun
Hard Rock Hotel Cancun
JW Marriott Cancun Resort & Spa
See Also: Cancun All Inclusive Family Vacation Ideas
Top Cancun Resort Deals on TripAdvisor
Azul Beach Resort Riviera Cancun
Located at idealistic Puerto Morelos—a short transfer—south of Cancun. This is only a 100 room hotel but has the facilities of a much larger Cancun family all-inclusive resort. With 3 restaurants and 8 outdoor pools there is enough for a different experience each day. There are well run kids clubs for different ages, teen clubs, and all the baby amenities such as bottle warmers and strollers you may need and more. 
Video Review: Azul Beach Riviera Cancun - All-Inclusive Mexico Perfect for Families
Our top all inclusive family resort in the Cancun area is definitely the Azul Beach Hotel, by Karisma. Although you will need to take a short transfer down the beautiful coastline to Puerto Morelos  you will arrive at a truly outstanding family friendly resort which prides itself on children's activities, and gourmet all inclusive dinning. Things like  with "loaner baby equipment, kid's club and parent support" are only the beginning. Even the video below does not do the family friendly qualities of this resort justice.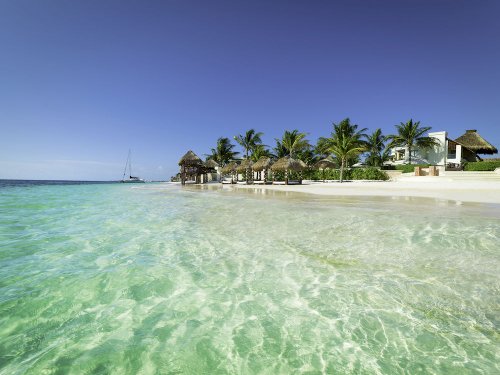 Azul Beach By Karisma All Inclusive Cancun Resort Hotel
However the overall attraction of these resorts is the guest satisfaction rating. Families are continually getting overwhelmed by the excellent quality of the service and the well maintained facilities.
Find the best deal, compare prices, and read what other travelers have to say at Tripadvisor

Alternatively, the Azul Sensatori also has some great facilities for adults and children. Both will appreciate the gourmet delicacies served up in this wonderful 438 suite all inclusive family resort.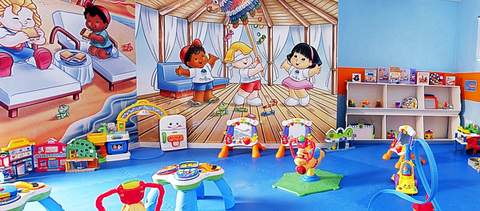 This is bigger than the other Azul resort listed above and has even more kids facilities and amenities. There's a dedicated kids gym and playroom. Azul seems to have taken a more serious approach to child development and have given activities a bit of thought (in contrast to putting the kids in the corner with a TV and a movie). Teenagers are as well catered for as the younger kids as well.
Read parents reviews and offers on Azul Sensatori Hotel, by Karisma.
---
---
Moon Golf and Spa Resort in Cancun pictured below is another good choice for families looking for the full package and a wide range of children's activities and activities, but there are equally good deals in a variety of good resorts in Cancun at different price entry points.  
Legend has it that Cancun was established where it is as a result of a computer driven analysis as to where the most ideal place to build a resort town. Seems the computer got it right and Cancun has blossomed into an international destination the creates more happy all inclusive satisfaction than practically anywhere else.

Yet are one of a number of resort town options on the Yucatan Peninsular that are suitable for children. While teenagers will enjoy Cancun, once you get out of town you can really start to enjoy the features that make this a truly family friendly location. Snorkeling from your all inclusive family resort in Cozumel of enjoying the culture and history easily from your Tulum all inclusive resort are yet but a few options.
A great resort with some very special perks. Cute kid-sized robes and toys located in the conveniently interconnected kids rooms. Teens can polish up their surfing on a wave ride simulator while younger kids can try their hand on a bodyboard. A dolphin encounter experience is also run a few times each day.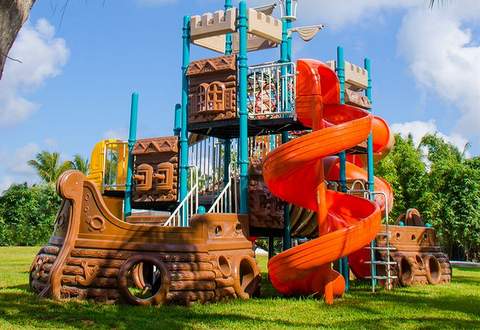 Moon Palace All Inclusive Family Resort Cancun
One of the main attractions for families here is the host of water activities around the resort for kids of all ages. This is a huge resort with the facilities to match. The 4 star Cancun family friendly all inclusive resort has over 2000 rooms.

Moon Palace have also excelled with their kids club. It has separate areas for kids of different ages. Some will like the idea of providing specific gender areas better than others. For example, there is a beauty salon for girls to "embrace their inner princess" complete with a catwalk. 

The facility is well serviced with lots of activities and organized activities like piñatas, discos, cooking and some outside activities too. Reviews are great for this resort and it is definitely one of the best all inclusive Cancun family resorts. 
More information and special offers on Moon Palace All Inclusive Family Resort Cancun.
---
Club Med Cancun All Inclusive Family Resort
There are clubs for differentiated age groups with specific equipment to suit each group and it's safety and developmental requirements. Programs exist for 2-3 year olds with the activities they enjoy like stickers, water games, outdoor games, song and the like.  

Creative and sporting activities continue as children get older. Before children reach 10 they can enjoy cooking lessons, dancing and can begin to share in the after dinner activities.

For teens, the spa has teens treatments suitable for 11 to 17 year olds. These are designed to orientate teenagers into looking after wellness rather than massage therapies. Unlike other resorts, there are also more creative activities available for teenagers like dance and singing workshops, trapeze, hiking and picnics. We find it refreshing to see these activities involved in teens programs.
Reviews and special offers on Club Med Cancun Yucatan.
---
Beach Palace Family Resort in Cancun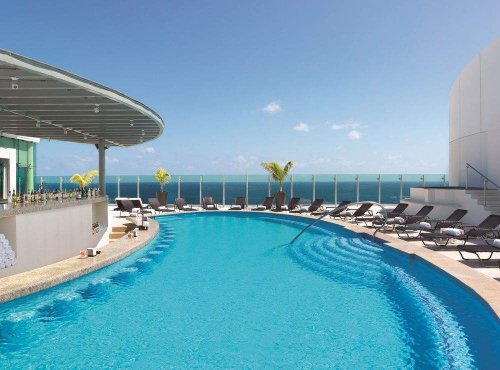 Beach Palace Family Resort
Another of the great all inclusive Cancun family resorts is Beach Palace. They offer a program designed to help families connect. The kids program and activities centre has had a recent makeover to compliment the all inclusive kids program.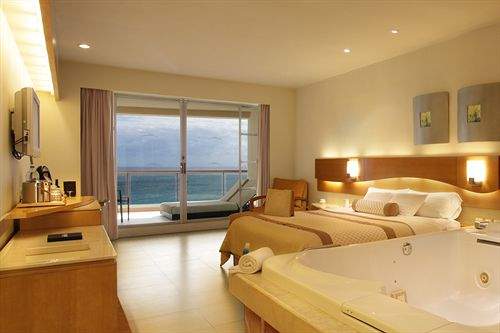 For meal times there are specialty items for kids, which they have the option of enjoying with other kids while their parents enjoy some quiet dinning time.
For kids aged 4-12, the program offers walkie talkies for parents to talk with their kids at any stage. In the dedicated club: tennis, golf, Spanish , soccer, piñata, camping, disco and a whole lot more are experienced or taught.
More information and latest reviews for Beach Palace Resort. 
---
Hotel Riu Cancun
The Hotel Riu Cancun (All Inclusive) is situated in one of the most popular areas for tourists, in a prime location on a white sand beach with clear water.
For a few days of pampering,try Renova Spa. You can enjoy any of the treatments on offer as well as the gym and Jacuzzi. Plus, once you've had some sunbathing time at any of our three fresh water swimming pools, your strength will be quickly restored."
The hotel has a buffet as well as themed restaurants. There's plenty of variety in food choices and we'll also satisfy your international culinary taste buds.
The 24h All Inclusive system at the Hotel Riu Cancun offers many activities to enjoy every day with your family, friends or partner. There is also never a dull moment as we have a long list of activities for you to choose from.
They provide a wide range of entertainment options for kids and adults, including RiuLand for those under 18 years old, and night life & daytime entertainment of various sorts.
Hotel Riu Cancun All Inclusive - Cancun - RIU Hotels & Resorts
The Riu Palace Resort

All Inclusive Cancun Family Resorts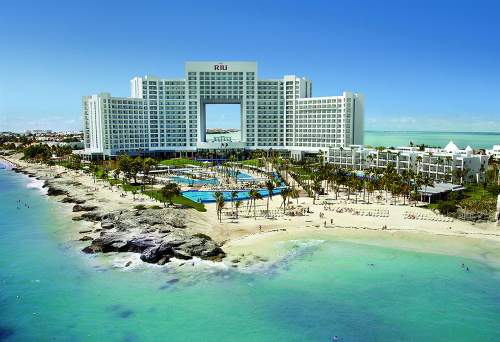 Hard not to include this spectacular resort for an extremely memorable Cancun all inclusive family vacation. There is more to this resort than full american buffet breakfasts and parents are finding the attractions quite attractive.
Find out more about Riu Palace in Cancun.
Riu Hotels in Cancun Video
Official Website for Riu Palace in Cancun
---
The Royal Sands Resort & Spa All Inclusive
At the Royal Sands Cancun All Inclusive Family Resort, the kids club is included for 4 to 12 year-old kids (at the time of writing). It has all the great dining, beverages, activities and entertainment you would expect of a classy all inclusive resort.
More information and special offers on on the The Royal Sands Resort & Spa All Inclusive.
Official website for The Royal Sands Cancun Resort & Spa All Inclusive
---
Cancun is well known for its luxury resorts, but when it comes to family-friendly beach vacations, few can compare to Dreams Resorts & Spas. This all-inclusive resort has a variety of accommodations that are perfect for families with children.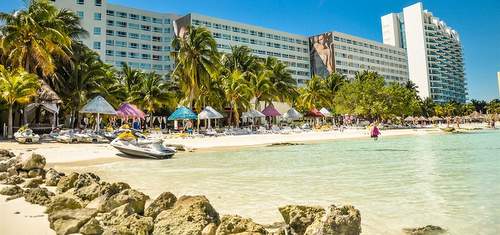 ---
Marina El Cid Spa & All Inclusive Cancun Beach Resort
Marina El Cid is one of the top beach all inclusive Cancun family resorts on the Riviera Maya. Kids especially are into the waterfalls at the pools. It has a well-maintained and caring kids club, kayaking, snorkeling, and good selection of restaurants. Overall a good four star resort with an outdoor pool, a children's pool, a health club, a spa tub, and a fitness facility all in top shape.
The guest satisfaction rating is also outstanding like all the other all inclusive Cancun family resorts we include on this page. See the latest reviews here. 
Hotel Marina El Cid Spa & Beach Resort All Inclusive @ Expedia

Official website for Hotel Marina El Cid Spa & Beach Resort.

---
For more family resorts, visit our Mexico Family Resorts page. 
Have any all inclusive Cancun family resorts you love? Let others know below!
The Crown - Best Waterpark Resorts In Cancun
Cancun city has been attracting tourists from all over the world for decades due to its beautiful beaches, lively nightlife and fun water parks.
This article will be exploring some of the best resorts in Cancun with water parks. It will also be discussing how these resorts have been attracting tourists for decades and what makes them so special.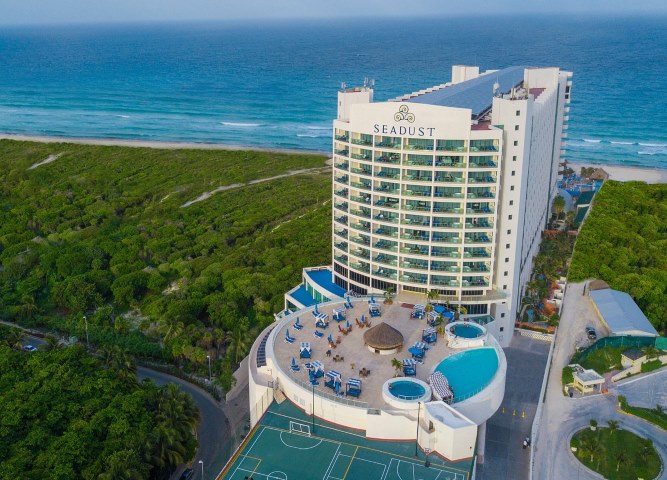 Seadust Cancun Family Resort
Seadust Cancun Family Resort is a top resort that offers an amazing array of amenities for all guests. 
Seadust Cancun Family Resort is located on the pristine shores of the Mexican Caribbean. In their effort to offer top-tier service to all guests, they offer a variety of amenities for adults and children alike.
and that's why we dedicated a full review to it.
Cancun Family Friendly Vacations
Cancun is a popular destination with families and couples alike. There are many family friendly activities that can be done while on vacation in Cancun, but some people want to make their vacation an adult only experience. If you are looking for an all inclusive resort with a waterpark in Cancun, this list should be helpful.
Cancun Vacation Packages 
Complete vacation packages to Cancun are available with all sorts of family friendly additions where things like kids clubs, teens areas and  and splash pools are only the beginning.
Cancun Family Attractions
Cancun again seems to have been given a new zest for life since the destruction of Cyclone Wilma in 2005. New and more luxurious resorts have risen from the ashes to create even better ways to enjoy the powder white sandy, clearwater beach experience that is Cancun.
There are also opportunities to snorkel and dive. By taking the popular and well regarded Ultramar passenger ferry to the islands of Cozumel and Isla Mujeres this will give you the opportunities to enjoy the calmer crystalline waters and see more of the beauty of the region with your family.
There are heaps of aquariums, marinas, horse riding, ATV trips, Zip Lines and water parks that will mean you never have to spend any time looking for things to do with your family. Places like Chichen Itza, Ek Balam, Balam Kanche, Coba also provide an excellent backdrop for you to enjoy some quality family time together.
If you are challenged about travelling to Mexico you need not worry too much. Cancun is as modern and well groomed as any American beach city, and dollars are exchanged freely.
Family Activities in Cancun are many and varied but sure to include aspects of the magnificent natural environment and culture. The shores of nearby Tulum and the Mayan ruins or nearby pyramids of Chichén Itzá provide for an excellent day trip starter. But there are also opportunities to swim with dolphins at Xel-Ha or also interact at the Dolphinarium Delphinus. Inside the Dreams Cancun Hotel, surrounded on one side the calm blue waters and the Mexican Caribbean.

Authors Unleashed: Unveiling the Ultimate Travel Experience through Expert Reviews, Ratings, and Research
💼 We cherish our independence! ✈️ Our travel recommendations are carefully researched, bias-free, and powered by human expertise. We use AI sparingly for editing purposes, ensuring an authentic and reliable experience. Join us on our unbiased journey! 🌍✨
Always do your own research! 🧐📚⚠️ 
Adult Only All Inclusive Resorts in Mexico