Fern All Inclusive Resort in Ontario
Fern All Inclusive Resort in Ontario
Fern All Inclusive Resort In Ontario is the quintessence of Canadian family bonding, a gem nestled on the scenic shores of Lake Couchiching. This fourth-generation family-owned resort has been a welcoming home-away-from-home since 1895, creating an environment that celebrates fun, relaxation, and connection. Imagine waking up each day to the shimmering surface of the lake, a reminder of the adventure-filled day that awaits.
Also see all-inclusive resorts in Ontario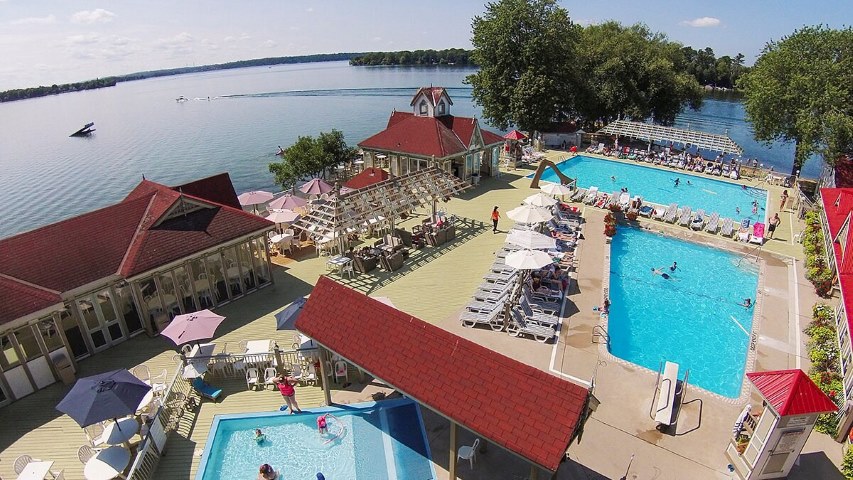 The resort is designed to encourage families to reconnect, whether it's through an exhilarating game of beach volleyball or a tranquil afternoon spent fishing on the gazebo dock. Water-lovers are spoilt for choice, with water skiing, sailing, kayaking, and even stand-up paddleboarding on offer. The more adventurous can go zorbing, while those looking for a peaceful ride can opt for a sunset, fishing or private cruise on the deck boat.

Dining at Fern Resort is a feast for the senses. The rotating menu offers a delightful mix of sophisticated entrées and simple, kid-friendly dishes, all served against a backdrop of stunning lake views. The friendly staff goes the extra mile to accommodate dietary requirements, ensuring every meal is a delightful experience.
The fun doesn't stop at sunset. Evenings at Fern Resort are filled with laughter and awe, thanks to the impressive line-up of professional entertainers at Bergwen's Theatre. From jaw-dropping magic shows to lively music performances, these entertainers know how to make an unforgettable night for the whole family.
The resort offers packages that cater to everyone's needs and budgets. From the Mid-Summer Special to the Summer Wind-Up, every offer is designed to provide value for money, including a 10% discount for seniors and free stay for one child.
But the real magic of Fern Resort lies in its commitment to making every moment special. It's the freedom to have fun your way, to choose your own adventure, and to create unforgettable memories with the people who matter most. Whether you're challenging yourself with a new activity, soaking up the serene natural beauty, or simply spending quality time with your loved ones, Fern Resort ensures every moment is fulfilling, making it a perfect destination for families, couples, and groups alike.
Find the best deal, compare prices, and read what other travelers have to say at Tripadvisor
Fern Resort in Ontario is a great all-inclusive destination for vacationers. However, as with any resort, it has its pros and cons, and a range of features to offer.
Pros:
Family-Friendly: Fern Resort caters to families with children, with age-appropriate activity programs, a fully supervised PlayVillage for the little ones, and a range of fun water activities.
All-Inclusive: Everything is included in your stay, from meals to activities, making it easy to budget for your vacation.
Variety of Activities: With water sports, outdoor activities, evening entertainment, and more, there's always something to do.
Excellent Food: The resort has a rotating menu, offering a wide variety of meals to cater to different palates, including accommodating a range of dietary requirements.
Scenic Location: Nestled on the picturesque shores of Lake Couchiching, the resort offers stunning views and a tranquil environment.
Cons:
Seasonal Limitations: Some outdoor activities are only available seasonally, which may limit what you can do depending on when you visit.
Pricier than Some Options: While Fern Resort offers great value for an all-inclusive experience, it may be pricier than other vacation options, particularly off-site excursions or DIY vacations.
Crowds During Peak Season: The resort can get crowded during the peak season, which may not suit people who prefer a quieter vacation experience.
Features:
Dining: Fern Resort provides three meals a day included in your stay, with a rotating menu that caters to different tastes and dietary needs.
Activities: The resort offers a wide range of activities, including water sports like sailing and kayaking, outdoor fun like archery and axe throwing, and evening entertainment.
Accommodation: Accommodations at Fern Resort are designed to be comfortable and cozy, offering a home-like atmosphere.
Location: Fern Resort is conveniently located on the shores of Lake Couchiching, offering beautiful views and easy access to water-based activities.
Packages: The resort offers a variety of packages to suit different needs and budgets, including discounts for seniors and free stays for children under certain conditions.
To objectively rate and compare the Fern All-Inclusive Resort in Ontario, we can use a 5-point scale across various categories. Here's how Fern Resort stacks up:
Location: 4.5/5 - Fern Resort is located on the beautiful shores of Lake Couchiching. However, it's not easily accessible to major cities, which could be a downside for some travelers.
Accommodation: 4/5 - The accommodation is comfortable and well-maintained, but doesn't stand out as overly luxurious or unique.
Amenities: 5/5 - The range of amenities, from various outdoor activities to the high-quality dining options, is a standout feature of the Fern Resort.
Service: 4.5/5 - Customer service is highly-rated, with staff known for their attentiveness and helpfulness.
Value for Money: 4/5 - While the resort can be pricier than some options, the vast range of included activities and meals adds great value.
When compared to other similar all-inclusive resorts in Ontario, Fern Resort is a strong contender, especially for families. Other options, such as the Great Wolf Lodge, may offer more indoor amenities like water parks and may be closer to urban centers, but lack the outdoor activities and tranquil lakeside setting that Fern Resort offers. Other resorts like the Hockley Valley Resort offer similar outdoor activities but do not provide an all-inclusive experience.
Ultimately, the best choice depends on the specific preferences of the traveler, particularly in terms of the balance between indoor and outdoor activities, proximity to urban areas, and the level of luxury versus rustic charm in the accommodations.
Frequently Asked Questions (FAQs) about the Fern All-Inclusive Resort in Ontario:
What is included in the all-inclusive package at Fern Resort? The all-inclusive package can include accommodation, 3 meals daily, access to all facilities including golf, tennis, and pickleball, all extreme sports, silent watercraft, bikes & pedal carts, resort-wide Wi-Fi, and more. But it depends on what you book directly.
Does Fern Resort offer any special deals or discounts? Yes, Fern Resort often offers seasonal packages and discounts, including mid-summer specials and family packages. Seniors may be eligible for a 10% discount. It's recommended to check the resort's website or contact them directly for the most current offers.
Is Fern Resort suitable for children? Absolutely. Fern Resort is very family-friendly, with scheduled activities for different age groups, a fully supervised PlayVillage for children aged 0-6 years, and various recreational facilities and amenities for families.
Are dietary requirements accommodated at the resort? Yes, Fern Resort caters to a range of dietary requirements. You'll need to inform them of any specific dietary needs when making your booking.
What activities are available at Fern Resort? Fern Resort offers a variety of activities such as water skiing, sunset cruises, fishing, kayaking, canoeing, paddle boating, zorbing, yoga, arts and crafts, and extreme sports like climbing wall, paintball, and archery.
Is Fern Resort pet-friendly? For specific queries about pet policies, it's best to contact the resort directly.
How far is Fern Resort from Toronto? Fern Resort is about 140 kilometers north of Toronto, which is about a 1.5 to 2-hour drive, depending on traffic and exact starting point.
What are the check-in and check-out times at Fern Resort? Check-in and check-out times can vary depending on the package you've booked, so it's best to confirm these details with the resort.
Remember, for any specific queries, it's always best to contact the resort directly. They will be able to provide the most accurate and up-to-date information
💼 We cherish our independence! ✈️ Our travel recommendations are carefully researched, bias-free, and powered by human expertise by April and Ricky of LRB (we have personally researched and travelled to many of these destinations and researched others thoroughly through first-hand accounts). 🌍✨
We try to keep everything up to date, but please always do your own research and contact us if you know any issues for us to help others as best we can as a small but professionally focused team! 🧐📚⚠️