Clayoquot Wilderness Lodge
Clayoquot Wilderness Lodge All-Inclusive Eco Resort in BC Canada
The moment the hum of the seaplane dwindled and my boots met the wooden deck of Clayoquot Wilderness Lodge, I knew I had crossed a threshold into the wild unknown. The unseen sighs of British Columbia's old-growth conifer forests whispered secrets into my ears, and the icy chill of the Pacific air planted goosebumps on my skin. This wasn't my usual stomping ground of New York City's bustling streets, and yet, the thrill was oddly familiar.
See also British Columbia All-Inclusive Wilderness Resorts.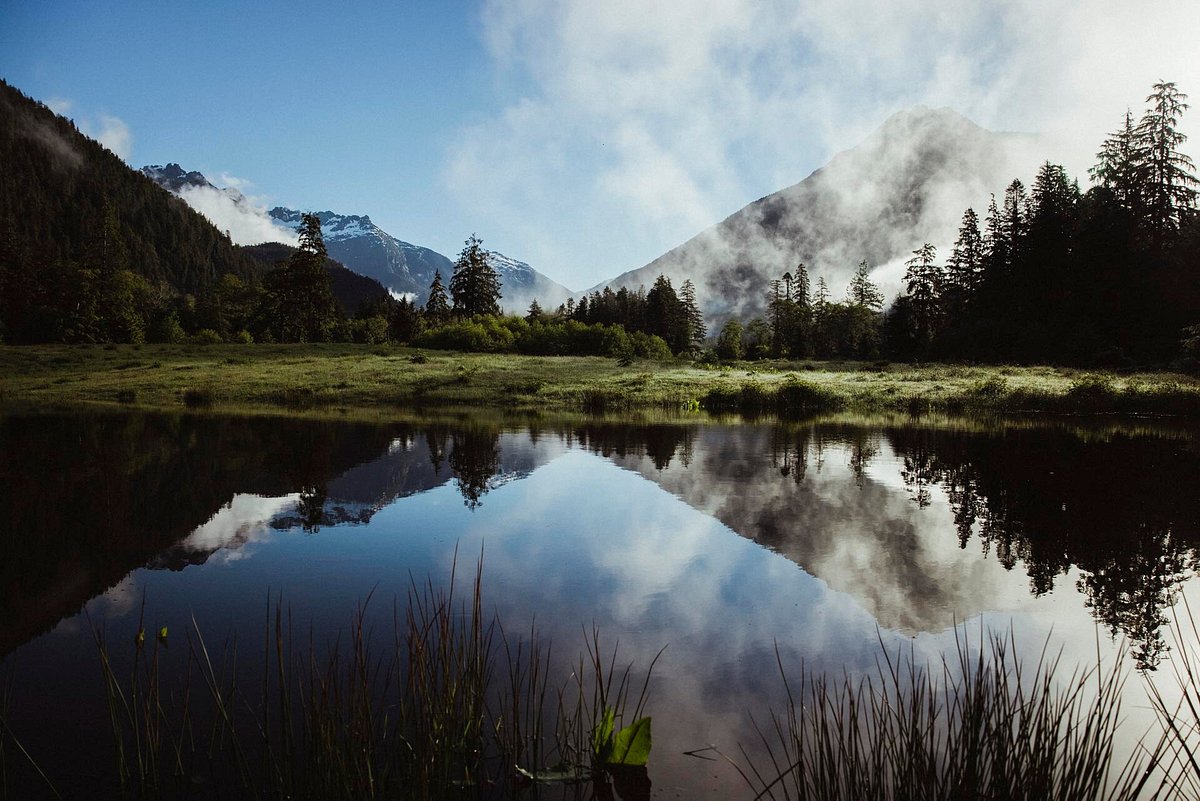 Clayoquot Wilderness Lodge All-Inclusive
My quarters for the stay was a charming canvas tent nestled amidst the moss-laden trees, a surreal mixture of prospectors' rugged charm and contemporary luxury. It felt like I had stepped into the pages of a Jack London novel, but with the modern comfort of plush armchairs and a warm, inviting bed. Each morning, I unzipped the tent to reveal the panoramic beauty of Clayoquot Sound, a moving painting of turquoise water kissing the vibrant greenery.
Dining at the lodge was an experience that can only be described as wild luxury. Local produce, fresh from Vancouver Island, became a canvas for the chefs' culinary artistry. There was a poetry to each meal, from breakfasts featuring forest mushroom and jack cheese omelettes to dinners serving up the freshest scallops, octopus, and prawns I'd ever tasted.

Adventure was always on the day's menu at Clayoquot. One day, I found myself astride a strong, sturdy horse, its hooves thudding rhythmically against the forest floor. Another day, I was aboard a boat, the wind whistling past my ears as I observed the marine fauna in their undisturbed habitat. The choice was always mine, and each day brought a new opportunity to explore.

As an adventurous soul from the concrete jungle, I can vouch that Clayoquot Wilderness Lodge isn't for those seeking a conventional holiday. Instead, it's a haven for those who yearn to reconnect with nature, for families who wish to share the wonder of the wild with their children, and for couples looking for an intimate getaway.
If, however, you're seeking more urban comforts with a touch of nature, consider checking out the Four Seasons Resort and Residences Whistler, where you can enjoy the scenic beauty of British Columbia alongside a full range of luxury amenities.
Each night at Clayoquot, as I sunk into the cedar hot tub, looking up at the galaxy of stars seemingly close enough to touch, I was reminded that in the heart of the wilderness, far from the neon lights of New York, I was exactly where I needed to be. The sounds of the wild lulled me into a peaceful sleep, and I dreamt of the adventures the next day would bring.
Clayoquot Wilderness Lodge, BC
Review of Clayoquot Wilderness Lodge, BC
Review of Clayoquot Wilderness Lodge, BC:
Location: 5/5 - The location of Clayoquot Wilderness Lodge is its biggest selling point. Nestled amidst the pristine wilderness of Vancouver Island's west coast, the lodge offers an immersive experience of the region's raw beauty. The remote location, while slightly challenging to access, only adds to the charm. Clayoquot Sound, a UNESCO Biosphere Reserve, is home to breathtaking landscapes and diverse wildlife, providing opportunities for numerous outdoor activities.
Accommodation: 4.5/5 - Clayoquot offers luxuriously appointed canvas tents, evoking a romantic, turn-of-the-century prospector's charm. All tents are well-spaced, ensuring privacy while maintaining a connection with the natural surroundings. The lavish interiors are beautifully designed, and the beds are extremely comfortable. However, it's worth mentioning that accommodations here may not be ideal for those who prefer conventional hotel rooms.
Amenities: 4.5/5 - The resort's amenities are thoughtfully curated to enhance the wilderness experience. The dining options are incredible, with a menu that changes daily to feature fresh, locally sourced ingredients. Wellness offerings include a waterfront massage tent, saunas, and cedar hot tubs - a true sanctuary for body and soul. The absence of certain typical resort amenities, such as a traditional pool, may be a minor drawback for some guests.
Service: 5/5 - Service at the lodge is remarkable, with staff going above and beyond to ensure an unforgettable stay. Guests consistently praise the friendliness, professionalism, and attentiveness of the team. The personal and warm approach to service appears to be one of the lodge's strongest assets.
Value for Money: 4/5 - While Clayoquot Wilderness Lodge is certainly a high-end, luxury experience with a price tag to match, the unique, all-inclusive offerings provide good value. The price encompasses gourmet dining, premium beverages, and a variety of guided experiences, from horse-riding to marine adventures. However, it's important to note that this may not fit all budgets.
Recommendation: Ideal for those seeking an off-the-grid luxury experience, outdoor adventurers, nature lovers, and couples or families looking for a unique getaway. However, it may not be suitable for those who prioritize urban conveniences or are on a tighter budget.
Overall Score: 4.6/5
See the all inclusive resorts in British Columbia
Packages
The thrill of the wild, the comfort of luxury, and the promise of adventure—the Clayoquot Wilderness Lodge presented an irresistible call for me. With my love for the untamed outdoors and a desire for immersive experiences, the all-inclusive packages offered by the lodge seemed like my ideal vacation.
From May 18 through September 23, 2023, Clayoquot Wilderness Lodge threw open its doors to travellers seeking a unique blend of luxury and wilderness. As I perused through their offerings, the combination of tailored packages, designed around either three, four, seven, or even ten-night stays, offered ample choice for a wide array of travel itineraries.
Their inclusions were bountiful and well-rounded, seamlessly blending the extravagance of comfort with the thrill of adventure. Gourmet dining featured prominently, offering meals and snacks made with locally sourced, sustainable produce that kept me nourished as I navigated the wild terrain. A selection of premium wines, beers, and spirits, as well as non-alcoholic beverages, quenched my thirst after long, exhilarating days.
But it wasn't just food and drink; the packages were designed for the true adventurer. Signature guided experiences were part of the deal, offering opportunities to horse ride, hike, and embark on marine adventures. They provided both adrenaline and tranquility in equal measure, the kind of activities that make you feel alive and connected with nature. And after the excitement of the day, a 60-minute relaxation massage awaited to rejuvenate tired muscles and quieten the buzzing mind.
The lodge's facilities were open to all guests, providing a comforting retreat from the wilderness outside. The sauna and hot tubs, the e-bikes and watercraft, all became elements of my day, weaving themselves into my personal narrative of the Clayoquot Wilderness Lodge.
Their special packages, like the "Stay 7 Pay 6 + Bonus Extras" and "Baillie Escape", were particularly enticing. The former offered an extra day free on a seven-day stay, complete with an additional 60-minute relaxation massage, perfect for the ardent explorer. The latter catered to those with limited time, ensuring that even a short stay of three nights would be packed with memorable moments.
Each package, regardless of its length, promised an unforgettable immersion into the wonders of Vancouver Island and the Clayoquot Sound. While the price tag started from $2,900 per night for a Rainforest Deluxe stay, the breadth of experiences offered, the luxury accommodations, and the allure of the wild made it a worthy indulgence for an adventurer like me. However, for budget-conscious travellers seeking a similar wilderness experience, the Wild Renfrew Seaside Cottages might be an ideal alternative.
Find the best deal, compare prices, and read what other travelers have to say at Tripadvisor
FAQ for Clayoquot Wilderness Lodge, BC
Q1: What is Clayoquot Sound and where is it located?
A1: Clayoquot Sound is a region on the western coast of Vancouver Island in British Columbia, Canada. Known for its stunning natural beauty, it's a UNESCO Biosphere Reserve featuring old-growth temperate rainforests, diverse wildlife, and marine ecosystems.
Q2: How can I reach Clayoquot Sound from Vancouver Island?
A2: Clayoquot Sound is accessible by boat or seaplane from Tofino, a small coastal town on Vancouver Island. Road access to Tofino is via Highway 4 from Nanaimo or Victoria.
Q3: What can I do in Clayoquot Sound?
A3: The region offers a range of outdoor activities, such as kayaking, hiking, wildlife watching (including whales, sea otters, and bears), birding, and fishing. It's also a great spot for camping and stargazing.
Q4: Is Clayoquot Sound a good place for wildlife spotting?
A4: Absolutely! Clayoquot Sound is home to a diverse range of wildlife. You can spot whales, bears, sea otters, seals, eagles, and many other species. Guided tours are available for safe and respectful wildlife viewing.
Q5: Can I camp in Clayoquot Sound?
A5: Yes, there are several wilderness camping areas throughout the Sound. However, as the area is a protected Biosphere Reserve, campers are required to follow Leave No Trace principles to minimize their impact on the environment.
Q6: Are there any guided tours of Clayoquot Sound?
A6: Yes, numerous companies offer guided tours of Clayoquot Sound, ranging from day-long kayaking trips to multi-day wilderness adventures. It's a great way to learn more about the area's ecology from a knowledgeable guide.
Q7: What is the best time of year to visit Clayoquot Sound?
A7: The best time to visit depends on your interests. Summers (June - August) are popular for outdoor activities and wildlife watching. If you're interested in storm watching, the winter months (November - February) offer a unique experience.
Q8: Is Clayoquot Sound a good destination for families?
A8: Yes, Clayoquot Sound can be a great destination for families with a love for nature and outdoor adventure. However, given the wilderness setting, some activities may not be suitable for very young children.
Q9: How can I respect the environment during my visit to Clayoquot Sound?
A9: As Clayoquot Sound is a UNESCO Biosphere Reserve, it's important to follow eco-friendly practices. This includes sticking to established trails, disposing of waste properly, respecting wildlife from a distance, and abiding by any regulations put in place to protect the area's ecosystems.
Q10: Are there any accommodations in Clayoquot Sound?
A10: Yes, there are several eco-lodges and resorts in the region, providing a range of accommodation options from luxury glamping to more rustic wilderness lodges. Booking in advance is strongly recommended, especially in peak seasons.
While on Vancouver Island BC
I remember vividly, the sun was setting over Vancouver Island, coloring the skies in hues of lavender and tangerine, as our ferry glided across the Salish Sea. The sight alone was worth every bit of our long journey from New York City. The kids, Emma and Jake, were pressed against the glass, wide-eyed and in wonder. My husband, James, and I exchanged a knowing look - we'd made the right choice for our family vacation.
Vancouver Island, this enormous jade oasis floating on the fringes of Canada's western coastline, was an open invitation to unleash our adventurous spirits. On the very first day, we found ourselves in Pacific Rim National Park Reserve, where we explored the lush rainforest trails and listened to the symphony of the local fauna. I'd be lying if I said that Jake's squeals of joy upon seeing a real bald eagle didn't add to the excitement of the day.
While Vancouver Island's natural charm was irresistible, our journey to its cultural heart, Victoria, was where we found its soul. A tour of the British Columbia Parliament Buildings was a must, and James used this opportunity to educate Emma about Canadian governance. Jake, on the other hand, was more impressed by the architectural grandeur, trying to sketch the intricate details in his little notepad.
Another highlight was our day trip to the Butchart Gardens. Roaming through its fragrant paths, the kids discovering every new bloom with astonishment, made me realize why this enchanting place is dubbed the "Garden City". It was there, amidst the riot of colors, that we discovered Emma's hitherto unknown fascination with orchids.
To add a sprinkle of thrill to our vacation, we took a whale-watching tour from Telegraph Cove. The kids gasped and laughed as the enormous creatures surfaced, their tails slapping the water. It felt like we were characters in our own magical wildlife documentary.
One thing's for certain, if you're planning a trip for a family that enjoys a mix of adventure, nature, and culture, Vancouver Island is an ideal choice. But if you're a family that prefers a more urban atmosphere, then I would suggest considering a city like Toronto. There you'll find a diverse array of experiences, from the Royal Ontario Museum to the thrill of a Blue Jays game. However, for my adventurous family, Vancouver Island was our slice of Canadian paradise.
So, as we watched the Island fade into the horizon, the golden light of the setting sun reflecting off the children's faces, I felt a sense of contentment. The journey had given us not just beautiful memories but also a sense of unity and bonding that only a shared adventure can bring. We were returning home richer, having discovered a piece of the world, and in doing so, discovering pieces of ourselves.
💼 We cherish our independence! ✈️ Our travel recommendations are carefully researched, bias-free, and powered by human expertise by April and Ricky of LRB (we have personally researched and travelled to many of these destinations and researched others thoroughly through first-hand accounts). 🌍✨
We try to keep everything up to date, but please always do your own research and contact us if you know any issues for us to help others as best we can as a small but professionally focused team! 🧐📚⚠️