All-Inclusive Ski Resorts in Canada
All-Inclusive Ski Resorts in Canada
The sharp, crisp air nipped at my cheeks as I disembarked from the plane in Alberta, Canada. I was armed with only my laptop and my penchant for finding the extraordinary in the seemingly ordinary. My quest this time? Discovering the best all-inclusive ski resorts in Canada. I, Sarah from the hustling, bustling New York City, had landed in a different universe altogether – a snow-covered paradise, sprinkled with towering pines and grandeur resorts. I was ready to write my snowy symphony.
Also see reviews of the top ski resorts in Canada
Club Med's Quebec Charlevoix All-inclusive resort
Fairmont Banff Springs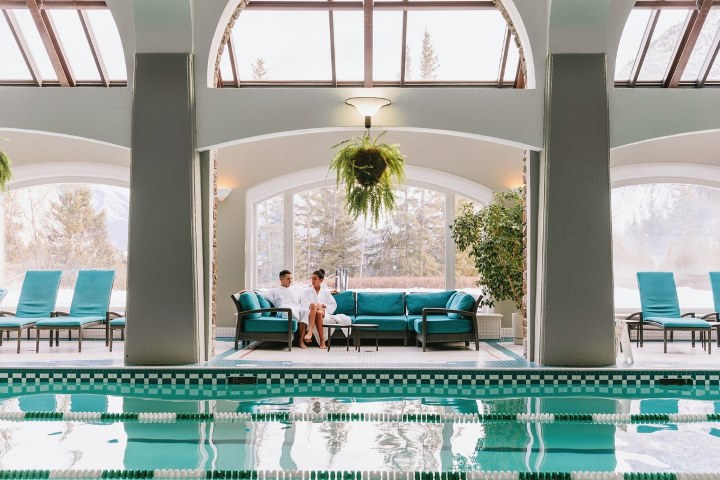 Fairmont Banff Springs
Fairmont Banff Springs was my first port of call. Nestled in the heart of Banff National Park, this majestic castle seemed to have been yanked straight out of a storybook. The sprawling suites, with their opulent interiors and enchanting views of the snowy slopes, were a warm embrace after a day on the piste. As an adrenaline junkie, the thrill of carving my way down Mount Norquay was an experience beyond words. Yet, the evenings, spent sipping hot chocolate by the roaring fire in the Rundle Lounge, felt just as exhilarating. This place, I decided, was perfect for those seeking adventure paired with a dash of luxury.
Offering 12 unique dining experiences, a renowned spa drawing from Banff's natural hot springs, and a wealth of outdoor activities at its doorstep, it serves as a haven for foodies, spa-lovers, and adventure enthusiasts alike. However, the high-end nature of the resort means a steeper price tag, and its popularity often leads to limited availability and bustling crowds during peak seasons. Nonetheless, its picturesque location and diverse offerings make it a compelling choice for a memorable vacation.
All-Inclusive
Fairmont Banff Springs offers several inclusive packages designed to cater to diverse guest preferences. The "Banff Bed & Breakfast" package allows guests to enjoy luxury accommodation, self-parking, and an à la carte breakfast, all within a spectacular mountain setting. The "Elevate Your Stay: Fairmont Gold" package offers a heightened experience with private reception, concierge services, exclusive lounge access with continental breakfast, and evening canapés. While these packages offer exceptional value, they may come at a higher cost and some exclusions, like holiday events, apply. However, for travelers seeking an all-inclusive luxury mountain resort experience, Fairmont Banff Springs presents a truly enticing option.
See full review on the Banff all-Inclusive resorts review
Fairmont Jasper Park Lodge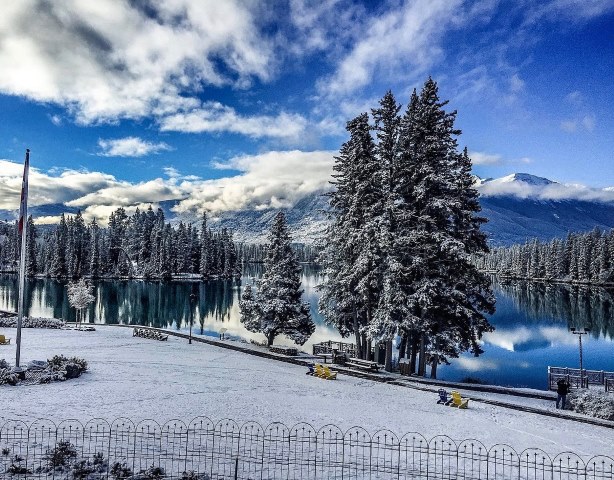 Next up was Fairmont Jasper Park Lodge. As the chopper soared over the glittering Lake Beauvert, my heart skipped a beat. The sight of the azure lake encased in a blanket of white was something I'd only ever seen on postcards. The rustic log cabins of the lodge brought an old-world charm that was in delightful contrast to Banff Springs. Here, I found myself partaking in a moonlit snowshoe expedition, my laughter echoing through the silent, frosty woods. Couples seeking a romantic winter retreat, I realized, would find no place better than this.
Fairmont Jasper Park Lodge rolls out a range of offers and packages for its guests, ensuring a remarkable stay that caters to diverse tastes and preferences. You can take advantage of the Alberta Resident Rate if you're a local, which offers a generous 30% off for a mountainous retreat right in your backyard.
One of the standout packages is the Signature Cabin Experience, designed to elevate your stay with unsurpassed service and an opulent lifestyle in private, self-contained cabins that mirror the unique charm of Jasper National Park.
For golf enthusiasts, the resort offers the Jasper Midweek Golf for Free package. It invites guests to escape the weekend rush and indulge in a midweek round of golf surrounded by iconic mountain peaks.
Meanwhile, culture lovers can opt for the Symphony Under the Stars Offer. This one-of-a-kind experience immerses guests in the magic of music under the vast Jasper night sky, recognized as one of the world's largest Dark Sky Preserves.
Last but not least, the Experience Fairmont Moments package offers up to 25% off your stay, allowing you to bask in the unparalleled service and adventure that the resort and Jasper National Park offer. Whether you are looking for extended stays, golf getaways, delicious dining, spa treatments, or more, Fairmont Jasper Park Lodge has a package crafted to ensure an unforgettable vacation.
Review of Fairmont Jasper Park Lodge, Alberta, Canada:
Location: 5/5 - The Fairmont Jasper Park Lodge sits in the heart of the stunning Jasper National Park, a UNESCO World Heritage Site, providing unparalleled access to nature and wildlife. The resort is positioned around Lac Beauvert and is in proximity to Canada's #1 Golf Resort Course, creating picturesque views and abundant activities for guests. The remote location may be an issue for some, but for those seeking an immersive wilderness experience, it's ideal.
Accommodation: 4.5/5 - The resort offers 442 rooms in a charming village of cedar chalets and Luxury Signature Cabins, all well-appointed and offering homelike comforts. The accommodations are surrounded by breathtaking views of mountains and the emerald green Lac Beauvert. For some, however, the rusticity may not cater to their taste for modern luxury.
Amenities: 4.5/5 - Fairmont Jasper Park Lodge's amenities are impressive, ranging from the #1 Golf Resort Course to a health club, pool, and an array of summer and winter adventure activities. Guests can also access wellness experiences from their room. The dining options aren't explicitly detailed, but given the Fairmont's reputation, one can expect high-quality dining. The absence of a spa might be a drawback for some.
Service: 4.5/5 - Fairmont is known for its excellent service, and the Jasper Park Lodge is no exception. The staff is attentive, professional, and responsive, offering various in-room and on-site services. There could be room for improvement, as with any large resort, but overall, guest reviews indicate a high level of satisfaction.
Value for Money: 4/5 - The Fairmont Jasper Park Lodge offers a unique and luxurious wilderness experience that can justify its price. The abundant nature activities, coupled with the comfort of the accommodations and the amenities, provide good value. However, the prices may not suit all budgets, and it's worth noting that some amenities and experiences may come at an additional cost.
Recommendation: This resort is perfect for nature enthusiasts, outdoor adventurers, families, and couples seeking a romantic getaway. Golfers would also find this resort particularly appealing due to the access to Canada's #1 Golf Resort Course.
Find the best deal, compare prices, and read what other travelers have to say at Tripadvisor
Overall Score: 4.6/5
Trading in the rustic charm of Jasper, I found myself in the lap of contemporary luxury at the Four Seasons Resort and Residences in Whistler. Renowned for its impeccable service and indulgent spas, it was an oasis of comfort and style. I spent my days conquering the challenging slopes of the famed Blackcomb Mountain, and my nights indulging in the resort's exceptional culinary offerings. This resort, I noted, is for the discerning traveler who desires the perfect blend of adventure, relaxation, and world-class service.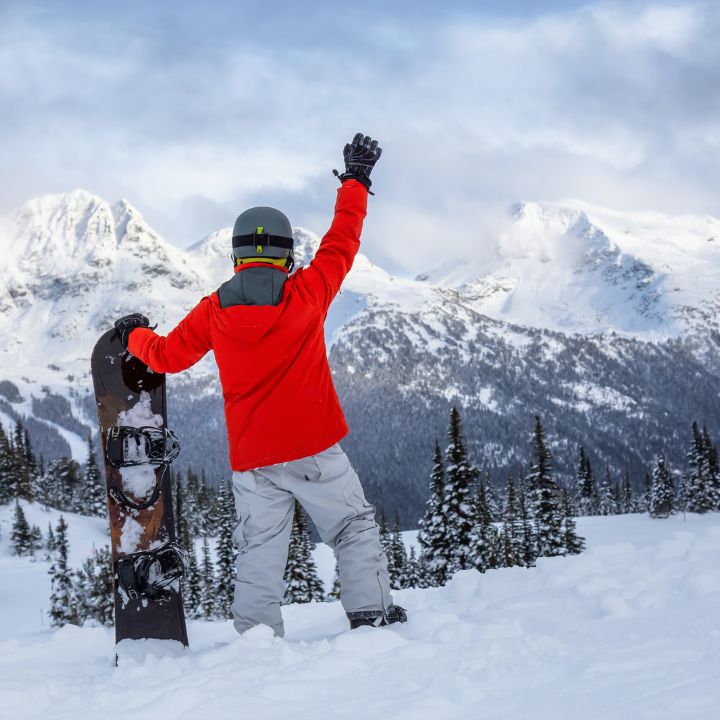 Whistler All-Inclusive Ski Resorts
Whistler, one of the most celebrated ski destinations in North America, is well-known for its vast skiable terrains, scenic beauty, and robust selection of all-inclusive resorts. Two of the most commendable, both promising a world-class vacation experience, are the Four Seasons Resort and Residences Whistler and Fairmont Chateau Whistler.
The Four Seasons Resort, Whistler
The Four Seasons Resort, located at the foot of the Blackcomb Mountain, offers an exceptional all-inclusive package. Catering to various proficiency levels, this package includes lift passes, equipment rentals, and ski or snowboard lessons. This resort truly simplifies your ski vacation by encompassing all the necessities, so guests can focus on the slopes and scenery. After an invigorating day outdoors, guests retreat to a luxurious suite, replete with a fireplace and balcony, offering breathtaking mountain views.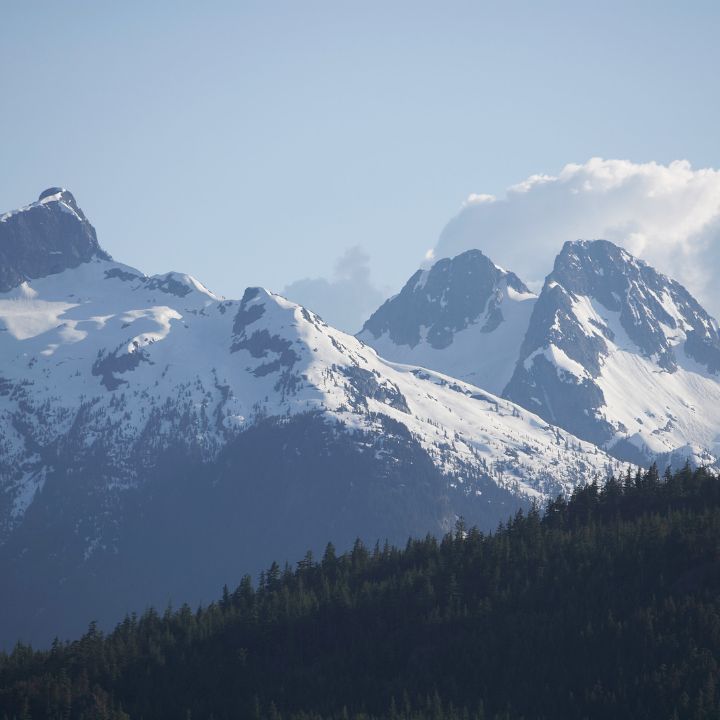 The dining experience at the Four Seasons is also noteworthy, featuring diverse culinary options ranging from comforting alpine fare to sophisticated gourmet dishes. Spa services, a heated outdoor pool, and a fitness center further elevate the all-inclusive experience, providing relaxation and recreation off the slopes.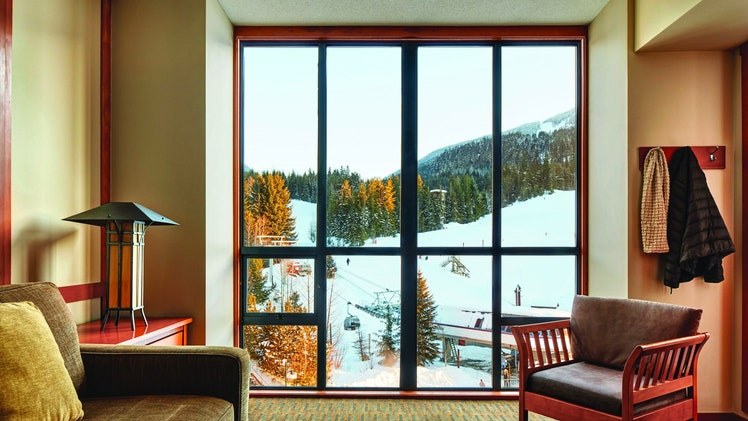 The Fairmont Chateau Whistler
The Fairmont Chateau Whistler, another exceptional resort, provides an all-inclusive experience that leaves no stone unturned. Guests enjoy ski-in and ski-out access to the Blackcomb Mountain, complimentary ski valet, and guided ski tours. The all-inclusive package also includes an array of dining experiences, with options like fine dining at The Grill Room and comforting pub fare at The Mallard Lounge.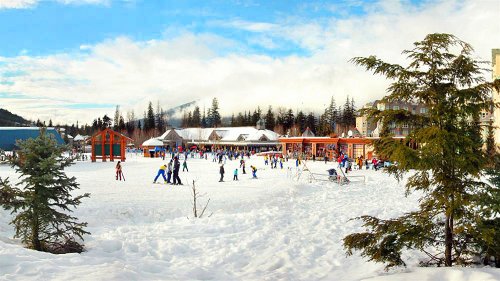 In addition to ski amenities, the Fairmont Chateau also offers a world-class spa, health club, golf course, and indoor and outdoor heated pools. The resort's rooms and suites provide a luxurious sanctuary, with breathtaking mountain or village views, cozy fireplaces, and plush bedding.

In conclusion, while both Four Seasons and Fairmont Chateau offer memorable all-inclusive ski vacations in Whistler, it's worth considering your personal preferences and vacation goals. Whether it's gourmet dining, varied ski experiences, or luxurious spa services, both resorts cater to different aspects of an all-encompassing winter vacation.
Find the best deal, compare prices, and read what other travelers have to say at Tripadvisor
All-Inclusive Whistler Ski Resort Vacations
My journey culminated in Quebec Charlevoix, at Club Med's first North American Mountain Resort. Perched where sea and mountains meet, the resort was a hymn to nature's beauty. Here, I was not just a spectator, but a part of the mesmerizing landscape itself. I found myself chasing the Northern Lights, my breath leaving a trail in the icy air. For families looking to create unforgettable memories, Quebec Charlevoix was the idyllic destination.
Comparing the all-inclusive ski resorts in Canada
Comparing the all-inclusive ski resorts in Canada with some popular ski resorts worldwide based on certain criteria, we get an insightful overview:
Four Seasons Resort, Whistler, Canada
Location: 4.5/5, offering magnificent mountain landscapes and easy access to the slopes.Accommodation: 4.5/5, known for luxurious rooms and suites.
Amenities: 4.5/5, features world-class spa facilities, multiple dining options, and a fitness center.
Service: 5/5, recognized for its exceptional staff and high-standard services.
Value for Money: 4/5, considering its premium services and high-class amenities.
Fairmont Chateau, Whistler, Canada
Location: 4.5/5, stunning location with proximity to the ski area.
Accommodation: 4/5, comfortable, well-equipped rooms.
Amenities: 4.5/5, including a pool, spa, and several restaurants.
Service: 4.5/5, delivering consistently high-quality service.
Value for Money: 4/5, a good balance between the quality of services and price.
Comparatively, in other parts of the world:
Club Med Val Thorens, Val Thorens, France
Location: 4.5/5, nestled in the heart of the Alps.
Accommodation: 4/5, modern rooms with mountain views.
Amenities: 5/5, boasting a wellness center, multiple restaurants, and ski facilities.
Service: 4.5/5, friendly staff and efficient service.Value for Money: 4.5/5, providing extensive all-inclusive packages.
The Little Nell, Aspen, USA: 
Location: 4.5/5, located conveniently near Aspen Mountain.
Accommodation: 5/5, offering luxury rooms and suites.
Amenities: 5/5, includes a renowned wine program, outdoor pool, and hot tub.
Service: 5/5, top-notch personalized service.
Value for Money: 4/5, high-end but worth the experience.
These scores are indicative, providing a broad comparison. Actual ratings may vary based on individual experiences and the most recent customer reviews. The Canadian all-inclusive ski resorts generally offer excellent value, featuring quality accommodations, extensive amenities, and superb service. Still, aspects like location and value for money can considerably differ, depending on the specific resort and package.
A: Some of the top all-inclusive ski resorts in Canada include the Whistler Blackcomb in British Columbia, Fairmont Chateau Lake Louise in Alberta, and Panorama Mountain Resort in British Columbia. Each offers a range of ski-in/ski-out accommodation options, meal packages, ski lessons, and lift ticket deals.
 A: Yes, Mont Tremblant in Quebec is one of Canada's top all-inclusive ski resorts. They offer a variety of packages that include accommodations, meals, lift tickets, and skiing or snowboarding lessons.
A: Many resorts offer all-inclusive packages that include equipment rentals. However, it's always best to check with the resort directly as offerings can vary.
A: The cost of a ski vacation in Canada can vary significantly depending on factors such as the resort, accommodation type, time of year, and the inclusivity of the package. However, all-inclusive packages can often provide the best value.
A: The ski season in Canada typically runs from November to April. Booking well in advance can often yield better deals, particularly for all-inclusive packages. However, last-minute deals can also be found, especially outside of peak periods.
A: Many all-inclusive ski packages in Canada do include ski lessons, making them a great option for beginners. It's advisable to check the details of the package before booking.
A: In addition to accommodations, lift tickets, and meals, many all-inclusive ski resorts in Canada feature amenities like spas, indoor pools, fitness centers, kids' clubs, and a variety of dining options. Some resorts also offer apres-ski activities and entertainment.
A: Absolutely! Resorts like Big White in British Columbia and Blue Mountain in Ontario are known for their family-friendly amenities, such as kid's clubs, family-friendly accommodations, and ski lessons for all ages.
Remember, the details of what's included in all-inclusive packages can vary from one resort to another, so it's always a good idea to check the specifics when you're booking.
💼 We cherish our independence! ✈️ Our travel recommendations are carefully researched, bias-free, and powered by human expertise by April and Ricky of LRB (we have personally researched and travelled to many of these destinations and researched others thoroughly through first-hand accounts). 🌍✨
We try to keep everything up to date, but please always do your own research and contact us if you know any issues for us to help others as best we can as a small but professionally focused team! 🧐📚⚠️