Best Michigan Ski Resorts
Looking for some great Michigan ski resorts? Michigan is great for the amount of snow it gets and there are 4 good resorts to help you make the best of it.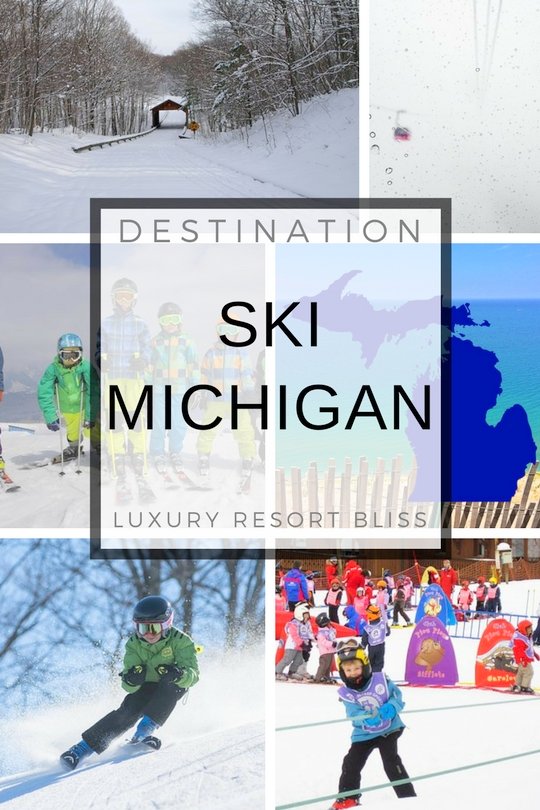 Michigan is not always everyone's first choice for a ski vacation but there are resorts which can make this a good choice. And while there are only about 50 ski areas and a couple of hundred lifts, cross country skiing is especially well catered for and some of the runs approach those more famous runs in the west.
See the current Michigan ski condition across all the ski resorts.
Boyne Mountain Resort, Terrain: Varied, with 60 runs catering to all levels. Family-Friendly: Offers Nordic skiing, snowshoeing, and indoor water park, great for families. Amenities & Nightlife: Vibrant nightlife and plentiful lodging options. Experience: A premier destination with convenience but can be crowded.
Mount Bohemia, Terrain: Extensive expert terrain and the largest vertical drop in the Midwest. Family-Friendly: Not suitable for beginners or families. Amenities: Limited but focused on advanced skiing. Experience: An extreme skiing destination for expert skiers.
Ski Brule, Terrain: Long trails and wooded trails, great for all levels. Family-Friendly: Accessible and offers great value. Amenities: Modest but focuses on snowmaking and grooming. Experience: Worth the drive for long ski seasons and excellent conditions.
The Highlands, Terrain: Largest resort with diverse terrain and highest vertical in Lower Peninsula.Family-Friendly: More low-key vibe suitable for families.Amenities: Good lodging and off-slope activities but limited après options.Experience: Great for a relaxing skiing experience with excellent facilities.
Crystal Mountain, Terrain: Good mix, with half available for night skiing. Family-Friendly: Top-rated for families, with lessons for young children. Amenities: Various lodging options and award-winning spa. Experience: An excellent family-friendly resort with reliable snow conditions.
Mount Holly, Terrain: Relatively small but convenient. Family-Friendly: Affordable and accessible. Amenities: Limited amenities but great for quick trips. Experience: Best for day trips or those on a budget near Detroit.
Nub's Nob, Terrain: Great for beginners, with top-rated moguls and terrain park. Family-Friendly: Kids ski free and free beginner's area. Amenities: Limited but friendly atmosphere. Experience: Good conditions and great for beginners.


Crystal Mountain Michigan Ski Resort
See also Top 25 Otsego County Resort Deals with Reviews on TripAdvisor

Crystal Mountain Michigan Ski Resort
A Weekend Getaway at Crystal Mountain: An Authentic Review

Last winter, I decided to venture up to Crystal Mountain for a weekend escape with the family. We were in search of a Michigan resort that offered more than just slopes and found a hidden gem.
The Journey: The drive from Detroit felt a bit long but was filled with scenic views of Michigan's countryside. As we approached Crystal Mountain, the excitement grew.
First Impressions: Upon arrival, the welcoming atmosphere immediately struck us. The resort emanated a warm, family-friendly vibe, with staff greeting us like old friends.
Slopes and Skiing: With 58 runs, there was something for each of us. My kids took advantage of the night skiing and enjoyed their lessons with patient and knowledgeable instructors. As an intermediate skier, I found enough variety to keep me entertained but noticed that expert skiers might seek more challenges.
Family Time: Crystal Mountain wasn't just about skiing. We spent an afternoon at the award-winning spa (a treat for the grown-ups), and the kids had a blast on the lit slopes after dark. Having half of the runs open for night skiing meant we didn't have to rush our days.
Food and Lodging: Our lodge was comfortable and felt like a home away from home. Dining options were ample and tasty, satisfying our post-ski appetites.
Small Drawbacks: While the vertical was modest and might not attract the hardcore skiers, it was more than enough for our family. The distance from Detroit might make it challenging for a quick day trip, but for a weekend, it was just right.
The Unforgettable: The staff's friendliness and the cozy atmosphere were truly remarkable. We felt part of a community rather than mere guests at a resort.
Final Thoughts: Crystal Mountain turned out to be more than a ski resort; it was a winter haven for our family. The blend of skiing, relaxation, and authentic connection made it a memorable experience. We left with not just great photos but cherished memories, and a plan to return next season.
For families looking for more than just a ski trip, or couples seeking a romantic winter getaway, Crystal Mountain offers a well-rounded experience that goes beyond the slopes. It's a place where memories are made, and I can't recommend it enough.
Located in Northwest Lower Michigan and close to Traverse City. It's known for great skiing.
There are 45 slopes, terrain parks, a half pipe, cross-country ski trails, a kid's program, certified ski and snowboarding school. There are 4 restaurants and a spa.
Different amenities are suitable for different seasons and include a fitness center with indoor pool and hot tubs, outdoor pools with a splash pool in the warmer months, A winter outdoor hot tub, campfires, tennis, ski & golf club storage.
The resort is especially kid and family friendly, and you can usually get kids stay free offers in most seasons.

There are a few different types of accommodations. You can stay in the resort hotel rooms, the condos or the vacation homes. Note that all are smoke-free.
Reviewers say: a great mountain for skiing, it's missing the typical resort feel since it's on state land, nice variety of runs for all skill levels.
Click here for more information.

For Foodies:
Crystal Mountain called to me next, with its enchanting scenery and luxurious amenities. Nestled among the trees, Crystal Spa was a sanctuary for the soul. As I submerged myself in warm therapeutic waters, my muscles relaxed, and I was transported to a world of serenity.
I reveled in the culinary gems of Thistle Pub & Grille, where the flavors of local ingredients sang in harmony. The pan-seared trout was a taste of the pure Michigan lakes, while the cherry pie whispered of orchards bathed in summer's kiss.
---
A Seasonal Adventure at Treetops Resort: An Authentic Review
Treetops Resort had been on my radar for a while, touted as a premier destination for both golf and skiing in Michigan. Last year, I had the chance to visit during the summer for a golf weekend and then again in winter for a ski getaway. Here's my take on both experiences.
Summer Golfing Experience:
Golf Courses: Treetops boasts multiple golf courses, each with unique layouts and breathtaking views. My buddies and I tried a couple of them, and the challenges were endless. From skilled fairways to well-designed greens, Treetops had it all.
Atmosphere: The vibe was relaxing, and the staff were professional and friendly. The resort was buzzing with golfers of all levels, all sharing a passion for the game.
Lodging and Dining: Comfortable accommodations complemented the entire experience. Dining at the resort was top-notch, offering a variety of cuisines.
Winter Skiing Adventure:
Skiing Terrain: Transitioning from fairways to slopes, I found Treetops' ski areas to be satisfying for both beginners and intermediate skiers. While expert terrain may not be extensive, the well-groomed trails and snow conditions were excellent.
Family-Friendly: My family loved the children's programs and the tubing hill. It was evident that Treetops focuses on providing family-friendly winter fun.
Amenities: From cozy lodging to a relaxing spa, everything was designed to cater to winter enthusiasts seeking more than just skiing.
Pros:
A year-round destination offering quality golf and skiing experiences.
Excellent service and amenities, including lodging and dining.
Cons:
May lack the extreme challenges for expert skiers or professional golfers.
Can be crowded, especially during peak seasons.
Final Thoughts: Treetops Resort provided me with two unforgettable trips, each catering to the season's unique offerings. Whether teeing off under the summer sun or gliding down snowy slopes, the experiences were memorable and enjoyable.
I can wholeheartedly recommend Treetops for anyone looking to experience Michigan's seasonal beauty. Whether you're an avid golfer, a winter sports enthusiast, or simply someone looking for a relaxing getaway, Treetops welcomes you with open arms. It's a place that captures the heart of Michigan's recreational spirit, and I can't wait to go back!
A great ski location in Gaylord, Michigan. Enjoy the nearby 23 downhill ski runs, cross-country, tubing. More information on our golf resorts page.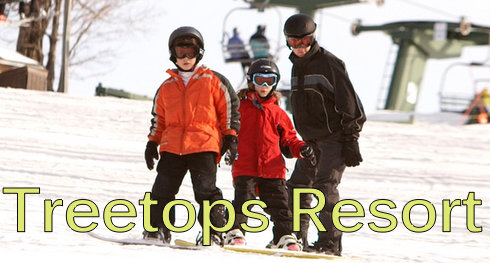 ---
Located in Gaylord, Michigan, this resort has the only full service private ski facility in the midwest.
There are 27 runs, 5 chairlifts and it's good for all levels of skiers and snowboarders. You'll find 2 restaurants here.
Click here for more information.

---
---
Blackjack Michigan Ski Resort
Located in Bessemer, Michigan, this is a smaller ski resort. They have a mix of terrain for all levels of skiing and snowboarding as well as a ski school. There are 20 ski trails.
There are 1,2 and 3-bedroom condos. They have full kitchens, saunas and fireplaces. There are also a few good accommodation options available in the Wakefield area.
More information and accommodation options.
The Enchanted Forest at Blackjack Ski Resort

---
Boyne Highlands Resort Michigan
A Complete Winter Wonderland: Boyne Highlands Resort, Michigan
Having spent an incredible winter vacation at Boyne Highlands Resort, I am eager to share my experiences and highlight why this destination is perfect for winter sports enthusiasts and families alike.
Skiing and Snowboarding Experience:
Trails and Terrain: With 176 hectares and 55 runs, the diversity in the trails is a skier's dream. From beginners to experts, everyone finds their favorite run.
Lifts: 8 lifts ensured that even on busy days, we were never waiting too long.
Terrain Parks and Super Pipe: Snowboarders will find plenty of fun here, with several terrain parks and a super pipe to explore.
SnowSports Academy: Perfect for beginners or those looking to improve. Their programs and clinics are tailored to various needs.
Snow Safety & Snowmaking:
92% Snowmaking Share: Almost the entire resort can produce artificial snow, ensuring great conditions even if Mother Nature doesn't cooperate.
Snow Report and Powder Forecast: Regular updates kept us informed about the snow conditions, allowing us to plan our days perfectly.
Unique Winter Activities:
Dog Sledding: A truly unique experience, dog sledding is available with options for families. It was a magical ride that we'll never forget.
Cross Country Skiing and Snowshoeing: More than 100 km of groomed trails made our excursions a pleasure.
Snow Tubing and Ice Skating: Extra fun for the whole family, adding to the complete winter vacation feel.
Relaxation and Wellness:
Spa at Boyne Mountain: After an active day on the slopes, the relaxing massages and hot tubs were a welcome treat.
Getting There and Contact:
Location: About 280 miles north of Detroit, with detailed driving directions available on their website.
Contact: Easy to reach via phone or email, their customer service was responsive and helpful.
Overall Experience:
Pros: A true all-in-one winter destination with activities for everyone, excellent snow conditions, and unique offerings like dog sledding.
Cons: Lack of webcam for real-time views of the resort, but the detailed snow report helped in that regard.
Final Thoughts: Boyne Highlands Resort is more than just a skiing and snowboarding spot; it's a winter wonderland offering a multitude of experiences. Whether you're an avid skier, a snowboarder looking to hone your skills, or a family looking for a range of winter activities, Boyne Highlands will not disappoint. It truly offers everything a winter sports enthusiast can ask for, and the details and care put into each aspect make it stand out.
The next time winter calls, Boyne Highlands will be at the top of my list, and I highly recommend it for anyone looking to create lasting memories. - Sarah
As a travel writer and lover of winter sports, I embarked on an unforgettable journey to explore the world of ski resorts in Michigan. Nestled within the Midwest's cold embrace, Michigan unfolded its snowy secrets, each ski resort a treasure chest of adventures waiting to be discovered.
My first stop was Boyne Highlands Resort, where I was greeted with a blend of alpine elegance and raw natural beauty. The trails ranged from gentle meanders to pulse-pounding drops, catering to skiers of all levels. But it was the famed Heather run that stole my heart. Carving my path down the slope, I could feel the mountain's rhythm, and I was lost in a dance only Michigan's wilderness could choreograph.
The après-ski experience was equally delightful. Sipping hot mulled wine by a crackling fire at Slopeside Lounge, I felt the camaraderie of fellow winter enthusiasts. Stories of the day's escapades filled the air with laughter and cheer.
A well regarded ski resort which gets good reviews.
More information and special offers on Boyne Highlands Resort
---
Did you find the Michigan Ski Resort you were looking for? If so, great! If not, here's more in Michigan: Michigan Resorts  
Michigan Golf Resorts    

Michigan Upscale Resorts     

Michigan Beachfront Resorts
For more ski resorts, visit best family ski resortsor take a good look at the ski resort list on the right.
For Foodies
It was in the heart of Michigan's winter wonderland where I discovered a piece of heaven on earth. The tantalizing thrill of fresh powder beneath my skis was more than a sport; it was a connection to something pure, untouched, and alive. I was in Boyne Mountain Resort, where seasoned skiers sought the rush of the slopes, and the soul sought solace.
"Ya heading to the top, Sarah?" called out Bob, a 60-year-old local ski instructor who had taken me under his wing. His eyes sparkled like the snow, and his laugh was contagious.
I nodded, excitement bubbling inside me. "All the way up, Bob! I want to feel what it's like to soar."
He chuckled, patting my shoulder. "You're a wild one, aren't ya? Well, if you want to dance with the stars, you've chosen the right place."
Boyne Mountain Resort was not for the faint-hearted. With its steep slopes and challenging trails, it beckoned the adventurous and the brave. The resort's enchanting views, luxurious amenities, and thrilling runs were designed for adrenaline seekers like me.
If you were seeking a family-friendly experience, Shanty Creek Resorts, just a short drive away, might be a better fit. But my heart longed for something more, something that made my pulse race and my senses tingle.
My culinary journey in Boyne began with a dinner at the famous Stein Eriksen's. Surrounded by rustic elegance, I indulged in a succulent venison steak paired with a local Michigan red wine. The taste was a revelation, rich and layered, like the stories of the people I met.
An evening with local musicians around a roaring fire filled me with warmth and laughter. The songs were more than melodies; they were the heartbeat of Michigan, resonating with my adventurous spirit.
The next day, atop the mountain, with the world spread out before me, I realized how small and yet infinite I felt. The wind whispered ancient secrets in my ears as I descended the slope, my body and the mountain moving as one. It was a dance, a celebration of life itself.
In a small café at the base, I met Emily, a young barista with dreams of becoming a writer. We exchanged stories over hot cocoa, our breath frosting the window.
"Sometimes, I feel like these mountains know me," she confessed, her eyes reflecting the snowy peaks. "They've seen my highs and lows."
I smiled, understanding her sentiment. "They're like old friends, aren't they?"
My time in Boyne was a symphony of sensations, emotions, and connections. It was a journey that transcended the mere act of skiing. It was a rediscovery of joy, an exploration of the self, and an embrace of a land so raw and beautiful that it touched the very core of me.
If you're an adventurer seeking the thrill of the slopes, the heart of Michigan awaits you. If your soul longs for something different, perhaps a gentler embrace of winter's charm, Michigan has that too. But for me, Boyne Mountain Resort was where I danced with the stars and found a piece of heaven on earth.
💼 We cherish our independence! ✈️ Our travel recommendations are carefully researched, bias-free, and powered by human expertise by April and Ricky of LRB (we have personally researched and travelled to many of these destinations and researched others thoroughly through first-hand accounts). 🌍✨
We try to keep everything up to date, but please always do your own research and contact us if you know any issues for us to help others as best we can as a small but professionally focused team! 🧐📚⚠️