Japan's Top Family-Friendly Ski Resorts
Japan's Top Family-Friendly Ski Resorts
A Winter's Tale: My Family Adventure in the Snowy Peaks of Japan
The winter air nipped at our noses as we stepped out of the plane and onto Japanese soil. I remember pressing my gloved hand into my four-year-old son, Aiden's, equally mittened one, excitement bubbling up within me. Tokyo, with its dazzling neon and bustling crowds, was a far cry from our peaceful, snow-capped destination - Hakuba. But our journey was just beginning.
See Also: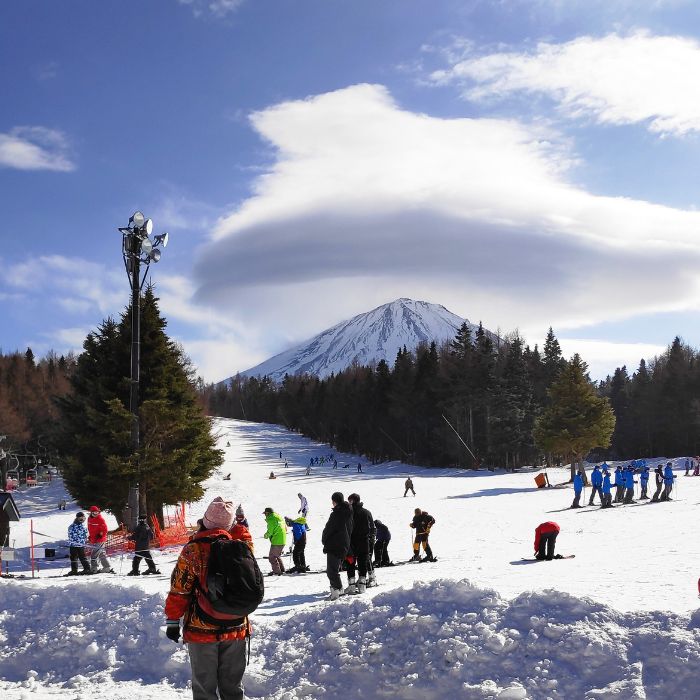 Family Ski Resorts in Japan
Shrugging off our jetlag, we boarded a Shinkansen, the famed Japanese bullet train, our breaths hitching in unison as the urban landscape slowly gave way to a picturesque, snow-clad countryside. Hakuba, nestled in the northern part of Nagano Prefecture, awaited us with promises of velvety ski slopes and thermal hot springs.
Family Friendly Ski Resorts in Japan Scorecard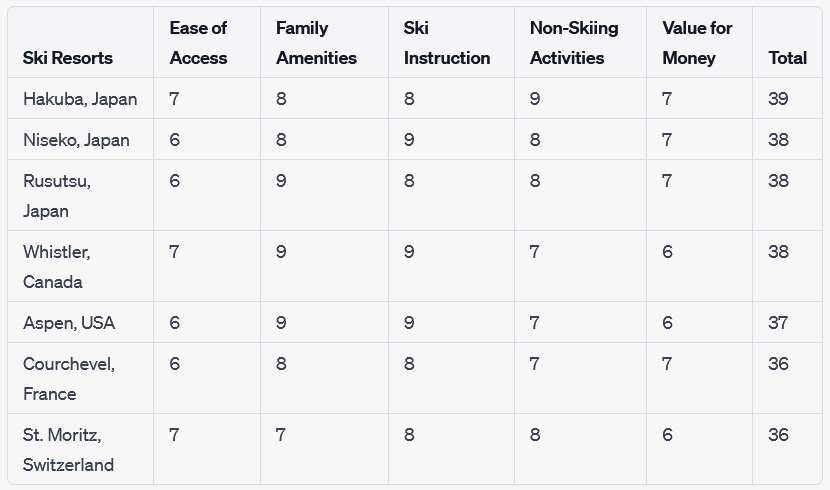 Comparative scorecard that evaluates popular ski destinations based on family-friendliness, including resorts in Japan, North America, and Europe. Each area is given a score from 1-10 (10 being the best) based on factors such as ease of access, family-friendly amenities, ski instruction, non-skiing activities, and value for money.
Happo-One, Hakuba Valley (8.5/10)
Our first day was a whirlwind of fluffy white snow, laughter, and a few harmless tumbles. Aiden, wide-eyed with wonder, found a new friend in his jovial English-speaking ski instructor, while my husband and I, already decent skiers, dared each other onto the steeper slopes. The resort was teeming with families like ours, their laughter echoing against the snowy peaks.
Despite my adventurous spirit, nothing had prepared me for the sensation of gliding down those exquisitely groomed slopes. Each swoosh of my skis on the powder-like snow was like a brush stroke on a blank canvas - thrilling, unpredictable, and oh-so satisfying.
Located in the Hakuba Valley of Nagano Prefecture, Happo-One is a versatile resort with runs catering to all levels. The ski school offers English instruction, and there are several gentle runs for the little ones to practice their turns.

The resort's proximity to the Hakuba Village is a bonus, with its array of dining options and off-slope activities like snowmobiling and indoor climbing. However, the resort lacks the scale of other family-focused resorts, which could limit some of the skiing variety for more advanced family members.
As night fell, we'd exchange our ski boots for yukatas, traditional Japanese robes, and submerge ourselves in the steamy embrace of the onsen. The hot springs, dotted around the resort, were a surreal contrast to the cold outside. As the thermal waters soaked away our tiredness, we'd swap stories of our day's adventures, Aiden's animated tales of snowball fights and friendly races often taking center stage.
The food was another adventure altogether. Our taste buds embarked on a journey of their own, from warming bowls of ramen to the freshest sushi we had ever tasted. The cosy izakaya we found ourselves returning to, time and again, was a cacophony of clinking glasses and laughter, a perfect backdrop to our delicious explorations.
Hakuba was not just a place; it was an experience. Each day was a novel waiting to be written - skiing down slopes that sparkled like diamonds under the winter sun, learning to craft delicate origami with local artisans, tasting snow-cooled sake in the glow of paper lanterns.
For adrenaline junkies, Hakuba offered challenges beyond family-friendly slopes. My husband braved Happo-One's advanced terrains, while I found joy in the quieter, intermediate slopes. For beginners and little ones, there were plenty of gentler options, while the English-speaking ski school and the engaging child care facilities were godsent for parents like us.
If your idea of a family ski holiday leans more towards Disneyland-style resorts with indoor parks, then Rusutsu Resort might be a better fit for you. Yet for us, it was Hakuba, with its promise of a genuine immersion in the Japanese winter lifestyle, that had called us to its snowy embrace.
And so, with hearts full of unforgettable memories, we bid goodbye to Hakuba. As the bullet train whirred us back to Tokyo, I looked at Aiden, his small hand clutching a paper crane - a keepsake from an adventure of a lifetime.
Travel writing is often about destinations. But the best journeys, I believe, are the ones that transform us. And our family ski trip to Hakuba, with its heady mix of adventure, culture, and tradition
Rusutsu Resort
Rusutsu Resort, Hokkaido (9/10)
Rusutsu Resort in Hokkaido is a remarkable choice for families. It offers an abundance of green and blue runs that are perfect for beginners and intermediates. The ski school is renowned for its English-speaking instructors, making ski lessons easy to follow for international visitors.
Off the slopes, the resort features indoor wave pools, a carousel, and a games arcade, ensuring entertainment for the kids after a day of skiing. Despite all its perks, it's slightly less accessible than other Hokkaido resorts, which might be a consideration for some families.
Japan Ski Vacations
Book a Ski Hotel + Flight or Car together to unlock savings at Expedia
Family Fun in the Snow: Japan's Top Family-Friendly Ski Resorts
When it comes to family-friendly ski destinations, Japan's resorts stand out with their gentle slopes, professional ski schools, and a plethora of kid-friendly amenities. Let's delve into some of Japan's best family-friendly ski resorts that promise a thrilling and memorable snow-filled vacation.
You can find out more information on each of the top 15 ski resorts in Japan on our top ski resort reviews. 
Naeba Ski Resort
Naeba Ski Resort, Niigata (8.5/10)
Naeba Ski Resort, part of the larger Mt. Naeba snow resort area, is a fantastic choice for families. Its wide, gentle slopes are great for beginners, and the well-organized English-speaking ski school makes learning fun and easy for children.
The Naeba Prince Hotel, located right at the base, offers ski-in/ski-out convenience and houses a variety of dining options and indoor recreational facilities. Despite its allure, Naeba's snow conditions can be a bit inconsistent compared to Hokkaido resorts.
Japan Ski Vacations
Book a Ski Hotel + Flight or Car together to unlock savings at Expedia
Shiga Kogen
Shiga Kogen Prince Hotel, Nagano (8/10)
Situated within the Shiga Kogen ski area, the Shiga Kogen Prince Hotel provides easy access to a wide range of slopes suitable for all skill levels. The resort is less crowded compared to others, providing a more relaxed environment for families.
The hotel offers kid-friendly amenities like child care and rental services for children's ski equipment. However, English is less widely spoken here, which might be a challenge for some international families.
Embracing Winter Fun in Japan
Each of these family-friendly ski resorts in Japan brings its unique offerings to ensure a splendid winter vacation. From gentle slopes and exceptional ski schools to kid-friendly amenities, these resorts are designed to make every family's ski holiday in Japan a truly magical experience. Regardless of where you choose to base your family, Japan's welcoming hospitality and enchanting winter landscapes are sure to create lasting memories.
Find ski hotels & lodging in Nagano
Plan the perfect ski vacation from $83 with Expedia 
Family Ski Resorts in Japan FAQ
A1: The best time to ski in Japan is typically between mid-December and late February, when snow conditions are optimal. However, some resorts like Niseko are open until early May, weather permitting.
A2: Niseko, Hakuba, Nozawa Onsen, Rusutsu Resort, Shiga Kogen, and Furano are among the top family-friendly ski resorts in Japan. They all offer varied terrain, ski schools, and other winter activities suitable for families.
A3: Yes, many ski resorts in Japan offer English-speaking ski instructors and ski schools, particularly in popular destinations like Niseko, Hakuba, and Rusutsu.
A4: Japanese ski resorts often feature a range of other activities such as snowshoeing, snowmobiling, dog sledding, horseback riding, and visiting onsens (hot springs). Some resorts even have amusement parks, like Rusutsu Resort.
A5: Yes, many ski resorts in Japan have facilities catering to children. For example, Nozawa Onsen has a 'Naski Room' rest station and a fully equipped Kids Park. Childcare services are also available at some resorts.
A6: Yes, you can rent everything you need, from skis and snowboards to helmets and clothing, at most Japanese ski resorts.
A7: Japan's extensive transportation network makes it relatively easy to get to most ski resorts. You can travel by train, bus, or car from major cities. Some resorts even provide shuttle services from nearby train stations.
A8: Yes, many ski resorts in Japan are located just a few hours away from major cities. For example, Nagano Prefecture, home to Hakuba and Nozawa Onsen, is easily accessible from Tokyo.
A9: Absolutely. From hotels and lodges to apartments and vacation rentals, Japanese ski resorts offer a wide range of family-friendly accommodation options.
A10: Japanese ski resorts offer a variety of dining options, from traditional Japanese cuisine to familiar international dishes. In popular resorts like Niseko and Hakuba, you'll find a wide range of restaurants serving everything from sushi and ramen to pizza and burgers.
Scorecard Key
Here's a brief explanation for each of the scores:
Ease of Access: This category looks at how easy it is for families to reach the ski resort from international and domestic airports. Japanese ski resorts may not score as highly due to the travel distance from the airport, especially for international visitors.
Family Amenities: This includes family-friendly lodging, kids' clubs, family-oriented restaurants, and facilities such as play areas, medical facilities, and other amenities geared toward families.
Ski Instruction: This considers the quality and accessibility of ski lessons for both children and adults. Japanese ski resorts are recognized for their high-quality ski schools with English-speaking instructors, thus the high scores.
Non-Skiing Activities: This accounts for available activities and attractions that cater to members of the family who may not ski or want a break from skiing. Japanese resorts often excel in this area due to their cultural offerings, hot springs, and unique winter activities.
Value for Money: This measures how much value families can get for their money considering all factors above, plus factors such as cost of food, lift tickets, rentals, and other resort expenses. While the Japanese resorts offer a unique cultural experience and high-quality amenities, they may not be as competitive in terms of price, especially for international families factoring in long-distance travel expenses.
Please note that this is a comparative scorecard and might vary depending on the specific needs and preferences of a family. It is always recommended to research and consider these factors when planning a ski trip.
💼 We cherish our independence! ✈️ Our travel recommendations are carefully researched, bias-free, and powered by human expertise by April and Ricky of LRB (we have personally researched and travelled to many of these destinations and researched others thoroughly through first-hand accounts). 🌍✨
We try to keep everything up to date, but please always do your own research and contact us if you know any issues for us to help others as best we can as a small but professionally focused team! 🧐📚⚠️