Hot Spring Resorts in Japan
Top Onsen, Ryokan, Hot Spring Resorts In Japan
Picture this - you're standing on the rooftop of Wakakusa no Yado Maruei, basking in the warm waters of the rooftop footbath. As you soak and let the healing properties of the onsen take over, you can't help but marvel at the sight before your eyes - the majestic Mount Fuji, piercing the sky with its iconic peak. You can almost taste the crisp, fresh mountain air and feel the deep sense of tranquility enveloping the picturesque setting. This is the quintessential Japanese experience you've been yearning for, a harmonious blend of natural beauty and cultural heritage.
top 10 Onsen Ryokan in Japan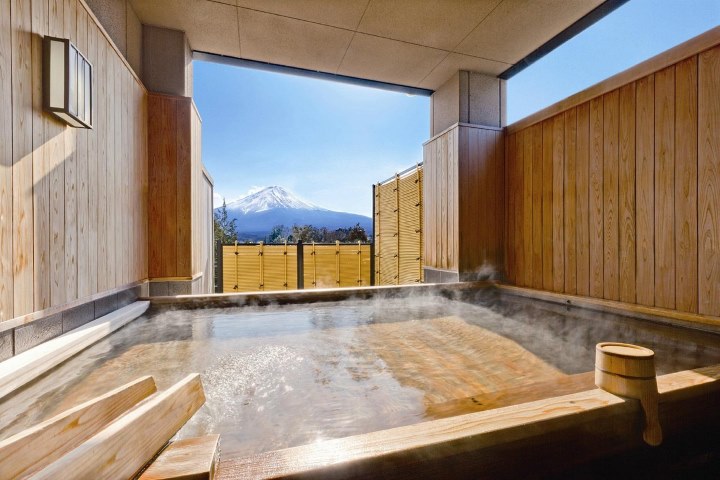 Wakakusa no Yado Maruei
Let's summarize these top 10 Onsen Ryokan in Japan in terms of their location, who they're suited for, and any interesting features:
Find the best deal, compare prices, and read what other travelers have to say at Tripadvisor about the top 10 Onsen Ryokan in Japan
Wakakusa no Yado Maruei: Located in the picturesque setting of Mount Fuji, it's ideal for travelers seeking a tranquil retreat with a view. The rooftop footbath provides an exceptional experience of onsen bathing while overlooking Fuji's majestic scenery.
Konansou: Nestled near Lake Kawaguchi, this Ryokan is perfect for nature lovers. It offers stunning views of Mount Fuji and the lake, making it a peaceful retreat for those seeking relaxation and natural beauty.
Kyoto Ryokan Shoei: Located in Kyoto, this Ryokan is ideal for history and culture enthusiasts looking to immerse themselves in traditional Japanese lifestyle. The Ryokan is a short distance from several historical sites, allowing guests to conveniently explore Kyoto's rich history.
Yamashiroya: This Ryokan is in Yufuin, Oita, a famous hot spring town. It's perfect for travelers looking for a relaxing onsen experience combined with local cultural immersion.
Honjin Hiranoya Bekkan: Situated in the old town of Takayama, it's perfect for those interested in Japan's historic and architectural charm. The Ryokan also offers Hida beef, a regional specialty.
Art & Music Spa Resort Manatei Hakone: Located in Hakone, known for its beautiful mountainous landscape, it is a great option for art, music, and nature enthusiasts. It's designed to inspire creativity and relaxation.
Mount View Hakone: Another gem in Hakone, this Ryokan is for those who love the outdoors. It offers the chance to explore Hakone's natural beauty, including the famous Lake Ashi.
Hanasenkyo hotspring hotel In Kinugawa: Situated in Nikko, a UNESCO World Heritage site, it's perfect for history and nature lovers. You can enjoy the hot springs while exploring the rich cultural heritage of the area.
Kusatsu Onsen Ryokan Yoshinoya: Located in Kusatsu, one of Japan's most famous hot spring resorts, it is for those seeking the ultimate onsen experience. The surrounding scenic beauty of Gunma Prefecture adds to its appeal.
Takimotokan: Nestled in Noboribetsu, Hokkaido, known for its volcanic activity, this Ryokan is suited for adventure seekers and onsen enthusiasts. You can enjoy a variety of baths while exploring Hokkaido's unique geological features.
Top 100 Onsen Ryokan in Japan: Find the best deal, compare prices, and read what other travelers have to say at Tripadvisor
Unwind and Unplug: Japan's Top Hot Spring Resorts and a Dip into Yunessun Spa Resort
Japan, is a land of volcanic activity, that has transformed its geothermal bounty into a tradition of therapeutic hot spring bathing. From coastal retreats to mountain hideaways, hot spring (or onsen) resorts offer the perfect escape for rejuvenation. Among these, the Yunessun Spa Resort stands out for its whimsical take on the onsen experience.
Kinosaki Onsen Town
Kinosaki Onsen Town, Hyogo Prefecture (9.5/10)
A charming hot spring town nestled along a scenic river, Kinosaki in Hyogo Prefecture is home to seven public onsens, each with its unique charm. The town's ryokans (traditional inns) offer comfortable lodgings, delectable cuisine, and often their own private onsens.
The quaint, lantern-lit streets and the opportunity to wear yukatas (casual summer kimonos) as you amble from one bathhouse to another, create an immersive, traditional Japanese experience. However, the popularity of Kinosaki means it can get crowded, particularly during peak seasons.
Find the best deal, compare prices, and read what other travelers have to say at Tripadvisor
---
Hakone, Kanagawa Prefecture (9/10)
Located a stone's throw from Tokyo, Hakone is a beloved hot spring destination. It boasts several luxury ryokans with private onsens overlooking the verdant Hakone mountains or the serene Lake Ashi.

A Hakone Free Pass offers unlimited use of local transport, discounts on attractions, and access to multiple onsens. The only caveat is that Hakone can be quite touristy, given its accessibility and multiple attractions.

Yunessun Spa Resort, Hakone (8.5/10)
Yunessun Spa Resort is not your traditional onsen experience. This theme park-meets-onsen in Hakone takes a more playful approach, offering a wide range of unique bathing experiences. Fancy a dip in a coffee bath, wine bath, or even a ramen broth bath? Yunessun has it all.
The resort is also family-friendly, with several pools and slides for children. It offers a great compromise for those who are shy about the nudity commonly associated with traditional onsens, as swimwear is required in most areas. However, purists seeking an authentic, serene onsen experience may find it a bit gimmicky.
Top 100 Onsen Ryokan in Japan: Find the best deal, compare prices, and read what other travelers have to say at Tripadvisor
Beppu, Oita Prefecture (8/10)
Beppu, situated on the southern island of Kyushu, is one of Japan's most famous hot spring resorts. Home to the "Hells of Beppu," eight hot springs for viewing rather than bathing, it offers a unique spectacle of nature's power.

For a more traditional onsen experience, numerous ryokans provide a wide range of bathing options, including sand and steam baths. While Beppu's onsens are remarkable, the cityscape is less picturesque than other resort towns.
Taking the Plunge in Japan
Whether you seek the traditional tranquility of an onsen town like Kinosaki, or the quirky charm of Yunessun Spa Resort, Japan's hot spring resorts offer a variety of experiences to soothe the body and soul. As you soak in the mineral-rich waters and absorb the tranquil ambience, the world outside ceases to exist - the essence of the onsen experience. So, immerse yourself, unwind, and let the magic of Japan's hot springs wash over you.
Find the best deal, compare prices, and read what other travelers have to say at Tripadvisor
Traditional Ryokan
Wakakusa Mt Fuji
Find the best deal, compare prices, and read what other travelers have to say at Tripadvisor
At Wakakusa no Yado Maruei, each day is a testament to the Japanese philosophy of 'Ichi-go ichi-e' – the idea that every encounter is unique and will never occur again in the same way. This thought lingers in your mind as you savor each moment here - from the exceptional service to the delectable traditional cuisine, every bit of your stay is a precious memory stitched into the tapestry of your Japanese journey.
Just when you think your serene sojourn can't get any better, you arrive at Konansou, perched near the banks of Lake Kawaguchi. As you step into your room, you are greeted by an almost surreal view - the lake's calm waters, glistening under the soft sunlight, perfectly reflecting the imposing grandeur of Mount Fuji. This is a different facet of Japan's natural charm, one that's drenched in tranquility and whispers stories of ancient folklore.
At Konansou, you find yourself getting lost in time, as you are submerged in the traditional customs and practices. The kaiseki meals, a multi-course dining experience, introduce you to the nuances of seasonal Japanese cuisine. Every bite seems like a celebration of the region's rich bounty, carefully crafted to please the palate.

Your days at Konansou are marked by peaceful strolls by the lake, invigorating dips in the onsen, and soulful conversations over a cup of matcha. As you retire each night, the calming sounds of nature whisper lullabies, promising another day of discovery and peace.
Traveling through Japan, from the heart-stopping beauty of Mount Fuji at Wakakusa no Yado Maruei to the placid charms of Lake Kawaguchi at Konansou, you realize that the country's true magic lies not just in its picture-postcard vistas, but in the moments of quiet reflection that these places inspire. Your journey through these onsen ryokan hot spring resorts has been nothing short of a love letter to Japan, a testament to its indomitable spirit and timeless elegance.
Comparing Onsen and Spa Resorts in Japan with wellness resorts in Bali involves various factors such as cultural experiences, natural surroundings, wellness philosophies, treatment variety, and pricing. Here's a broad comparison:
Cultural Experiences:
Japan: Provides a deep cultural immersion with traditional Japanese hospitality (omotenashi), ryokan accommodations, onsen (hot spring) baths, and local cuisine. The onsen experience is uniquely Japanese and tied to the country's geography and cultural practices.Bali: Offers a rich cultural experience with elements of Balinese Hinduism, traditional healing practices, yoga retreats, and local cuisine. The spa experiences are often intertwined with the island's spiritual practices and natural beauty.
Natural Surroundings:
Japan: Many onsen resorts are located in serene natural settings, such as mountains or coastal areas, and offer views of Japan's seasonal landscapes. The hot springs themselves are often outdoors, providing a connection with nature.Bali: Wellness resorts often incorporate the tropical beauty of Bali, with lush gardens, beachfront locations, and stunning views. Many also emphasize outdoor living spaces and treatment areas.
Wellness Philosophies: 
Japan: The Japanese philosophy of wellness often involves harmony with nature, relaxation, and therapeutic benefits of hot spring bathing. Many believe onsens have healing properties due to the mineral content of the water.Bali: Balinese wellness often includes a holistic approach, incorporating mind, body, and spirit. This can involve yoga, meditation, traditional healing practices, and spa treatments.
Treatment Variety:
Japan: Treatments are typically centered around the onsen experience, but many resorts also offer massages, facials, and other spa services. Traditional Japanese therapies, such as shiatsu massage, may also be available.Bali: Bali wellness resorts often provide a wide range of treatments, including Balinese massages, aromatherapy, reflexology, body wraps, yoga classes, and more.
Pricing:
Japan: Prices can be higher due to the high standard of service, quality of facilities, and cost of living. However, there's a range of options from affordable to luxury.Bali: Generally offers more affordable options. However, luxury wellness resorts can also be quite expensive.
Remember, these are general comparisons, and experiences can vary greatly between individual resorts and personal preferences. Always review each resort's offerings when planning your trip.
A1: A ryokan is a type of traditional Japanese inn that originated in the Edo period, offering guests tatami-matted rooms, communal baths, and other public areas where visitors can wear yukata and enjoy a traditional multi-course kaiseki dinner.
A2: The cost of a stay at a ryokan can vary widely, depending on its location, amenities, and type of service offered. Luxury ryokans with private onsens and exquisite meals can be quite expensive, while more modest ryokans can be more affordable.
A3: While both provide accommodation, ryokans offer a more traditional Japanese experience. This includes sleeping on futons on tatami mat floors, wearing yukata (a casual kimono), enjoying traditional Japanese cuisine, and often, using communal hot spring baths (onsen).
A4: Upon checking in at a ryokan, guests are typically provided with a yukata, a light cotton kimono, to wear around the ryokan and sometimes even out in the local town. You can also wear your own comfortable clothes if you prefer.
A5: Ryokans usually serve traditional Japanese cuisine, known as kaiseki, which is a multi-course dinner that features seasonal and regional specialties. Many ryokans also include a Japanese-style breakfast with your stay.
A6: An onsen ryokan is a traditional Japanese inn that features hot spring baths. These baths use geothermally heated water from natural hot springs, believed to have healing properties. The baths can be public or private, and are a central part of the ryokan experience.
A7: Yes, most ryokans are family-friendly and welcome children. Some ryokans may even offer amenities for families with children, such as larger rooms, meals for kids, and family-friendly baths.
A8: While it can enhance your experience, you do not need to know Japanese to stay at a ryokan. Many ryokans are used to accommodating international guests and have staff members who can communicate in English.
A9: In Japan, tattoos are traditionally associated with the Yakuza (organized crime groups), and therefore, people with tattoos are often prohibited from entering public baths. However, this is changing, and many ryokans now allow guests with tattoos to use their onsens, especially if they are small or can be covered. It's best to check the ryokan's policy before your visit.
A10: It's important to respect Japanese customs when staying in a ryokan. This includes removing your shoes at the entrance, wearing the provided yukata appropriately, keeping noise to a minimum, and following any onsen etiquette such as washing before entering the baths.
💼 We cherish our independence! ✈️ Our travel recommendations are carefully researched, bias-free, and powered by human expertise by April and Ricky of LRB (we have personally researched and travelled to many of these destinations and researched others thoroughly through first-hand accounts). 🌍✨
We try to keep everything up to date, but please always do your own research and contact us if you know any issues for us to help others as best we can as a small but professionally focused team! 🧐📚⚠️