COMO Shambhala Estate Wellness Retreat Ubud Bali
Looking for a comprehensive review of the COMO Shambhala Estate Welness Retreat Ubud Bali?
Ubud, Bali - a name that resonates with tranquility, natural beauty, and a profound cultural richness. It is within this serene realm that the COMO Shambhala Estate finds its home, promising a wellness retreat that goes beyond the ordinary. Here, the murmuring rivers and rustling trees are not just silent spectators; they are part of your immersive wellness journey, a refreshing counterpart to the resort's contemporary luxuries.
Sitting elegantly within the Tjampuhan Valley, the estate claims seven acres of lavish greenery as its own. The landscape here feels like a hidden paradise, untouched by the outside world. The resort's 30 individually furnished rooms, suites, and villas are designed to echo the lush surroundings. Traditional Balinese decor is beautifully juxtaposed with modern amenities, creating an atmosphere of refined simplicity. Thatched roofs, sprawling private pools, and the spectacular views of the valley below make each villa feel like an isolated sanctuary.
For those with a taste for the culinary, two on-site restaurants are ready to tantalize your taste buds. Kudus House, inspired by Indonesian cuisine, gives you an authentic taste of local flavors, while Glow serves COMO Shambhala's signature healthy cuisine, a symphony of nutrition and taste.
Dining at COMO Shambhala
Dining at COMO Shambhala is an experience in itself, with the culinary offerings at Glow and Kudus House being both a feast for the eyes and a delight for the palate. Imagine dining on nutritious, thoughtfully prepared meals that infuse fresh, local ingredients with flavors from around the world. The estate's 'Shambhala Cuisine' not only pleases the taste buds but also fuels the body and mind, keeping in tune with their wellness principles.
Welness
The estate's wellness facilities provide a holistic approach to rejuvenation. The tranquil spa offers treatments from hot stone massages to Ayurvedic therapies. Yoga classes and Pilates in the health club add to the restorative offerings. There's also a large outdoor pool, perfect for a soothing swim under the Bali sky, and a high-end gym with cardiovascular equipment for those keen on maintaining their workout routine.
But the COMO Shambhala Estate is more than a luxury resort. It's a gateway to the cultural and natural wonders of Ubud. Embark on an estate walk that takes you through the heart of the jungle to a hidden water garden. Or receive a water blessing at the estate's sacred spring. Explore the streets of Ubud, learning about Balinese culture, spirituality, and trade. For the more adventurous, the surroundings offer opportunities for rock climbing, hiking, and mountain biking.

While COMO Shambhala Estate presents a high-end wellness retreat, it isn't without its quirks. While some say the abundant nature around the property might bring you face-to-face with local fauna like frogs and geckos, and there are a fair number of steps across the property we see these as pluses. These are small prices to pay for a stay that so brilliantly bridges luxury and nature.

If the costs seem daunting or if you desire a slightly different flavor of luxury, consider the Komaneka at Tanggayuda. Yet, for those in pursuit of an unmatched wellness-focused retreat, the COMO Shambhala Estate's blend of lush nature, superior facilities, and cultural immersion offers an experience like no other.
Atmosphere: 9/10 Service: 8/10 Facilities: 9/10 Rooms: 10/10 Food and Drink: 9/10 Value for Money: 8/10
Overall Score: 8.8/10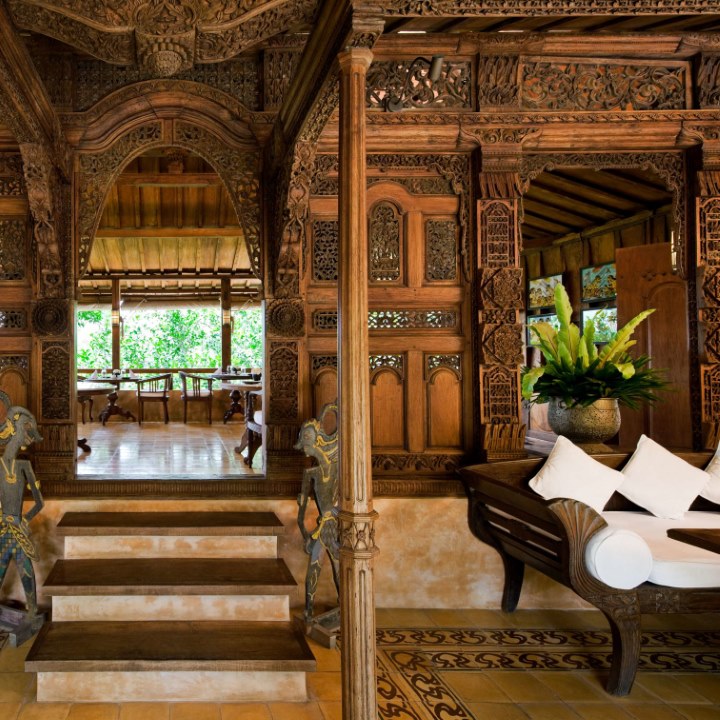 COMO Shambhala Estate Room
COMO Shambhala Guest Review
Vlogger "Swank Guide" visits the Como Shambala Estate in Bali. The Estate is located below two of Bali's largest volcanoes, creating a picturesque landscape. The accommodation offers a large compound, rather than just a room, with a shared pavilion and pool. There are also options for suites or private villas, each with its own pool.
The vlogger shows off several natural pools around the property that are fed by a waterfall. There's a wellness program offering a range of activities, including yoga, Pilates, and guided walks through the surrounding rice fields. The intention is for guests to cleanse their minds and bodies, recharge, and leave feeling rejuvenated.

The Estate's spa is hailed as potentially the best in Bali, offering a way to relax and de-stress after exercise. Dining options include a traditional Balinese restaurant and a modern, sleek main restaurant, providing a contrast that appeals to architecture enthusiasts.
The Estate's location in the hills can lead to more moisture in the air, and while dry season runs from April to September, occasional drizzles can be expected. Despite this, the indoor and outdoor spaces at the resort ensure guests can still enjoy their stay during a downpour.
The resort is a 15-minute trip into Ubud, offering a balance of remote relaxation and access to local culture. The food at the main restaurant was praised as "really good", and the pillows in the villas also earned a top rating.
Features:
Location: Nestled in Ubud, Bali, amidst a serene forest setting and flanked by two mighty rivers.
Rooms: 30 individually furnished rooms, suites, and villas that blend Balinese decor with modern amenities.
Dining: Two on-site restaurants, Kudus House and Glow, offer an array of authentic Indonesian cuisine and healthy dining options.
Wellness Facilities: Features an on-site spa with a range of treatments, a health club with yoga and Pilates classes, and an outdoor pool.
Activities: Offers a variety of immersive experiences like guided village walks, estate walks, water blessing ceremonies, and cultural tours in Ubud.
Connectivity: Free in-room WiFi to stay connected during your stay.
Additional Amenities: Library, rooftop terrace, a bar, and dry cleaning/laundry services.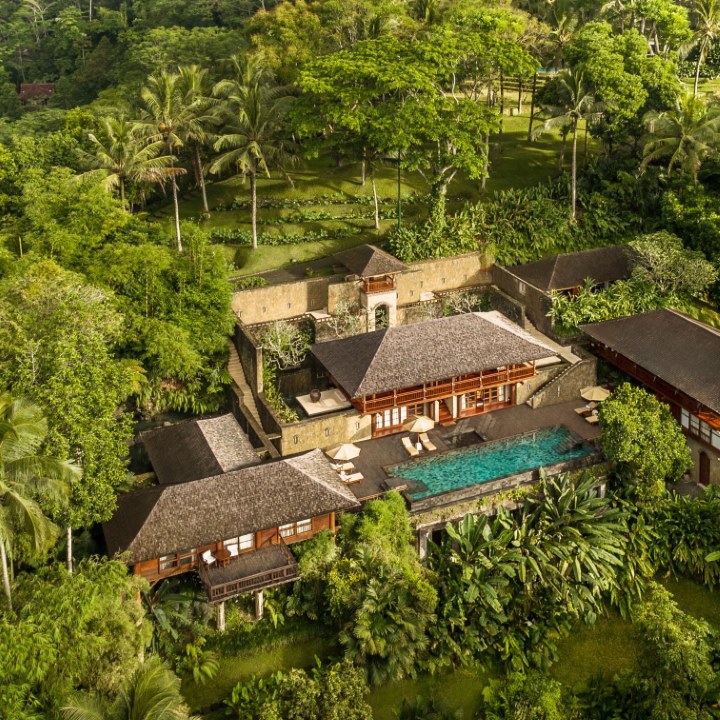 COMO Shambhala Estate
Pros:

The resort's seclusion in nature offers a peaceful, tranquil setting, ideal for a wellness retreat.
The mix of traditional Balinese decor and modern amenities provide a luxurious yet authentic experience.
The food offered in the on-site restaurants is highly praised, particularly for its balance of nutrition and taste.
The wellness facilities, such as the spa, yoga classes, and Pilates, are comprehensive and high-quality.
The immersive activities offered by the resort, such as the estate walk and water blessing, allow guests to experience the local culture and landscape.
The staff is generally found to be helpful and attentive.
The surrounding wildlife, like frogs and geckos, could be a nuisance for some but great for many.
Cons:
Some guests found the staff to be pushy when recommending hotel services.
The pricing for rooms can be on the higher side, potentially affecting the value-for-money perception.

The property has many steps, which may not be convenient for guests with mobility issues.
In comparison to its peers, the COMO Shambhala Estate emerges as a standout. While Fivelements draws strength from its immersive spiritual journey and Bagus Jati from its emphasis on physical wellness and connection with nature, COMO Shambhala offers a harmonious blend of luxury, comprehensive wellness, and engaging outdoor activities. This unique combination creates a distinct space for the Estate in the vibrant tapestry of Bali's wellness retreats.

A fair score for COMO Shambhala Estate, considering its wide-ranging wellness offerings, luxurious accommodations, personalized services, and idyllic location, would be a well-deserved 9.7/10.
In the symphony that is Bali's wellness retreat scene, COMO Shambhala Estate delivers an enchanting melody of serenity, luxury, and holistic rejuvenation. It's more than a retreat - it's a sanctuary where one can dissolve into the natural harmony of life. A journey towards health and happiness awaits within its nurturing embrace.
COMO Shambhala Estate - On Expedia
5.0 star property
9.8 out of 10 Exceptional
9.8/10 Exceptional
COMO Shambhala Estate is an award-winning wellness resort near Ubud, Bali. Nestled between two rivers and inspired by nature, the resort specializes in nutritious cuisine, Ayurvedic treatments, and outdoor activities.
COMO Shambhala was established in 1997 by Mrs. Christina Ong, who believes in promoting lifelong wellness through awareness, practice, and inspiration
The COMO Group, which encompasses COMO Shambhala and other ventures, was founded by Christina Ong. Based in Singapore, the Group promotes a lifestyle centered on well-being, authenticity, and diversity.
The average price of a villa in Como is approximately $301
COMO Shambhala, the flagship wellness property of hotelier Christina Ong, was opened in 2005, transforming Ubud, Bali from a haven for backpackers to a destination for wellness travelers.
💼 We cherish our independence! ✈️ Our travel recommendations are carefully researched, bias-free, and powered by human expertise by April and Ricky of LRB (we have personally researched and travelled to many of these destinations and researched others thoroughly through first-hand accounts). 🌍✨
We try to keep everything up to date, but please always do your own research and contact us if you know any issues for us to help others as best we can as a small but professionally focused team! 🧐📚⚠️