Fivelements Retreat Bali: An Immersive Journey into Wellness and Tradition
Nestled alongside the sacred Ayung River, Fivelements Retreat Bali is an award-winning eco-conscious wellness retreat.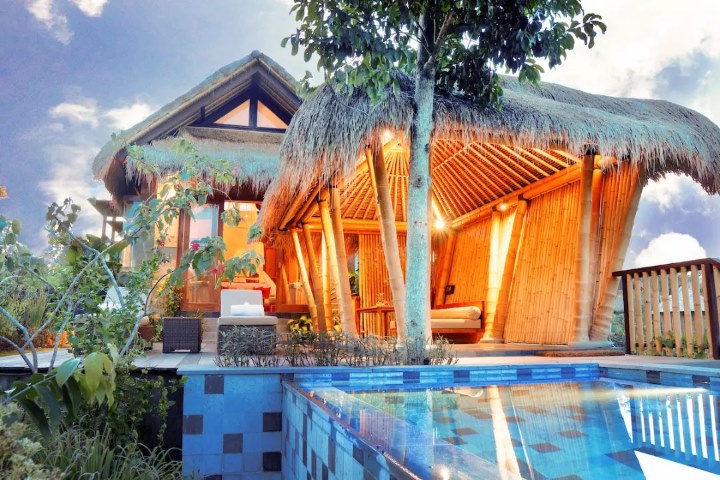 Inspired by the ancient traditions of Bali, the retreat is a peaceful sanctuary that invites guests to immerse themselves in authentic Balinese healing, savor plant-based cuisine, and explore sacred arts.

Unique Features of Fivelements Retreat Bali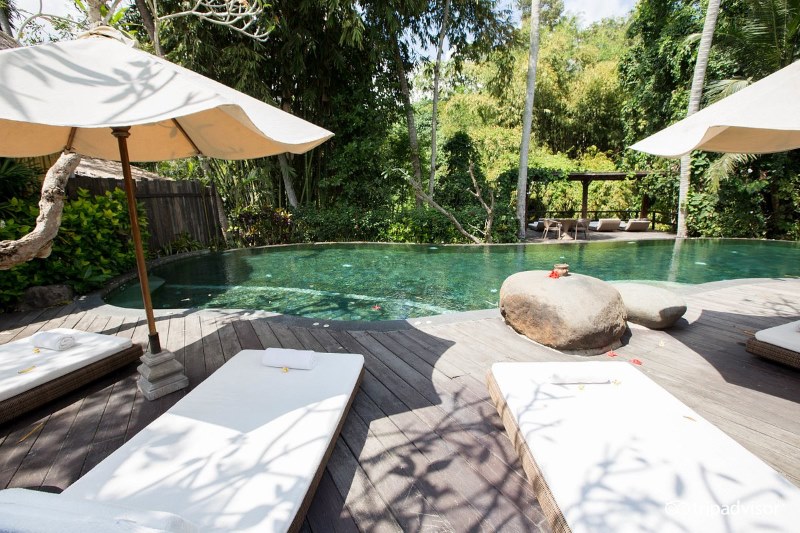 The day at Fivelements Retreat Bali begins with an interactive yoga class that attunes your body and mind, followed by a nourishing plant-based breakfast at the Sakti Dining Room. Set amid lush tropical foliage, this dining experience is an invigorating start to your day.
Review of Fivelements Retreat Bali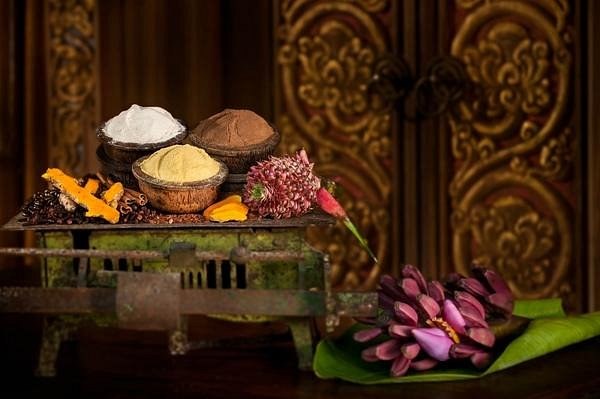 TravellersBazaar's visit to Fivelements Retreat Bali offers a captivating glimpse into the eco-conscious sanctuary nestled in a tropical valley. With its bamboo architecture, serene koi ponds, and verdant flora, Fivelements exceeded their expectations, taking their breath away at every turn.
They relished a spa treatment alongside the tranquil river, delighting in a refreshing concoction of coconut water, mint, and lime. Embracing the adventurous spirit, they braved a steep descent to the Ayung River, successfully channeling their inner Tarzan. This journey at Fivelements, as shared by TravellersBazaar, exemplifies the retreat's holistic allure, leaving them and potential viewers utterly enchanted.
Fivelements Retreat Bali
The Healing & Wellness Sanctuary
At the heart of Fivelements Retreat Bali lies the Healing & Wellness Sanctuary, revered for its treatments that are steeped in Balinese philosophies and spiritual traditions. Here, rejuvenation is a holistic journey. 
The retreat also offers an array of unique day packages combining Balinese healing and spa rituals with a living foods culinary experience and sacred arts. There are special healing journeys designed for couples, seeking deeper connections and tranquility.
Signature Fivelements Retreat: Panca Mahabhuta
The crown jewel of Fivelements Retreat Bali is the Panca Mahabhuta retreat. This retreat follows the Balinese principle of Sekala-Niskala, recognizing that we live equally in two worlds - the seen (Sekala) and the unseen (Niskala). Traditional Balinese healers impart their ancient wisdom during each session, invoking the divine source for healing.
The Panca Mahabhuta retreat is an integrative approach designed to connect with your physical, emotional, and spiritual realms, fostering an organic healing process. Balinese healing rituals are combined with a plant-based cuisine for invigoration, and Sacred Arts programs for inner strength and dedication. The result is a personal, transformative journey that honors your highest potential and individuality.
Pros of Fivelements Retreat Bali:
Cultural Immersion: The retreat not only emphasizes wellness but also the culture and spiritual practices of Bali, providing a unique cultural immersion to guests.
Personalized Approach: Every guest's wellness journey is individually tailored, ensuring a bespoke and effective experience.
Focus on Sustainability: Fivelements Retreat Bali integrates sustainable practices in all areas of operation, from sourcing local ingredients for its cuisine to utilizing eco-friendly materials in its architecture.
Natural Surroundings: The retreat's location along the Ayung River amidst lush greenery provides a calm and tranquil atmosphere, facilitating deep relaxation and connection with nature.
Cons of Fivelements Retreat Bali:
Accessibility: Located in a relatively secluded area, getting to the retreat and nearby attractions may require pre-arranged transportation.
Non-vegetarian options: While the retreat's plant-based cuisine is excellent for vegans and vegetarians, it might not appeal to guests who prefer meat or fish in their diet.
Advanced Booking: Due to the popularity of the retreat, guests may need to book well in advance, particularly for the signature experiences or during high travel seasons.
Limited Amenities: Unlike typical luxury resorts, Fivelements focuses primarily on wellness, which may mean fewer conventional resort-style amenities such as swimming pools, gyms, or evening entertainment.
Yoga at Fivelements Bali
Yoga at Fivelements Retreat Bali is more than a physical practice; it's a spiritual journey guided by expert instructors amid nature's serenity. Nestled in the heart of the retreat, their yoga camps offer a blissful escape from the outside world, immersing you in an environment where peace echoes in every corner.
The yoga offerings at Fivelements Bali are as diverse as they are inspiring. From traditional Hatha, Vinyasa to restorative Yin yoga, there's a style to suit every preference and ability level. Guided meditations, pranayama breathing exercises, and yoga nidra sessions are seamlessly woven into the retreat schedule, enhancing your overall wellness experience.
One of the standout aspects of Fivelements Bali's yoga camps is the focus on community. Each session encourages connection, not just within yourself but with your fellow practitioners. The camps are interactive, fostering a sense of shared experience and unity.
Furthermore, the yoga spaces themselves are a testament to Fivelements' commitment to natural harmony. They are designed in harmony with the surrounding environment, using local, sustainable materials. The outdoor yoga shala, flanked by lush greenery and resonating with the soothing sounds of the river, creates an atmosphere that is simply magical. As you flow through your asanas to the backdrop of chirping birds and rustling leaves, the experience is profoundly grounding and tranquil.
Whether you're a seasoned yogi or a curious beginner, Fivelements Bali's yoga camps offer a transformative journey. Here, yoga is more than movement; it's a lifestyle, deeply intertwined with the retreat's overall ethos of holistic wellbeing and conscious living.
Fivelements Retreat Bali is more than a wellness retreat. It is a sacred space where ancient Balinese traditions, plant-based nutrition, and the sacred arts coalesce, offering a unique journey of healing, rejuvenation, and spiritual discovery. With each visit, you embark on a new healing journey steeped in the mystic culture of Bali.
Scores:
Overall Experience: 9.5/10
Wellness & Healing: 9.7/10
Cuisine: 9.4/10
Sacred Arts: 9.6/10
Alternative Option: For those seeking a different, yet equally immersive, wellness experience in Bali, consider the Como Shambhala Estate known for its personal wellness programs and serene location near Ubud.
A1: Fivelements Retreat Bali is located alongside the Ayung River in Bali, Indonesia. The exact address is Mambal, Abiansemal, Badung Regency, Bali 80352, Indonesia.
A2: Fivelements Retreat Bali offers a range of wellness facilities including a Healing & Wellness Sanctuary, where various treatments rooted in Balinese philosophies are provided. The retreat also offers yoga camps, sacred arts programs, and plant-based cuisine at the award-winning Sakti Dining Room.
A3: Fivelements Retreat Bali offers luxurious suites that blend traditional Balinese architecture with modern comforts. Each suite is designed with a private outdoor space overlooking either the river or lush gardens
A4: Yes, Fivelements Retreat Bali emphasizes on plant-based cuisine and can cater to various dietary restrictions with advance notice.
A5: Yes, Fivelements Retreat Bali offers unique day packages for couples and groups that combine healing, spa rituals, plant-based cuisine, and sacred arts experiences.
A6: The Panca Mahabhuta retreat is a signature program at Fivelements Bali that takes a holistic integrative approach to wellness. It's designed to connect with the physical, emotional, and spiritual levels of the individual, fostering an organic healing process.
The cancellation policy can vary depending on the time of year and type of booking. It's best to check directly with the retreat or your booking platform for the most accurate information.
A9: Bali has a tropical climate, so it's typically warm and humid throughout the year. However, the dry season from April to September is often considered the best time to visit.
A10: You can book a stay at Fivelements Retreat Bali directly through their official website, or through various online travel agencies. Always compare options to ensure you're getting the best deal for your desired dates.
As enchanting as Fivelements Retreat Bali is, we acknowledge that each traveler is unique, with diverse needs and preferences. For those who are intrigued by the idea of wellness travel but are also exploring other options, we've got you covered!
Our comprehensive review of wellness retreats in Ubud presents a host of alternatives that cater to a variety of wellness aspirations. Ubud, known as the cultural heart of Bali, boasts a wealth of wellness retreats, each with its own distinct charm and specialty.
And for the ladies out there looking for a transformative experience in a supportive, female-only environment, we have an enticing selection of women-only wellness retreats. These sanctuaries offer specialized programs that understand and cater to the unique needs of women, creating an environment that is both empowering and nurturing.
So, whether you're attracted to the holistic allure of Fivelements, interested in exploring the wellness havens of Ubud, or seeking the camaraderie of a women-only retreat, there's a wealth of information in our detailed reviews.
💼 We cherish our independence! ✈️ Our travel recommendations are carefully researched, bias-free, and powered by human expertise by April and Ricky of LRB (we have personally researched and travelled to many of these destinations and researched others thoroughly through first-hand accounts). 🌍✨
We try to keep everything up to date, but please always do your own research and contact us if you know any issues for us to help others as best we can as a small but professionally focused team! 🧐📚⚠️