Is Four Seasons Maldives Worth It?
Is Four Seasons Maldives Worth It?
Is Four Seasons Maldives Worth It? Review of Four Seasons Resort Maldives At Landaa Giraavaru
Four Seasons Resort Maldives at Landaa Giraavaru: A Wedding Haven
In the vast expanse of the Indian Ocean, lies a gem that has become synonymous with luxury and unrivaled beauty - the Maldives. And within this paradise, tucked away in the country's only UNESCO Biosphere Reserve, is the Four Seasons Resort Maldives at Landaa Giraavaru. Today, we explore this sublime destination that has become the go-to for couples worldwide seeking the perfect backdrop for their nuptials.

It's not hard to understand why this resort stands out, even in an area globally recognized for its luxury accommodations. The Four Seasons Resort Maldives at Landaa Giraavaru combines a sense of luxurious seclusion, timeless serenity, and the world-class service Four Seasons is known for, to create a wedding experience like no other.
Magical VenuesThe Four Seasons TouchPersonalized PackagesBeyond the WeddingThe VerdictScores
While most resorts offer beautiful venues, Four Seasons Resort Maldives at Landaa Giraavaru takes it a step further. Here, you have the chance to exchange your vows in a new overwater Wedding Pavilion, a pristine strip of Blu Beach sand, or even in a private jungle clearing. Each location is unique and full of charm, with the overwater Wedding Pavilion offering a particularly mesmerizing experience with its glass aisle set atop UNESCO-protected reefs. It's a sight that leaves an indelible mark on not just the couple but anyone lucky enough to witness it.
As you would expect, the service at this resort is nothing short of impeccable. The planning process is smooth and detail-oriented, with a dedicated Wedding Specialist on hand to assist with everything from menu design to table linens. It's clear that the team here is committed to bringing your vision to life, down to the smallest detail.
The resort offers a thoughtfully curated wedding package, covering everything from a fresh bridal bouquet of tropical flowers to a bottle of Champagne for post-ceremony celebrations. And the best part? You can personalize it to your heart's content, ensuring your wedding day is truly reflective of your unique tastes and preferences.
The Four Seasons Resort Maldives at Landaa Giraavaru isn't just about the wedding day. The resort also offers a tailor-made honeymoon experience, allowing newlyweds to transition seamlessly from their nuptials to a romantic retreat. Whether you prefer adventurous underwater escapades or a relaxing day by the infinity pool, your first days as a married couple promise to be unforgettable.
When compared to other luxury resorts in the Maldives, the Four Seasons Resort Maldives at Landaa Giraavaru shines for its combination of unrivaled location, personalized service, and commitment to making every wedding unique. However, it's worth noting that this level of luxury comes with a price tag to match. For couples seeking a less extravagant affair, the Anantara Veli Maldives Resort offers similar luxury in a more affordable package.
Venue Options: 10/10
Planning and Services: 10/10
Customization: 9/10
Post-Wedding Experiences: 9/10
Value for Money: 8/10
Overall, the Four Seasons Resort Maldives at Landaa Giraavaru is a dreamy wedding destination. It is an exquisite choice for those seeking an unforgettable blend of luxury, adventure, and romance for their special day.
The Maldives, with its stunning natural beauty and luxury resorts, has long been a coveted destination for travelers seeking a paradisiacal escape. Among the many options available, one name that stands out is the Four Seasons Resort Maldives at Landaa Giraavaru. As a renowned travel writer, I have had the privilege of exploring numerous luxury resorts, and I must say that the Four Seasons Maldives is indeed worth every penny.
First and foremost, Four Seasons is synonymous with exceptional service, and the Maldives property is no exception. From the moment you step foot on the island, you are greeted by a warm and attentive staff that goes above and beyond to ensure your comfort and satisfaction. Whether it's arranging personalized experiences, catering to dietary preferences, or simply anticipating your needs, the staff at Four Seasons excels in providing a memorable and seamless stay.
Comfort is paramount when it comes to luxury accommodations, and Four Seasons delivers on this front as well. The beds are sumptuously comfortable, ensuring a restful night's sleep after a day of exploration and relaxation. The villas are beautifully designed, offering a blend of contemporary elegance and traditional Maldivian charm. In particular, the loft-style water villas are a highlight, providing spacious living areas and stunning views of the turquoise waters that surround the resort.
One aspect that sets the Four Seasons Maldives apart is its location. Situated on its own lush island in the Baa Atoll, the resort is surrounded by pristine beaches and is part of the UNESCO World Biosphere Reserve. This unique setting allows guests to immerse themselves in the natural beauty of the Maldives while also offering opportunities for activities such as snorkeling and diving, especially during the manta ray season from June to November.
Of course, when considering a luxury resort, the price is a significant factor. The Four Seasons Maldives is undoubtedly a premium option, with nightly rates starting at around $2,500 for a base room. However, it's important to note that pricing can vary, particularly in light of the ongoing pandemic. While the rates may seem high, the level of service, comfort, and exclusivity provided by Four Seasons justifies the investment for those seeking an unparalleled experience in the Maldives.
Choosing the best time to visit the Maldives is essential to make the most of your trip. The ideal period is between November and April, outside of the monsoon season. For those considering a stay at Four Seasons Maldives, I recommend visiting during March and April, excluding the Easter holidays when prices tend to be higher. During these months, you can expect hot, dry weather and quieter resorts, allowing you to fully enjoy all that the Maldives has to offer.
In conclusion, the Four Seasons Resort Maldives at Landaa Giraavaru is undeniably worth considering for a luxury escape to the Maldives. From exceptional service and comfortable accommodations to its idyllic location and unparalleled experiences, Four Seasons delivers on its promise of providing a truly remarkable stay. While the price may be on the higher end, the memories and moments created at this extraordinary resort will be cherished for a lifetime.
Great Maldives Honeymoon and Wedding Resort - Four Seasons Landaa Giraavaru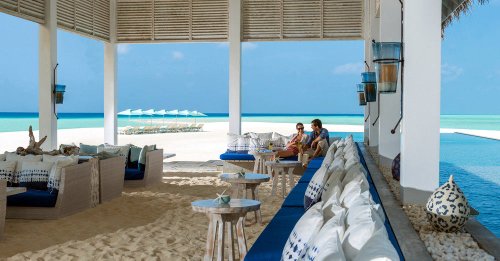 Four Seasons Landaa Giraavaru
Guests are reporting a remarkable and amazing deserted tropical island type experience. Right on the lagoon.

Offers and more information.

---
Share Your All-Inclusive Adventures and Questions! 🌴 Have a memorable experience from a luxury all-inclusive vacation? We'd love to hear it at Luxury Resort Bliss. We're on the lookout for top-quality, insightful tales that'll inspire our community. Dive in and be a part of our sun-soaked stories! 🌊🍹✨
The story is a fictionalized account founded on travel expertise, research, and experience. Always refer to recent guest reviews and perform due diligence before booking.
💼 We cherish our independence! ✈️ Our travel recommendations are carefully researched, bias-free, and powered by human expertise by April and Ricky of LRB (we have personally researched and travelled to many of these destinations and researched others thoroughly through first-hand accounts). We also have put in the hard miles, and Ricky has worked for decades for resort and hotel chains  Hyatt, Hilton, Shangri-La and Radisson before starting Luxury Resort Bliss in 2007. 🌍✨ Unlike some other resort review websites we are concerned on the guest experience rather than mere corporate interest.