10 Best Curacao All Inclusive Resorts (You Need To Check Out!)
10 Best Curaçao All Inclusive Resorts
Are you planning a vacation at a Curaçao all-inclusive resort? This tiny island in the Kingdom of the Netherlands is a unique and often overlooked travel destination. If you choose to spend a week on this glorious island, the friendly population and gorgeous accommodation might have you extending your trip. 
While the two are not mutually exclusive, Curaçao attracts two kinds of tourists. The nature enthusiast who seeks to learn about eco-focused properties while experiencing the pink salt flats, and the independent diving devotee. 

The island is home to numerous diving schools, and experienced teachers await to enlighten your mind with the hidden underwater beauty in the Caribbean Sea. 

Find the best Curaçao all-inclusive resort for your vacation dreams to become a reality.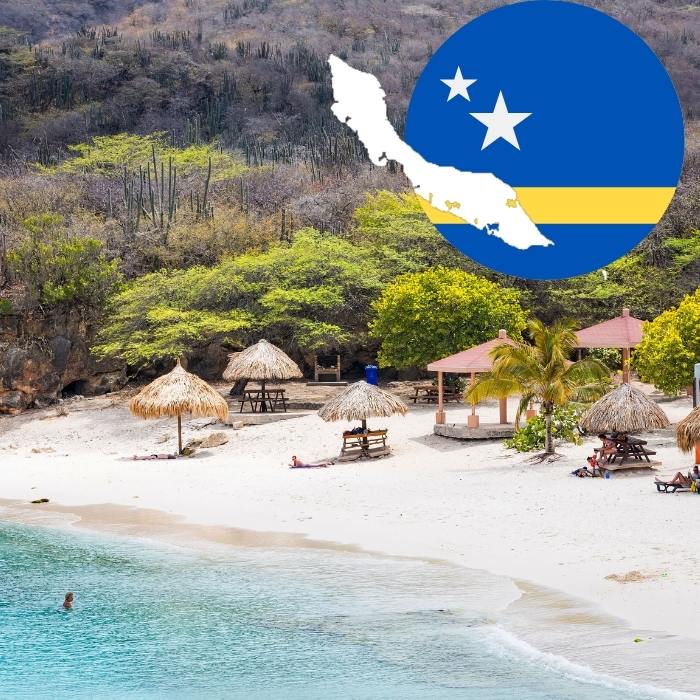 Curaçao All Inclusive Resorts
Where is Curaçao?
Curaçao is located in the southern Caribbean Sea and is an independent state of the Kingdom of the Netherlands. Curaçao neighbors Venezuela and Aruba and does a surprising amount of oil refinery exporting. The island is only 444 sq km, and 81% is coastline. Find your slice of paradise and visit a Curaçao all-inclusive resort today!
Video: Curacao Ultimate Travel Guide & Cost
All Inclusive Resorts on Curaçao
While Curaçao isn't too far from the Virgin Islands, it tends to slip travelers' minds when booking a premier vacation. These all-inclusive resorts in Curaçao will show you precisely what you've been missing.
TripAdvisor lists a handful of All Inclusive Resorts On Curaçao also.
Mangrove Beach Curaçao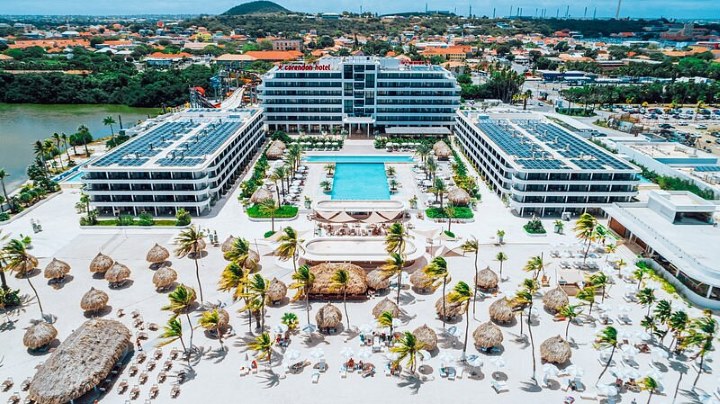 Mangrove Beach Curacao
Resort Award: Best Waterpark 

Experience Curacao through the Hilton lens of luxury. This all inclusive Curacao resort has an exclusive waterpark and four outdoor pools for guests to cool down. The Mangrove Beach Corendon is the perfect all inclusive Curacao resort for families looking for action-packed travel days. Dive in and splash in the numerous aquatic playgrounds suitable for adults and children. 
After a busy day of water activities, guests can recharge in guest suites. The Mangrove has nine styles of suites, each with a private balcony and king-size bed. If you and your family want to dine, try one of the resort's ten restaurants. Unlike other all inclusive resorts, The Mangrove team has compiled a spectrum of food ranging from imitating street food stalls to Italian and Seafood buffets. 
Mangrove Beach Corendon Curacao All-Inclusive Resort By Hilton website
Video: Corendon Mangrove Beach Resort Curacao
Find the best deal, compare prices, and read what other travelers have to say at Tripadvisor
Renaissance Wind Creek Curaçao Resort
Resort Award: Most Expansive Property

A Marriott property in the heart of paradise, no stone is left un-turned booking your vacation here. The Renaissance is not primarily an all inclusive resort in Curacao, but they do weekly and monthly promotions to encourage guests and usher in tourism. On this property, guests will have access to four restaurants, three coffee shops, one pool, private beach access, a fitness center, spa, and casino. 
The Marriott teams partner with several local organizations and will go above and beyond to plan day trips, snorkel, and scuba diving adventures. Booking your stay with the Renaissance Wind Creek Curacao Resort will bring you one step closer to the Caribbean vacation of your dreams. 
https://www.hilton.com/en/hotels/curryqq-mangrove-beach-corendon-curacao-all-inclusive-resort/
Renaissance Wind Creek Curaçao website. 
Video review: A Day at the Renaissence Hotel. Where to stay in Curacao.
Find the best deal, compare prices, and read what other travelers have to say at Tripadvisor
Sunscape Curaçao Resort, Spa & Casino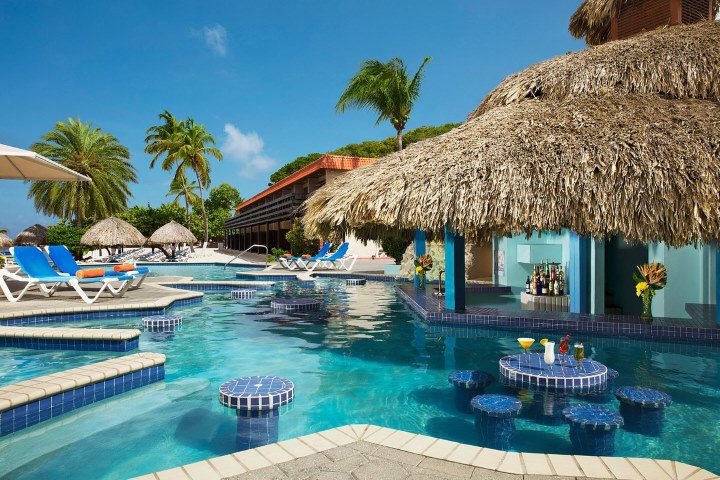 Sunscape Curaçao Resort
Resort Award: All Inclusive Fun From Sunrise To Sunset

The Sunscape Curacao Resort team is determined to provide you with an upscale, all inclusive Curacao experience. A world of Hyatt property whose slogan is "signature unlimited fun." When you check-in, guests can choose whether to relax and recharge at the spa or your suites before taking a guided tour downtown or diving into the clear blue waters. 

The Sunscape Curacao all inclusive team promotes their "All Explorer's Club" for families to schedule a mix of activities. You can try a beanbag toss, beach volleyball, the batting cages, dressing up as a sumo wrestler, the rock climbing wall, tennis, and many more! 
The Seascape crew has various evening options when nighttime falls, including movies on the beach, projecting concerts, or even dance lessons. Discover the endless activities available at this Curacao all inclusive resort. 
Sunscape Curaçao Resort, Spa & Casino website. 
Video Review: Sunscape Curacao Resort Spa & Casino | An In Depth Look Inside
Find the best deal, compare prices, and read what other travelers have to say at Tripadvisor
Curaçao All Inclusive Adult Only
Sandals Royal Curaçao adult only all-inclusive resort reviewed below is among very few adult only resorts on the top shelf luxury resorts on the island. However, many of the resorts in this review like the Baoase and Sunscape definitely lean towards couples friendly. 
Papagayo Beach Hotel is an Eco-certified resort is one where you are not likely to see many kids around and as close to a quant adults only resort you might find. 
Sandals Royal Curaçao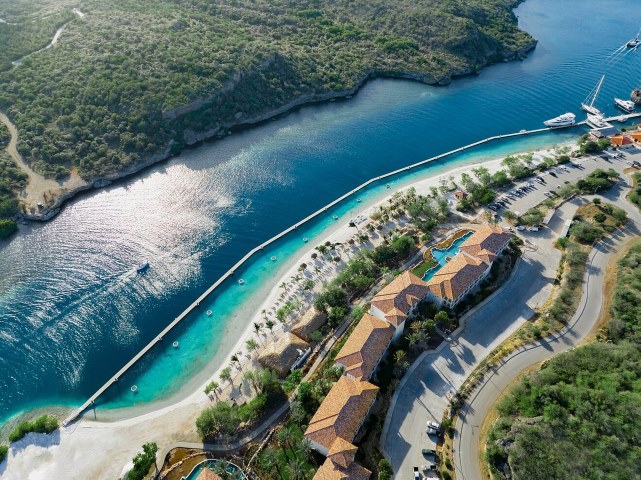 Sandals Curaçao
Sandals Royal Curaçao all inclusive
Resort Award: Five-Star Reputation
The Sandals Royal Curaçao adult only all inclusive resort has romance at the core of its vision. Guests will fall in love with every inch of the 3,000-acre property. The Sandals brand is known for fun and playful all-inclusive vacations and guarantees their resorts are "where amazing come together." 
The minute the shuttle picks you up from the airport, guests feel enveloped in the Sandals experience. This all-inclusive resort brand already has eight other Caribbean destinations and curates unforgettable experiences. 

The lobby is one of the biggest on the island at a whopping 38,000 sq ft and an ideal destination for weddings or hosting events. On-site, guests have access to three food trucks, thirteen bars and lounges, eight restaurants, and views for days. 

The resort is west-facing, and every evening guarantees a picturesque sunset. Choose to stay in a room, bungalow, or the exclusive Kurason Island Suites that surrounds a secluded lagoon and has access to a private heart-shaped pool. 

https://www.sandals.com/royal-curacao/
Video Review: Full Walkthrough of Sandals Royal Curaçao | Sandals Resort Tour | June 2022
Dreams resort curacao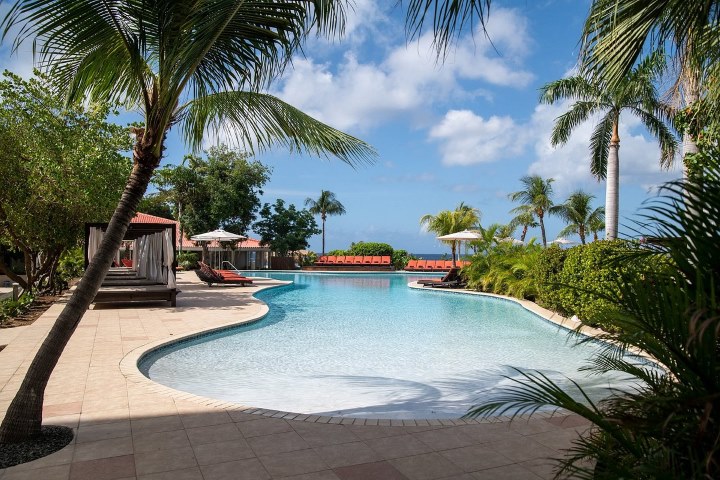 Dreams Resort Curacao
Dreams Curaçao Resort, Spa & Casino is ideally located on Piscaderas Bay: a destination in itself. This is a neat resort and part of the wider Hilton group which takes advantage of the sandy shores on this south part of the island of Curaçao to situate the resort close to prized diving sites.
With almost 200 rooms and a wealth of activities, this is an outstanding resort and well suited to families as well. A brewery, seven restaurants or dinning options, multiple pools, an entertainment team make staying here an immersive experience. 
Video review: Dreams Curaçao Resort | The Best All-Inclusive Resort in Curaçao
Find the best deal, compare prices, and read what other travelers have to say at Tripadvisor
Kunuku Aqua Resort

Kunuku Resort All Inclusive Curacao, Trademark by Wyndham website
Resort Award: Balance between all inclusive and exclusive vacation itineraries
The Kunuku Aqua Resort offers all inclusive packages based on the style of accommodation guests book. The resort provides twenty-four apartments and 189 hotel rooms/studios. Booking a hotel room studio or family suite will automatically slide guests into an all-inclusive experience. 
The resort is colorful and has many different playground options for children. Guests can also book a private car rental to explore Curacao or take a guided tour that ranges from water to land experiences. Guests can also book historical walking tours, a visit to an ostrich farm, or the famous Hato Caves. 

Kunuku Aqua Resort restaurant is open from 8 am to 9 pm with a minimum of two-hour closure between meal services. Look no further than the robot bar that houses the robotic arm bartender for a unique bartender. 
Video promotional: Kunuku Aqua Resort | All-inclusive resort Curaçao
Find the best deal, compare prices, and read what other travelers have to say at Tripadvisor
More Awesome Curacao Resort Options
While you are figuring out what style of accommodation is the best fit for your Curacao retreat, these options are not all inclusive but still offer many unique qualities. 

ACOYA Curacao Resort, Villas & Spa

Resort Award: Home-like zen and amenities

ACOYA Curacao Resort focuses on removing and easing any stress their guests bring with them to Curacao. To tailor each vacation to guests' unique desires, they offer four different types of accommodation. Choose from a basic room, standard villa, private apartment, or villa. Each one is perfect for a sliding scale of guests and their needs. 
The on-site ACOYA Spa & Wellness Atelier is the main attraction for guests to book this location. With four treatment suites, plus a co-ed lounge and yoga rooms, once you step foot into the space, Zen will infuse your pores and being. 
If you want to pamper your soul, this Curacao accommodation is guaranteed to leave you feeling brand new and refreshed. Other highlights of the space are the on-site restaurant and pool kitchen, that both bring international flavors to life. 
ACOYA Curacao Resort, Villas & Spa website. 

Promotional walk through review video: Walkthrough of our great Resort, ACOYA Resort Villas & Spa

Find the best deal, compare prices, and read what other travelers have to say at Tripadvisor
Lionsdive Beach Resort Curacao
Resort Award: 180-degree Penthouse Views

Step into the lion's den and experience luxury and treatment to match the King of Jungle. The Lionsdive Beach Resort on Curacao is not all inclusive but goes above and beyond to pamper its guests. 

While they have various accommodation options, their breathtaking penthouse suite will exceed any expectations. Incredibly spacious with a 180 wrap-around balcony, private gym indoor and outdoor eating areas, and full kitchen, you'll find it hard to leave. 

A big bonus to staying at this accommodation is Ocean Encounters, the on-site dive and snorkeling operator located at the resort's marina. Whether you are an expert or novice diver, the Ocean Encounters team has the perfect trip for you. 

Divers can gain PADI certification, or guests can book a one-day private tour and swim with dolphins. Curacao's underwater ecosystem's beauty remains unparalleled, and you might spend more time underwater than on land. 
Lionsdive Beach Resort Curacao website
Promotiopnal Video: LionsDive Beach Resort Curaçao | The Natural Place to Stay on Curacao
Find the best deal, compare prices, and read what other travelers have to say at Tripadvisor
Baoase Luxury Resort
Resort Award: Beautiful boutique luxury

A Conde Nast Readers' Choice Awards contender, you'll quickly fall in love with the Baoase Balinese aesthetic. The five private villas were hand-built by the owner Adrianus Van der Valk and his partner Bibi after a strip of Curacao private beach became available. Adrianus's son, Thijs, now manages the property and is on a mission to make guests fall in love at first sight with Curacao. 

While Baoase began with only five villas, it has grown and developed to include rooms, suites, and even a private island getaway. The Van der Valk family also rents out their private yacht for groups of 8 to explore water trails off the beaten path. 
Baose Luxury only has one restaurant on their property but schedules a month in advance with themed menus. From seafood to Indian menus to even a self-described culinary BBQ experience or live music, guests will never lack entertainment or a full stomach. 
Baoase Luxury Resort website
Video: Baoase Virtual Site Inspection
Find the best deal, compare prices, and read what other travelers have to say at Tripadvisor
Avila Beach Hotel

Resort Award: Accommodation designed for accessibility 

Avila Beach Hotel has three different wings and fifteen styles of rooms and suites available for their guests. We want to highlight Avila's awareness to guests traveling with mobility aids and their three suites in the modern Octagon wing with walk-in showers and extra space to maneuver. Remove the barriers from your Curacao vacation and book a resort that encourages accessibility. 

While Avila Beach Resort does not advertise as an all inclusive Curacao resort, it allows travelers to add on meal options ranging from breakfast to half board and full meal time coverage. The best part about these add-ons is flexibility. Guests can eat at restaurants, on the beach, or in their rooms. 
The Avila team has taken thoughtful gestures to include the local Curacao community in promotions, and guests will live in the vibrant essence of the Caribbean community. 
https://www.avilabeachhotel.com/

Find the best deal, compare prices, and read what other travelers have to say at Tripadvisor
Papagayo Beach Resort
Resort Award: Caribbean and European Influence Unite

The Papagayo Beach Resort is a blend of passions from all over the world. The resort's exterior is full of Caribbean flavor and influence, while the interior was designed by Suzy Visser in collaboration with the famous Dutch Design collective, Moooi. The results are flawless indoor and outdoor living flow, with trendy European touches everywhere. 
Choose from staying at the Papagayo Beach Resort or in a 2, 3, or 4 bedroom villa, all while having access to Papagayo Beach Plaza. The Plaza includes an array of high-brand luxury retailers, various delicious restaurants, atmospheric bars, and an Italian ice cream parlor.

The Papagayo Beach Club has cabanas and full-day service, so you can be sun-kissed while hydrating and comfortable. The Beach Club is on a popular strip on the island, and the nightlife will be high-energy and full of bustle. The Papagayo Beach Club has several different seating options and tries to guarantee comfort for each guest dancing or embracing the Curacao nightlife. 

https://www.papagayo.com/accommodations/beach-resort

Find the best deal, compare prices, and read what other travelers have to say at Tripadvisor
For more all inclusive resorts in the area, be sure to also check out Aruba all inclusive resorts and Bonaire all inclusive resorts here. 

💼 We cherish our independence! ✈️ Our travel recommendations are carefully researched, bias-free, and powered by human expertise by April and Ricky of LRB (we have personally researched and travelled to many of these destinations and researched others thoroughly through first-hand accounts). 🌍✨
We try to keep everything up to date, but please always do your own research and contact us if you know any issues for us to help others as best we can as a small but professionally focused team! 🧐📚⚠️