All-Inclusive Resorts in Greece
Looking for the best all-inclusive resorts in Greece?
Find the best: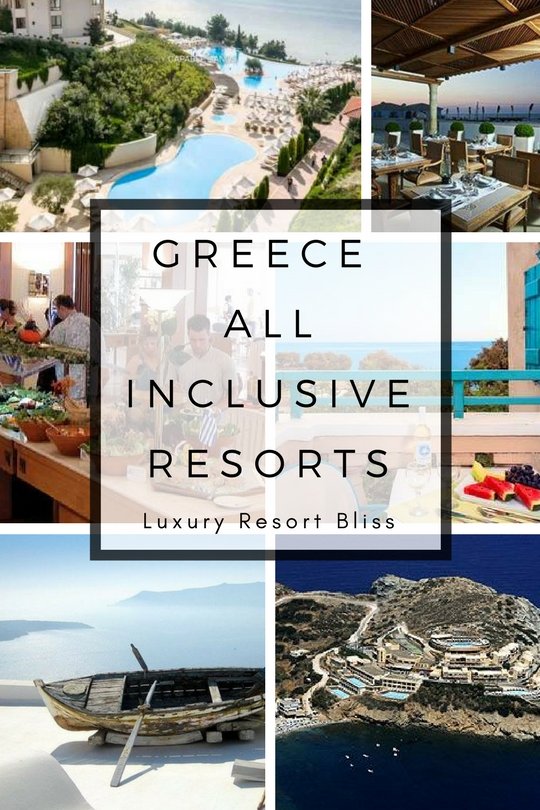 All Inclusive Resorts in Greece
All-Inclusive Resorts Greece
Here is a review of the top all-inclusive resorts in Greece. 
The all inclusiveness can be seen as an opportunity to escape from the daily grind, while also being able to enjoy your favorite foods and drinks without having to worry about the expense.
We can examine to what extent is this is possible at the All Inclusive resorts in the Greek Islands. 
According to TripAdvisor 213 of 3,204 properties are listed as all-Inclusive.
Find the best all-Inclusive places to stay in Greece at TripAdvisor
Ikos Oceania Greece All Inclusive Resort
Ikos Oceania Greece All Inclusive Resort is a luxury resort that offers an all-inclusive package. 
Video Review by Guest: Ikos Oceania - May 2022 | 5 star All-inclusive in Greece
Ikos Oceania was recently rated the best all inclusive in Europe by TripAdvisor.  

| | |
| --- | --- |
| This inspiring property is on a private beach close to Ancient Olynthos and an amazing 300 room all-inclusive resort in Greece. It has everything you need for a relaxing, five-star vacation. From the magnificent full-service spa to the action packed water activities, everything here is done well. | Ikos Oceania Greece All Inclusive Resort |
The resort enjoys wonderful landscaped gardens flowing down to a private beach. Meals are in one of four à la carte restaurants and there is a full activities club organized for the kids.


The resort great for families and features a children's club and pools. 


Ikos Oceania Greece
Find out more on the Ikos Oceania Greece All Inclusive Resort.

Official website for Ikos Oceania 
---
Crete All Inclusive Resorts
Crete is a Greek island with an amazing history and culture. One of the most popular tourist destinations in Greece, Crete has something for everyone: from picturesque villages to world-class beaches, from ancient sites to nightlife.
Crete's climate is perfect for year-round vacations: it never gets too hot or too cold, and there are plenty of sunny days throughout the year. Crete all inclusive resorts offer a variety of activities to keep you busy during your stay - from relaxing on the beach or poolside, to exploring archaeological sites or relaxing in a spa center.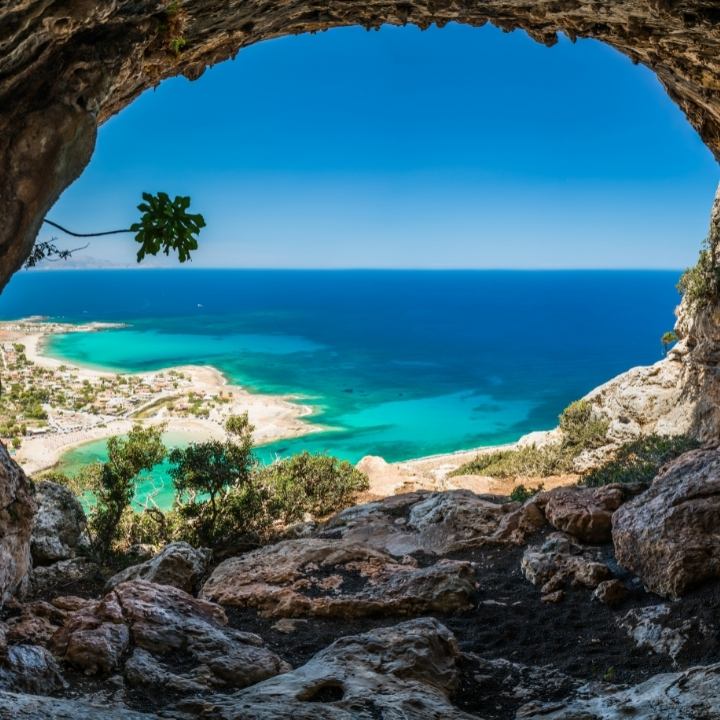 The Adults-only resort, Stella Island Luxury Resort & Spa, has everything a guest could want. With a diverse range of facilities and services on offer, everyone is sure to have a relaxing holiday.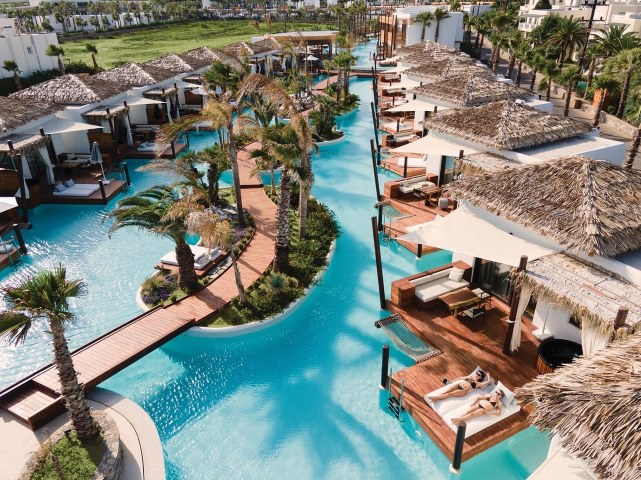 The resort is perfect for couples in love as well as ones enjoying their honeymoon. There are plenty of lagoons and private venues to choose from, so you won't feel crowded.
The hotel is located in a resort area with many amenities, such as restaurants and shops. It also has a spa, which offers massages, treatments, and wellness services. The hotel has an outdoor pool with a poolside bar.
Read more on the best Crete adult only all-inclusive resort reviews.
Video: Stella Island Luxury Resort & Spa, Crete's most luxurious Resort (Greece)
---
Club Med
 

Gregolimano Greece All Inclusive

Located in an island woodland going down to clear blue seas, this resort has been called "the best water ski resort" by a past guest. Reviews by past guests have shot up, and it has become very highly rated. 

There are a few more team sports here than other resorts. Beach volleyball, tennis, archery and circus school are available but not dance lessons. Water-skiing, wakeboarding and sailing are really enjoyed by guests. 

Past guests with small children note that safety standards for children are looser here than other places and kids may be given a larger measure of independence than you might be comfortable with. Families in general give this resort excellent ratings though so don't be scared off. 

More information and latest reviews of Gregolimano Club Med

---
Mykonos all-inclusive resorts

Mykonos island is located in the Aegean Sea, just off the coast of Turkey. It has been an important trade center since ancient times, and it was a leading maritime power in the Mediterranean during the Middle Ages.
Video: Mykonos Greece Travel Guide
The island has many tourist attractions such as beaches, restaurants and nightlife. Mykonos is famous for its wine and its most famous dish is moussaka.

It is one of the most popular tourist destinations in Greece. The island's population was 10,735 people as of 2011 census which makes it the second-largest island in Greece by population after Crete.
The town of Mykonos is known for its cosmopolitan atmosphere and long sandy beaches lined with palm trees.
Here is the list of all the All Inclusive resorts on Mykonos from TA. 
Mykonos All Inclusive at Tripadvisor
Anax Resort is one of very few resorts listed as all-inclusive in Mykonos.
This is located in the Agios Ioannis, and enjoys fab views. Anax Resort & Spa Hotel is one of the best in Mykonos for sure, all-inclusive or not. 
The resort follows the hill to the sea stopping at a few infinity pools, poolside bars, and open air restaurants on the way.
Video: Anax Resort & Spa Hotel in Mykonos, Greece Tour
Mykonos has great food in the Greek taverns which are friendly and affordable. Then why not play your own all-inclusive trip to Greece and included these as part of your plan. They are not expensive and extremely authentic. 
Then you could stay somewhere delightful like the Mykonos Grand Hotel & Resort and stroll down to a tavern for an affordable Greek all-inclusive vacation!
Greek Islands All Inclusive Resorts
Some of the hotels above offer both room only OR all-inclusive. They ensure you your choice is an all-inclusive option when you click through and book with the links provided.
For more all-inclusive resorts visit our All Inclusive Resorts in Europe page.
---
Greece on TripAdvisor (allows all-inclusive search filter)
Search for features like free breakfast or kids club inclusions. Did you know there were 130 properties in Crete alone which offer free breakfast?

---
Ever stayed at any all-inclusive resorts in Greece? Share your experiences here:
There are many reasons why people visit Santorini on vacation. The first and most obvious one is the beauty of the island. It's a breathtaking place with an amazing view of the Aegean Sea, which is considered one of the most beautiful in the world.
Another reason is that Santorini has a rich history and culture. It was inhabited for over 3,000 years before being abandoned in 1956 because of volcanic eruptions that made it uninhabitable. This means that there are many ancient ruins to explore, including an ancient city with a 2,500-year-old temple dedicated to gods Apollo and Athena.
Apart from the two all-inclusive resorts on Santorini there are also some full scale resorts too. All in all though Santorini is not the best all-inclusive destination in Greece, unless you think about it a little creatively and make the most of the unlimited amounts of dishes around the corner from your sublime hotel. 
See the Santorini All-inclusive hotels and resorts.
Santorini All-Inclusive
Vacation Packages to Greece
Greek culture is one of the oldest in Europe and it has a lot to offer to its visitors. It is an amazing place for tourists who are looking for a vacation that offers history, culture, and incredible scenery.
In this article, we have discussed some of the best places in Greece for tourists to visit. We will also provide information about the best vacation packages available for Greece so that you can plan your trip!
We have been getting a lot of requests for the Vacation Packages to Greece for the new season. We also keep a centralized update of all these vacation package deals and more. 
Apart from the All inclusive Greece resorts listed below you may also like to check out our Greece Beach Resorts of find out about Greek Family Beach Vacations.
All Inclusive Trips to Greece
If you are looking for All Inclusive Trips to Greece with flights and package discounts and not only the accommodation aspect, then check out our resort package deals and cheap travel deals. 
You can also check out the last minute all-inclusive deals
Share Your All-Inclusive Adventures and Questions! 🌴 Have a memorable experience from a luxury all-inclusive vacation? We'd love to hear it at Luxury Resort Bliss. We're on the lookout for top-quality, insightful tales that'll inspire our community. Dive in and be a part of our sun-soaked stories! 🌊🍹✨
The story is a fictionalized account founded on travel expertise, research, and experience. Always refer to recent guest reviews and perform due diligence before booking.
💼 We cherish our independence! ✈️ Our travel recommendations are carefully researched, bias-free, and powered by human expertise by April and Ricky of LRB (we have personally researched and travelled to many of these destinations and researched others thoroughly through first-hand accounts). We also have put in the hard miles, and Ricky has worked for decades for resort and hotel chains  Hyatt, Hilton, Shangri-La and Radisson before starting Luxury Resort Bliss in 2007. 🌍✨ Unlike some other resort review websites we are concerned on the guest experience rather than mere corporate interest.
Athens all-inclusive Resorts
Video: Top 10 Things To Do in Athens Greece
The city of Athens is the capital of Greece and one of the most popular tourist destinations in the world. It is a city of great antiquity, with a history that spans over 3,000 years and a culture that has greatly influenced the Western world.
It is a modern, bustling city with a rich history and plenty to see. The people are friendly and welcoming, the food is amazing, and the architecture is beautiful. Athens has something for everyone.
While there are plenty of cafés in Athens where you can enjoy some delicious coffee or tea while sitting on a patio or gazing out at the city's iconic blue domed churches some prefer to stay at an all-inclusive resort.
While TripAdvisor and others do not list any all-inclusive resorts and hotels in Athens there are more than 60 properties that include breakfast. This is about the closes you are going to get in this ancient city.
Athens with breakfast at Tripadvisor
The "Golden Coast Hotel & Bungalows - All-Inclusive" resort by Athens (by St. Ephraim Monastery) offers all-inclusive features like concierge, pools and free breakfast. Once again we recommend authenticating  your traditional Greek experience by frequenting the local taverns with much-needed foot traffic. 
Golden Coast Hotel & Bungalows