Turquoise Coast All-Inclusive vacations
Framed by the crystalline waters of the Mediterranean, the Turquoise Coast, aptly named for its subtle hues, boasts an assortment of all-inclusive vacation destinations that master the art of luxury and relaxation. Explore with us as we delve into the all-inclusive resorts scene along this stunning coastline, characterized by its picturesque beaches, enchanting history, and captivating culture. Let's embark on this adventurous journey to give you a snapshot of what you can expect when you choose to escape to this jewel of the Mediterranean. Stay tuned for our review and guide on the best all-inclusive resorts on the Turquoise Coast, offering everything from sublime cuisine to exhilarating water sports and, of course, plenty of tranquil spots to unwind.
Turquoise Coast All-Inclusive
The Turquoise Coast keeps spoiling us with its luxury offerings and here are a few more gems to consider for your all-inclusive vacation:
Lara Barut Collection – "Unprecedented Opulence" Ranked as the #1 Best Value of 355 All Inclusive Resorts on the Turkish Mediterranean Coast on TripAdvisor, the Lara Barut Collection is an emblem of excellence in hospitality. 
Lara Barut Collection: An Oasis of Opulence in Antalya's Embrace
Nestled in the heart of the Turkish Mediterranean Coast, Lara Barut Collection offers an all-inclusive vacation experience that weaves luxury with local heritage.
Score: 4.8/5
Location (4.7/5): Occupying a prime spot in Antalya, Lara Barut Collection's location blends the serenity of the Mediterranean with the rich historical tapestry of the region. However, the distance from Antalya's urban attractions may not appeal to city explorers.
Accommodation (4.9/5): The hotel's rooms and suites, echoing a synthesis of modern comfort and Turkish elegance, provide a tranquil sanctuary for guests. A minor drawback is the variance in room sizes, which may not be to everyone's liking.
Amenities (4.8/5): Lara Barut Collection doesn't hold back in the amenities department. From private beaches to expansive swimming pools, wellness centers, and a superb kids' club, the resort caters to all. Some seasonal outdoor activities, however, are limited during colder months.
Service (4.9/5): The staff at Lara Barut Collection often earn rave reviews for their warm and attentive service, making guests feel genuinely welcomed and valued.
Value for Money (4.6/5): For the level of luxury on offer, Lara Barut Collection provides considerable value, especially with its comprehensive all-inclusive packages. Certain exclusions and premium charges, however, may detract from the "all-inclusive" experience for some guests.
Recommended for: Lara Barut Collection is ideally suited to families and couples seeking a luxurious, all-inclusive retreat that also provides a taste of Turkish heritage and culture. Its emphasis on comfort and tranquility makes it especially apt for anyone in search of a beachfront getaway immersed in nature's splendor.
Concorde De Luxe Resort
Concorde De Luxe Resort: Soaring High on Antalya's Luxurious Horizon
Perched in the sun-soaked landscape of the Turkish Mediterranean Coast, Concorde De Luxe Resort is an all-inclusive sanctuary that marries elegance with endless entertainment.
Score: 4.7/5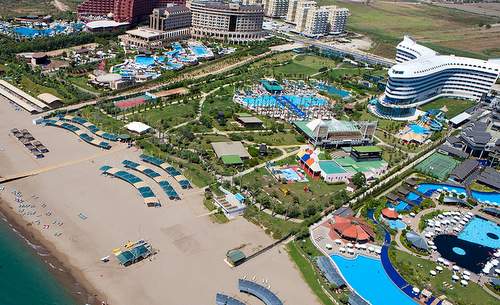 Location (4.6/5): Strategically located in Antalya, Concorde De Luxe Resort sits comfortably in a region known for its rich culture and azure coastlines. Some guests, however, might crave a closer proximity to the city's urban pulse.

Accommodation (4.8/5): With rooms designed to reflect the resort's philosophy of luxury, guests are guaranteed a restful retreat. Some guests, however, have pointed out that certain rooms could benefit from more natural light.
Amenities (4.9/5): Concorde De Luxe Resort doesn't disappoint with its wealth of amenities. From varied dining options, a refreshing spa, to the engaging classes and activities, it ensures a memorable stay. The high volume of guests during peak periods, though, can sometimes lead to crowded spaces.
Service (4.8/5): The resort's staff are well-regarded for their hospitality, often going above and beyond to ensure guests have a seamless experience. Nevertheless, during peak times, some guests have reported slight delays in service.

Value for Money (4.5/5): Concorde De Luxe Resort offers an all-inclusive experience that is highly valued for its range of amenities and services, despite being at a slightly higher price point.
Recommended for: Concorde De Luxe Resort is the perfect choice for couples, groups, or families seeking an all-inclusive, luxury resort that pairs relaxation with excitement. Its emphasis on fun-filled activities makes it particularly suitable for those who love to mix leisure with a touch of adventure.
Find the best deal, compare prices, and read what other travelers have to say at Tripadvisor
Megasaray Westbeach Antalya
Megasaray Westbeach Antalya: The Emerging All-Inclusive Marvel of the Mediterranean
Tucked away on the picturesque Turkish Mediterranean Coast, Megasaray Westbeach Antalya is a burgeoning star in the all-inclusive vacation scene, brimming with promises of indulgence and relaxation.
Score: 4.5/5
Location (4.6/5): Megasaray Westbeach Antalya is blessed with an enviable location that perfectly captures the scenic beauty of Antalya. Its slightly remote setting, however, may deter guests who wish to frequently venture into the city center.
Accommodation (4.4/5): The rooms at Megasaray Westbeach are designed to offer guests a comfortable retreat, with many offering panoramic sea views. However, some guests have reported inconsistency in the room services, which could be a slight point of concern.
Amenities (4.6/5): This resort is on its way to becoming a hot favorite with its broad array of amenities, from stunning pools to a dedicated wellness center. Seasonal limitations of some outdoor activities could be a minor drawback.
Service (4.5/5): Staff at Megasaray Westbeach are generally well-received for their warm and friendly service. However, as with many resorts, busy periods can sometimes lead to occasional delays in service.
Value for Money (4.4/5): Given its relative newcomer status, Megasaray Westbeach offers a commendable value proposition for its all-inclusive experience, although there's always room for improvement to elevate guests' experiences.
Recommended for: Megasaray Westbeach Antalya is well-suited for travelers looking for an emerging, all-inclusive retreat offering a serene atmosphere. Its tranquil beachfront location makes it a favorable choice for those seeking a relaxed getaway away from the bustle of city life.
Find the best deal, compare prices, and read what other travelers have to say at Tripadvisor
Delphin Imperial Hotel
Resort Review: Delphin Imperial Hotel All Inclusive Resort on the Turkish Mediterranean Coast
1. Location: 4/5 Delphin Imperial Hotel enjoys a prime location on the gorgeous Turkish Mediterranean Coast. The resort is right on the beach, offering a perfect blend of sun, sand, and sea. Surrounding attractions include the historic city of Antalya, which is just a short drive away, and provides ample opportunities for sightseeing and cultural exploration. The hotel is also easily accessible from the Antalya International Airport. The only slight drawback might be its distance from other major cities in Turkey, which coul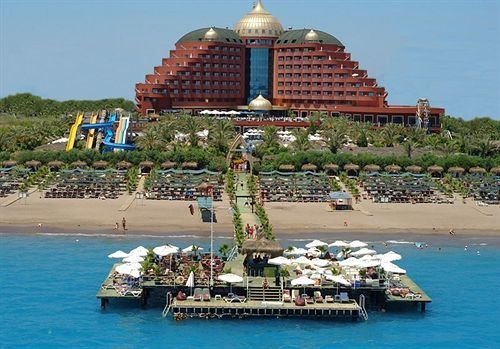 d be an issue for those wishing to do extensive traveling around the country.

2. Accommodation: 4.5/5 Guests consistently praise the accommodations at the Delphin Imperial Hotel. The rooms and suites are spacious, well-appointed, and include comfortable furnishings. Many rooms offer sea views, and the resort's overall aesthetic blends modern luxury with Turkish charm. Some guests, however, have commented on the lack of variety in room decor, which might be a minor issue for those looking for a more distinct or unique ambiance.
3. Amenities: 4.5/5 This all-inclusive resort offers a wide range of amenities, including several swimming pools, a well-equipped gym, and a relaxing spa and wellness center. There are multiple dining options, with restaurants serving a variety of cuisines to cater to all tastes. The resort also boasts an impressive water park, a particular favorite among families. However, during peak times, some guests have noted overcrowding at some of the more popular amenities.
4. Service: 4.5/5 The service at Delphin Imperial Hotel is generally highly rated, with many guests noting the staff's responsiveness and willingness to go the extra mile to ensure a pleasant stay. Some occasional issues have been reported, particularly during the high season, when the resort is at maximum capacity. Nonetheless, the overall consensus indicates that the service at the hotel is of high quality.
5. Value for Money: 4/5 As an all-inclusive resort, the Delphin Imperial Hotel offers a comprehensive holiday experience. The wealth of included amenities and dining options provides good value for the money, particularly for families and those looking for a hassle-free vacation. Some guests have remarked that prices can be high during peak seasons, and extras not included in the all-inclusive package can add up, which is something to consider.
Recommendation The Delphin Imperial Hotel All Inclusive Resort is well-suited to a wide range of travelers, particularly families and couples seeking a luxurious beach getaway. The resort's many amenities and all-inclusive convenience make it a particularly appealing choice for those looking for a hassle-free vacation where everything is at their fingertips. It may also appeal to travelers interested in exploring Antalya's historical and cultural attractions, given its proximity to the city.
Overall Score: 4.3/5
Find the best deal, compare prices, and read what other travelers have to say at Tripadvisor
These resorts, each with their unique charm and allure, have etched their place in the luxury landscape of the Turkish Mediterranean Coast. With every small detail meticulously curated to enhance your stay, choosing between them might be your toughest decision yet!

A Grand Park Lara Review
As the sun sets over the Mediterranean, painting the sky with hues of orange and pink, the Grand Park Lara in Turkey's Turquoise Coast stands like an intricate lacework of opulence against this stunning backdrop. Let's peel back the layers of this luxurious offering and see if it lives up to its reputation as one of the region's shining stars.
Setting and Location – 8/10 The Grand Park Lara nestles itself comfortably amidst the natural beauty of Antalya, a city famed for its historical heritage and azure coastlines. This resort's prime location provides an idyllic backdrop that sets the tone for the grandeur that follows. However, the property is slightly removed from the city's bustling heart, which could be a point of concern for those who wish to weave in some urban exploring during their stay.
Accommodations and Comfort – 9/10 The resort's 896 rooms resonate with the symphony of modern comfort and Turkish elegance. Boasting panoramic views of the Mediterranean, each room offers a sanctuary of tranquility, complete with plush furnishings and state-of-the-art facilities. The only slight shortcoming is the varying room sizes, with some guests possibly finding the smaller options a tad restrictive.
Dining Experiences – 8.5/10 Gastronomic pleasures abound at the resort's four restaurants. Each menu showcases a unique fusion of local and international cuisines. However, while the flavors are noteworthy, the dining venues themselves sometimes bear the brunt of the resort's popularity, leading to crowded spaces during peak hours.
Amenities and Activities – The Grand Park Lara doesn't fall short when it comes to amenities and entertainment. From a private sandy beach to an expansive swimming pool and a rejuvenating wellness center, there are endless ways to indulge. The property's dedication to younger guests with its happy kids' club deserves an appreciative nod. A small drawback, though, could be the seasonality of some outdoor activities, which are curtailed during the colder months.
Find the best deal, compare prices, and read what other travelers have to say at Tripadvisor
The Turkish Riviera
The Turkish Riviera, affectionately known as the Turquoise Coast, is a beguiling stretch of coastline that has become a magnet for sun-seekers and adventure enthusiasts alike. From ancient ruins to pristine beaches, this Mediterranean paradise offers an enchanting blend of history, culture, and natural beauty. An all-inclusive vacation to this coastal gem will not only satiate your wanderlust but also provide an unparalleled experience that will leave you with indelible memories.
Breathtaking Scenery
The Turquoise Coast is blessed with a dramatic landscape that will captivate your senses. Majestic mountains provide a stunning backdrop to the azure waters of the Mediterranean, while lush pine forests carpet the slopes and valleys. Whether you're lounging on the golden sands of Ölüdeniz or exploring the hidden bays of Kaş, the beauty of the Turkish Riviera will leave you awe-struck.
Rich History and Culture
The Turkish Riviera is steeped in history, with ancient civilizations leaving their indelible mark on this enchanting region. Explore the well-preserved ruins of Ephesus, once a thriving Roman city, or wander the cobbled streets of Old Town Antalya, where Ottoman-era architecture and Roman ruins coexist harmoniously. Visiting these historical sites will allow you to immerse yourself in the region's rich past, providing a unique cultural experience.
Delightful Cuisine
A trip to the Turquoise Coast wouldn't be complete without indulging in the delectable flavors of Turkish cuisine. Your all-inclusive vacation will offer an enticing array of culinary delights, from mouth-watering meze to succulent kebabs and divine baklava. Don't miss the opportunity to sample the region's fresh seafood, caught daily from the Mediterranean's bountiful waters.
Adventure and Activities
The Turquoise Coast is a playground for adventure-seekers, offering an abundance of activities for all ages and interests. From paragliding off the cliffs of Fethiye to exploring the underwater wonders of the region's abundant marine life, there's no shortage of excitement to be found. Additionally, the region boasts numerous hiking trails, such as the famous Lycian Way, which meanders through ancient ruins and breathtaking vistas.
All-Inclusive Convenience
An all-inclusive vacation to the Turkish Riviera means you can truly unwind and enjoy your surroundings without worrying about the logistics of travel. With accommodation, meals, and activities all taken care of, you can focus on immersing yourself in the region's captivating charms. Many all-inclusive resorts, such as the aforementioned Hillside Beach Club Fethiye, cater to a variety of travelers, ensuring that your vacation is tailored to your desires and preferences.
Share Your All-Inclusive Adventures and Questions! 🌴 Have a memorable experience from a luxury all-inclusive vacation? We'd love to hear it at Luxury Resort Bliss. We're on the lookout for top-quality, insightful tales that'll inspire our community. Dive in and be a part of our sun-soaked stories! 🌊🍹✨
The story is a fictionalized account founded on travel expertise, research, and experience. Always refer to recent guest reviews and perform due diligence before booking.
💼 We cherish our independence! ✈️ Our travel recommendations are carefully researched, bias-free, and powered by human expertise by April and Ricky of LRB (we have personally researched and travelled to many of these destinations and researched others thoroughly through first-hand accounts). We also have put in the hard miles, and Ricky has worked for decades for resort and hotel chains  Hyatt, Hilton, Shangri-La and Radisson before starting Luxury Resort Bliss in 2007. 🌍✨ Unlike some other resort review websites we are concerned on the guest experience rather than mere corporate interest.