All-Inclusive East Coast Resorts
All-inclusive east coast resorts
Finding the best all-inclusive East Coast resort for you is not an easy task. There are a lot of factors to consider when choosing an all-inclusive resort and the East Coast is not exactly known for having a lot of resorts that include things like all meals, activities in tariffs, so it is important to do your research before booking your vacation.
What is an East Coast All Inclusive Resort and How Does it Actually Work?
An East Coast all-inclusive resort is a type of hotel that offers an extensive and comprehensive range of services, including food and drink, entertainment, sports and leisure activities, spa treatments, and other amenities. As this is what people generally consider as all-inclusive we used this as a template to derive these awards for the best East Coast all-inclusive resorts. 
The challenge is a luxury all-inclusive resort in places like Mexico and the Caribbean is a type of hotel that offers an extensive and comprehensive range of services, including food and drink, entertainment, sports and leisure activities, spa treatments, and other amenities. These resorts also offers a variety of facilities for the guests to use such as swimming pools or spas. And a luxury all-inclusive resort usually has three or more restaurants with cuisine from around the world.
But on the East Coast of the United States there are only a handful of such resorts in operation. 
East coast all-inclusive family resorts
East coast all-inclusive family resorts are a great way to escape the cold weather. They provide more than just a place to stay, they offer activities for all ages.
If you are looking to go a little further afield here are a few more family all-inclusive resort options: 
Florida has some of the most beautiful beaches in the world, which are perfect for leisurely swimming. And, there are also many all-inclusive resorts in Florida that offer ample opportunities to enjoy nature and water sports.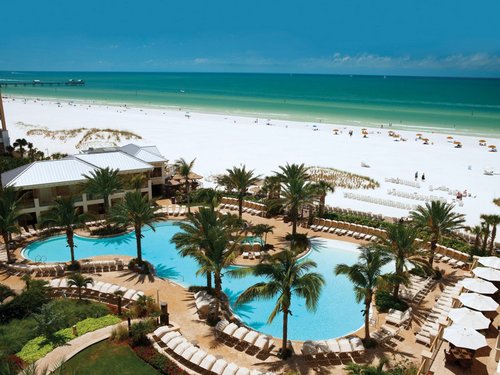 The SandPearl Resort in Clearwater Beach is one of the top all-inclusive package options in Florida
Florida All Inclusive Resorts should provide a great way to enjoy your vacation while staying at an affordable price point. But do they. We explore the best Florida all-inclusive resort options in this review. 
More top Florida Resorts:
All Inclusive Adult only Resorts on the East Coast
Some of the best All Inclusive Adult Only Resorts On The East Coast are located in the Poconos Mountains and are specifically geared towards couples. 
The Florida Keys is another key location for Adult only resorts and features one of the best all-inclusive resorts in the mainland United States. 
If you are looking for an adult only all-inclusive o beyond the East Coast here are a few excellent options. 
The top adult only East Coast All Inclusive Resorts are those that have the best amenities and services. They provide a wide range of activities for their guests to enjoy. These resorts are also known for offering the most luxurious accommodations, dining, and entertainment options.

However, many of the best Adult Only All Inclusive Resorts located off the mainland in the Caribbean Islands, Mexico and beyond. 
Florida Keys All Inclusive Resorts
The Bungalows is not the only all-inclusive resort in the Florida Keys. 
Want to escape winter and make a trip to sunny Florida? These all-inclusive resorts offer the perfect destination for a tropical getaway. They are beautiful, comfortable, luxurious & fun.
Bungalows Key Largo Adult only All Inclusive
Video Review: All Inclusive Bungalows Key Largo Resort!!
The Bungalows Key Largo is a red-blooded attempt to bring the all-inclusive concept to life on the East Coast of the mainland US. Their all-inclusive getaways are designed for adults-only (ages 21+ only) and have a lot of what you would expect at a genuine all-inclusive resort.
Take a trip to the Florida Keys this summer and make it an unforgettable adult only escape. With over 12 acres, 135 private bungalows and featuring outdoor garden showers and sea views this is a great way to experience the Keys.
Included are unlimited meals at the three restaurants, top shelf beverages, water sports equipment, and activities such as yoga, and cooking classes. 
Cons: Lots to do to enjoy the outdoors including kayaking the Everglades, sunset or hopping a tiki boat.
Tip: Check out the Himalayan salt room and Zen Garden Spa.
Read more on our Florida Keys All Inclusive Resort Review
Myrtle Beach is the most popular vacation destination in the US. The East Coast offers a wide selection of family-friendly resorts and packages.
Myrtle Beach has captured the hearts of travelers and locals alike with its incredible beaches, vibrant culture, year round events and unlimited entertainment and there are a few resorts that attempt all-inclusive packages. We compare them to the best vacation resorts in this review.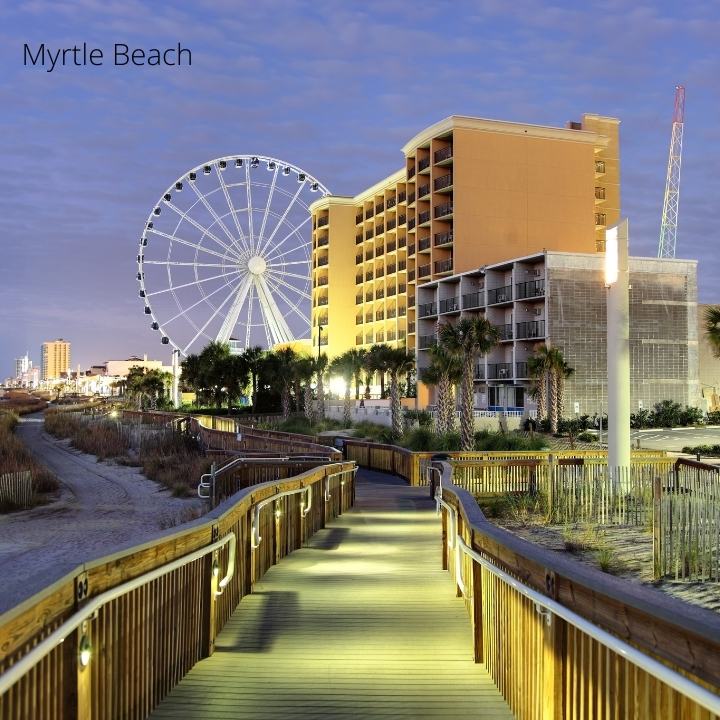 When it comes to finding a vacation spot, why not go somewhere that's beautiful, has a variety of activities, and won't break the bank? Virginia Beach is just the place. With so many iconic landmarks in the area and a huge variety of fun activities to choose from, you'll have your hands full for sure! Catch a baseball game at the beach!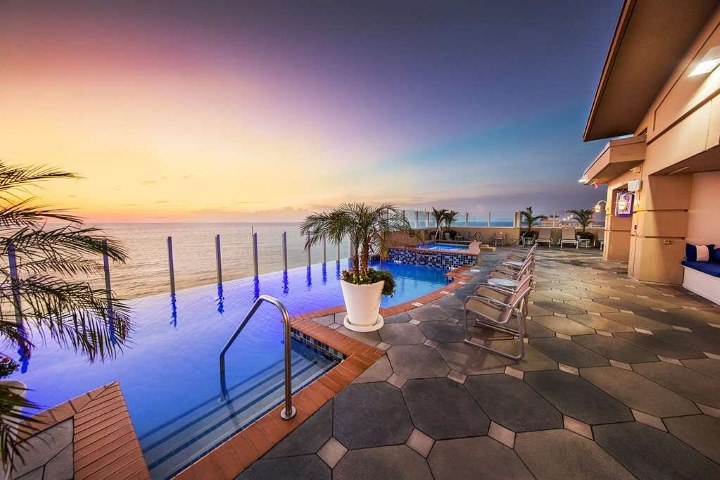 The Virginia Beach All Inclusive Resorts are perfect for those who want to enjoy the beach without having to worry about food or entertainment. They offer an assortment of amenities and services that will help you relax and have the time of your life. Not all the resorts in this review are on the oceanfront and not all the all inclusive packages are comprehensivebut most are expressly geared towards family vacations. 
Poconos All Inclusive Resorts
The Poconos region of Pennsylvania is a popular vacation destination for people from all across the country. It has something for everyone, with its diverse landscapes, culture, and activities. The region is home to many all-inclusive resorts that cater to adults-only. and couples-only needs.

Why visit The Poconos region of Pennsylvania?
The Poconos region is a popular destination for travelers looking to relax, enjoy the outdoors, and get away from the hustle and bustle of city life. The Poconos region offers numerous activities to suit anyone's interests.
If you're looking for a place to visit that is close to the metropolitan cities of Philadelphia, New York and Washington, D.C., but still has the serenity of nature that you can enjoy in the Poconos region, The Poconos is your destination.
This is a great place to visit in the fall. With its bountiful mountains and valleys, it is a place where you can experience breathtaking views and friendly people.
Video Review: The Lodge at Woodloch Pennsylvania United States
If you want to get a romantic getaway with your spouse or significant other, The Lodge at Woodloch is an excellent choice. They will provide three gourmet meals per day and have a variety of amenities. On top of that, they have an amazing spa credit!
Before your arrival, we'll include a gift package that includes goodies for both of you. And when your first night rolls around, you'll receive a Kerstin Florian Lavender Bath Bomb.
Also a bottle of sommelier-selected red wine, two specialty Riedel wine glasses (your choice), a Lodge Woodloch wine key, and chef's sweets for you to enjoy. You will have a great time on your arrival!
Read more on our Poconos All Inclusive Resort Review
Mexican East Coast All Inclusive Resorts
Mexico is one of the most popular destinations for US travelers. With its warm weather, beautiful beaches, and diverse culture, it's no wonder why it's a favorite destination.
Here are our awards For the best East Coast resorts in Mexico which are mostly resort towns located on the Caribbean Sea in an area called the Yucatán Peninsula with separates the that sea from the golf of Mexico. 
Mexico has a lot to offer in terms of resorts that you can choose from. If you are looking for an all-inclusive resort on the East Coast, then you should consider Mexican resorts. They offer endless activities and amenities that will make your vacation unforgettable.
With their beautiful beaches and warm weather, they provide an experience unlike any other resort in Mexico or anywhere else in the world!
💼 We cherish our independence! ✈️ Our travel recommendations are carefully researched, bias-free, and powered by human expertise by April and Ricky of LRB (we have personally researched and travelled to many of these destinations and researched others thoroughly through first-hand accounts). 🌍✨
We try to keep everything up to date, but please always do your own research and contact us if you know any issues for us to help others as best we can as a small but professionally focused team! 🧐📚⚠️