All-Inclusive Family Resort for Every Age
Guide to Picking an All-Inclusive Resort for Every Age
Looking for An All-Inclusive Resort For Every Age! We get it; picking a one-size-fits-all vacation spot is a Herculean task. You've got tiny tots who want to build sandcastles, teens who are too cool for everything, and let's not forget your own desperate need for some R&R. Don't sweat it; we've got the ultimate cheat sheet to resorts that will leave every family member grinning ear-to-ear.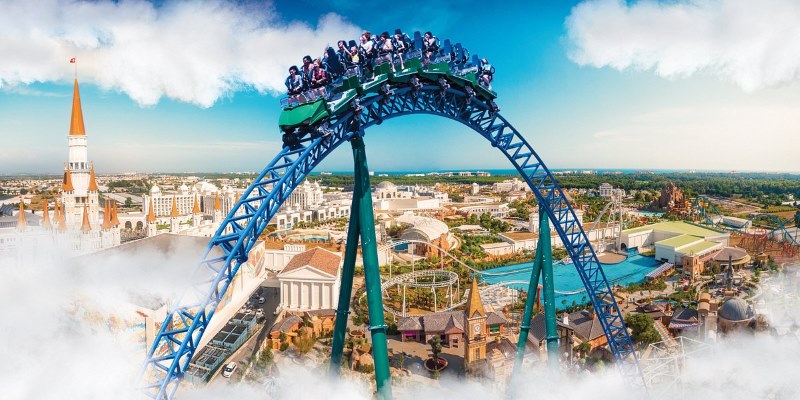 Lnad of the Legends Waterpark Resort in Turkey
The Struggle is Real
Parents, let's be real for a sec. Babies need naps, toddlers need constant stimulation, tweens need cool Instagram shots, and teens need... well, probably some space away from you. Am I right? So how and where do you balance that with your own dreams of a mojito by the beach or a spa day?
The Diaper Phase: Babies (0-2 years)
Hot Spot: Beaches Negril, Jamaica
Why would you, a tired parent, not want a vacation where someone else can take on diaper duty? Beaches Negril offers certified nannies so you can actually read a book or, you know, take a nap. They've even got baby essentials like cribs and high chairs. Shallow pools for baby? Check.
Terrible Twos or Terrific Twos: Toddlers (2-4 years)
Find the best deal, c ompare prices, and read what other travelers have to say at Tripadvisor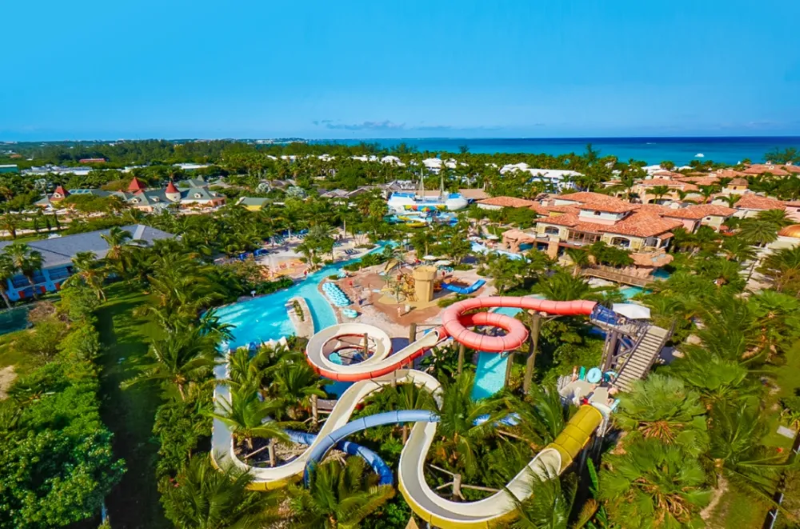 Why It Rocks for All Ages:

Babies: A quick flight from the U.S., so less ear-popping fuss.
Toddlers: Pirates, matey! Shallow waters and cool themed activities.
Kids to Teens: Water parks galore, plus snorkeling and adventure.
Young Adults: Nightlife and water sports, plus the 'Gram-worthy beaches.
See the Bahamas Family Resorts
Melia Nassau Beach - All Inclusive
Why it's a Hit:
Known for resorts that offer infant care and amenities.
Close enough for shorter flights.
Moms and Dads can sip margaritas poolside while the nannies take over.
See The Best Cancun Resorts With Water Parks
For the Tiny Tots: Babies (0-2 years)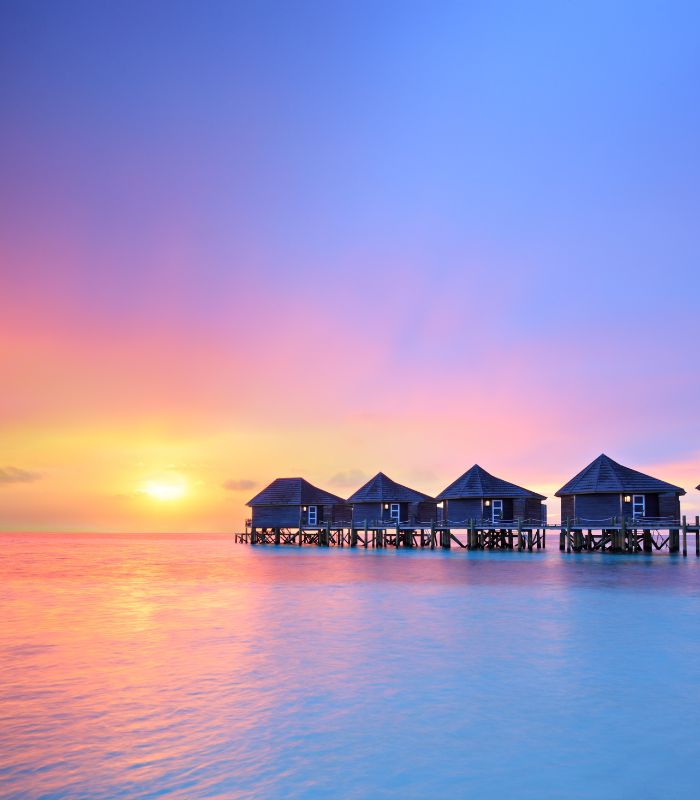 Why It's a Winner:
Overwater bungalows mean naptime is just steps away.
Babysitting services are next-level.
Parents can enjoy some alone time knowing the kiddos are in safe hands.
The "I Wanna Do Everything!" Kids (5-8 years)
Algarve, Portugal
Why You'll Love it:
Toddler pools and activity centers.
European charm, but with kid-friendly dining.
Gorgeous settings that are also super safe for tiny explorers.
Must-Visit: Martinhal Sagres, Portugal
You can actually sip your espresso in peace while your little adventurers are being entertained at the "Rapozinhos" Kids Club. Plus, safety is a big deal here; the villas come with socket protectors and baby gates. So, you can chill while they run around like little maniacs.
See the family friendly all-inclusive resort sin the Algarve Portugal
Can't-Stop-Won't-Stop: Kids (5-8 Years)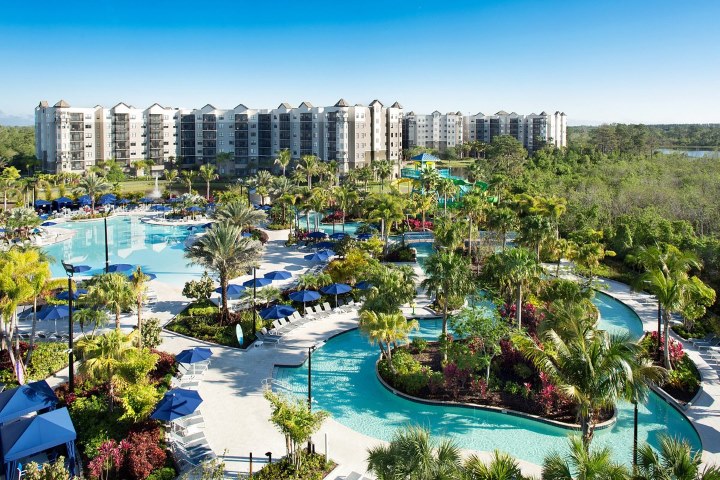 The Grove Waterpark Resort in Orlando
Why it's The Dream:

Theme parks? Check.
All-inclusive options where meals and entertainment are sorted.
Kid-centric activities that'll let you sneak in some adult time.
If you're navigating the labyrinth of all-inclusive resorts in Punta Cana for your family, specifically with teens and pre-teens in mind, then the Hard Rock Hotel & Casino Punta Cana is your golden ticket.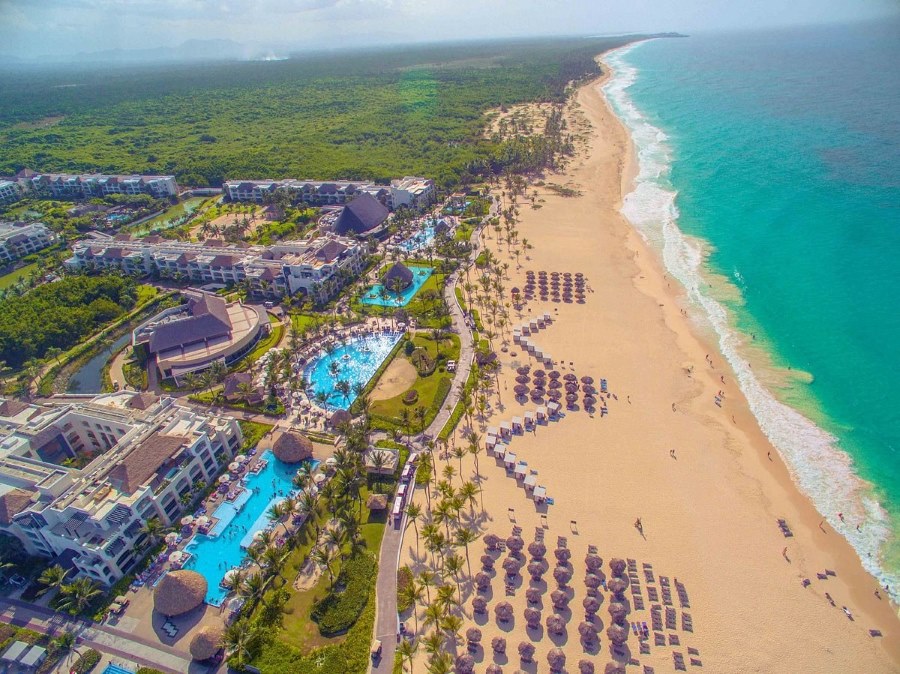 Hard Rock Hotel & Casino Punta Cana
Let's face it: teens don't want to be sequestered in the kiddie pool, and this resort gets it. Here, they can strut their stuff at a dedicated teen club furnished with PS5 stations and interactive dance platforms, and trust me, it's cool enough to pull them away from their screens. For those interested in unleashing their inner Maroon 5, a "Battle of the Bands" session might be in order. Water adventures? Yep, they've got that too, and it's anything but basic. The resort offers a blend of youthful exuberance with a side of luxury that teens and pre-teens won't find just anywhere. Let's not forget, this place also happens to be Instagram gold, so your teens can keep their social media feeds as lit as their vacation. And the parents? With a sprawling casino, rejuvenating rock spa, and a lush golf course, you won't need to worry about entertaining them. It's a win-win in the family vacation playbook.
For: The "Too Cool for School" Preteens: (9-12 years)
Why it's The Dream:Punta Cana, Dominican Republic 🇩🇴
Theme parks? Check.
All-inclusive options where meals and entertainment are sorted.
Kid-centric activities that'll let you sneak in some adult time.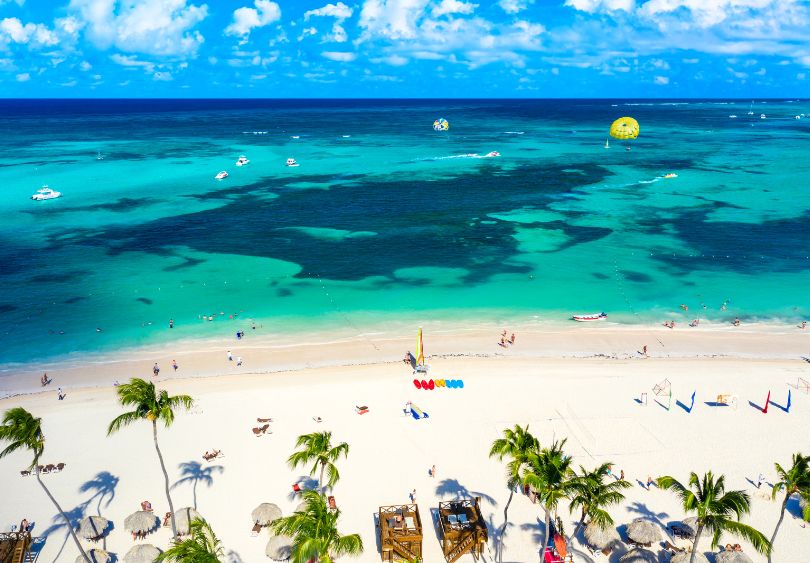 Punta Cana All Inclusve Family Resorts
If your kids have ever dreamed of running off to join the circus, they can at Club Med Punta Cana. We're talking trapeze lessons, folks. Plus, food even your picky eater will dive into. You're scoring major parenting points here.
Those Awkward Tweens (9-12 years)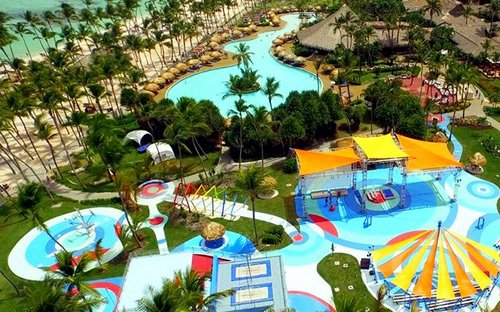 Club Med Punta Cana, Dominican Republic
For; The Mini Adventurers: Toddlers (2-4 years)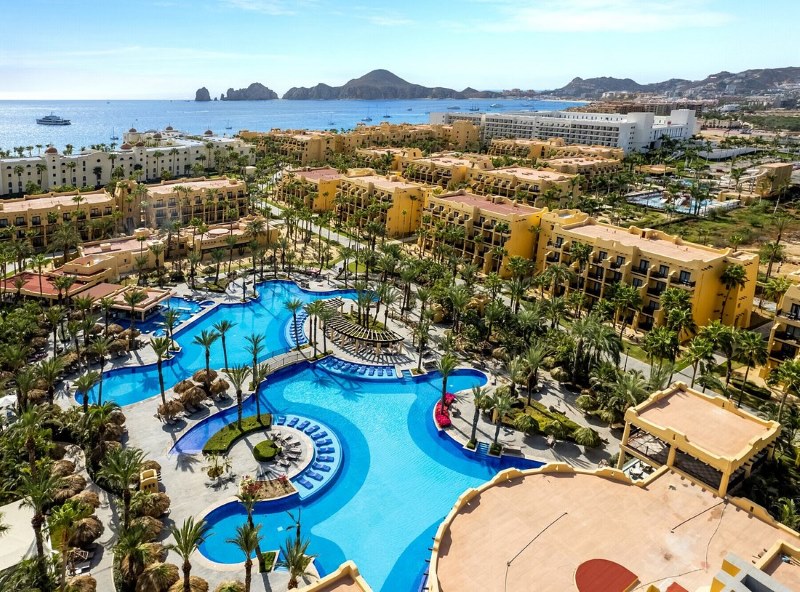 Hotel Riu Santa Fe Los Cabos
Los Cabos, Mexico 🇲🇽
Why You'll Dig It:
Kids clubs and mini water parks give toddlers a splashin' good time.
Shallow beach areas for safe play.
Restaurants that actually have kid-friendly international cuisine.
The Place: Aulani, A Disney Resort & Spa, Hawaii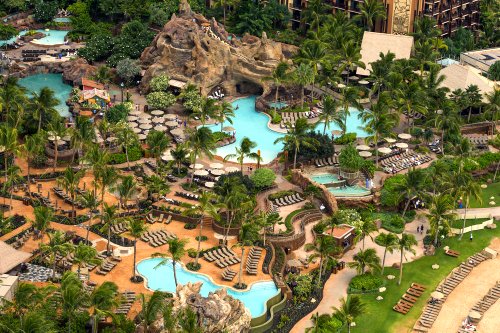 Aulani, A Disney Resort
You thought your tween was too cool for Mickey and Minnie? Think again. From meeting Disney characters to snorkeling adventures, this resort has got it all. Your tween will be too busy snapping selfies with Stitch to complain about hanging out with the fam.
Read more about Aulani, A Disney Resort on our Oahu All Inclusive Family Resorts Review
Your Moody Teenagers (13-17 years)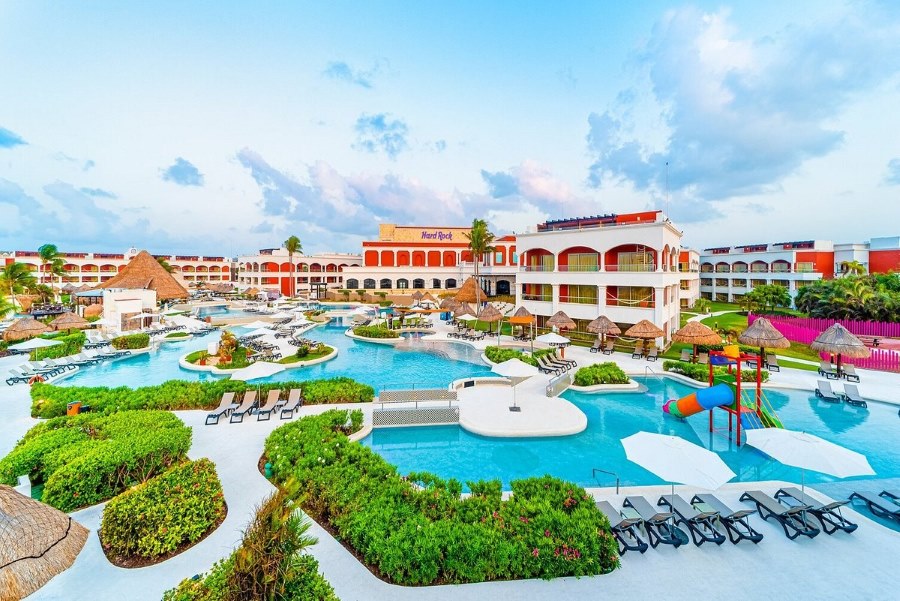 Hard Rock Riviera Maya for Teens
Really we love you teenagers! 
Where to Go: Hard Rock Hotel, Riviera Maya, Mexico
Teens get their own lounge, so you won't have to endure eye-rolls while you're trying to enjoy your cocktail. With activities like kayaking, snorkeling, and a teen-only disco, they won't even have time to be bored or — dare we say it — miss their smartphones too much.
Find the best deal, compare prices, and read what other travelers have to say at Tripadvisor
FOr: The 'I Wanna Go Fast' Kids: (5-8 years) 
Tenerife, Canary Islands, Spain 🇪🇸
Why It's a Must:
Theme parks and water parks, like Siam Park, are a hit.
Family suites make it feel like home.
Diverse activities from magic shows to mini-golf.
The Tween Scene: Preteens (9-12 years)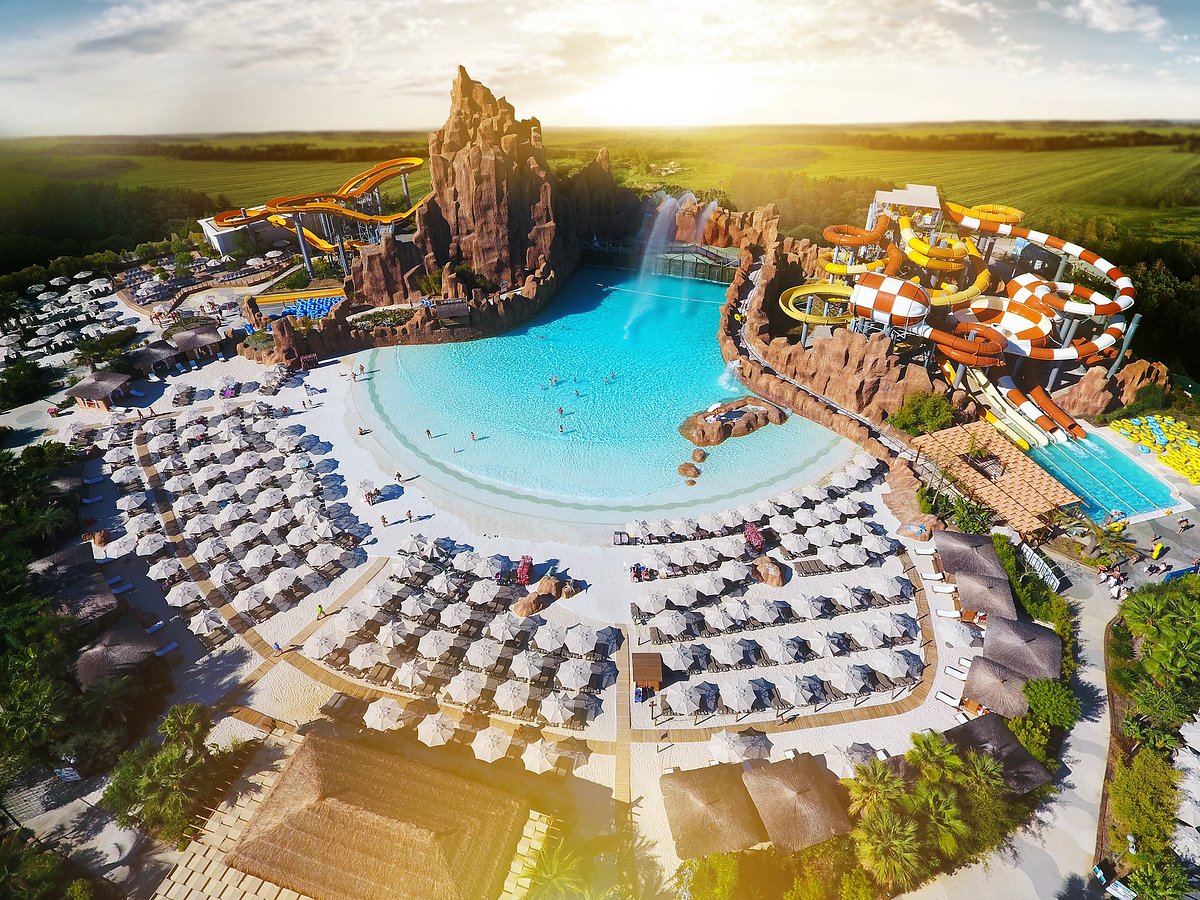 Land of Legends Resort in Turkey
Why It's Lit:
Zip-lining and bungee trampolining for the win.
All-inclusives here often have on-site water parks.
Tons of history and culture if you can get 'em interested.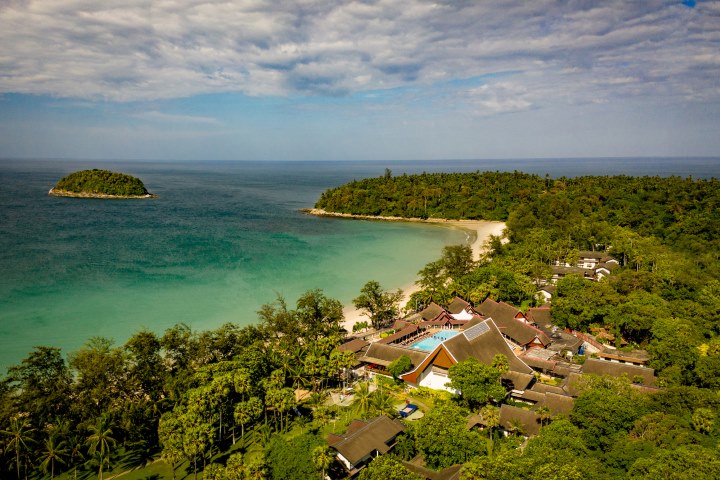 Club Med Phuket
Why It's a Winner:
Babies: Resorts here get that family comes first, offering top-notch childcare services.
Toddlers: Elephant sanctuaries, 'nuff said.
Kids to Teens: Kayaking, snorkeling, and temples that make history look cool.
Young Adults: Night markets and beach parties. It's lit.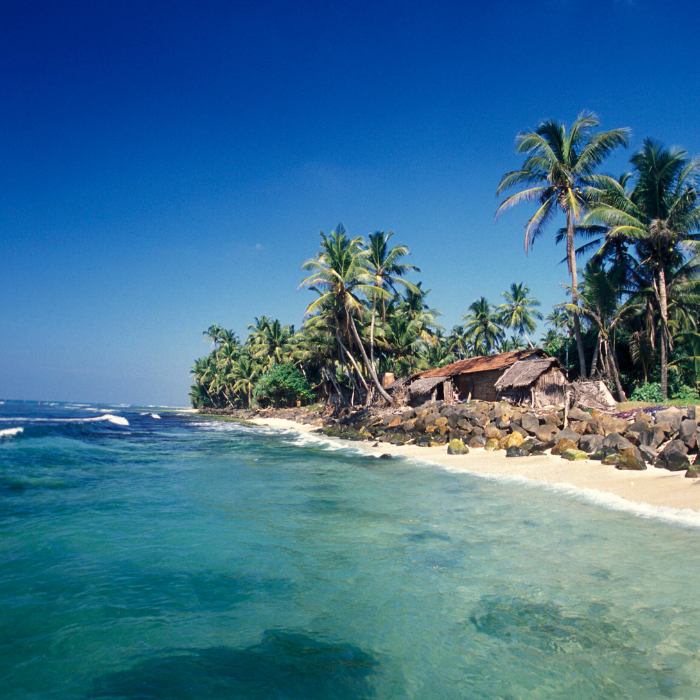 Varadero, Cuba
FOR: Almost There, But Not Quite: Young Adults (18-20 years)
Why It's Epic:
Age-appropriate parties and excursions.
Resorts offer student discounts. Hey, every little bit helps!
Cuban culture is a cool mix of fun and educational.
Almost-Adulting: Young Adults (18-20)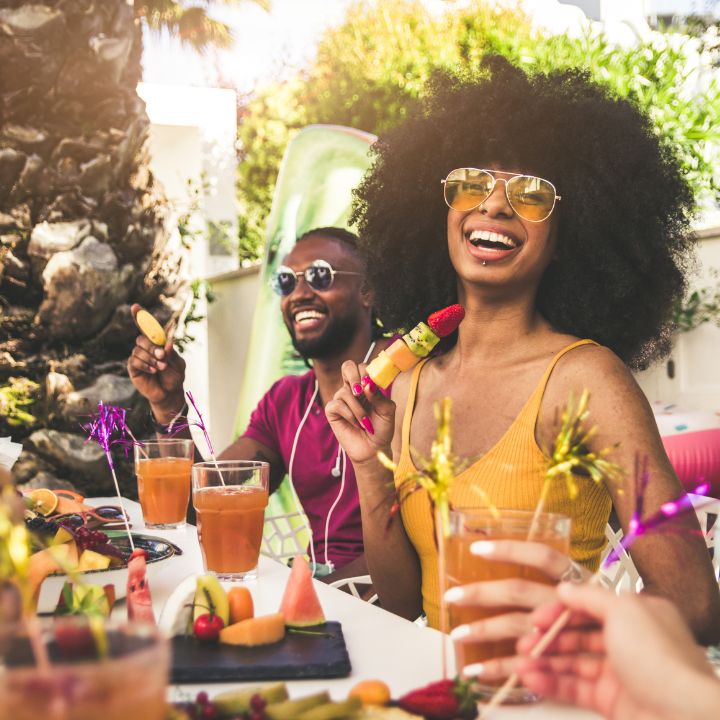 The Scene: Ibiza Gran Hotel, Ibiza, Spain

You were young once; you get it. This age is all about the vibes, the scene, and probably the Instagram stories. Ibiza Gran Hotel delivers with its killer nightlife and plush, luxury suites. Basically, it's the ultimate young adult playground.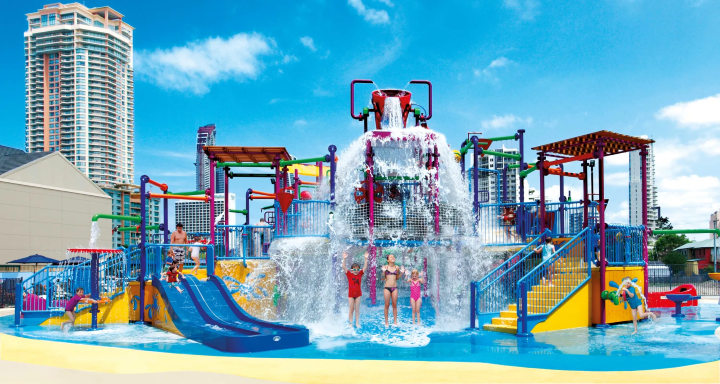 A Family Friendly Resort on the Gold Coast
Why It's a No-Brainer:
Babies: Plenty of resorts offer 'parent's night off' options.
Toddlers: The theme parks here are toddler-friendly, trust us.
Kids to Teens: Surf lessons and wildlife sanctuaries.
Young Adults: Adventure activities and nightlife that goes off.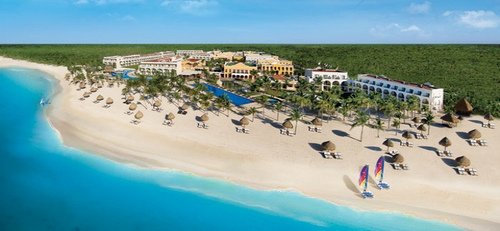 Dreams Tulum
Why It's Perfecto:
Babies: Many resorts offer childcare so you can have a margarita in peace.
Toddlers: It's a sandbox heaven with those wide beaches.
Kids to Teens: Ancient ruins one day, cenote diving the next.
Young Adults: Boho-chic vibe, yoga retreats, and beach clubs.
More Family Friendly Resort Destinations F0r Kids of All Ages
Most of these destinations aren't traditionally known for all-inclusive resorts.
Babies: The Infant VIPs (0-2 years)

The Swiss Alps, Switzerland 🇨🇭
Why It's the Bee's Knees:
The clean mountain air is perfect for little lungs.
Swiss precision means you can expect top-tier childcare.
It's quieter than your average beach destination, so naps are definitely on the menu.
Toddlers: The "I Do It Myself" Squad (2-4 years)
Lapland, Finland 🦌
Why It's a Fairytale:
Meet Santa Claus in his hometown; mic drop.
Safe, shallow snow to play in.
Cozy accommodations designed for snuggles after a day of winter fun.
Kids: The Eager Beavers (5-8 years)
Galápagos Islands, Ecuador 🐢
Why It's Educational & Awesome:
Let's turn that natural curiosity into a love for wildlife and science.
Resorts here are committed to eco-friendly fun.
Small group activities mean they'll get tons of attention.
Preteens: The "I Guess This is Fun" Crew (9-12 years)
Queenstown, New Zealand 🏞️
Why They Won't Hate It:
Bungee jumping and jet boating for the daring ones.
Easy hikes that make for perfect family selfies.
A laid-back vibe that gives them a break from school stress.
Teens: The Eye-Roll Experts (13-17 years)
Tokyo, Japan 🇯🇵
Why It's Unskippable:
Anime, tech, and fashion? Say less.
Karaoke lounges where they can live out their pop star dreams.
Loads of teen-friendly resorts that are near the bustling city but offer their own chill zones.
Young Adults: The "I've Got This" Bunch (18-20 years)
Why It's LIT:
Beach parties by day, clubbing by night.
Luxurious resorts that still understand a young adult's budget.
Watersports galore for those afternoons when they've had enough of lounging.
🌍✈️🎉
Age Group
What to Look for in All-Inclusive Resorts
Babies & Toddlers (0-3)
- On-site childcare or babysitting services
- Baby-proof rooms or cribs available
- Baby-friendly pools
Young Kids (4-7)
- Mini kids' club with age-appropriate activities
- Shallow pools and water play areas
- Kids' menus
Tweens (8-12)
- Variety of outdoor activities (e.g., mini-golf, paddle boarding)
- Junior kids' club with crafts and games
- Family-friendly excursions available
Teens (13-17)
- Teens-only lounges and discos
- Adventure sports like zip-lining or snorkeling
- Fast, reliable Wi-Fi
Adults (18+)
- Fine dining options
- Spa and wellness facilities
- Adults-only pools or beaches
FAQ: All-Inclusive Resorts for Families with Kids of All Ages
We know you're juggling nap schedules, teen tantrums, and adult leisure time, all while trying to pick the perfect all-inclusive resort. Don't sweat it! We've answered the most burning questions about finding the ideal vacation spot for your multi-aged family. 🌴👶👦👧👱‍♂️🌞
A: Absolutely, many resorts like Beaches Turks & Caicos or Atlantis in the Bahamas offer a range of activities and facilities catering to tots, tweens, teens, and adults.Answer
A: Kids' clubs are usually segmented by age. For example, there might be a mini-club for ages 4-7, a junior club for ages 8-12, and a teen lounge for ages 13-17. They offer age-appropriate activities like arts and crafts, treasure hunts, or teen discos.
A: Many resorts offer babysitting services for an additional fee. These are often provided by vetted staff members trained in childcare, so you can enjoy some adult time without stress.
A: For sure! Expect a range of options from pizza and fries to fruits and veggies. Many resorts even have kids' menus in their restaurants.
A: Most resorts offer family suites with partitioned areas or separate rooms for kids. If your kids are different ages, you can usually find suites that have a crib for the baby and twin beds for older kids.
A: Think water sports, Xbox lounges, teen-only parties, and adventure excursions like zip-lining or snorkeling. Some places even have DJ classes!
A: Absolutely, from family-friendly shows and beach games to snorkeling trips and cooking classes, there's usually something everyone will enjoy.
💼 We cherish our independence! ✈️ Our travel recommendations are carefully researched, bias-free, and powered by human expertise by April and Ricky of LRB (we have personally researched and travelled to many of these destinations and researched others thoroughly through first-hand accounts). 🌍✨
We try to keep everything up to date, but please always do your own research and contact us if you know any issues for us to help others as best we can as a small but professionally focused team! 🧐📚⚠️