Hard Rock Hotel & Casino Punta Cana: Where Luxury Meets Rock 'n' Roll
If Elvis Presley and a Michelin-starred chef had a love child, it would be the Hard Rock Hotel & Casino Punta Cana. Nestled on 121 acres of sugar-white sands on Macao Beach, this is not your grandma's tropical retreat. It's a playground for both the young and young at heart, sprinkled with a sense of indulgence—yes, that's a Jack Nicklaus-designed golf course you see.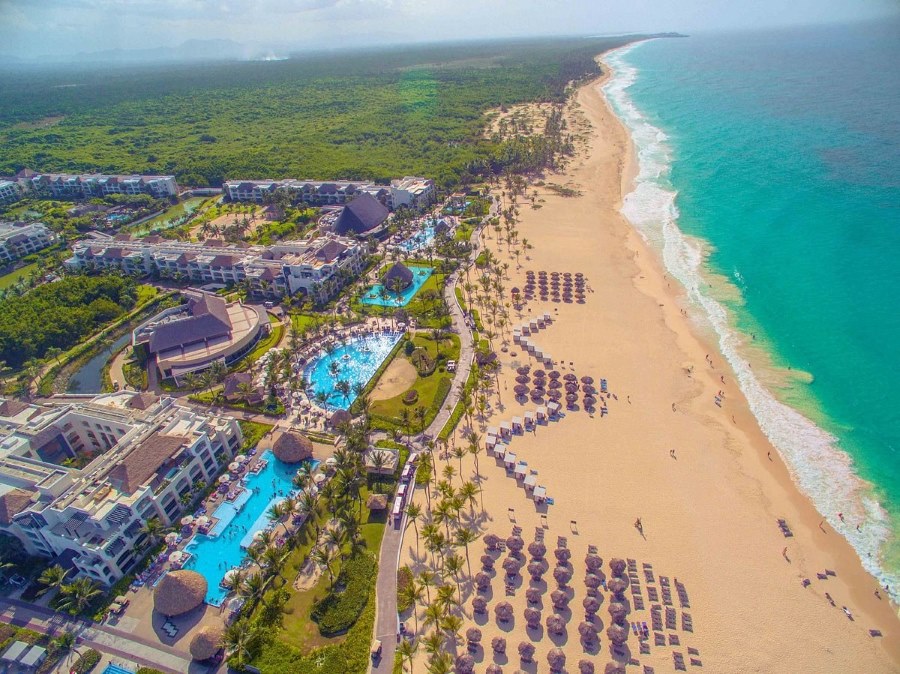 Hard Rock Hotel & Casino Punta Cana
Review Ratings
Location: 4.5/5 
Situated on the serene Macao Beach in the Dominican Republic, the resort draws you into its orbit with promises of both seclusion and activity. Here, you're not just by the sea; you're by a stretch of coast that's less cluttered with tourists, offering you more personal space to inhale the salty air. And if you do want to wander off the premises, nearby attractions are accessible. However, the relative seclusion means that most off-site excursions will require a bit of travel.
Pros: The resort is well-placed on the idyllic Macao Beach, offering visitors both isolation and luxury. 
Cons: Being an all-inclusive resort, it is somewhat cut-off from the local culture and community, a drawback if you're looking for an authentic Dominican experience.
Accommodation: 5/5 
Unpack in any of the resort's 1,775 rooms, where you're greeted with modern creature comforts like double hydrospa tubs and LCD TVs. Though the rooms echo the larger-than-life persona of the brand with iconic music memorabilia, the acoustic insulation could be improved. Nothing breaks your zen-like post-massage trance quicker than a Bon Jovi ballad bleeding through the walls from next door.
Pros: Rooms range from luxurious to extravagant, with amenities like double hydro-spa tubs, LCD TVs, and 24-hour room service. 
Cons: The sheer size of the resort might make some rooms a long walk from key amenities.
Amenities: 5/5
Dining? Choose from nine restaurants—each a symphony of flavors. If you're a food snob, get ready to eat humble pie because the dining options here are legitimately excellent. But let's talk pools. Eleven. That's right, eleven pools, including four swim-up bars, a kids' pool, and a lazy river. Throw in the Rock Spa, Oro Nightclub, and a sprawling casino—the largest in the Dominican Republic—and you're flirting with sensory overload.
Pros: Nine gourmet restaurants, an 18-hole golf course, the Rock Spa, and the largest casino in the Dominican Republic barely scratch the surface. The resort even offers unique experiences like Virtual Reality dining and has a Late-Night Kids Club. 
Cons: With such a wide range of amenities, the resort can feel overwhelming and possibly crowded during peak times.
Service: 4/5
Pros: With an all-inclusive package, the service is designed to pamper. Staff are generally responsive and attentive.
Cons: There can be delays during peak hours, and the resort's size sometimes means less personalized service.
Value for Money: 4/5 
Pros: For an all-inclusive experience that offers a multitude of dining options, activities, and premium amenities, the resort offers solid value for the money.
Cons: Those looking for a more budget-friendly or authentic experience might find the resort too pricey.
Find the best deal, compare prices, and read what other travelers have to say at Tripadvisor
OVERALL: Situated on 121-acres of pristine sugar-white sands along Macao Beach, the Hard Rock Hotel & Casino Punta Cana serves as a mammoth sanctuary for vacationers in the Dominican Republic. This resort melds the audacity of rock 'n' roll with the lavish amenities of a five-star resort. It is Hard Rock's first all-inclusive hotel and casino, and it doesn't hold back in living up to its name.
Looking for something different?
For travelers seeking a more quiet, wellness-focused stay without skimping on the luxury, consider Zoëtry Agua Punta Cana. It's the organic, gluten-free, yoga-loving cousin to Hard Rock's unabashed hedonism.
In the world of all-inclusives, the Hard Rock Hotel & Casino Punta Cana stands out like a leather jacket in a sea of tuxedos. It's unapologetically ostentatious and unforgettable. But here's the thing: it's not trying to be anything else. It's a legend in its own right.
The Unfiltered FAQ on Hard Rock Hotel & Casino Punta Cana: No Holds Barred
Alright, let's cut to the chase. You've got questions about the Hard Rock Hotel & Casino Punta Cana, and I've got the answers you crave. No sugar-coating, no skirting around. Just good ol' fashioned truths that'll have you air-guitaring with excitement or, well, flipping the bird. Here we go!
Ah, "all-inclusive"—two words that ring sweet as a Led Zeppelin riff. Yes, it's mostly all-inclusive, from your meals at nine tantalizing restaurants to the poolside cocktails. But heads up, premium wine or dine experiences like private dinners on the beach, will have your credit card humming "Stairway to Heaven." Check when you book though because things can change quickly. 
The beach is as private as Keith Richards at a Rolling Stones concert—sort of exclusive but not completely. Macao Beach is public but, worry not, it's far from the madding crowd, offering you the seclusion that most public beaches just can't match.
Bring 'em along, but only if they can keep up! There's a kids' pool, a lazy river, and even a Kids Club to dump—I mean, drop—your children off for a fun day of activities. However, keep in mind the overall atmosphere of Hard Rock is a shade more 'MTV Spring Break' than 'Saturday Morning Cartoons.'
Rremember, the house always has an edge—unless you're playing the guitar.
If you need to leave this resort to have fun, then I'm the Queen of England. Between the Oro Nightclub and nightly live performances, you'll be begging for a slow ballad just to catch your breath.
Oh, absolutely! Whether it's renewing your vows at the Colin Cowie Wedding Chapel or booking a sensual couple's massage at the Rock Spa, this place has the sparks flying higher than a Metallica concert pyro.
Look, if you're into a demure, candle-lit kind of vacation, this may not be your jam. But if your idea of paradise includes shredding an air guitar by the pool, downing tequila shots at a swim-up bar, and rolling the dice at a casino, then what are you waiting for? This place is your stairway to hedonistic heaven.

Feel free to fire more questions my way if you've got 'em. Otherwise, pack those leather pants and get ready to rock the tropics!
💼 We cherish our independence! ✈️ Our travel recommendations are carefully researched, bias-free, and powered by human expertise by April and Ricky of LRB (we have personally researched and travelled to many of these destinations and researched others thoroughly through first-hand accounts). 🌍✨
We try to keep everything up to date, but please always do your own research and contact us if you know any issues for us to help others as best we can as a small but professionally focused team! 🧐📚⚠️