Best Barbados Resorts 2023
Looking for some great Barbados resorts? Barbados has some of the greatest resorts and best reviews in the Caribbean.
Here are the awards for the best resorts in Barbados:
---
---
The Best Barbados Resorts
The Best Barbados Resorts Awards is an annual award ceremony that recognizes the best resorts in Barbados. 
VIDEO: Barbados destination travel guide
Barbados 5-Star Luxury Resorts are some of the most luxurious in the Caribbean. These resorts have one of the best reputations for food and service, with many prestigious awards to show for it. But there are less than a handful. 
In fact there are only four 5-star resorts in Barbados:
O2 Beach Club & Spa
Fairmont Royal Pavilion
Sandy Lane
Sea Symphony Villa
Top 25 Barbados Resort Deals with Reviews on TripAdvisor

See also:
Barbados 5-star resorts for review
Barbados all-inclusive resorts. 
We've listed the best 3 and 4-star resorts here.
---
Colony Club Hotel Barbados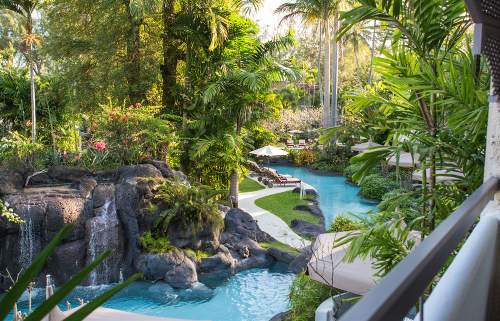 Pool Area of the Colony Club
Located on the Platinum Coast, this 4-star resort gets excellent reviews and is 40 minutes from the airport. There are 4 lagoon style pools, 2 restaurants, tennis, spa services, water sports and tee time arrangements at a nearby golf course.

There are 96 guestrooms and suites with private balconies or patios. Some have private pool access.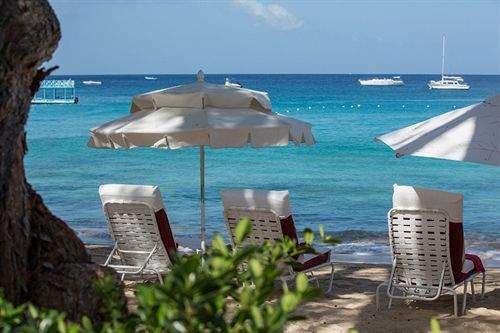 View from the Colony Club Resort
Reviewers say: informative staff, service was outstanding, newly decorated garden view rooms are of the best value, not luxurious but very good, great wedding and honeymoon here. Reviews are nearly perfect here.

More information and reviews for Colony Club Hotel

---
Southern Palms Hotel - Barbados Family Vacation Resort

Southern Palms is an award-winning 3-star resort with excellent reviews from past guests. It's on a beautiful white sandy beach which is a nesting ground for the Hawksbill Turtle. (Nesting and hatching occur between May and October). 
This resort has a restaurant, salon, conference rooms, live entertainment and specialty nights. There are also water sports, mini golf, tennis, scuba diving, and more. 
Reviewers love this resort and say it's lovely, reasonably priced, food and drinks are great, location is fantastic and guests have seen turtles hatching. 
Get more information and see the latest reviews for Southern Palms Resort.
Video: Southern Palms Beach Club & Hotel Resort | Barbados | Welcome to The Pink Pearl !
---
The Barbados has several all-inclusive resorts that can accommodate a variety of needs. Some of these resorts are located on the beach and perfect for those who want to lounge in the sun all day.
Sugar Bay Barbados
O2 Beach Club & Spa
Bougainvillea Barbados
Coconut Court Beach Hotel
Sea Breeze Beach House by Ocean Hotels - All-Inclusive
Waves Hotel & Spa by Elegant Hotels - All-Inclusive
Crystal Cove by Elegant Hotels - All-Inclusive
South Gap Hotel
The Crane Resort
Butterfly Beach Hotel
There are in total about 35 all-inclusive properties in Barbados according to TripAdvisor and these are the best:
Barbados All-Inclusive - find the best deal, compare prices, and read what other travelers have to say at Tripadvisor

If you are looking for a tropical getaway, then Barbados all-inclusive resorts is the perfect place. The country of Barbados is located in the West Indies and is a part of the Lesser Antilles archipelago. It's known for its friendly people, beautiful beaches, strong rum and picturesque harbors.
This Caribbean island offers a lot of variety in terms of their landscape - you can visit western coasts with calm waters and beaches to enjoy, or eastern coasts where large, high quality waves are often surfed. The type of destination depends on personal preference.
If partying at night is what you're looking for, Barbados will not disappoint. You can explore local nightlife and beach bars with excellent drinks and dance to some soca, calypso and reggae tunes.
Video Review: Top 10 Best All Inclusive Resorts in Barbados
Top Barbados Sandals Adult-Only All-inclusive Resort
Sandals Barbados All Inclusive Resort is an adults-only, couples-only resort located in the Caribbean. Whether you want to relax by the pool or take a stroll through the tropical gardens, Sandals Barbados All Inclusive Resort has it all. On-site features include a spa and fitness center, tennis courts and a water sports center that offers paddle boarding, kayaking and snorkeling.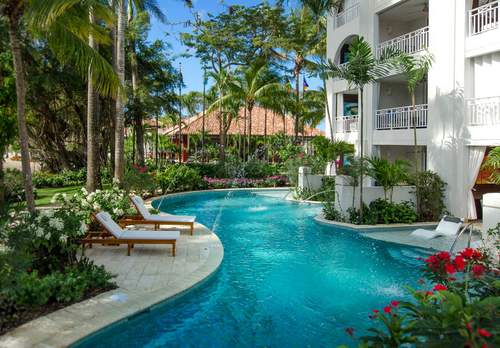 Swim-up rooms at Sandals Barbados
Pros: Sandals  resort has three pools, one of which has a swim-up bar & cafe. There are also 13 restaurants, seven bars and scheduled theme nights. You can also participate in various water sports and have a wide range of culinary options available.
The resort has a few rooms with butler service and a freestanding terrace soaking tub. The resort is walking distance to the nightlife of St. Lawrence Gap and offers a departure lounge with showers & changing rooms
Video: Sandals Barbados FULL All-Inclusive Resort Tour! Detailed Walk-Through & Information Of Inclusions!
Sandals Barbados is a highly rated all inclusive resort. Click the picture to see the full review. 
See the best all inclusive resorts in Barbados here. 
---
Barbados Adult-Only Resorts
Sandals is also our top Adult only all-inclusive resort in Barbados. In total there are 9 others, and you may like to also check these out. 
Sandals Barbados - Best All Inclusive Adult only in Barbados
Also Sandals Royal Barbados
Little Arches Boutique Hotel - Best small Barbados Adult Only
Sugar Cane Club Hotel & Spa - Most consistand Adult Only
The Abidah By Accra - Best Intimate adult only in Barbados
The best Barbados adult-only resorts offer a variety of amenities to ensure that you have the perfect vacation. With a variety of activities, accommodations, and facilities, these resorts are perfect for adults who need some time away from children or want to enjoy some alone time with their partner.
Here are the top Barbados Adult Only Resorts on TripAdvisor: Find the best deal, compare prices, and read what other travelers have to say at Tripadvisor
Video: The Best Adults-Only Hotel in Barbados: The House
At Cobblers Cove, you can enjoy high-quality British Colonial elegance and Caribbean island chic on a pristine (but narrow) aqua beachfront. Located in lush gardens, 44 luxurious suites offer separate living areas and folding doors
Camelot is considered one of the finest restaurants on the island and offer amenities, such as free water sports, afternoon tea in the grand Great House, and twice daily maid service.
Generally the resort is calm and classy, but if you're the type of guest who prefers their experience to be adults-only, then it must be noted that there's a period between January and March where that's possible.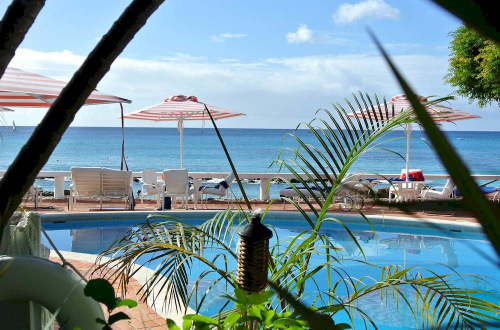 An excellent luxury resort. Click the picture for a full review.
See the best luxury resorts in Barbados here.
---
---
Hilton Barbados Resort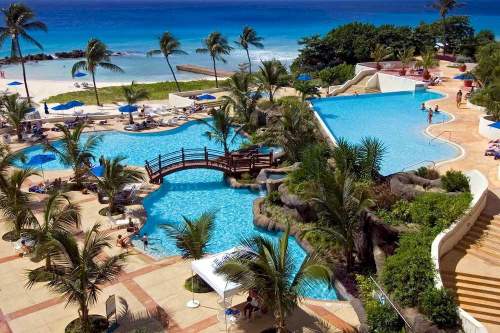 Located in Needham's Point, this spacious 4 star opened in 2005. There are protected coves for swimming, a pool complex with waterfalls, free intro scuba lessons, kid's club, business center, 2 room spa and 3 restaurants.
The 350 guestrooms are comfortable and have private balconies. They feature Barbadian art.
Reviewers say: great for business or families, great beach, friendly staff, great location, easy to get to other restaurants and tourist spots, well-run and clean.


See the latest reviews for the Hilton 

---
Radisson Aquatica Resort Barbados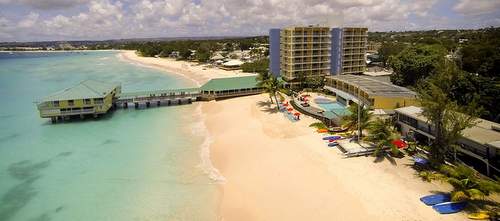 The Radisson Aquatica is one the the good Barbados resorts. It's beach front in Needham's Point, not too large and gets good reviews overall.
There are 2 restaurants here as well as a pool, fitness center, childcare and breakfast. It's a good spot for paddle boarding, snorkeling and there's lots to do within walking distance.
Reviews here are good overall. Everyone notes the wonderful beach and say the staff are pleasant. 
Get more information and see the latest reviews for the Radisson Aquatica Resort.
---
Divi Southwinds Barbados Beach Resort.
The Divi Southwinds Beach Resort lies on the beautiful south coast of Barbados in Christ Church. It offers all-suites with a casual Caribbean retreat feel, and is uniquely divided by the soft white beach and gentle waves.
Dartmouth is home to many restaurants, nightlights and local shops. It also has an intimate collection of one bedroom suites which are close to scenic Dover Beach and offer stunning ocean views. Behind the St. Lawrence Gap, there are over 100 spacious one- and two-bedroom suites
The suite is surrounded with sparkling freshwater pools and tropical garden views. They feature king-sized beds, fully equipped kitchens, and sleeper sofas.
Another resort we should mention is the Divi Southwinds Barbados Beach Resort. At the time of writing, reviews aren't the greatest but you may want to take a look at what's happening now. 
---
There are many more great Barbados resorts. Take a look at the menu to the right for more or visit:
Barbados All Inclusive Resorts
---
Some top Barbados family resort awards go to: 
Best Barbados All-Inclusive Family Resort: Sugar Bay Barbados
Best Rated Barbados Family Resort: Sugar Bay Barbados
Best Family Resort in Barbados where mum and dad can have a mind and body holiday as well: Waves Hotel & Spa by Elegant Hotels - All-Inclusive in Saint James Parish
What are some of the best Barbados Family Resorts? Read on for a list of the most luxurious hotels in Barbados for a family vacation.
There are also some good smaller hotels for families in Barbados;
Video: The Tamarind Barbados - A Family Friendly Boutique Hotel