All Inclusive Elopement And Honeymoon Packages
All Inclusive Elopement and Honeymoon Packages
Weddings aren't for everybody. They're big, they're stressful, and you just know they're going to be expensive.
For this reason, elopement is turning from taboo to trendy as young couples from across America are ditching the big fancy wedding for something much more exotic.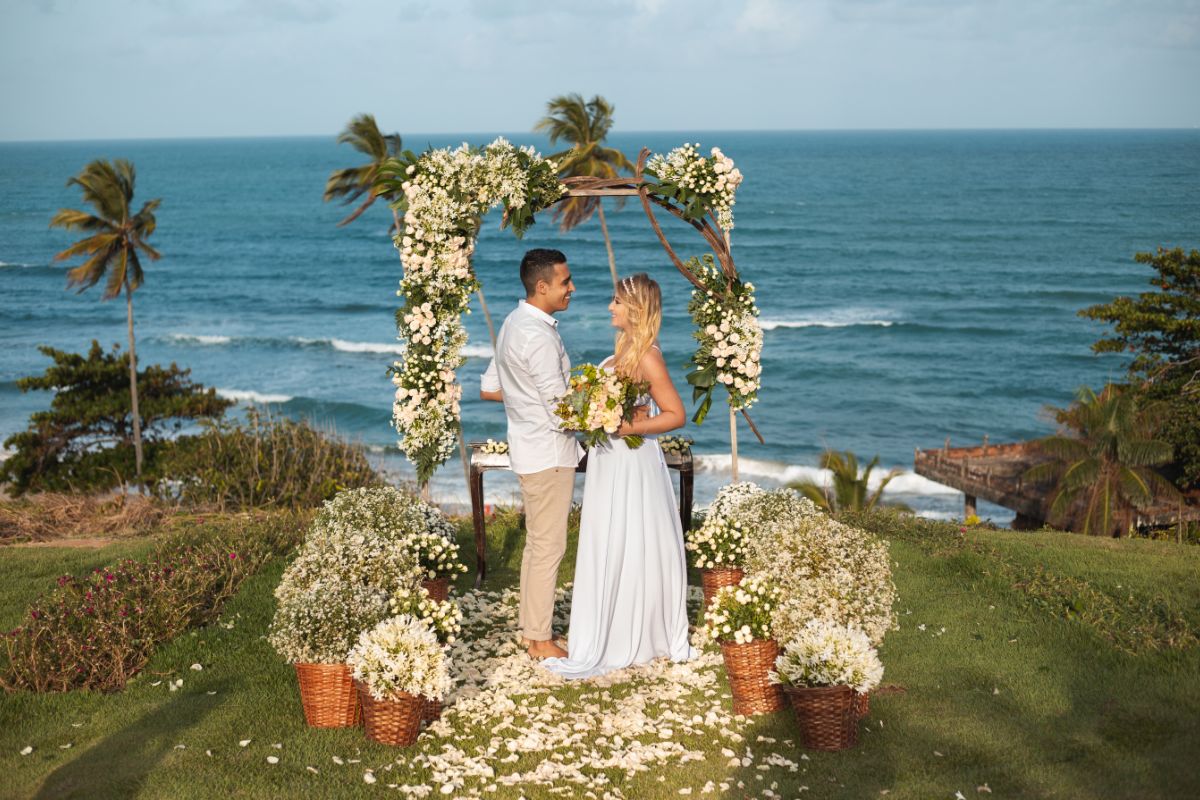 Even when you factor in travel and hotel costs, a destination elopement will be significantly cheaper than a 100-guest wedding at home.
Also, seeing as you're already swooning away in paradise, it makes perfect sense to stay exactly where you are for the honeymoon too.
So, not only can you skip the stress of a wedding, but you also get to live it up on your honeymoon straight after your big elopement day, which is a very cool thing. 
In this article, we are going to showcase a range of all-inclusive elopement and honeymoon packages. Whether you want a specialty wedding planner taking care of every finer detail.
Or, if you like the idea of keeping it loose and open in a luxury, adults-only, all-inclusive resort, let's say, in the Caribbean, then you've come to the right place.
Leave the wedding preconceptions at the check-in lounge and come and discover the best way to get hitched away, in secret, today. 
Sandals is a specialty wedding and event planner that knows exactly how to offer the Caribbean destination wedding you always dreamed of.
With an emphasis on adults-only, Sandals have partnered with multiple high-end resorts in tropical island nations like Jamaica, Barbados, Antigua, Saint Lucia, Grenada, and the Bahamas, to name but a few.
Their standard three-night elopement package features your dream tropical-island wedding ceremony, complimentary inclusions, a legal ceremony with a religious or non-religious marriage officiant, plus whatever all-inclusive services and amenities your preferred resort is offering.
That's the beauty of Sandals, you can let their trusted hands take care of all the finer elopement details while whichever resort you choose takes care of your every need and desire.
Booking onto a seven-night elopement/ honeymoon package will automatically qualify you for $1500 in premium perks to elevate your wedding to heavenly levels.
Perks like the preparation of your marriage documents, honeymoon mimosa breakfast in bed, and a romantic turndown service can all be added at the click of a button.
Taking the stress out of your elopement and honeymoon is what Sandals are very good at. So good, in fact, that you'll actually get to kick back and enjoy yourself while living that sweet and spicy Caribbean high life.
In a similar vein to the wedding planning wonders of Sandals, except this time, you'll be soaking your toes in the stunning Florida Keys.
Florida Keys Weddings are an authority on the Florida Keys wedding scene and their elopement and honeymoon package is impressively extensive.
This romance-driven all-inclusive includes a three-night stay on the stunning Key Largo, as well as a professional photoshoot that includes the getting ready, ceremony, and after-wedding shots.
In terms of formalities, this all-inclusive package takes care of every fine and large detail, so that, bar signing this and signing that, you really can dust your hands off the boring side of marriage.
To make sure your big day is made extra special, the wedding planners will have your suite decorated in a honeymoon style on the night of your wedding.
So that the groom scrubs up sharp and the bride is looking her delightful best, you'll be treated to hair & make-up for the bride and a hot shave for the groom.
A complimentary bottle of champagne, wedding cake, wedding bouquet, keepsake flutes, cutlery, and wedding arbor will all be prepared and included in your big day's proceedings.
Other notable extras include a couple's massage, a 2-3 minute highlights video, as well as mood-setting candles and rose petals strewn across the table for your first romantic dinner as a married couple.
If you're simply interested in the elopement side of marriage, then Florida Keys Weddings has a host of packages that aren't quite so invested but get the piece of paper signed with the professional photographs to prove it.
Key West is known for having the second-largest artificial reef in the world, which means snorkeling and diving opportunities while on the island are far too good to be ignored. 
Moving away from the oceanfront elopement dream for just a moment, we have a real humdinger of a place. Set deep within the mighty Montana mountains.
Paws Up is a luxury 5-star resort with a staggering expanse of 37,500 acres of land.
There's nothing quite like being surrounded by pine forests perched on mountainsides, a working cattle ranch, and 10 miles of the mighty Blackfoot River to make you feel in touch and in awe of nature.
Whether you decide to stay in one of their private homes or an up-market safari-style luxury tent, that precious connection to nature is never lost, not one bit.
As you can imagine, the unspoiled natural landscapes at Paws Up make for some stunning wedding photo backdrops.
Eloping couples fly in from across the country to get their dream wedding shots and experience a honeymoon unlike no other.
Whether you're solely interested in eloping, or their full elopement and honeymoon package, you can be sure that Paws Up has your every desire already covered.
One of their more unique offerings is a wedding day horseback riding experience that will gain a collection of the most jaw-droppingly spectacular wedding photos you've ever laid eyes on (and they will all be yours).
There's also world-class dining at both their Pomp and Trough restaurants with a noticeable emphasis on making the evening extra special for newlyweds.
Tank bar is ready to serve you a selection of premium spirits, beers, wines, and cocktails to have you feeling extra fruity and loopy for whatever lies ahead.
From their high-end yoga shala to luxury spa treatments, and a state-of-the-art fitness center, you will be feeling relaxed and on form long after your Paws Up stay.
Getting cozy by the fireside each night is a romantic time by anyone's standards. However, by day, the wilderness that surrounds Paws Up is simply too beautiful not to explore.
Whether it be kayaking downriver, hiking up a mountain, fly-fishing, or rock climbing, the 37,500-acre ranch offers every adventure you could ever imagine taking on with your loved one.
Sure, the beach is a pleasant place to elope, there's no denying that.
If, however, you revel in the difference, Paws Up is a wild slice of Montana place where horses roam and elopement photos go down in history as effortlessly unique and always jealousy-inducing.
Tucked into a super-exclusive natural enclave of Antiguan beauty, the adult's only resort of Hermitage Bay is one of the special ones.
This luxurious 5-star is ready to offer you a boutique experience with low guest numbers and high levels of service.
Its unique location sees you surrounded by opal-hued crystal clear Caribbean waters, lush and hilly tropical rainforest, and that is it. No Four Seasons or Hyatt down the beach, it is Hermitage Bay and Hermitage Bay alone.
This unrivaled privacy makes it the perfect destination for eloping couples looking for an escape to nature and to forget about the outside world, for just a moment.
Another way that Hermitage Bay has created something unique and inspiring is in its evident love of food.
Because of their boutique size, there is only one restaurant and lounge on-site, but when the food is this good, one dining option is more than enough.
Through an on-site organic garden and the daily catch plucked fresh from the sea, there is a real sense of dedication to high-quality produce and clean eating at Hermitage Bay.
Included in the all-inclusive package is a gourmet breakfast, lunch, and dinner from a menu that is constantly changing - a result of the ingredients that the Executive Head Chef has on hand and is excited about at the time (it's always good). 
Also included are your afternoon snacks, canapés at cocktail hour, all beverages including premium international beers and wine, and a bottle of French champagne to really set the romantic mood.
There's also the enviable choice of contemporary hillside suites with private pools or beachfront and sea view garden villas, and either way, you sway, you have already won.
Other impressive features include a high-end garden spa, daily yoga, meditation, and pilates practices, and a fitness center to help you work up an appetite for the previously mentioned fresh and fabulous feasts.
In terms of keeping busy, if that's your vibe, you can keep very busy at Hermitage Bay.
Cooking demonstrations, farm tours, fishing, golf, tennis, scuba diving, historical tours, sailing, and water sports will have you experiencing Antigua and its picturesque surroundings in style.
With carefully curated packages that offer couples the ultimate elopement and honeymoon experience, it's easy to see why Hermitage Bay has gained a reputation as one of the best hotels in the Caribbean for getting hitched in hush-hush secrecy.  
There's something about Cancun that smells, tastes, and looks like it's made for elopement. On the Caribbean side of Mexico, Cancun is the perfect blend of perfect weather, warm water, and a tangible excitement in the air.
Sun Palace is a 4-star adults-only hotel that specializes in all-inclusive weddings. Its prominent oceanfront position on Playa Delfines is a statement to Cancun and the world that there ain't no palace like a Cancun Sun Palace.
Kids are nice and all, but a high-end luxury resort like Sun Palace really comes into its own because they aren't welcome (sorry kids).
From its world-class dining options to the angelic infinity pool and nightly entertainment - every aspect of Sun Palace is certifiably tranquil due to a noticeable lack of screaming kiddies.
The choice of in-resort wedding venues is remarkable and includes a charming beach setting and fashioned sunset terrace.
If you do decide to elope at Sun Palace they have an enticing honeymoon deal that gives you a romantic dinner for two, handcrafted petit fours, a bottle of sparkling wine, and a gourmet breakfast in bed, all in the house.
You will also be ensured an in-room double whirlpool tub, 24-hour room service, daily refreshed minibar, in-room liquor dispensers, and hi-speed Wi-Fi, naturally.
Awe Spa has created a high-end luxury couples' spa experience that will have newlywed couples slipping into a relaxed state of mind in no time.
Non-motorized watersports and other couples-orientated activities like beach volleyball are very popular with the resort's loved-up newlyweds.
Not only do they allow you to work up an appetite ready to unleash on one of four world-class a la carte restaurants in the evening, but they are also just a lot of fun.
Front and center on the Hotel Zone of Playa Delfines Cancun you will find Sun Palace, and once you do that, you will be happily married. 
Conclusion

Destination elopement isn't considered selfish anymore, it's considered smart. In a world where the cost of living is continuing to rise, a big fancy wedding is becoming an almost archaic way of getting hitched.
By ditching the preconceptions and financial burden linked to a wedding, you'll be able to use your previously saved pennies on something more useful, like buying a house.
Of course, we get it, you still want to get married to the love of your life, it's only natural. Destination elopement is allowing young couples to start their marriage off with an exotic bang.
Somewhere where it's always warm and the stress of a seating plan is nowhere to be seen.
Whether you like the idea of a specialist wedding planner organizing everything while you enjoy the impressive scope of hotels they have partnered with.
Or, you would prefer to let one hotel sweep you off your feet and give you a time to remember, either option is golden.
Each of the five elopement and honeymoon all-inclusives in this article knows how to make your big day special, even without every friend and distant family member there.
Because, at the end of the day, it's about celebrating your love and your love alone, and what better way to make that dream a reality than in a luxury all-inclusive setting. 
💼 We cherish our independence! ✈️ Our travel recommendations are carefully researched, bias-free, and powered by human expertise by April and Ricky of LRB (we have personally researched and travelled to many of these destinations and researched others thoroughly through first-hand accounts). 🌍✨
We try to keep everything up to date, but please always do your own research and contact us if you know any issues for us to help others as best we can as a small but professionally focused team! 🧐📚⚠️