Grand Cayman All Inclusive Resorts
Looking for Grand Cayman all-inclusive resorts and luxury resorts? You've got some amazing Grand Cayman resorts to choose from here as we review the best of the best. They'll get you out in the water, on the beach and totally relaxed.
Grand Cayman:
aa
Grand Cayman is the largest of three islands that make up the Cayman Islands. This Caribbean island has some great sites to see. Most notably:
the National Museum
Stingray City
colonial-era Fort George
award-winning Seven Mile Beach (among others)
beautiful coral reefs (great for diving and snorkeling)
Queen Elizabeth II Botanic Park
the Caymen Turtle Centre
The capital here is George Town.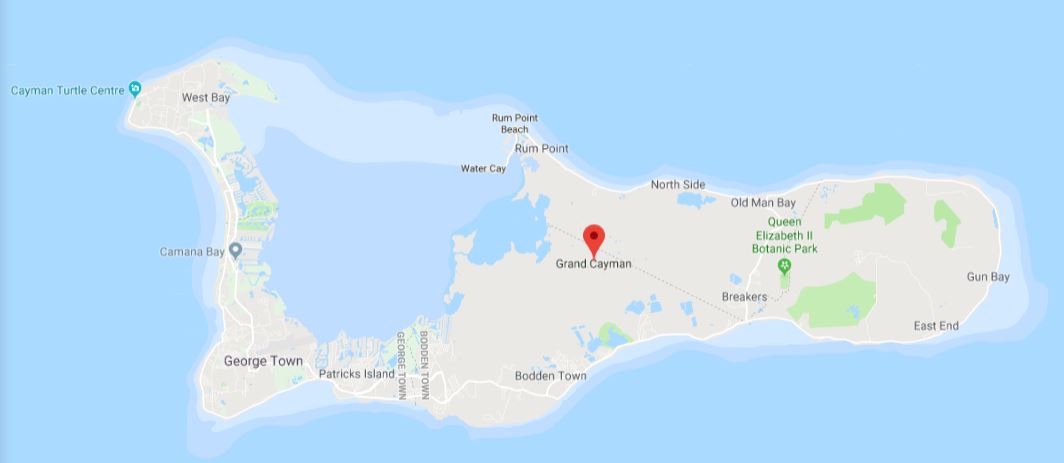 Grand Cayman Island
Grand Cayman Weston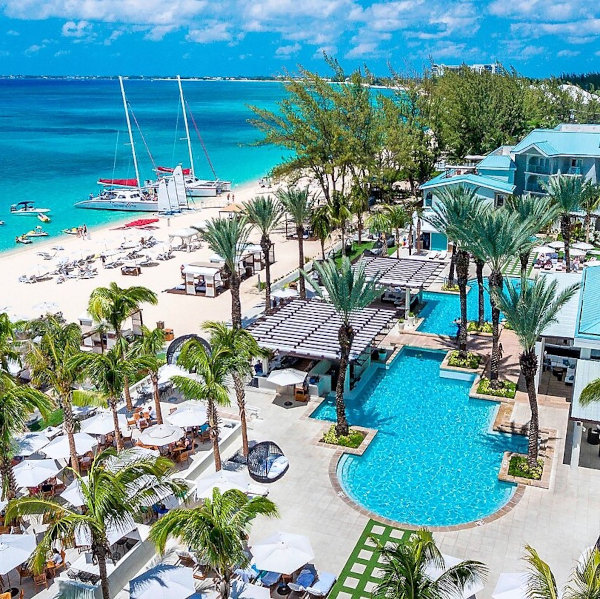 The Westin Grand Cayman Seven Mile Beach Resort & Spa has many features that make it a stand-out resort. Weston is not a brand that usually does all-inclusive resorts, but there are a lot of features at this resort nonetheless. The resort stands out not only because of the outstanding oceanfront position complete with all varieties of water sports, a gorgeous  pool, with an exotic swim-up bar where you can pick up a cocktail and a quality spa. There are also a variety of restaurants to choose from. For the Kids there is the Westin Family Kids Club.
This is not an all-inclusive resort in the traditional sense, but it sure packs a lot in. 
https://www.marriott.com.au/hotels/travel/gcmmi-the-westin-grand-cayman-seven-mile-beach-resort-and-spa/

Grand Cayman All Inclusive 
If you are looking for an all-inclusive vacation with flights included to Grand Cayman then check out our travel deals review which offers lots of options from the top networks. 
Best Grand Cayman Resorts
The next five are the best Grand Cayman Resorts. While some offer vacation packages that make them a little more like the type of all-inclusive resorts you might expect to find in the Dominican Republic or Mexico  they are not authentically all-inclusive themselves. 
Compass Point Dive Resort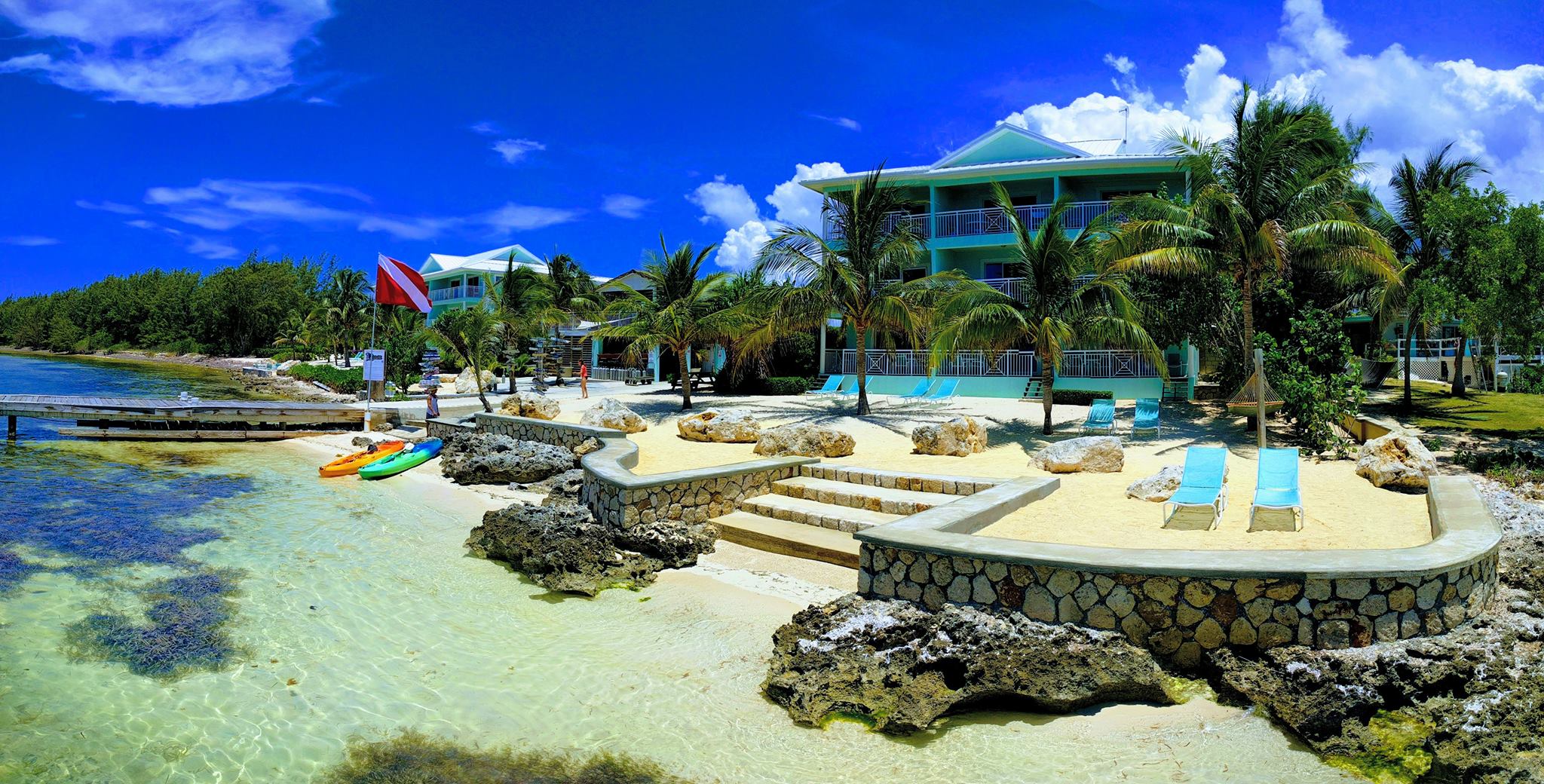 Want to roll out of bed and go diving? Then this one may be for you.
Compass Point Dive Resort is the best dive resort in Grand Cayman. They cater to divers and they do that extremely well. Both the location for diving and the dive guides are top notch and really go out of their way for you. It's also a great beginner spot for diving and this includes for kids as well. 
This resort is loved by past guests with many of them returning often and rating it with perfect scores. It's not surprising as staff here work hard to make it a great trip for you.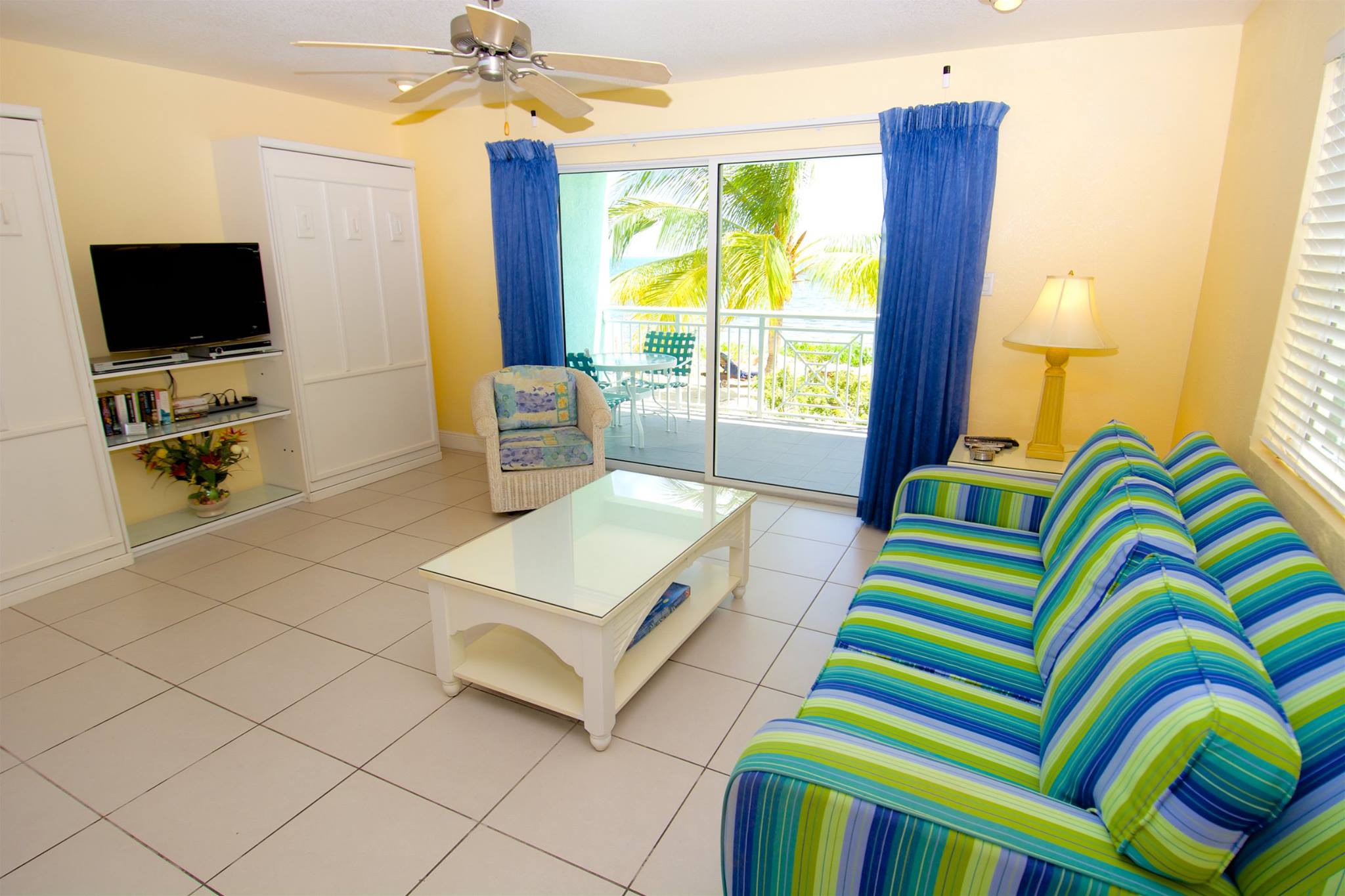 Lounge room at Compass Point Dive Resort
What you can expect here:
A family friendly environment
Private beach
Free wifi and computer station

2 outdoor pools and a hot tub
Restaurant, beach bar and rooftop terrace
Laundry facilities (some guests love this)
Sounding good?
Check out prices and the latest reviews for Compass Point Dive Resort here. 
Seven Mile Beach resort, on Grand Cayman
If you are looking for a Seven-Mile Beach resort on Grand Cayman, chances are you have done your research as this is consistently voted one of the best destinations in the Caribbean. Check it out from above: 

Kimpton Seafire Resort & Spa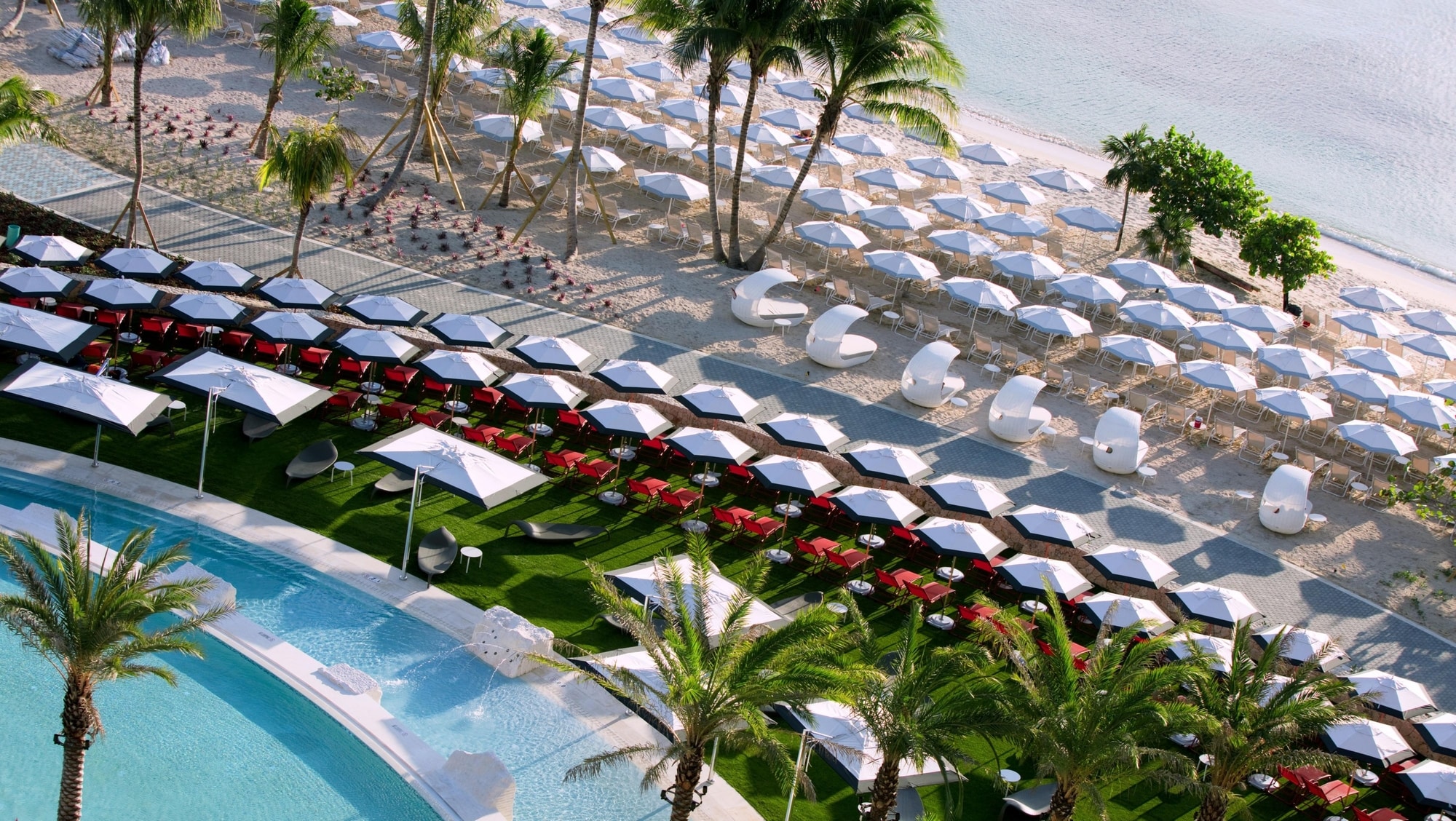 Kimpton Seafire Resort and Spa is a beautiful, contemporary, boutique  resort and also the newest one on the island. 
It's set on the crystal clear waters of Seven Mile Beach and has lots of water activities and those cabanas you see above right there. 
This resort has a few extra little things like:
Yoga mats in every room.
A variety of freebies like morning tea or coffee, bikes, pet amenities and free wifi if you're part of the rewards program (so sign up before you go). 
Kimptom Kid's Program is also free.
A hosted evening social hour.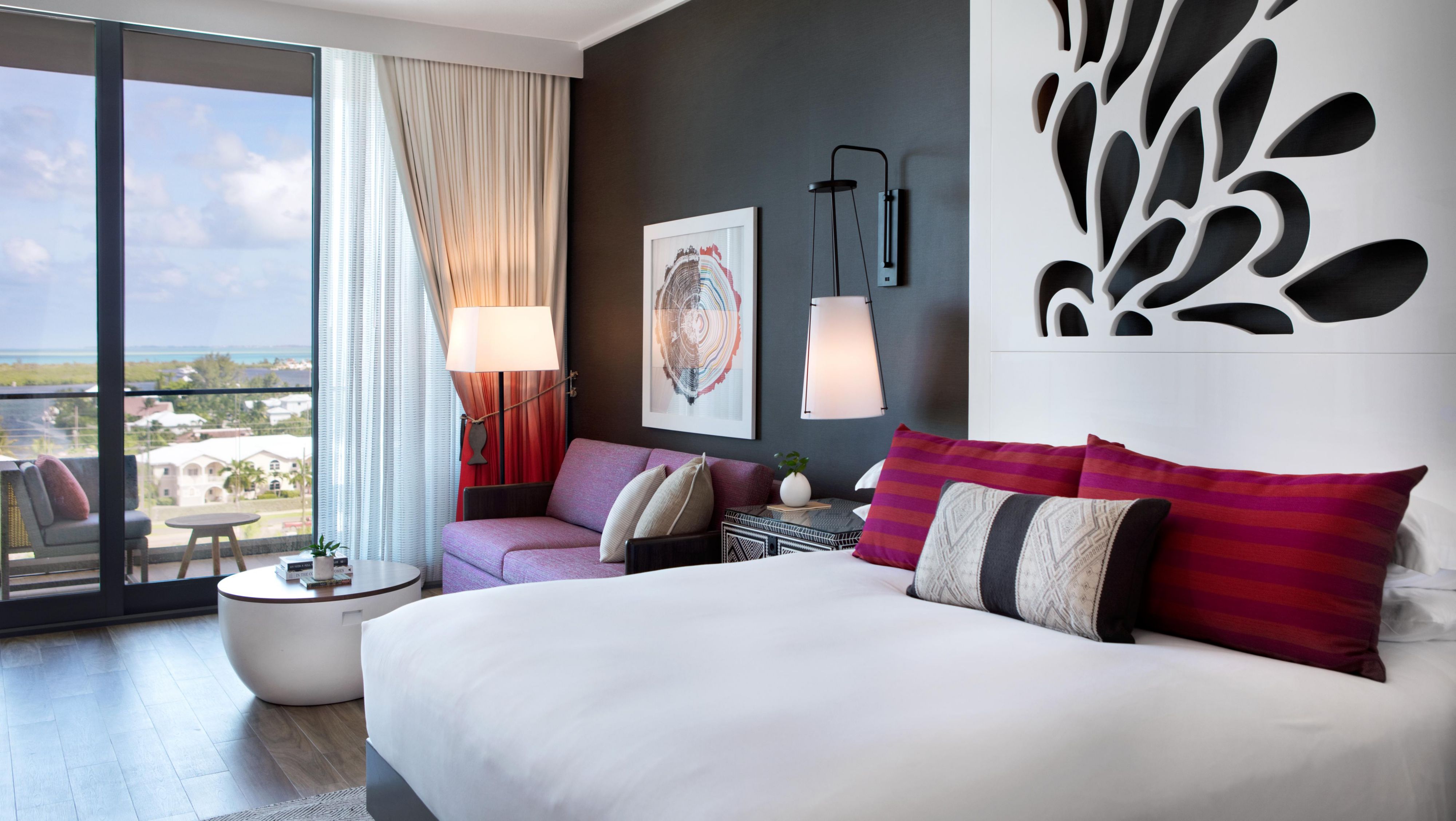 Kimpton Seafire Resort & Spa Room
Most of the 266 rooms at this Grand Cayman resort have ocean views and you'll find a private balcony in each room to take that view in with. There are 4 restaurants and bars (one at the pool) and food here is delicious!
If you're looking for a spa, this resort is the best one with a full-service spa.
Additional Things To Note:
staff are friendly and helpful
24-hour fitness center
pool bar
4 restaurants and bars
2 oceanfront pools
This one sounding good to you?
Check out prices and the latest reviews for Kimpton Seafire Resort and Spa here. 
The Ritz-Carlton, Grand Cayman Resort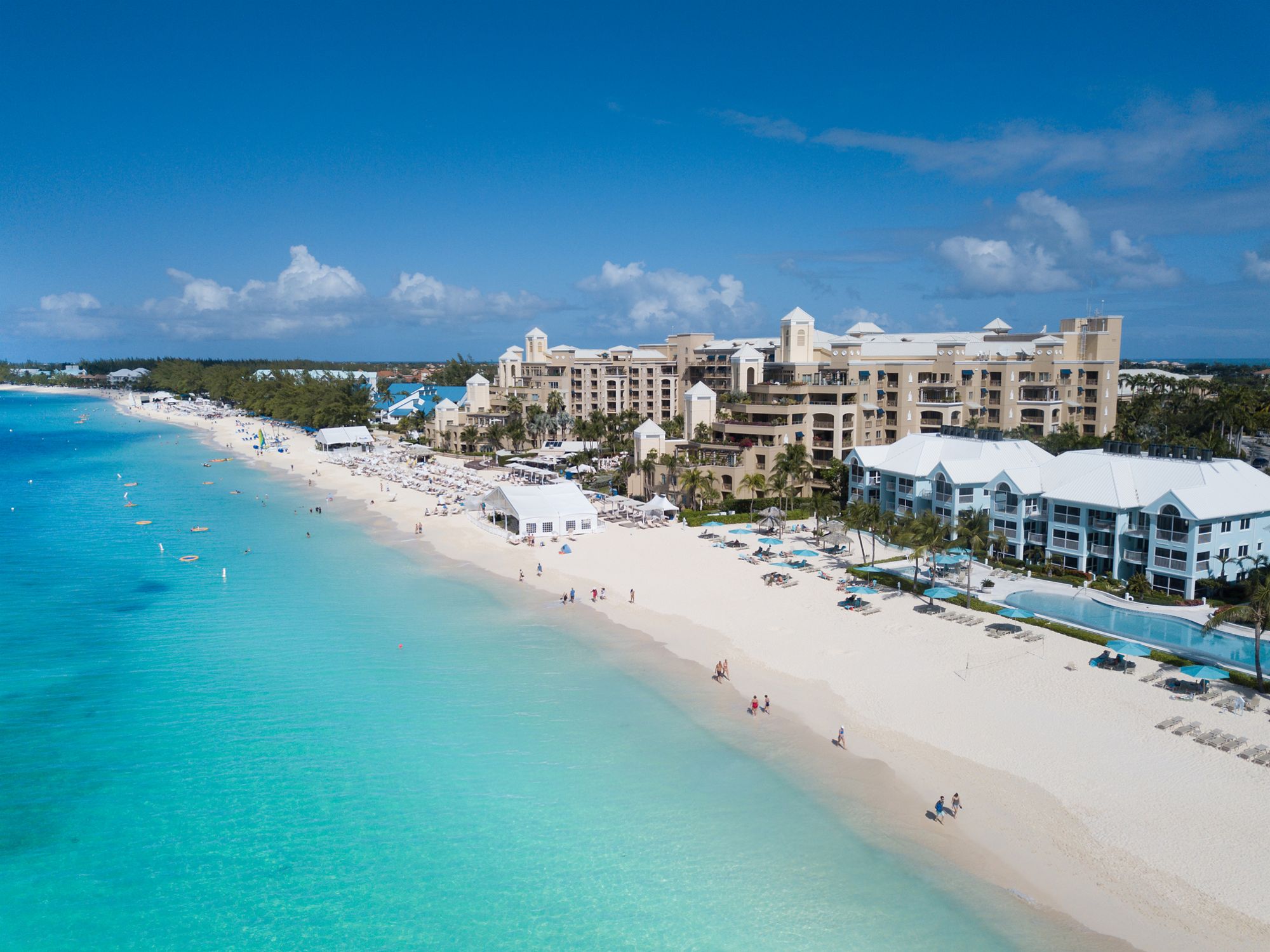 The Ritz Grand Cayman is an ultra luxury resort on Seven Mile Beach with lots of extras. If you are looking for a resort that's got everything, this is definitely one to check out!
There are some big amenities here like:
Nine-hole golf, putting green and hitting area
Signature restaurant called Blue (famous chef included)
La Prairie Spa (includes steam rooms, saunas and whirlpools)
Starfish Cay - an interactive water playground for kids and families

There are a variety of other things to do as well like hang out in the cabanas, kayak the mangroves, play basketball or tennis, go to the games room, snorkel or take in a movie under the stars. The fitness center offers yoga, Latin dance party and total toning.
On the water:
There is a lot to do here on the water. They feature the  Red-Sail watersports program and have a real variety of equipment like kayaks, paddle boards, water tricycle, floating rafts, paddle boats and water hammocks.
More amenities include:
 the Jean-Michel Cousteau's Ambassadors of the Environment eco-adventure program here
5 restaurants

2 outdoor pools
oceanfront Jacuzzi

So much to do here!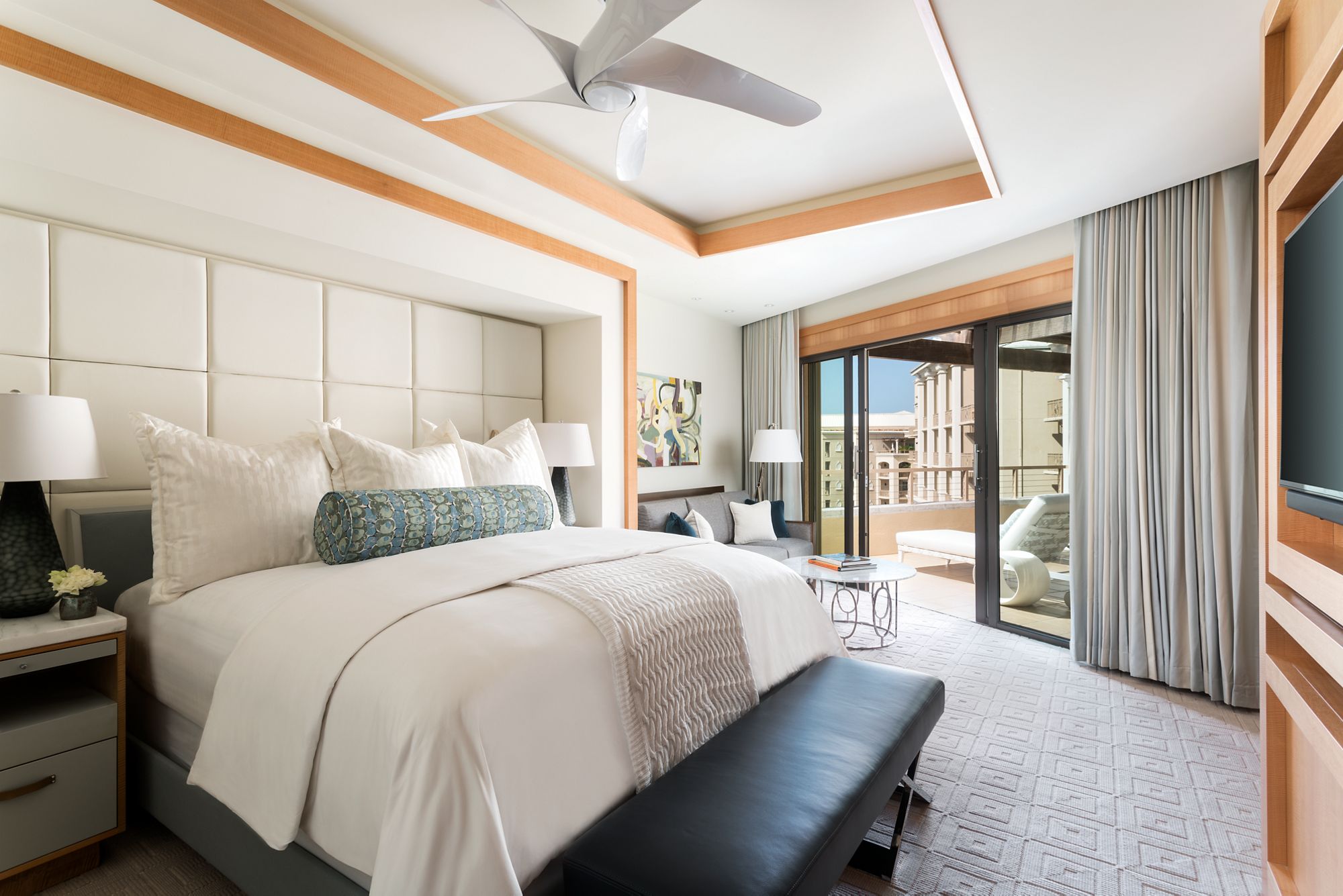 All rooms have a private balcony with ocean, resort or garden views, marble bathrooms and in-room high-speed wifi (and it is pretty fast internet). 
There are also 24 two and three bedroom suites with full kitchens, en suite bathrooms, balconies and a private entrance.
This is definitely one of the most extensive Grand Cayman resorts but it's not only the activities that make it great, the service and staff are outstanding and it's a beautiful property to spend time at. 
Tip: book your room in the Beach Tower if you can.
Look good?
Check out prices and the latest reviews for the Ritz-Carlton Grand Cayman.
aa
These next options are 
Grand Cayman Marriott Beach Resort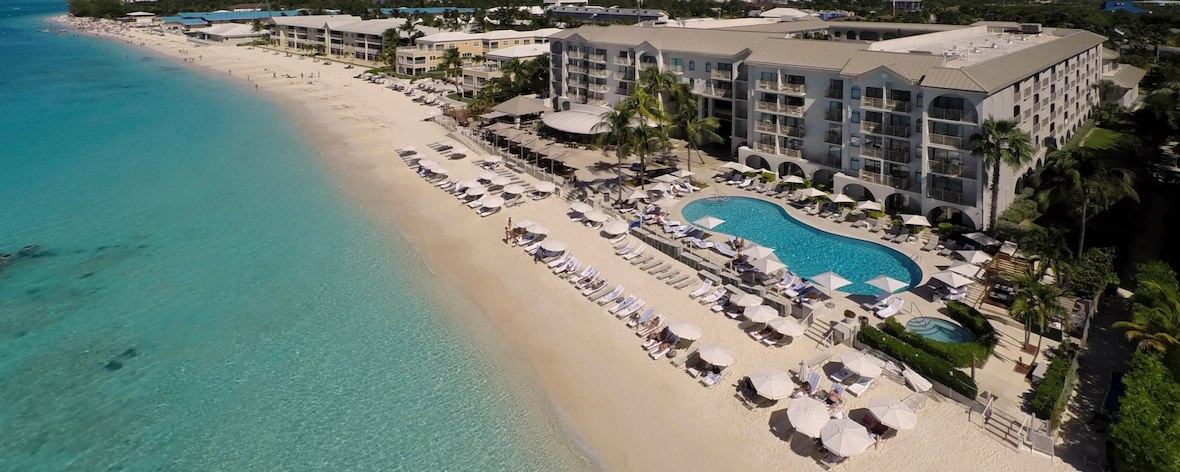 The most amazing thing about the Grand Cayman Marriott Resort is the staff here. The are warm, friendly, and take care of you to the best of their ability. They truly make the resort here.
And speaking of the resort, the Marriott is set down on the crystal clear waters of Seven Mile Beach and is a beautiful property. 
It's a great place to swim and snorkel as they've got an artificial reef just off the beach. Other water activities include sailing, kayaking, water-skiing, jet-skiing and paddleboarding.
More features:
full-service spa - great facials and massages
pet friendly
newly renovated fitness center
bike rentals and trail

room service

4 restaurants and bars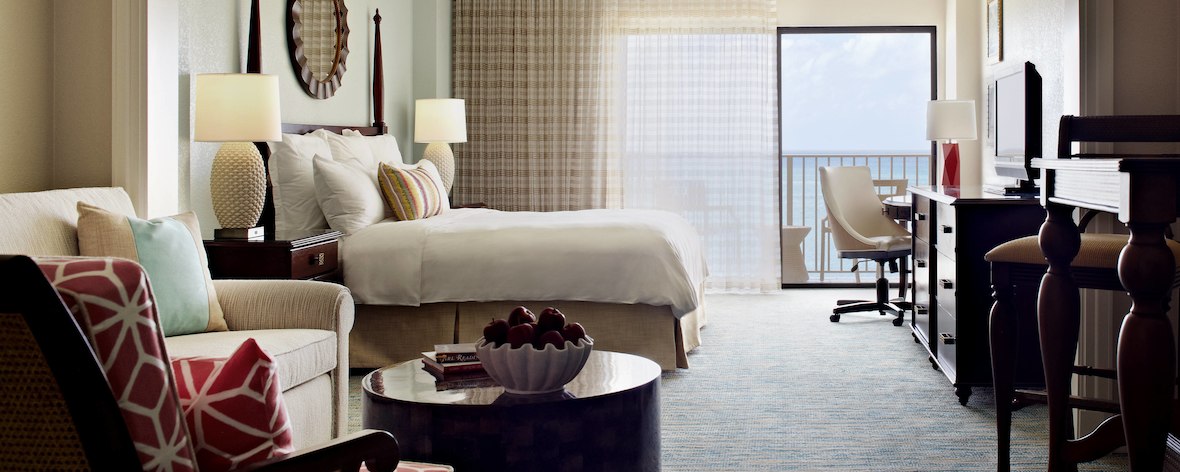 There are a variety of rooms to choose from that are sleek and modern looking. It's family friendly and has great kids club activities. Kids club staff are also lovely.
Want to check out more?
Click here to see the latest prices and reviews for the Grand Cayman Marriott Beach Resort.
aa
Cobalt Coast Grand Cayman Resort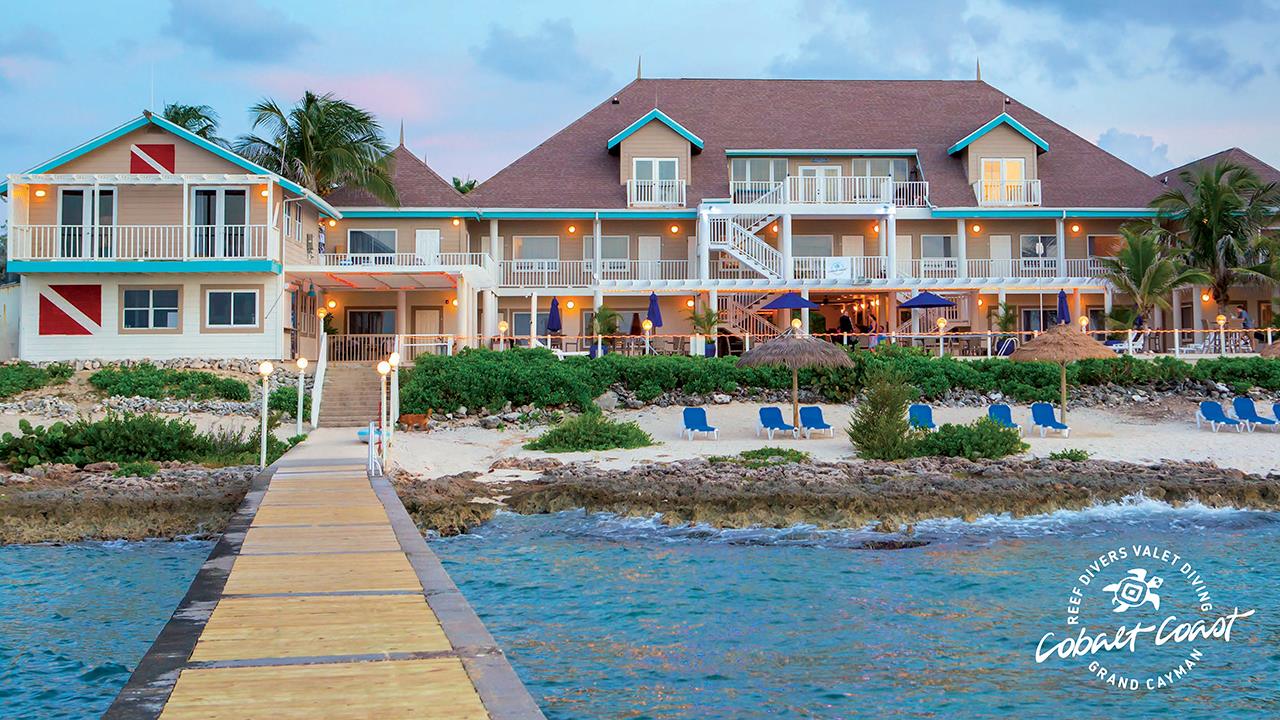 Cobalt Coast Resort is a dive resort and if you're looking for something a bit easier on the budget but also are mainly going to dive this beautiful area, this one's a winner.
It's smaller and quieter but still close enough to George Town and Seven Mile Beach to head out there easily. But you do get some space from the crowds here and it's quite different from the large mega-resorts above. 
Diving:
Shore diving possible here if the weather cooperates and you can swim to North Wall. The two dive boats and crew are knowledgeable and great guides. Dive packages are available.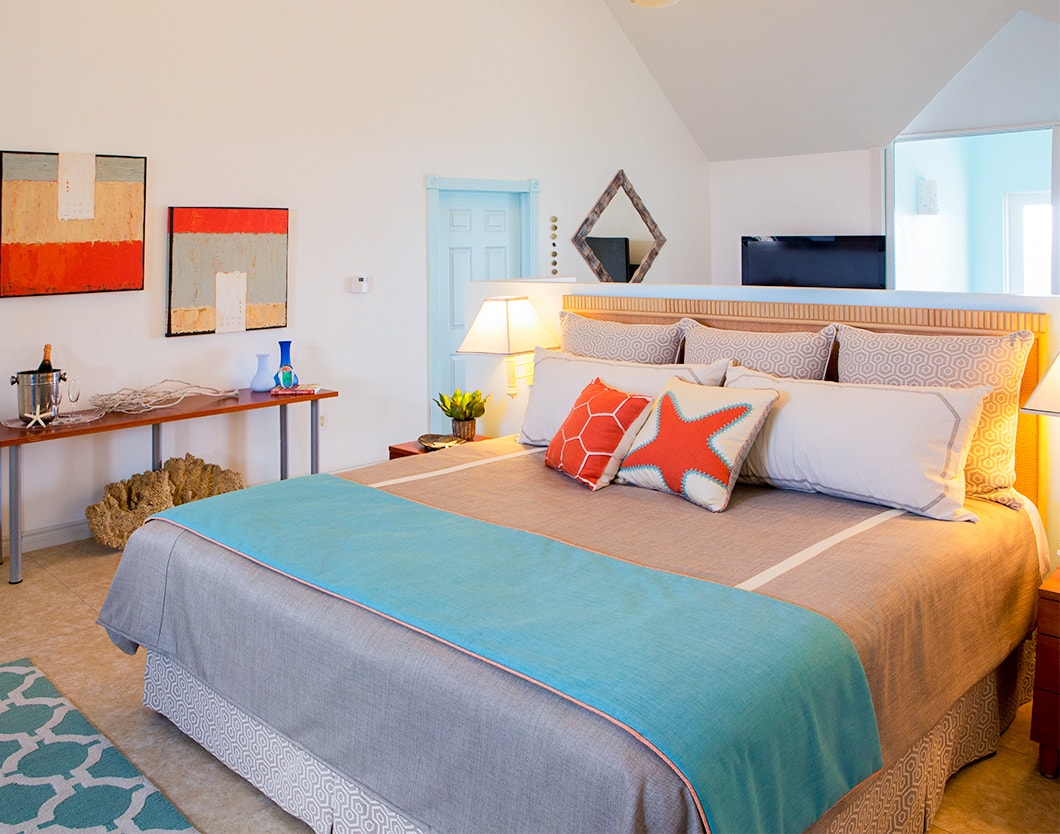 There are a few different accommodation options from budget-friendly rooms up to 2-bedroom suites and a penthouse as well.
Other amenities: 
pool 
hot tub
restaurant with an open-air dining area that provides both buffet and a la carte options

This resort is all about the dive. Ready to jump in?
Prices, booking and latest reviews for Cobalt Coast Grand Cayman Resort. 
aa
---
Grand Cayman Adult Only Resorts
While there are not any Adult-Only all inclusives on Grand Cayman one option is to wait until the kids are back at school. Whi lots of kid friendly options around Grand Cayman does really attract a lot of kids . If you are looking for an adult only resort, you might look to check out our adults only all-inclusive resorts reviews and choose another island:

Grand Cayman Islands All Inclusive 
While the Grand Cayman Islands themselves are not particularly known for their all-inclusive resorts there are lots of these located on nearby islands: 
Grand Cayman Margaritaville
Would Jimmy Buffett approve, Margaritaville Beach Resort Grand Cayman promotes the idea that you can leave your worries on the mainland and pick up some flip-flops and a shaker of salt and enjoy some downtime.  
Not our top choice on the island and not a fully all-inclusive option either. 
Video of Margaritaville Beach Resort Grand Cayman

That was our top  Grand Cayman All Inclusive resorts and 7 mile beach hotels /  luxury resorts list. Did you find one that looked would work well for your vacation?
There are more resorts we'd recommend in similar locations:
See more in the area with Cayman Island Resorts.
Love to dive? Check out the Best Dive Resorts.
Share Your All-Inclusive Adventures and Questions! 🌴 Have a memorable experience from a luxury all-inclusive vacation? We'd love to hear it at Luxury Resort Bliss. We're on the lookout for top-quality, insightful tales that'll inspire our community. Dive in and be a part of our sun-soaked stories! 🌊🍹✨
The story is a fictionalized account founded on travel expertise, research, and experience. Always refer to recent guest reviews and perform due diligence before booking.
💼 We cherish our independence! ✈️ Our travel recommendations are carefully researched, bias-free, and powered by human expertise by April and Ricky of LRB (we have personally researched and travelled to many of these destinations and researched others thoroughly through first-hand accounts). We also have put in the hard miles, and Ricky has worked for decades for resort and hotel chains  Hyatt, Hilton, Shangri-La and Radisson before starting Luxury Resort Bliss in 2007. 🌍✨ Unlike some other resort review websites we are concerned on the guest experience rather than mere corporate interest.