Bali All Inclusive Resorts and holidays
Best Bali All Inclusive Resorts
Discover Bali's Paradise: The Ultimate All-Inclusive Resorts Review You Can't Miss!.
Discover the ultimate Bali vacation with our review of the top all-inclusive resorts. From private beaches to first-class amenities, we've handpicked the best resorts that offer luxury, adventure, and relaxation. According to recent data, Bali tourism has been on the rise, with over 6.3 million foreign visitors a year. With so many options to choose from, our review will help you find the perfect all-inclusive resort to suit your needs and budget, making your dream Bali vacation a reality. 
The Best All Inclusive Resorts:
The recent arrival of a few good Bali All Inclusive resorts seems like more than a fad, and we can expect to see more resorts in the inclusive format open their doors. We have also included a few Awards for this page including: 
TripAdvisor lists 19 All Inclusive resorts in Bali
Club Med Bali All Inclusive Resort: Paradise for Families
Club Med Bali  on the Sunda archipelago takes the All Inclusive Resort concept seriously.
Nestled on the shores of Nusa Dua, Club Med Bali offers a serene and exciting all-inclusive experience for families and friends. The resort is spread across 14 hectares of lush greenery with a private beach access, offering a perfect blend of relaxation and adventure.
After a two-year hiatus, Club Med Bali reopened in May 2022 with new and exciting experiences, entertainment, and local cuisine. From yoga to Balinese cooking classes, trapeze to tennis, the resort offers a plethora of activities to keep guests of all ages engaged.
One of the best features of Club Med Bali is the Amazing Family program that offers an array of activities for the whole family to enjoy and bond together. The kids' club takes care of children from four months old to 17-year-olds, giving parents a much-needed break for some adult-only time. The Zen Pool is an ideal spot for those seeking peace and tranquility away from the bustling family pool.
Club Med was the originator in many ways of the all-inclusive concept and continues to go strong in more than 30 countries. In comparison to Club Meds in other parts of the world, Club Med Bali can cost less starting from around 120pp rather than hundreds.
This is a good midsized resort with 391 rooms, multiple bars restaurants and pools (4). There is a Kid's Clubs which takes children from as young as 4 months through to 17 years old.
Video Guest Review: Club Med Bali Overview from the Dawson's
The video showcases Club Med Bali, located in Nusa Dua, which offers all-inclusive luxury experience for all types of travelers.
The resort features a variety of activities including beach access, pools, amphitheater, and Zen garden.
Club Med Bali provides a tranquil and relaxing atmosphere, away from the hustle and bustle of Bali.
The video highlights the rooms, facilities, and dining options available at the resort.
The video also shows the peaceful and beautiful nature of Bali and its culture.
Overall, Club Med Bali is a luxurious resort that is worth visiting for its all-inclusive services and peaceful surroundings.
Food lovers can delight in the authentic Indonesian treats served by Makan on Wheels throughout the day. The Deck Gourmet Lounge features a refreshed menu with a range of healthy options, incorporating pesticide-free produce freshly grown by the families of Bukit Mesari Farmers Group under the Green Farmers program. The initiative has been supported by Club Med Bali since 2014, making it a sustainable and eco-friendly choice.
Of course meals (Breakfast, lunch & Dinner) and open bar are included in packages at Club Med, but Club Med also seems to fit in a lot of other inclusions others don't even think of. But snorkeling, windsurfing, tennis, and trapeze are not usually standard at other resorts and this sets Club Meed apart. 
Video: Club Med produced an overview of the "all-day gourmet dining, premium beverages, and world-class sports and activities".
Find the best deal, compare prices, and read what other travelers have to say at Tripadvisor
Club Med Bali is particularly suited for families seeking a fun-filled and comfortable holiday with plenty of activities for all ages. The Amazing Family program and kids' clubs provide an excellent opportunity for parents to enjoy some downtime while their children make new friends and participate in supervised activities.
See more of the best resorts in Bali
When to Go to Bali?
Although the best weather in Bali is the dry season from May to October many Australian travel during December and January. Then although these months are the peak season their is competition for rooms year round.  The waves are also big in Western Bali in the dry.
Bali is warm to hot all year round.
---
Best Bali All Inclusive Family Resort

Award Nominee: for best Bali All Inclusive Family Resort is the Grand Mirage Resort & Thalasso Bali Inclusive
Any resort that rates in this range is usually is a very safe choice. There is a good variety of bars, swim up bars, lots of spa tubs, restaurants, a full health spa and facilities.

The five-star Bali All Inclusive resort is well located on a private beach. One feature promoted by the owners is that it is one of the few Bali all-inclusive package resort which includes motorized watersports.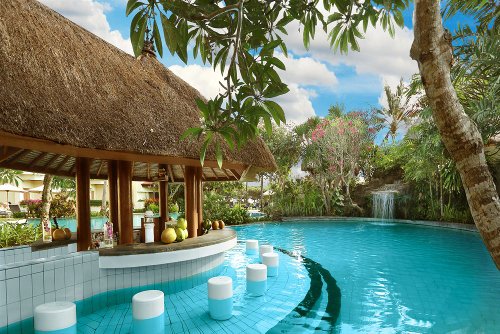 Watch volleyball by the poolside bar, take a kayak along the beach, go to a games room good enough to entertain the kids and find activities throughout the day. All of these things make this a standout resort.

Seems an especially good choice for a family vacation.


Get more information on Grand Mirage Resort & Thalasso Bali

For those who prefer a more vibrant and adventurous experience, the Grand Mirage Resort & Thalasso Bali might be the perfect choice. This resort offers a lively and exciting atmosphere that's perfect for people who enjoy a more dynamic holiday.
Indicative Review: Mark visited this resort too, and he was thrilled by the vast range of activities and services that were on offer. The resort was located on the beachfront, with a half-mile stretch of white sandy beach, where he spent many hours lounging and swimming. He also enjoyed the non-motorized water sports, which included kayaking and windsurfing.
The resort's unique feature was the Thalasso Bali Spa, which offered a wide range of treatments and therapies that utilized seawater and seaweed, known for their therapeutic properties. He enjoyed a relaxing massage, which was followed by a rejuvenating seaweed wrap that left him feeling refreshed and rejuvenated.
The resort had a range of dining options, including Italian, Balinese, and Asian cuisine. He tried the Italian restaurant, which offered delicious pasta dishes and exquisite wines. He also enjoyed the live entertainment, which was on every night, featuring traditional Balinese dances and music.
The Grand Mirage Resort & Thalasso Bali is the perfect resort for people who love a lively and vibrant atmosphere. It's ideal for families and couples who want to indulge in a range of activities, while enjoying the stunning natural beauty of Bali.
See more all-inclusive family resorts.
---
If you're planning a trip to Bali and looking for the perfect all-inclusive resort, look no further. Our reviewer, Mark, recently explored some of the best resorts in Bali, from luxurious adult-only retreats to chic singles resorts and quiet beach getaways. In his latest review, he shares his top picks and insider tips for a dream vacation in Bali. Whether you're looking to unwind in a private villa, indulge in spa treatments, or explore the stunning natural landscapes, Mark has got you covered. Read on to discover Bali's best-kept secrets for the ultimate island escape.
The Best Adult-Only All-Inclusive Resorts In Bali
Samabe Bali Suites & Villas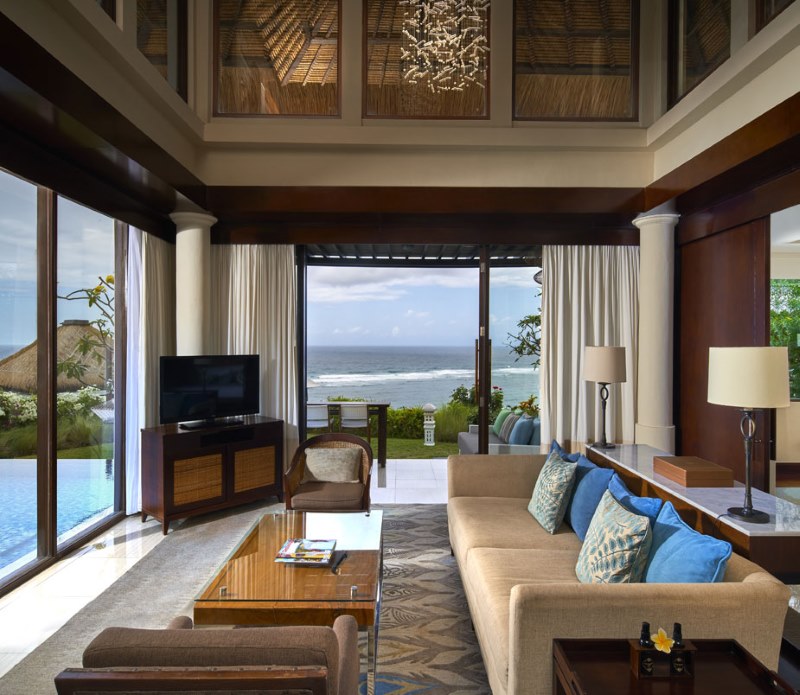 Samabe Bali Suites & Villas
Indicative Review: Mark had just landed in Bali and he was excited to explore the island's rich culture and beautiful landscapes. He was looking for a luxury retreat that offered exceptional service, delicious food, and a unique experience that would create lasting memories. After doing some research, he discovered Samabe Bali Suites and Villas, which he thought would be perfect for his needs.
As he entered the resort, he was welcomed by the friendly staff who greeted him with a traditional Balinese welcome drink. The resort was situated on top of the cliffs of Nusa Dua, offering breathtaking views of the Indian Ocean and Mount Agung. Mark was immediately taken aback by the stunning vistas and knew he had made the right choice.
The suite he stayed in was spacious and well-appointed, with elegant custom furnishings that exuded timeless elegance. He was pleasantly surprised to find that he had a personal butler who was always available to attend to his every need. The all-inclusive package he opted for meant that he had access to free-flowing beverages, fruit platters, and afternoon tea, all day long. The daily mini-bar replenishment was a pleasant surprise too.
Samabe Bali Suites & Villas has been on a couple best resorts in the world lists and is in Southern Nusa Dua.
The all-inclusive program includes  "Samabe Signature Activities", 24-hour Butler service, and best of all you enjoy premium meals and world-class beverages, some great entertainment, authentic spa treatments,and more. 
If you are looking for romance and some great all-inclusive packages, a great beach and perhaps a  Balinese cooking class than here is your resort. 
More reviews, information and specials.
The resort had an infinity pool that overlooked the ocean, and it was the perfect spot to relax and soak up the sun. He also enjoyed the non-motorized water sports, which were included in the package. The beach was pristine, and he spent many hours lounging on the sand and swimming in the warm waters.
As he was relishing his time at Samabe Bali Suites and Villas, he couldn't help but feel amazed by the impeccable service and attention to detail that the resort offered. He also enjoyed the traditional Balinese hospitality and culture that was present in every aspect of the resort.
If you're looking for a luxury retreat that offers exceptional service, breathtaking views, and a unique experience, Samabe Bali Suites and Villas is the perfect choice. It's the ideal resort for couples and families who want to indulge in relaxation and rejuvenation, amidst the beauty and serenity of Bali.
---
Sol Benoa All Inclusive Bali Resort
Sol Benoa All Inclusive Bali Resort
Upon arriving, I was immediately struck by the beauty of the private beach next to the resort. The sunsets were breathtaking, and the sand was soft and inviting. It was a heavenly place that I knew I was going to love.
The rooms at the Sol Benoa Bali were the perfect combination of Balinese-style architecture and contemporary touches. The colors were bright and cheerful, and the bed was so comfortable that I slept like a baby every night. The resort truly offered the best of both worlds - tradition and avant-garde.
Melia Benoa All Inclusive is another top Bali all-inclusive resort on the beach in Nusa Dua.  This four-star resort has all the swim up bars, restaurants (three), and activities you could expect of a resort hotel of this class.

This resort has both all-inclusive and room only rates. With the all-inclusive rates meals, drinks and gratuities are covered while you may add a surcharge for some premium drinks and meals.

This is a compact 120 room resort and the staff can not do enough for you. You will find small touches like having the air-con ready for you for your arrival are part of the normal here.

Recently this resort was included in TripAdvisor's list for the best all-inclusive resorts, and it is well deserved. Possibly the best performing Bali all-inclusive resort of current times.
Find the best deal, compare prices, and read what other travelers have to say at Tripadvisor
One of the highlights of my stay at Sol Benoa Bali was the incredible food. With a choice of restaurants serving up the best in Asian and Mediterranean cuisine, I felt like a kid in a candy store. The flavors of Asia were delicious, and the fresh seafood was simply outstanding.
But it wasn't just my taste buds that were in for a treat at the Sol Benoa Bali. The Body and Sol Spa was the perfect place to unwind and indulge in a traditional Balinese massage or beauty treatment. It was a truly sensual experience that left me feeling relaxed and rejuvenated.
For those seeking a little adventure, the Sol Benoa Bali had plenty to offer as well. Water sports facilities and a choice of different activities on the beach provided a perfect opportunity to have some fun and excitement.
One of the things I loved most about the Sol Benoa Bali was the all-inclusive service. With 24-hour dining, entertainment, and many more extras, it was the ultimate in convenience and comfort. It truly felt like a home away from home.
I would recommend the Sol Benoa Bali - All Inclusive resort to anyone looking for a relaxing and luxurious beachfront holiday. It's the perfect choice for those who love to combine adventure and relaxation, while indulging in the flavors and traditions of Bali. And for those looking for something different, I would suggest checking out the nearby Four Seasons Resort Bali at Jimbaran Bay, which offers a different style of luxury and a unique cultural experience.
Video Review: Bali Hotel FULL tour | Denpasar | SOL by Melia Benoa -ALL INCLUSIVE
Bali all-inclusive packages
Award: Melia Bali has some of the best Bali all-inclusive packages.
All Inclusive Packages Include
Welcome drinks & cold towel and arrival
Daily buffet breakfast
Daily lunch
Daily dinner choice of five Restaurants
24-hour beverages
room service
Poolside
Beach club activities
A yoga class
And many other sporting equipment rentals and activities.
Find the best deal, compare prices, and read what other travelers have to say at Tripadvisor
Video Review: Melia Bali Nusa Dua Hotel; Lagoon Access Suite Room
See more Bali Vacation Packages. 
---
5-star Bali All Inclusive Resort

Award for best 5-star Bali All Inclusive Resort: Club Bali Mirage All Inclusive Resort
Club Bali Mirage like many other Bali All Inclusive resorts is located in Nusa Dua but with only about 100 rooms.

Another top quality Bali all-inclusive resort with quality water sports, romantic rooms and things to do for families.

Also with three restaurants, bars, pools, children's' club. With bigger than usual rooms and attention to detail service, this is the third quality choice for your next Bali all-inclusive vacation.
More information and reviews on Club Bali Mirage All Inclusive Resort
Video Review by Property: Grand Mirage Resort & Thalasso Bali All Inclusive
Official Website: http://www.clubbalimirage.com/
See more Bali Five-Star Resorts
---
We have provided links to help you get the best service and value when you book, but please do take care that you choose the all-inclusive option as some resorts do offer a standard non-inclusive rate as well.

Seminyak Adult Only All Inclusive Resort
Best Bali Adult Only All Inclusive Resort Award: Aksari Villa Seminyak
Mark recently visited Aksari Villa Seminyak, a luxury villa resort designed to offer the perfect romantic stay in Bali. The resort boasts One Bedroom Villas with Private Pool and Bathtub, featuring a range of signature facilities and services.
Aksari Seminyak is located in a quiet area of Seminyak, yet just a short drive from the I Gusti Ngurah Rai International Airport and attractions such as Double Six Beach, Potato Head Beach Club, and Mrs Sippy Beach Club.
Best Bali Adult Only All Inclusive Resort Award: Aksari Villa Seminyak
Aksari Villa Seminyak serves daily breakfast with American, continental, and vegetarian options, and in-room dining service is available upon request. The resort is located within a 5-minute walk of many dining options.
The resort's friendly staff at the reception desk are happy to provide guests with local area knowledge and can arrange laundry and ironing services. A free area shuttle is available, while airport transfers and bicycle rentals are available for an additional charge.
Looking for somewhere a little romantic. We have all seen those images with the cute adult only pools: very private pools in Bali. Walk straight out from your villa and enjoy a jacuzzi  on your honeymoon. 
Aksari Villa Seminyak is the perfect romantic stay for honeymooners, couples celebrating their anniversary, or those looking for a babymoon or birthday celebration. The resort offers a range of romantic surprises in the villa, such as flower decorations in the pool and jacuzzi, making guests' stay a memorable one.
Video Review: Escape to the romantic paradise of Aksari Villa in Seminyak, Bali with this breathtaking video showcasing the resort's luxurious One Bedroom Villa with Private Pool and Bathtub. Perfect for honeymooners and anniversary celebrations, this video captures the unforgettable moments and experiences you can expect at Aksari Villa, including flower decoration, poolside relaxation, and indulgent spa treatments. Get ready for a glimpse into a world of romance and luxury at Aksari Villa in Seminyak.
See more Adult Only All Inclusive Resorts
---
💼 We cherish our independence! ✈️ Our travel recommendations are carefully researched, bias-free, and powered by human expertise by April and Ricky of LRB (we have personally researched and travelled to many of these destinations and researched others thoroughly through first-hand accounts). 🌍✨
We try to keep everything up to date, but please always do your own research and contact us if you know any issues for us to help others as best we can as a small but professionally focused team! 🧐📚⚠️