Hamilton Island Australia
Hamilton Island Australia
Looking for the best Hamilton Island Australia resort accommodation? We have some great spots as well as deals here on this top island in the Whitsundays.
The Enigmatic Embrace of Hamilton Island Resorts: A Tapestry of Luxury and Leisure
The world spins on an axis of holiday destinations, and the glittering crown of Australia's Great Barrier Reef, Hamilton Island, has etched itself indelibly in that celestial rotation. Today, we cast an appraising eye over four of the island's standout resorts: Qualia, Beach Club, Reef View Hotel, and Palm Bungalows, promising unfiltered views into their cloistered enclaves of opulence.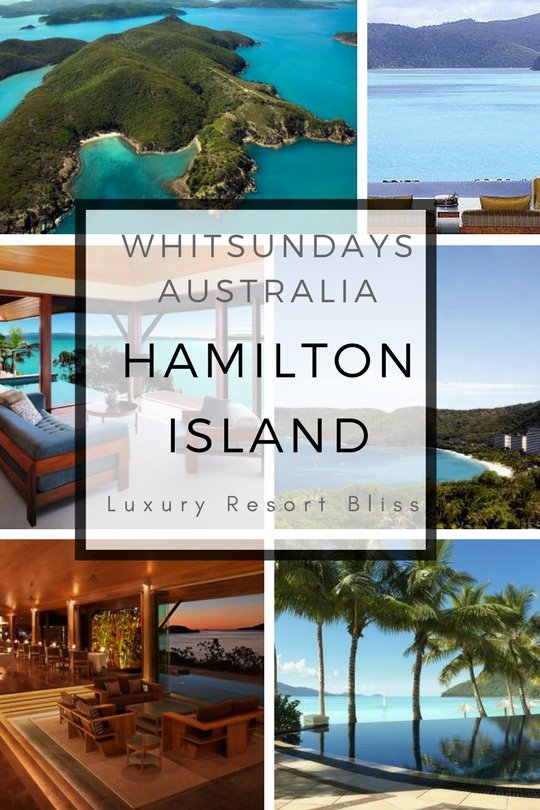 When to go to Hamilton Island
Summer is the time of the most rainfall and it also can get pretty humid in North Queensland. There are also more marine stingers around the warmer the water gets.  From late August  the weather is warming up and swimming is getting more comfortable. 
Personally I love the whitsundays anytime. Even the wet season in February when the sky can get dark and dramatic and then clear away as quick as it comes.
---
You can jet in (on a plane) to Hamilton Island from capital cities for as little as $40. Airlie Beach is on the mainland and you may also like to see our recommended Airlie Beach Accommodation.
Hamilton Island Australia:
Top Resorts
Qualia Hamilton Island
Qualia: Where Exquisite Meets Exotic (8.5/10)
Qualia, meaning "a collection of deeper sensory experiences" in Latin, is an exercise in uncompromising luxury. Positioned on the secluded northern tip of Hamilton Island, it caters to those who are acclimated to a world of indulgence, merging decadence with an all-pervading sense of tranquillity.
Located on the secluded northern most tip of Hamilton Island.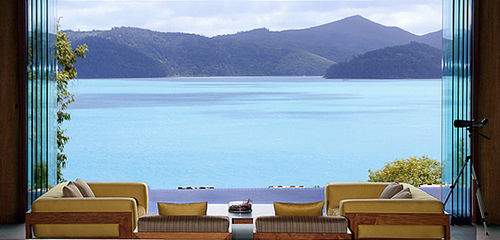 Qualia Hamilton Island Australia Resort
Accommodations have been designed to be open and spacious and are set among Eucalyptus trees. The interior designs are inspired by nature.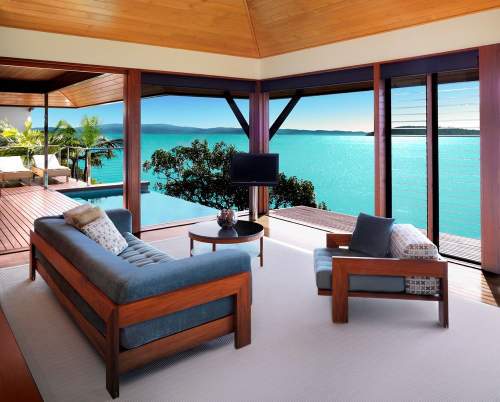 Qualia Hamilton Island Resort
There are 3 types of accommodation here. The 60 one-bedroom freestanding pavilions have either a sun deck or private plunge pool. They include all on-island transfers, meals at 2 restaurants, non-alcoholic beverages and your own golf buggy.
Around the resort there are 2 pools, a library, a fitness centre and a spa. You can also take a reef tour or go diving or snorkeling at the Great Barrier Reef. Everything really is 5 star or better including the two wonderful restaurants. Shuttles are available to whisk you up from the airport or around the island.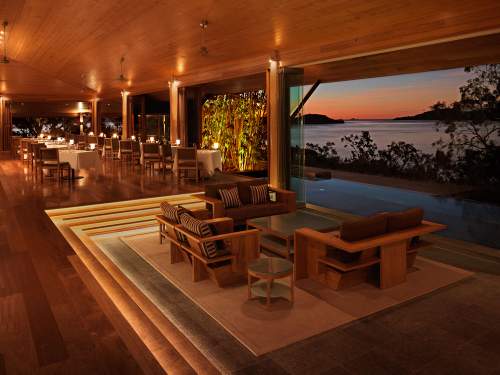 Hamilton Island Australia
Reviewers rave about this resort. They say that the incredible service starts right from the airport. There are great views and many mention the Windward Pavilion as being fabulous.
In the latest appraisal, this resort managed to improve from it's already great reviews. Guests who scoot about in golf buggies praised the resort, plunge pools and the location. A quick trip out to Whitehaven beach is a must-do.

Click for more on Qualia  Hamilton Island Resort.

Let's begin with the aesthetics: an ensemble of lavish pavilions nestled amidst tropical rainforest, offering heart-stopping views of the Coral Sea and the surrounding Whitsunday Islands. Expect every bell and whistle in the playbook of splendor. However, the resort distinguishes itself with thoughtful touches like private infinity-edge pools and open-air showers.
However, luxury has its price tag. Some may find the costs prohibitive, and Qualia is notably adult-oriented, perhaps leaving families better catered for elsewhere.
---
Beach Club Hamilton Island
Product Review: Beach Club Hamilton Island - An Exclusive Retreat for Couples
Score: 9/10
Escape to an adults-only oasis of tranquility and luxury at the Beach Club Hamilton Island. Located right on Catseye Beach, with breathtaking views of the Coral Sea, this boutique resort offers a serene and intimate setting for couples seeking a romantic getaway. Let's dive into the details and discover why the Beach Club Hamilton Island is the ultimate destination for adults in search of relaxation and personalized service.
The Beach Club Hamilton Island exudes a peaceful and boutique vibe, providing an ambiance that is perfect for couples. The two-story hotel boasts 57 luxurious rooms, each beautifully furnished and thoughtfully designed. Whether you choose a ground floor or top floor room, you'll be treated to your own en-suite bathroom, a choice between a king or twin-single beds, and a private terrace or balcony to enjoy the refreshing island breezes.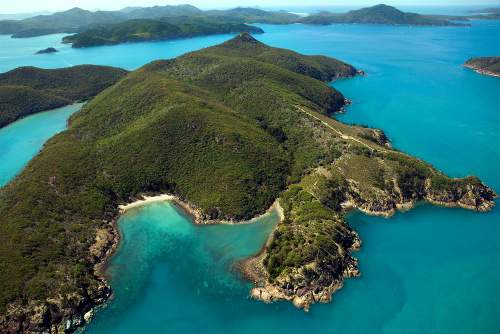 Hamilton Island Australia
One of the highlights of the Beach Club is the opportunity for romantic and private dining. The resort features a dedicated Beach Club restaurant and lounge, where couples can savor secluded beachside meals. Each morning, guests can indulge in a complimentary à la carte breakfast, setting the tone for a day filled with relaxation and pampering.
Pure relaxation awaits at the Beach Club, with its infinity-edge pool that offers a refreshing escape from the tropical heat. During the winter months, the pool is heated, ensuring year-round enjoyment. For those seeking further indulgence, the resort provides access to Spa wumurdaylin and Island Hair and Beauty, where a range of treatments and therapies are available to enhance your well-being.
While the Beach Club offers a peaceful and secluded environment, it doesn't compromise on convenience and entertainment. Guests can stay connected with complimentary Wi-Fi in their rooms and select locations around the island. Each Beach Club room is equipped with a surround-sound TV, allowing for cozy movie nights or catching up on your favorite shows.
For the more active guests, the Beach Club offers complimentary access to non-motorized sports equipment, including catamarans, paddleboards, kayaks, windsurfers, and snorkeling gear. Take advantage of the island's gym, spa, sauna, and tennis court hire to maintain your fitness routine or try something new.
It's important to note that the Beach Club is an adults-only resort, catering exclusively to guests aged 18 and over. This policy ensures a serene and child-free environment, ideal for couples seeking a peaceful escape. For those looking for a luxurious family getaway with younger children, the Hamilton Island Yacht Club Villas provide an excellent alternative.
In summary, the Beach Club Hamilton Island offers a tranquil and luxurious retreat for couples. With its boutique charm, personalized service, and prime beachfront location, it guarantees an unforgettable experience. However, it's important to consider that the Beach Club's exclusivity comes with a higher price tag, making it more suitable for travelers who prioritize a secluded and intimate ambiance.
For an alternative resort option, the qualia resort on Hamilton Island provides an even more exclusive and indulgent experience. With its stunning architecture, world-class amenities, and unparalleled privacy, qualia caters to discerning travelers seeking the epitome of luxury and seclusion.
Overall, the Beach Club Hamilton Island provides a remarkable escape for couples, offering a balance of relaxation, romance, and personalized service in a beautiful beachfront setting.
Located on one of the top beaches at Catseye where you can enjoy the sun lounges. It's within good reach of the Marina and Golf Club. Not surprisingly the infinity pool is a hit and guests also rate this resort well for luxury and service. Good romantic location.
Good sized resort with fewer than 60 rooms. A swim up bar, a poolside bar, and 4.5 star service rocks.
There is a full-service spa and tennis courts.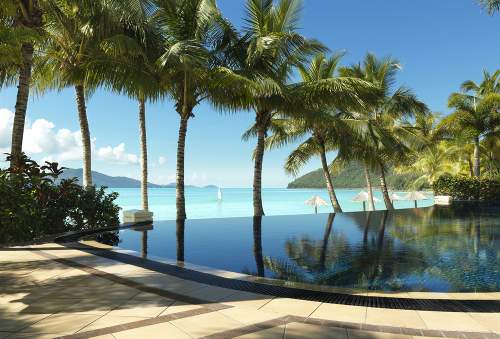 Infinity pool at Beach Club Hamilton Island, Australia.
Service here is meticulously attentive, ensuring an unruffled holiday experience. However, Beach Club isn't immune to drawbacks. The dining options, while enjoyable, lack the breadth of choices found at competitors. The layout, although breathtaking, isn't disability-friendly, which might exclude some travelers.
Click here for more information on the Beach Club Hamilton.
---
Reef View Hotel Hamilton Island Resort
Product Review: Reef View Hotel - Where Comfort Meets Breathtaking Views
Score: 8/10
The Reef View Hotel, nestled amidst the beauty of the Great Barrier Reef in Australia, offers a comfortable and convenient escape for travelers seeking a mix of relaxation and adventure. With its large, modern rooms and captivating sea views, this hotel caters to couples, families, and groups of friends alike. Let's take a closer look at what the Reef View Hotel has to offer and explore its unique features and drawbacks.
One of the notable aspects of the Reef View Hotel is the spaciousness and comfort of its rooms. Each room is thoughtfully designed and generously sized, providing ample space for relaxation and rejuvenation. The private balconies that accompany the rooms are the perfect spot to unwind and soak in the beauty of the surroundings. While most rooms offer stunning views of either the Coral Sea or the tropical gardens, it's important to note that not all rooms have direct ocean views. Some guests may find this aspect slightly disappointing, especially if they were expecting uninterrupted sea vistas.
While not rating as well as the other resorts in the latest round. This resort does offer a lot of variety and the buffet is a big hit.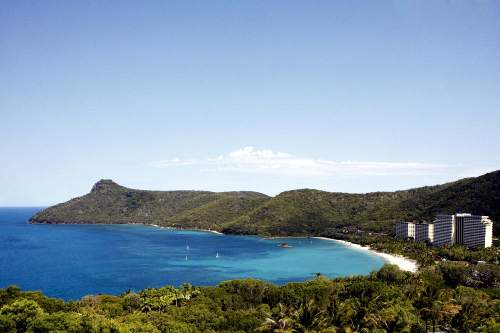 Reef View Hotel Hamilton Island Resort
A larger four star resort with over 350 rooms and 6 outdoor swimming pools, a golf course, a children's pool, outdoor tennis courts, a sauna and more.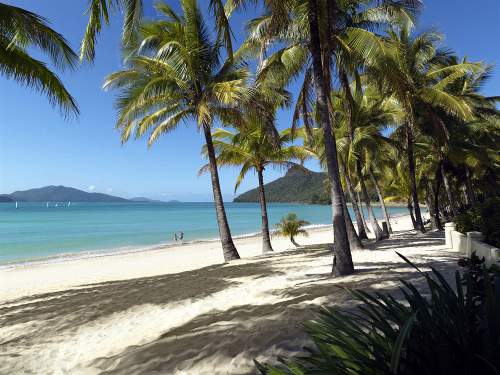 Central Location

Close to Marina

Free airport shuttle.

A wide world of sports

Tennis court

Paddle boarding, snorkeling, and windsurfing

Infinity pool

Mini-golf

Children's club

Restaurants bars and , café,

Free WiFi
The hotel provides a range of room options to suit different budgets and preferences. From the Garden View Rooms overlooking manicured tropical gardens to the Coral Sea View Rooms located on the upper floors, there is a choice for every traveler. If you're seeking an extra touch of luxury, the Reef Suite and Presidential Suite offer expansive spaces and panoramic views, ensuring a truly indulgent experience. However, it's worth mentioning that the pricing for the suites can be quite steep, which may not be suitable for budget-conscious travelers.
Location-wise, the Reef View Hotel offers a convenient base for exploring the island. Situated directly opposite Catseye Beach, guests have easy access to the sandy shores and can enjoy activities such as swimming, sunbathing, or simply taking leisurely walks along the coast. The hotel's proximity to the island's restaurants, activities, and entertainment venues is another advantage, allowing guests to easily immerse themselves in the vibrant atmosphere of Hamilton Island.
In terms of included amenities, the Reef View Hotel offers a variety of options to enhance your stay. The Hamilton Island Airport/Marina shuttle bus transfers ensure seamless transportation to and from the hotel. Guests can also take advantage of the complimentary use of catamarans, windsurfers, kayaks, stand-up paddleboards, and snorkeling equipment to explore the stunning marine environment. Additionally, the Island Shuttle service facilitates convenient access to Hamilton Island's attractions, while the gym, spa, sauna, and tennis courts cater to fitness and wellness enthusiasts.
Families will appreciate the Reef View Hotel's family-friendly atmosphere and the "Kids Stay and Eat Free" policy. The Reef Family Room, with its spacious layout, provides a comfortable and convenient space for families to relax and enjoy their time together. Childcare services, including access to the Clownfish Club day care center and island babysitting service, offer parents peace of mind and the opportunity to unwind.
It's important to note that while the Reef View Hotel offers a pleasant stay overall, some guests have reported occasional inconsistencies in service quality. These instances are rare, but they do highlight the need for improvement in certain areas to ensure a consistently exceptional experience for all guests.
More information on Reef View Hotel Hamilton Island Resort.
View from the 7th floor.
---
Palm Bungalows Hamilton Island
Palm Bungalows: Simplicity Wrapped in Sophistication (7.5/10)
f you're seeking a private retreat nestled in the heart of a tropical paradise, look no further than the Palm Bungalows on Hamilton Island. With their breezy modern interiors and lush landscaped gardens, these bungalows offer the perfect escape for couples, small families, or groups of friends. Let's delve into the details and discover what makes the Palm Bungalows stand out among the competition.
Upon arrival at the Palm Bungalows, you'll be greeted by the serene ambiance and the feeling of being enveloped in nature's embrace. As you step onto your private balcony, a symphony of tropical scents and sounds greets you, inviting you to unwind and bask in the island's tranquility. The view may not showcase the ocean, but the verdant gardens that surround the bungalows create a soothing and picturesque backdrop.
Inside your bungalow, you'll find a haven of comfort and convenience. The well-equipped kitchenette, complete with a microwave and stove-top, allows you to prepare and savor your meals at your own leisure. Imagine indulging in a freshly cooked breakfast on your balcony, accompanied by the melody of birdsong and the gentle rustle of palm leaves.
However, their petite size might not be everyone's cup of tea, and lack of on-site dining options can make meal times less convenient.
The Palm Bungalows cater to your relaxation needs with a plush king-sized bed and a single divan, ensuring a restful night's sleep. The air-conditioning and ceiling fan provide respite from the tropical climate, allowing you to find solace even on the warmest nights. For entertainment, unlimited in-room movies on demand are available for a nominal fee, perfect for a cozy movie night in after a day of exploration.
The bathroom, adorned with new fittings and a walk-in shower, offers a crisp and refreshing space to rejuvenate. The attention to detail and cleanliness throughout the bungalow is commendable, reflecting the resort's commitment to providing a comfortable and enjoyable stay.
When it comes to activities and amenities, the Palm Bungalows truly excel. The resort offers an array of complimentary options to keep you engaged and entertained. From catamarans, windsurfers, kayaks, and stand-up paddleboards for water enthusiasts to access to the island shuttle, gym, spa, sauna, and tennis courts, there's no shortage of activities to enjoy. Immerse yourself in the turquoise waters, soak up the sun on Catseye Beach, or embark on a snorkeling adventure to discover the vibrant marine life that surrounds the island.
Dining options on Hamilton Island are plentiful, and the Palm Bungalows provide the perfect balance between self-catering and culinary exploration. Each bungalow features a kitchenette with a microwave, stovetop, bar fridge, and tea and coffee making facilities, allowing you to prepare light meals and snacks at your convenience. However, I highly recommend venturing out and savoring the island's diverse gastronomic offerings. Indulge in fresh seafood delicacies, international flavors, and tantalizing cocktails at the island's various restaurants, each offering a unique culinary experience.
Getting around the island is a breeze with the complimentary Island Shuttle service, ensuring you can explore the island's hidden gems and breathtaking viewpoints with ease. Additionally, the return Hamilton Island Airport/Marina transfers provide a seamless transition from your arrival to the tranquility of your bungalow.
For those seeking pampering and relaxation, the Palm Bungalows grant access to the rejuvenating Spa wumurdaylin and the Island Hair and Beauty salon. Take some time to indulge in a blissful massage or a rejuvenating facial, allowing the stresses of everyday life to melt away in this tropical oasis.
A smaller property with a full-service spa and 6 pools. And all this only for about 50 rooms. That means you get lots of room to move and have access to facilities and restaurants all over.
More information on Palm Bungalows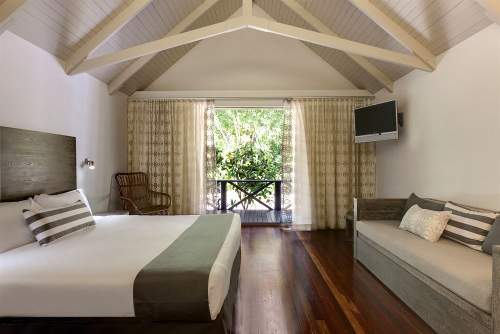 Palm Bungalows Hamilton Island
---
Hotel Special Deals in Hamilton Island


Note on the dolphins: if you have been to Hamilton you would have noticed these quite unhappy dolphins and I am pleased that it appears they have been moved to a happier location.
---
Hamilton Island Package
Looking for a Hamilton Island package deal or discount. We found these specials on accommodation on flights, rooms and packages:
Hamilton Island Resorts and Packages on Expedia.com
Hamilton Island Travel Guide
Hamilton Island Travel Guide: Paradise Found in the Whitsundays
Welcome to Hamilton Island, a slice of paradise nestled in the heart of the stunning Whitsundays in Australia. With its pristine beaches, crystal-clear waters, and vibrant marine life, Hamilton Island offers an unforgettable vacation experience. This travel guide will take you on a journey through the island, providing insights, recommendations, and tips to ensure you make the most of your time in this tropical haven.
Getting There: Hamilton Island is easily accessible by air, with direct flights from major Australian cities such as Sydney, Melbourne, Brisbane, and Cairns. The island has its own airport, making arrival and departure a breeze. Once you land, you'll be greeted with warm island hospitality and whisked away to your chosen accommodation.
Accommodation: Hamilton Island offers a range of accommodation options to suit every traveler's needs and preferences. From luxurious resorts to self-contained apartments, you'll find a variety of choices that cater to different budgets and group sizes. The Reef View Hotel, Palm Bungalows, and the Beach Club are among the top-rated options, each offering unique features and amenities.
Activities and Attractions:
Activities and Attractions:
Great Barrier Reef: A visit to Hamilton Island wouldn't be complete without exploring the iconic Great Barrier Reef. Embark on a snorkeling or diving adventure to witness the vibrant coral reefs and diverse marine life that call this World Heritage Site home.
Whitehaven Beach: Prepare to be enchanted by the breathtaking beauty of Whitehaven Beach, known for its pristine white sands and crystal-clear turquoise waters. Take a day trip to this idyllic paradise and bask in the serenity of one of the world's most stunning beaches.
Catseye Beach: Located right on the doorstep of most accommodations, Catseye Beach offers a picturesque setting for relaxation and water activities. Spend your days sunbathing on the soft sands, swimming in the azure waters, or trying out exciting water sports such as paddleboarding and kayaking.
Wildlife Encounters: Hamilton Island is home to an array of fascinating wildlife. Visit the Hamilton Island Wildlife Park to get up close and personal with native Australian animals, including kangaroos, koalas, and crocodiles. For a unique experience, join a guided tour to spot the island's resident koalas in their natural habitat.
Scenic Lookouts: Take in the breathtaking views of the Whitsunday Islands and the Coral Sea from various scenic viewpoints around the island. One Tree Hill and Passage Peak offer panoramic vistas that are perfect for capturing postcard-worthy photographs.
Dining and Nightlife:
Hamilton Island boasts a diverse culinary scene that caters to all tastes. From casual beachside cafes to elegant fine dining restaurants, you'll find a range of options to satisfy your cravings. Sample fresh seafood delicacies, savor international flavors, or indulge in gourmet Australian cuisine while enjoying stunning ocean views. Don't forget to treat yourself to a cocktail or two at one of the island's bars or lounges, where you can unwind and soak in the laid-back island atmosphere
Hamilton Insider Tips:
Insider Tips:
Plan Ahead: Hamilton Island is a popular tourist destination, so it's advisable to book your accommodation, activities, and dining reservations in advance, especially during peak seasons.
Island Transport: Explore the island with ease by taking advantage of the complimentary Island Shuttle service. This convenient transportation option allows you to hop on and off at various attractions and resorts.
Sunset Sailing: Experience the magic of a sunset sailing cruise around the Whitsundays. Set sail on a catamaran or yacht, sipping champagne as the sun dips below the horizon, painting the sky in vibrant hues.
Snorkeling Spots: While the Great Barrier Reef is a must -visit, there are also stunning snorkeling spots right off the shores of Hamilton Island. Explore the fringing coral reefs near Catseye Beach or take a short boat trip to nearby snorkeling hotspots like the famous Chalkies Beach or the picturesque Manta Ray Bay. Immerse yourself in a world of colorful coral formations and encounter a diverse array of marine life, including tropical fish, turtles, and even friendly reef sharks.
Sunrise at One Tree Hill: Wake up early to witness the breathtaking sunrise from One Tree Hill. This popular viewpoint offers panoramic views of the Whitsunday Islands, and watching the sun slowly illuminate the turquoise waters and lush landscapes is a truly awe-inspiring experience.
Golfing at Hamilton Island Golf Club: Calling all golf enthusiasts! Don't miss the chance to play a round of golf at the Hamilton Island Golf Club, located on its own private island. With its stunning ocean views and challenging course, this 18-hole championship golf course promises an unforgettable golfing experience.
Island Hopping: While Hamilton Island itself offers an abundance of attractions and activities, consider taking a day trip to explore the neighboring islands. Hop on a cruise to discover the pristine beaches of Daydream Island, the vibrant coral gardens of the Great Barrier Reef's Heart Reef, or the untouched wilderness of the Whitsunday Island National Park.
Relax and Unwind: Take advantage of the island's serene atmosphere by pampering yourself at one of the luxurious spas on Hamilton Island. Indulge in a rejuvenating massage or a soothing facial, and let your worries melt away in the tranquil island setting.
Explore the Trails: Lace up your walking shoes and embark on one of the island's scenic walking trails. From leisurely strolls to challenging hikes, there are options for all fitness levels. Discover hidden coves, encounter native wildlife, and immerse yourself in the natural beauty of the Whitsundays.
Capture Memories: With its picturesque landscapes and stunning vistas, Hamilton Island is a photographer's dream. Don't forget to bring your camera and capture the beauty of the island at different times of the day. From golden sunsets to azure waters, every moment is a chance to create lasting memories.
Remember, Hamilton Island is a tropical paradise, so pack sunscreen, swimwear, and comfortable clothing suitable for warm weather. Whether you're seeking relaxation, adventure, or a combination of both, Hamilton Island offers an unforgettable escape into a world of natural wonders and breathtaking beauty. So, immerse yourself in the magic of the Whitsundays and create memories that will last a lifetime on this idyllic island getaway.
FAQ: Hamilton Island Resort Holidays and All-Inclusive Vacations
A: Hamilton Island is a picturesque tropical island located in the Whitsunday Islands, Queensland, Australia. It is known for its stunning beaches, crystal-clear waters, and proximity to the Great Barrier Reef.
A: Hamilton Island is accessible by direct flights from major Australian cities such as Sydney, Melbourne, Brisbane, and Cairns. There are also ferry services available from the mainland.
A: Hamilton Island offers a range of accommodations to suit different preferences and budgets. Options include luxurious resorts, self-contained apartments, holiday homes, and villas.
A: Yes, there are all-inclusive vacation packages available on Hamilton Island. These packages often include accommodation, meals, selected activities, and airport transfers. Check with specific resorts or travel agencies for the available options.
A: Booking an all-inclusive vacation package can offer convenience and peace of mind. It allows you to have a clear understanding of the total cost upfront, as most of your expenses, such as meals and select activities, are included. It also simplifies the planning process, as many details are taken care of by the resort or tour operator.
A: Hamilton Island offers a wide range of activities for visitors. You can enjoy water sports such as snorkeling, scuba diving, kayaking, and paddleboarding. Other activities include sailing, fishing, hiking, golfing, wildlife encounters, and relaxing on the beautiful beaches.
A: Yes, Hamilton Island has numerous dining options to suit different tastes and preferences. From casual beachside cafes to fine dining restaurants, you can enjoy a variety of cuisines, including fresh seafood, international dishes, and local Australian specialties.
A: Absolutely! Hamilton Island is a gateway to the Great Barrier Reef. You can join snorkeling or diving tours to explore the stunning coral reefs and marine life. There are also scenic flights and helicopter tours available for a bird's-eye view of this natural wonder.
A: Yes, there is usually a minimum stay requirement for accommodations on Hamilton Island, especially during peak seasons. The minimum stay can vary depending on the property and the time of year. It is recommended to check with the resort or accommodation provider for specific details.
A: Yes, Hamilton Island is family-friendly and offers a range of activities and accommodations suitable for families. Many resorts have dedicated kids' clubs, child-friendly pools, and activities designed to entertain younger guests.
A: Yes, Hamilton Island is a popular destination for weddings and special events. The island offers a range of venues and services to accommodate weddings, conferences, and other celebrations. Contact the resort or a wedding/event planner on the island for more information and assistance.
Specific details, availability, and policies may vary depending on the resort or vacation package you choose. It is always recommended to contact the resort or consult with a travel professional for the most up-to-date and accurate information for your Hamilton Island getaway.
More Queensland and Whitsunday Island Resorts

Queensland Resort Reviews - all locations

💼 We cherish our independence! ✈️ Our travel recommendations are carefully researched, bias-free, and powered by human expertise by April and Ricky of LRB (we have personally researched and travelled to many of these destinations and researched others thoroughly through first-hand accounts). 🌍✨
We try to keep everything up to date, but please always do your own research and contact us if you know any issues for us to help others as best we can as a small but professionally focused team! 🧐📚⚠️