Hamilton Island Australia
Hamilton Island Australia
Looking for the best Hamilton Island Australia resort accommodation? We have some great spots as well as deals here on this top island in the Whitsundays.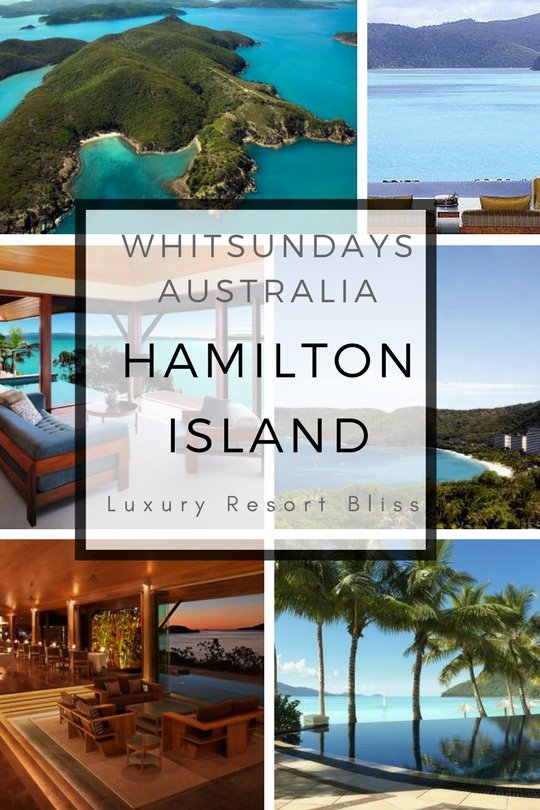 Hamilton Island Travel Guide
When to go to Hamilton Island
Summer is the time of the most rainfall and it also can get pretty humid in North Queensland. There are also more marine stingers around the warmer the water gets.  From late August  the weather is warming up and swimming is getting more comfortable. 
Personally I love the whitsundays anytime. Even the wet season in February when the sky can get dark and dramatic and then clear away as quick as it comes.
---
You can jet in (on a plane) to Hamilton Island from capital cities for as little as $40. Airlie Beach is on the mainland and you may also like to see our recommended Airlie Beach Accommodation.
For something different check out this Hamilton Island in 360˚ Virtual Reality. Move the on screen arrow around to see in different directions. 
Hamilton Island Australia:
Top Resorts
Qualia Hamilton Island Resort
Located on the secluded northern most tip of Hamilton Island.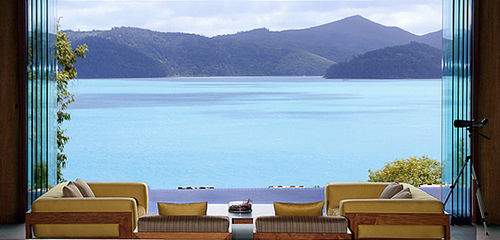 Qualia Hamilton Island Australia Resort
Accommodations have been designed to be open and spacious and are set among Eucalyptus trees. The interior designs are inspired by nature.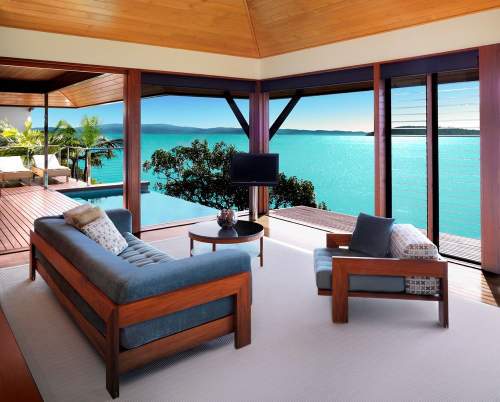 Qualia Hamilton Island Resort
There are 3 types of accommodation here. The 60 one-bedroom freestanding pavilions have either a sun deck or private plunge pool. They include all on-island transfers, meals at 2 restaurants, non-alcoholic beverages and your own golf buggy.
Around the resort there are 2 pools, a library, a fitness centre and a spa. You can also take a reef tour or go diving or snorkeling at the Great Barrier Reef. Everything really is 5 star or better including the two wonderful restaurants. Shuttles are available to whisk you up from the airport or around the island.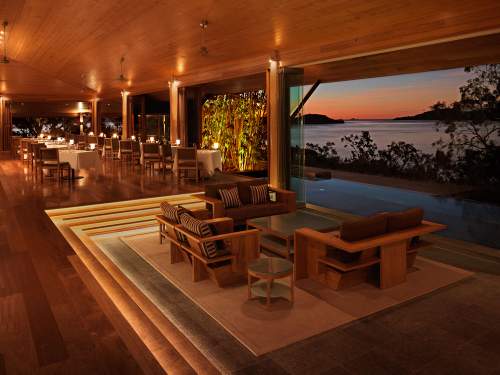 Hamilton Island Australia
Reviewers rave about this resort. They say that the incredible service starts right from the airport. There are great views and many mention the Windward Pavilion as being fabulous.
In the latest appraisal, this resort managed to improve from it's already great reviews. Guests who scoot about in golf buggies praised the resort, plunge pools and the location. A quick trip out to Whitehaven beach is a must-do.

Click for more on Qualia  Hamilton Island Resort.

---
Beach Club Hamilton Island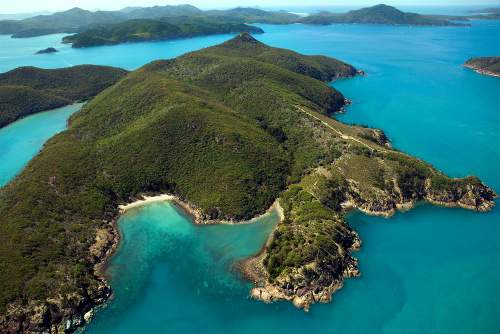 Hamilton Island Australia
Located on one of the top beaches at Catseye where you can enjoy the sun lounges. It's within good reach of the Marina and Golf Club. Not surprisingly the infinity pool is a hit and guests also rate this resort well for luxury and service. Good romantic location.
Good sized resort with fewer than 60 rooms. A swim up bar, a poolside bar, and 4.5 star service rocks.
There is a full-service spa and tennis courts.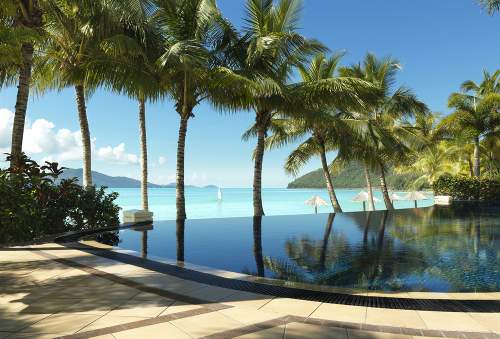 Infinity pool at Beach Club Hamilton Island, Australia.
Click here for more information on the Beach Club Hamilton.
---
Reef View Hotel Hamilton Island Resort
While not rating as well as the other resorts in the latest round. This resort does offer a lot of variety and the buffet is a big hit.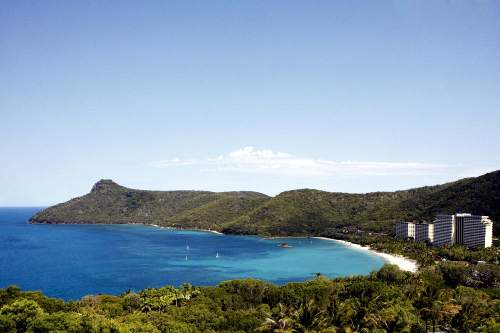 Reef View Hotel Hamilton Island Resort
A larger four star resort with over 350 rooms and 6 outdoor swimming pools, a golf course, a children's pool, outdoor tennis courts, a sauna and more.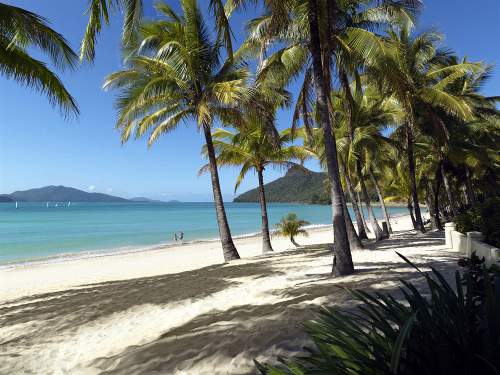 Central Location

Close to Marina

Free airport shuttle.

A wide world of sports

Tennis court

Paddle boarding, snorkeling, and windsurfing

Infinity pool

Mini-golf

Children's club

Restaurants bars and , café,

Free WiFi
Click here for more information on Reef View Hotel Hamilton Island Resort.
View from the 7th floor.
---
Palm Bungalows Hamilton Island
A smaller property with a full-service spa and 6 pools. And all this only for about 50 rooms. That means you get lots of room to move and have access to facilities and restaurants all over.
More information on Palm Bungalows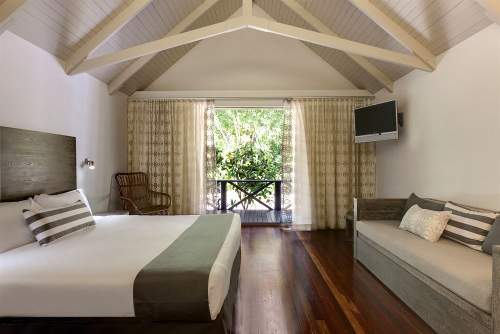 Palm Bungalows Hamilton Island
---
Hotel Special Deals in Hamilton Island


Note on the dolphins: if you have been to Hamilton you would have noticed these quite unhappy dolphins and I am pleased that it appears they have been moved to a happier location.
---
Hamilton Island Package
Looking for a Hamilton Island package deal or discount. We found these specials on accommodation on flights, rooms and packages:
Hamilton Island on Hotels.com.
Hamilton Island Resorts and Packages on Expedia.com
More Queensland and Whitsunday Island Resorts

Queensland Resort Reviews - all locations

Sarah loves to check out all-inclusive resorts and find great packages and report about what real travelers are saying, Sarah is an indicative character created for the purpose of providing insights uncovered during our research.  These reviews are indicative of others first-hand experiences using our research methodology designed to uncover the best  (as opposed to those that are simply marketed as the best).

While our reviews are founded on real accounts and stories and thoroughly researched do your own research and exercise your best judgment when making travel decisions. And keep in mind all-inclusive packages are always changing.