Qualia Resort: Whitsundays Adult-Only with All Inclusive Packages
As a seasoned travel writer, I have had the opportunity to explore various corners of the globe, immersing myself in diverse cultures, cuisines, and experiences. Yet, there are some places that I return to in my thoughts, those that have left an indelible mark on my memory. One such place is Qualia, a haven of luxury tucked away in the Whitsundays, where the splendors of the Great Barrier Reef unfurl at your doorstep.
Flying from the east coast of Australia, the journey to Qualia was swift and unburdened, a mere prelude to the paradise that awaited. The resort instantly evoked an air of tranquility and seclusion. Sprawled across 30 acres of beautifully manicured grounds and hugging the northern tip of Hamilton Island, Qualia felt more like an intimate sanctuary than a hotel.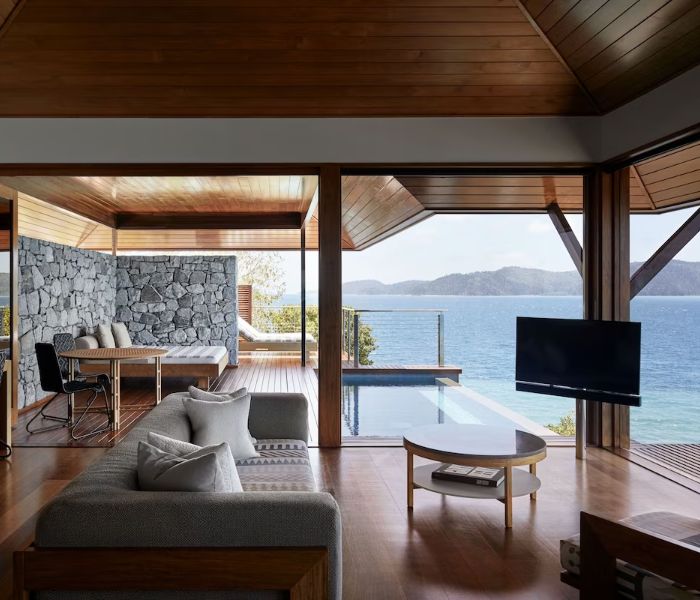 Qualia Room
My abode was one of the 60 individual pavilions, each framed by stunning views. I was welcomed into my Windward Pavilion, a space that exuded indulgence and peace with its private infinity plunge pool and sundeck. Its north-facing aspect bathed the room in a warm, inviting glow, setting the perfect stage for relaxation and contemplation.
Perhaps one of the most captivating aspects of my stay at Qualia was the seamless intertwining of luxury and nature. The resort has been thoughtfully designed to emphasize rather than overshadow its idyllic surroundings. The architecture, food, and experiences were all carefully curated to complement the resort's backdrop: the crystal-clear waters of the Great Barrier Reef.
Location: 5/5 Qualia is located on the secluded northernmost part of Hamilton Island in the Whitsundays, providing an unrivalled location for appreciating the Great Barrier Reef. Given the resort's accessibility from Australia's east coast gateway cities within a short 2-3 hours flight, it offers an incredibly convenient destination considering its world-class offerings.

Accommodation: 5/5 Qualia boasts a choice of 60 individual pavilions, each designed to provide breathtaking views and ultimate privacy. They range from spacious one-bedroom Windward and Leeward pavilions complete with a sundeck or private infinity edge plunge pool, to the ultra-luxurious Beach House with its own guest pavilion. The rooms exude elegance and comfort, with no reported issues concerning the accommodation.
Amenities: 5/5 The resort offers a wealth of amenities, including two infinity pools, a gym, spa, and a library. There are two dining options: the Long Pavilion and Pebble Beach, both offering exquisite meals. Free Wi-Fi, four-seater golf carts for Qualia Pavilion guests, and two-seater buggies for every suite add to the convenience. Qualia also offers unique activities like submarine adventures with trained instructors, making it an extraordinary experience.
Service: 5/5 Qualia stands out for its exceptional service. The staff is noted for being responsive, helpful, and providing a 24-hour chauffeur service around Hamilton Island. Their commitment to ensure a luxurious and relaxing stay for their guests is notable.
Value for Money: 4.5/5 While Qualia is a high-end luxury resort with prices to match, the unparalleled location, luxurious accommodation, and outstanding service make it worth the expense. However, the high cost may not fit all budgets.
Recommended For: Qualia is a perfect destination for luxury seekers, couples, and solo explorers who appreciate the blend of natural beauty and indulgence. It may not be the best fit for families with children under the age of 16, as the resort is tailored more towards providing a tranquil and serene environment.
Pros:
Unrivalled location with direct access to the Great Barrier Reef
Luxurious, private pavilions with breathtaking views
Exceptional service and wealth of amenities
Unique activities like submarine adventures
Cons:
High-end cost, which may not fit all budgets
Not suitable for families with young children
Features:
60 individual pavilions offering diverse accommodation options
Direct access to the Great Barrier Reef with submarine adventures
A range of amenities including two infinity pools, gym, spa, library, and exquisite dining options
Luxurious services such as 24-hour chauffeur service and private golf carts
Exclusively caters to guests above 16 years of age
Embracing the adventurous spirit, I took the opportunity to dive into the underwater world of the reef. Trained by Qualia's professional instructors, I swam amongst the coral, entranced by the vivid array of marine life. I felt a sense of connection to this intricate ecosystem, a rare privilege that remains with me.
My days at Qualia seemed to adopt their own gentle rhythm. Mornings were for savouring a delectable breakfast at the Long Pavilion, accompanied by the enchanting view of the Whitsundays. Afternoons drifted by in the quiet bliss of the spa or the comfort of my private plunge pool. As evening descended, a gourmet dinner awaited at the Pebble Beach restaurant, each dish a testament to Australia's culinary richness.
The Beach House, with its lavish master bedroom, private guest pavilion, and 12-meter infinity pool, remained a dream for the next visit. The Windward Pavilions, with their uninterrupted views of the Great Barrier Reef, beckoned enticingly. Even after checking out, Qualia lingered in my senses - the taste of its gourmet delights, the fragrance of its flora, the soft rustling of its palm trees, and the breathtaking views from its pavilions.
Qualia is more than a resort; it is an experience, a journey into tranquility, luxury, and nature's grandeur. It is a destination that marries the vibrancy of Australia's east coast with the serenity of a secluded island. This is a place for those who seek the extraordinary, who crave an escape from the usual, and who value moments of quiet introspection. The perfect retreat for couples or solo explorers, it is a sanctuary where one can truly taste the perfection of the Whitsundays.
And if you are a traveller craving for an urban hustle along with your beach holiday, Cairns Colonial Club Resort could serve you well. While it doesn't match the sublime serenity of Qualia, it offers a balance of relaxation and city excitement. However, Qualia stands unparalleled for those seeking an unadulterated immersion in nature's marvels, accompanied by impeccable luxury.
Qualia Packages 
Qualia Resort offers several package deals designed to enhance the experience of guests while providing excellent value for money. Here are a few of them at the time of writing:
Qualia Gourmet: This package provides a beautiful a la carte breakfast and a delicious dinner at the Long Pavilion daily. It includes the use of an electric golf buggy during your stay (driver's license required), a 24-hour chauffeur service around Hamilton Island, VIP return Hamilton Island airport/marina transfers, use of non-motorised watercraft, complimentary Wi-Fi, and access to the gym, spa, sauna, and tennis court hire.
Leeward Pavilion Package: This package provides guests with a stay in the Leeward Pavilion, known for its beautiful sea views and Australian bushland vistas. It includes the same amenities as the Qualia Gourmet package. Pricing starts from $4,260 for a 2-night stay during regular season, and $7,830 for a 3-night stay during festive season.
Windward Pavilion Package: This package offers a stay in the Windward Pavilion, which boasts panoramic sea views overlooking the Whitsundays and a private plunge pool. It includes the same amenities as the Qualia Gourmet package. Pricing starts from $6,300 for a 2-night stay during regular season, and $11,700 for a 3-night stay during festive season.
Beach House Package: This is the ultimate luxury package at Qualia, providing guests with exclusive access to the private Beach House. It includes the same amenities as the Qualia Gourmet package. Pricing starts from $13,840 for a 2-night stay during regular season, and $25,380 for a 3-night stay during festive season.
Please note that these packages may vary, and it's best to confirm details directly with the resort or via their official website.
5.0-star property
Adults-only beach resort with 2 outdoor swimming pools
9.6 out of 10 Exceptional
9.6/10 Exceptional
Dinning
Qualia Resort features two exquisite dining venues:
Long Pavilion: This is where you'll experience the resort's main dining. The restaurant offers a sumptuous daily breakfast and dinner in an open-air setting, with stunning views of the Whitsundays. Menus change daily and showcase the finest local and sustainable ingredients. The Long Pavilion also houses a bar where guests can enjoy a pre or post-dinner drink.
Pebble Beach: Situated on the edge of the Coral Sea, Pebble Beach is an informal, yet sophisticated, restaurant where guests can relax, unwind, and enjoy lunch while soaking up the tropical sun. The menus at Pebble Beach are designed with a focus on fresh and locally sourced produce.
Both restaurants are overseen by a team of expert chefs who craft dishes inspired by the abundant local ingredients of the Whitsundays and Australia's tropical gourmet produce. In the Qualia Gourmet Package, guests are treated to an a la carte breakfast and dinner daily at the Long Pavilion.
It's worth noting that dining at Qualia is not just about the food, but also about the entire experience. The breathtaking views, thoughtful service, and luxurious surroundings contribute to a dining experience that's truly unforgettable.
Hamilton Island
Hamilton Island and the Whitsundays are akin to a treasure chest of natural splendor waiting to be discovered. A simple gaze outside your window at qualia might reveal a panoramic vista of the Coral Sea, the teeming marine life of the Great Barrier Reef beneath its calm surface, and the enchanting collection of islands forming the Whitsundays, floating like jade gems in a sapphire sea.
Your adventures on Hamilton Island might commence with a leisurely hike up to Passage Peak, the island's highest point. With each step, you ascend above the tropical forest canopy, the squawk of rainbow lorikeets in your ears and the rustle of eucalyptus leaves in the breeze your only company. Once at the summit, you're greeted with a breathtaking 360-degree view of the Whitsundays that makes the climb utterly worth it.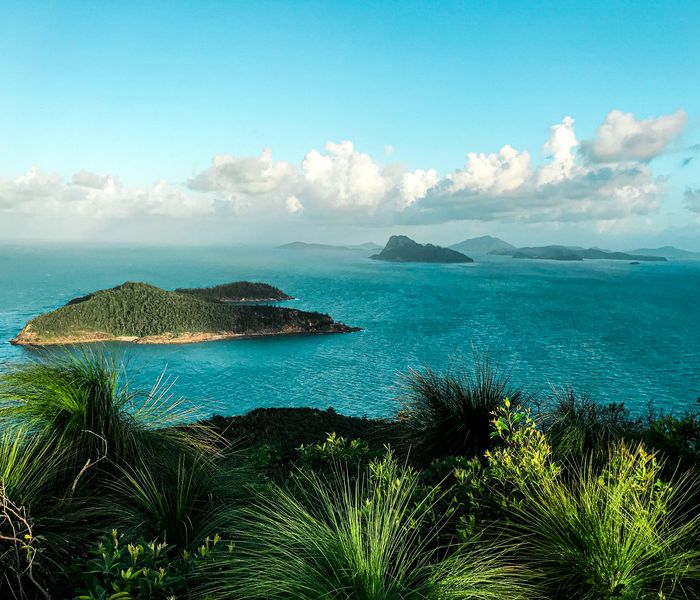 Down by the waterfront, a world of aquatic fun awaits. Board a sea kayak and paddle alongside Green Turtles and dugongs, or buckle on a snorkel to plunge beneath the waves and marvel at the psychedelic colors of the Great Barrier Reef's coral and fish. For the more daring, there's the chance to go deep-sea fishing, ride the wind on a sailboard, or dive with sharks.
A trip to Whitehaven Beach is a must when exploring the Whitsundays. Frequently lauded as one of the world's most beautiful beaches, its crystal clear waters and seven kilometers of silica sand leave an indelible impression. Arrive by seaplane or helicopter for an unforgettable aerial view before sinking your toes into the pure white sand.
Culture enthusiasts can venture to the Hamilton Island Art Gallery, showcasing a diverse array of works from local and mainland Australian artists. If culinary exploration is your calling, embark on a gastronomic journey in the many gourmet eateries scattered across the island, each serving up a delectable mix of local and international flavors.
Every evening, as the sun sinks into the Coral Sea, casting a warm golden glow over the Whitsundays, you can enjoy the simple pleasure of an island sundowner - a refreshing cocktail in hand, the scent of the sea in the air, and the promise of another day in paradise awaiting when the sun rises again over Hamilton Island.
Frequently Asked Questions about Qualia Resort
Qualia Resort has a policy of only accommodating children above the age of 16 to maintain its serene atmosphere.
he room rate at Qualia Resort includes a stay in one of the resort's luxurious pavilions, a la carte breakfast at Long Pavilion, access to non-motorized water sports, and use of an electric golf buggy for exploring Hamilton Island. The rate also includes VIP return Hamilton Island airport/marina transfers and complimentary Wi-Fi.
Yes, Qualia Resort offers a Gourmet package, which includes breakfast and dinner at Long Pavilion, along with a range of other perks like use of non-motorized watercraft, access to the qualia gym, spa, sauna, and tennis court hire.
Qualia Resort features two restaurants - Long Pavilion for breakfast and dinner, and Pebble Beach for relaxed, beachfront lunch. The menus feature fresh, locally sourced ingredients and change daily.
Guests at Qualia Resort can enjoy activities like exploring Hamilton Island on a golf buggy, non-motorized water sports, and relaxing at one of the two infinity pools or the spa. The resort is also a gateway to the Great Barrier Reef, with opportunities for snorkeling and diving.
Qualia Resort provides VIP return transfers from Hamilton Island airport, ensuring a smooth and comfortable journey for guests.
Yes, all pavilions at Qualia Resort offer complimentary Wi-Fi access to guests.
The check-in time at Qualia Resort is 2pm and check-out is at 11am. However, these times can be flexible subject to availability.
Yes, each Windward Pavilion at Qualia Resort has a private plunge pool. The exclusive Beach House also features its own 12-metre infinity pool.
Yes, you can guarantee your choice of a specific Pavilion when booking, for an additional charge.
💼 We cherish our independence! ✈️ Our travel recommendations are carefully researched, bias-free, and powered by human expertise by April and Ricky of LRB (we have personally researched and travelled to many of these destinations and researched others thoroughly through first-hand accounts). 🌍✨
We try to keep everything up to date, but please always do your own research and contact us if you know any issues for us to help others as best we can as a small but professionally focused team! 🧐📚⚠️