Top Queensland Beach Holiday 
A great Queensland beach holiday brings me back to my childhood. This is where I grew up, out in the outback, but each year I looked forward to getting to the beach.
Queensland tourism has continued to grow and modernize since those days and the resorts that are around on Queensland's beaches are almost unrecognizable compared to those sunny days.
Queensland seems Australia's most tourist-ed state with millions flocking both in winter and summer to enjoy it's natural attractions and it's capacity for hospitality. But here we uncover some secret hideaways and secrets shared from the locals which make planning a family vacation easier.

Here you'll find the best resorts in:
The Sunshine Coast has always prided itself on being less developed than the Gold Coast and this kind of remains true today. The Sunny Coast has scores of beaches along what seems like about 30km. Some of these are almost deserted and have small little nature parks protecting them while others are full on holiday destinations where it's hard to even find a place to sit with a bit of space at the busy time of the year (Christmas, Easter and school holidays).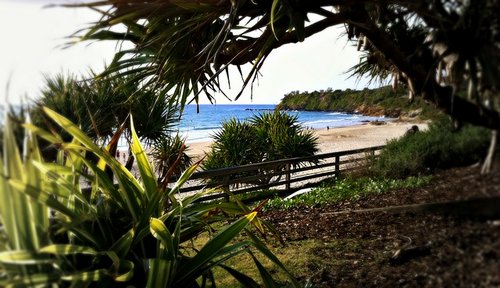 Sunshine Coast Queensland Beach Holidays
VIDEO: Sunshine Coast - Naturally Refreshing
I was there on a beach vacation recently with my family where we visited Australia Zoo and we were a little relieved to leave and return to our quieter country home. But the coast has enough charm and enough activities to make us want to return again and again. I even decided to call the Sunshine Coast home for a number of years to enjoy the laid back lifestyle in a beautiful natural environment.

VIDEO: Sunshine Coast Vacation Travel Guide 
The coast can seem a little busy but not compared to many other beach destinations worldwide and certainly not compared to the Gold Coast.
Coolum Resorts
Caloundra Resorts
Mooloolabah Resorts
Noosa Resorts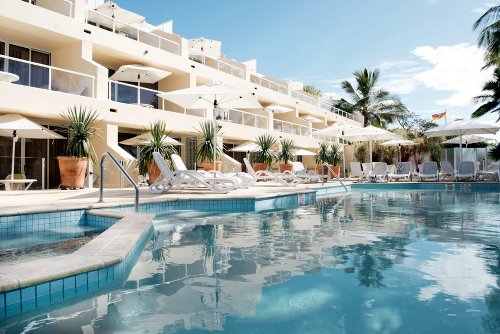 Netanya Noosa
More information and reviews on Netanya Noosa.
See all Sunshine Coast Resorts.
---
Gold Coast Queensland Beach Holiday
On the southern border of Queensland is the heavily commercialized Gold Coast, and its golden beaches and play our way north through all the family friendly zones until we reach the Tropical rain forests and reef islands of the far north of the state.

The Gold Coast is easily accessible with $100 (or less) flights available from most major Australian cities and more options than you will have time.  You had better plan in advance what to do.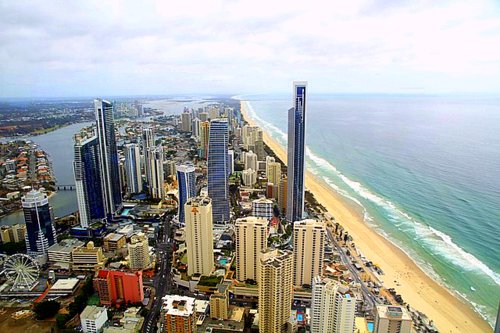 Gold Coast, Queensland Beach Holidays
Theme parks like Dreamworld Movie World and Sea world are exhilarating on both the wallet and the senses.  We take a closer a look at these and what other attractions are available in what has long been regarded as Australia's Family Friendly playground. And only an hour from Brisbane. 

For decades, the Gold Coast has held a special place in the Australian identity as a place of living it up, somewhere to look forward to. Millions of Australians have special memories of going to the Gold Coast for school holidays that is not going to change any time soon. Despite a bit of bad press in recent times there remains a thousand great ways to enjoy a Gold Coast resort holiday.
VIDEO: Gold Coast Vacation Travel Guide 

Palazzo Versace
Since it opened more than a decade ago now the Palazzo Versace has been known as one of the classier places to stay for your Queensland Beach holiday.
In a prime position on luxurious Main Beach the resort showcases Italian architecture and craftsmanship.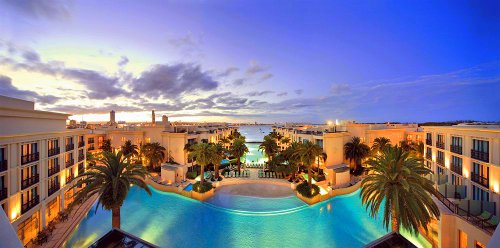 Palazzo Versace
Get more information special offers and reviews.
---
---
Fraser Island
Fraser Island is also an iconic beach holiday spot in Queensland Australia. It has sparkling blue freshwater lakes and miles and miles of beaches which people travel across in their four wheel drives. It's an excellent place to create your own vacation and go camping. It is in fact the largest sand island in the world.
More information on Fraser Island and places to stay while there.
Fraser Island which is easily accessed from Hervey Bay or Rainbow Beach from the South is the most appropriate reason for families to visit the area. The whole area is a mecca for families looking to enjoy a wholesome, old school style beach vacation packed with swimming, exploring and fishing. IN this area you can jump in your SUV / 4X4 and drive for miles and miles on beaches plotting your adventure as you go.

---
Another place I liked enough to call home for a while was Cairns, in far north Queensland. A lot of people come to Cairns and see the mud flat on the main city area and decide Cairns is not a great place for a Queensland beach holiday. In fact, the beaches out of the city are some of the most beautiful in the world. 
This is the place to visit the Great Barrier Reef, rainforest or tropical waterfalls on the tableland.
The temperatures of the water in summer are quite warm at around 30 degrees and this can make it unsafe to swim because of box jellyfish and irukanji (both deadly). Even swimming inside the nets provided is not really safe when the box jellyfish are about so but you can wear a stinger suit. This is recommended while snorkeling 
There are times in winter when it is safe to swim but other times of year make sure you have a resort with a pool to swim in, go to the streams or the free lagoon in town.
Click here to see our recommended resorts in the Cairns, Port Douglas or Palm Cove area.

---
VIDEO: A Guide to the Palm Cove Experience

---
VIDEO: Port Douglas holiday travel video guide, Queensland Australia
---
Australian Resorts
Australian All Inclusive Resorts

Capricorn Resort Yeppoon
Now we have our own ipersonal review of Capricorn Mercure Resort and other top Yeppoon resorts. As an ex-local, this is a resort I am familiar with, and it has been a part of the local community since business man Yohachiro Iwasaki built it in 1986. Like many locals to this day I have difficulty referring to the resort as anything other than "Iwasakis". But I am not sure if Yohachiro would like what he sees when he tours his resort these days. 

See TA for reviews on the top 10 Yeppoon Resorts with special offers.

The resort started with a bang - literally as someone thought it a good idea to try to blow up the resort before it even opened. Since those old glory days however, the resort has suffered a general decline and lack of upkeep, that has effected the quality of the experience. You simply can't help but notice the deterioration of what once was a somewhat spectacular addition to local holiday options.
Below in the video is the type of experience you may expect from this resort and below on the page is what we found.
Capricorn Mercure Resort Reviews

See the most recent reviews for Capricorn Mercure Resort here.

We could have expected that the resort was not at it's best with a quick check of TripAdvisor. We as a rule don't recommend resorts that have three stars or less on their review rating scale.

What we found was that the majority of less than average reviews were well justified. 

Capricorn Mercure Resort Restaurants
The restaurants we tried were ordinary. A $40 buffet meal in the main Billibong restaurant for which we had only mediocre expectations for, was especially disappointing. There was not too much to offer in the way of fresh, and the only meat on the buffet prime time were two little pieces of pork which I hesitated to take for risk of depriving the other dinners of any meals at all. The seafood pasta did not have any seafood at all. I guess you need to go to the $56 seafood night before they actually put the seafood in the seafood dishes - ouch.
Of the other restaurants and bars the Japanese looked the most appealing while the gift shop offered the best value. We enjoyed our visit to the burger bar on the way into Yeppoon instead - I recommend this option.
I am a little surprised at the popularity of the Capricorn Mercure Resorts which seems to have solid bookings off into the distant future. I can only put this down to a long distant past reputation, because every one we talked to had a similar experience to ourselves. Other guests commented on the growth on their walls and of the word of mouth disappointing reviews they have heard of from other family members.
The journey back to quality seems like a long haul for Mercure who only recently took over the management from Rydges. Golf remains the trump card for future success as well as the existing activities and features which include huge outdoor freshwater pools , tennis courts; exercise rooms, Jacuzzi, watersports and free daytime kids' club.
---
Outback Queensland
The outback is clearly a vast area of Queensland. If you are looking to do the outback in one location in Queensland the probably you should head to Longreach, where the Australian Stockman's Hall of Fame & Qantas Founders Museum are located. Waltzing Matilda also had it's birthplace in this area. The local automobile association (RACQ) is one of the best places to look for more information on outback Queensland.
If you like your outback family vacation a little more convenient however I would recommend flying to Cairns and driving over the rain forest covered mountains to what very quickly becomes the outback within an hour or two. Do some outback caving once you arrive.
Southern Queensland Country Family Vacations
Personally my wife and I brought our little girl to this area to grow up. We previously lived in the tropical north of the state near Cairns. We find the area has a yesterday year pace of life, and a four seasons climate not found in other parts of Queensland. I also love how the land becomes more sparse and open as you come over the Great Dividing range.
Festivals like the Apple and Grape Harvest Festival in Stanthorpe and Jumpers and Jazz in July in Warwick bring in loads of day trippers from Brisbane and are packed with activities for kids. We find tenting is a fine way to explore the area in Summer.
Toowoomba is a Key city and home to the Cobb & Co Museum  and some of the best child friendly parklands you are likely to find anywhere.  
For more ideas, visit Australia resorts.
---