Saffire Freycinet Tasmania Resort (All-Inclusive)
Looking to stay at Saffire Freycinet Tasmania Resort on an All-Inclusive package?
Saffire Freycinet – the name itself oozes luxury. A gem studded in Tasmania's coastal necklace, this resort allowed me to immerse in a heady blend of natural charm and urban comfort.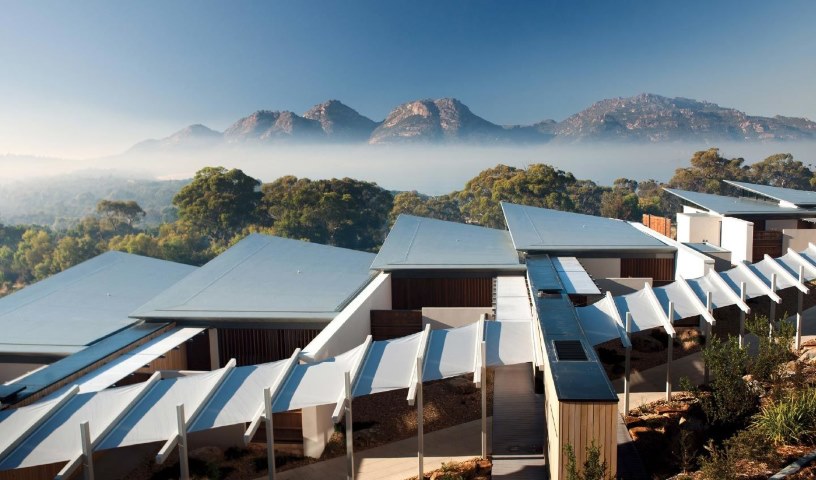 From the moment I drove up to its arresting façade, nestled between the grandeur of the Hazards Mountains and the calming blues of the Great Oyster Bay, I knew my stay would be an extraordinary affair. The resort promised me more than just a room; it offered a cocoon of serenity, cradled in the lap of Mother Nature.
Every corner of my private suite exuded a sense of indulgence. Spacious and air-conditioned, with a well-equipped kitchenette, the room was my personal retreat. The mini-bar was well-stocked, and the safety features were top-notch, down to the movies-on-demand for cozy evenings. The uninterrupted view of the bay outside my glass window was the icing on the cake.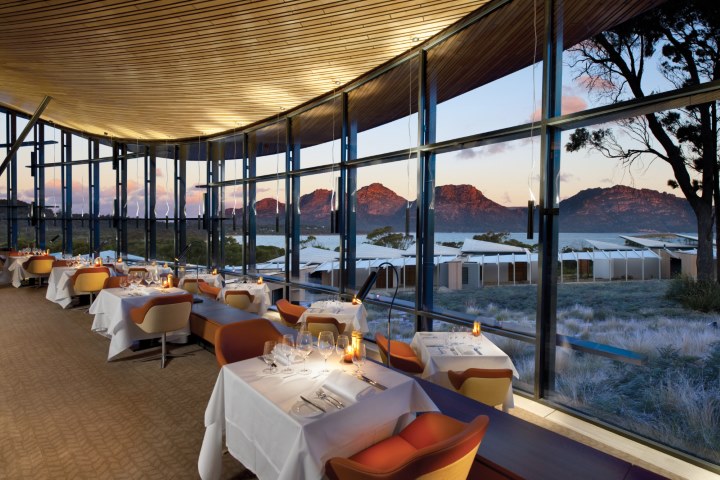 The Wi-Fi, which was complimentary, allowed me to stay connected with the world while I took in Tasmania's beauty. The resort's seamless express check-in and check-out, concierge services, and 24-hour reception provided me with an experience that was as convenient as it was luxurious.  
But Saffire Freycinet was more than a resort; it was a holistic experience. A day at the Saffire Day Spa made me resonate with their catchphrase - "I walked in with the expectation of a spa treatment. I left feeling utterly transformed." The bespoke treatments drew upon Tasmania's natural elements, leaving me feeling rejuvenated and reborn.
Saffire Freycinet Review
Pros:

Scenic Location: Saffire Freycinet's location is breathtakingly beautiful. The combination of the Hazards Mountains and Great Oyster Bay provides a unique, picturesque setting that's both tranquil and inspiring.
Luxury Accommodations: The rooms are well-appointed, spacious, and offer panoramic views of the Tasmanian wilderness. Amenities like in-room safes, a well-stocked mini-bar, and a kitchenette add to the overall comfort.
Exceptional Dining: Palate restaurant offers gourmet dining with a focus on local produce. The versatility in their menu to cater to individual tastes is impressive.
Spa Services: The spa treatments are rejuvenating and bespoke, providing a holistic experience that extends beyond mere pampering.
Customer Service: The staff are warm, attentive, and eager to ensure guests have a memorable stay. The 24-hour reception and express check-in/check-out feature are added bonuses.
Cons:
Price: Saffire Freycinet is a luxury resort, and the prices reflect this. It may not be affordable for all travelers.
Accessibility: The resort is quite a distance from Hobart, which can make travel to and from the city a bit time-consuming.
Physical demands: Some of the local attractions like Wineglass Bay and Mt. Amos require a fair bit of physical fitness to fully enjoy due to their rigorous hikes.
Features:
Free Wi-Fi: Stay connected with the world while you enjoy your retreat with the complimentary Wi-Fi service.
Spa and Wellness Centre: The on-site spa provides a range of treatments that promise to relax and rejuvenate you.
Proximity to attractions: Saffire Freycinet is a stone's throw away from Freycinet Marine Farm and Freycinet National Park, offering easy access to local attractions.
Bicycle Rental: For those who wish to explore the surrounding area at their own pace, the resort provides a bicycle rental service.
Beauty Centre and Valet Parking: These services further enhance the luxury experience of your stay.
Scores (out of 10):
Location: 9.5
Accommodation: 9.7
Food & Drink: 9.8
Service: 9.6
Value for Money: 8.0
Overall, Saffire Freycinet offers a luxurious stay amid Tasmania's untouched beauty, providing an unrivaled combination of relaxation, rejuvenation, and adventure. It's a must-visit for those seeking an indulgent retreat.
Food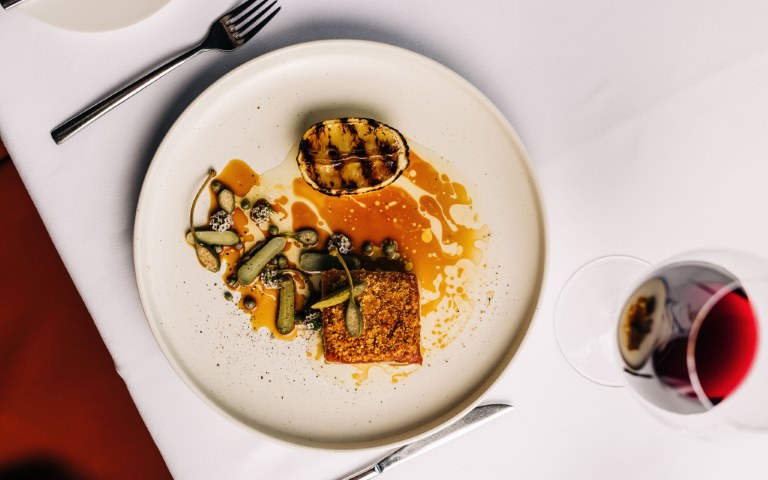 Then there was the Palate restaurant, a gastronomic paradise where I had the pleasure of experiencing some of Tasmania's finest produce. Each meal was a celebration, from succulent crayfish and plump oysters lifted straight from Great Oyster Bay, to juicy lamb and full-flavored game meats from the local farms. Every dish was tailor-made to my preference, and the multi-course degustation menus, perfectly paired with boutique wines, were the cherry on top.

While Saffire Freycinet had its charm, the surrounding areas added to the magic. Just a short drive away was the Freycinet Marine Farm, which made for a delightful day trip. The Freycinet National Park demanded a two-day visit, especially if you're keen on exploring the captivating Wineglass Bay and the challenging yet rewarding Mt Amos.
While the hike to Wineglass Bay's lookout might be demanding for some, the panoramic view of the beach, bay, and beyond is more than worth the effort. Just remember, it's approximately a 2h 30m drive back to Hobart, so plan your trip accordingly.
My stay at Saffire Freycinet was a dream— a blend of lavish comfort and remarkable experiences. It was not just about luxury accommodation; it was about reviving the soul and the senses in the embrace of nature. From the sparkling waters of the bay to the taste of the finest Tasmanian cuisine, every moment at Saffire Freycinet was a treasure to cherish.
Latest deals for Saffire Freycinet on Kayak
Expedia Saffire Freycinet DEALS
All Inclusive Packages
Only available with the package at the time of writing: 
What does the all-inclusive package at Saffire Freycinet include?
The all-inclusive package at Saffire Freycinet includes accommodation, breakfast, lunch, dinner, and beverages from their inclusive list. The package also offers a replenished daily in-suite mini-bar, a $100 - $200 property credit, access to complimentary experiences and activities, and use of Saffire's Hobart airport lounge.
2. What types of suites are available for the all-inclusive package?
The all-inclusive package is available for Private Pavilions, Signature Suites, and Luxury Suites.
3. What is the cost of the all-inclusive package at Saffire Freycinet? The cost of the all-inclusive package at Saffire Freycinet starts from AUD $2500. For the most current rates and availability, please check their official website or contact the resort directly.
4. What are the Saffire complimentary experiences and activities included in the package? The package includes a range of complimentary experiences and activities. The exact offerings can vary, but they often include guided tours of the local area, wildlife spotting tours, hiking trips, and more. For specific details about the experiences and activities available during your stay, it's best to contact the resort directly.
5. Can I use the property credit for spa treatments or dining? Usually, the property credit can be used for various services within the resort such as spa treatments, special dining experiences, or other premium services. However, the usage of property credit can vary, and it is recommended to check the terms and conditions or contact the resort directly for accurate information.
6. Do the beverages from the inclusive list include alcoholic drinks? Typically, the inclusive beverage list does include a selection of alcoholic drinks. However, it's advisable to check directly with the resort for the most accurate and up-to-date information.
7. What is the Saffire's Hobart airport lounge, and what services does it offer? Saffire's Hobart airport lounge is a facility provided by the resort for guests to relax and enjoy complimentary refreshments before their flight. The exact services can vary, so it's best to check with the resort for detailed information.
8. Can dietary requirements be catered to in the all-inclusive package? Yes, Saffire Freycinet prides itself on accommodating guests' dietary needs. Whether you have specific dietary restrictions or personal preferences, the chefs will do their best to cater to your requirements. However, it is always advisable to communicate any dietary needs or restrictions at the time of booking.
Exploring
The region surrounding Saffire Freycinet resort is a playground of pristine beauty and adventure. If you're up for an intimate rendezvous with nature, the Freycinet National Park, a short drive away, offers landscapes that will leave you in awe.
My first expedition was the trek to the Wineglass Bay Lookout. Despite my city-dweller legs complaining a tad about the climb, the spectacle that greeted me at the top was beyond words. The iconic wineglass shape of the bay, a dazzling blend of white sands and azure waters, had an almost hypnotic allure. The panorama not only inspired a sense of tranquility but also sparked an irresistible urge to explore further.
The journey to the beach is a bit of a trek but entirely worth the effort. The untouched sands, the crystal-clear waters, and the enclosing greenery provided a serenity that I'd never experienced before. Remember to pack a picnic – there's nothing quite like enjoying a meal with the bay's beautiful backdrop.
Mount Amos was another challenge that I was eager to undertake. This hike isn't for the faint-hearted, and I'd recommend it to those who have a decent level of fitness. The trail is steep and, at times, requires a bit of scrambling. But standing at the summit, looking over the jaw-dropping view of Wineglass Bay and the Freycinet Peninsula, I felt a sense of accomplishment that was more than worth the effort.
On a day when I was looking for a leisurely activity, I rented a bicycle from the resort and set off to explore Coles Bay. The town, with its quaint charm and friendly locals, was a joy to discover. Riding by the serene waterfront, I found an excellent spot to watch the sun dip behind the mountains, painting the sky with hues of pink and purple.
Venturing out a bit further, I visited the Freycinet Marine Farm, which introduced me to Tasmania's rich aquaculture. Tasting the freshest oysters, scallops, and mussels was an experience in itself.
And then there was the drive back to Hobart. The 2h 30m journey might seem a bit long, but the scenic route, with its lush landscapes, offered sights that made every minute worth it.
Every day in Tasmania was an adventure, the area surrounding Saffire Freycinet teeming with opportunities for exploration. Whether it was challenging myself with hikes, enjoying the simple pleasures at the beach, or relishing the taste of fresh seafood, each experience left me with memories I will forever cherish.
Saffire Freycinet is situated on the East Coast of Tasmania in Australia. It's nestled between the Hazards Mountains and the pristine waters of the Great Oyster Bay, in the small town of Coles Bay.
Saffire Freycinet offers luxury suites, each offering panoramic views of the Tasmanian wilderness. Each room comes with a kitchenette, an in-room safe, air conditioning, a mini bar, and movies-on-demand.
The resort is home to Palate restaurant, which specializes in using local Tasmanian produce. The menu changes daily, and the restaurant offers both multi-course degustation menus and à la carte options.
Saffire Freycinet offers a variety of amenities, including complimentary Wi-Fi, a beauty center, valet parking, a spa and wellness center, bicycle rental, and a concierge service.
Yes, Saffire Freycinet is close to several attractions, including the Freycinet Marine Farm and Freycinet National Park, which houses the iconic Wineglass Bay.
The driving distance from Saffire Freycinet to Hobart is approximately 193 km, and it takes around 2 hours and 30 minutes to drive.
If you plan to hike both Mt Amos and the Wineglass Bay to Hazards Beach Circuit, a two-day stay is recommended.
To truly appreciate the wineglass shape of the bay, you'll need to hike to the Wineglass Bay Lookout. However, the trail is suitable for just about everyone, and the view is well worth the effort.
Yes, Palate restaurant prides itself on tailoring dining to your requirements. Whether you have specific dietary needs or personal preferences, the chefs will do their best to accommodate your requests.
Share Your All-Inclusive Adventures and Questions! 🌴 Have a memorable experience from a luxury all-inclusive vacation? We'd love to hear it at Luxury Resort Bliss. We're on the lookout for top-quality, insightful tales that'll inspire our community. Dive in and be a part of our sun-soaked stories! 🌊🍹✨
The story is a fictionalized account founded on travel expertise, research, and experience. Always refer to recent guest reviews and perform due diligence before booking.
💼 We cherish our independence! ✈️ Our travel recommendations are carefully researched, bias-free, and powered by human expertise by April and Ricky of LRB (we have personally researched and travelled to many of these destinations and researched others thoroughly through first-hand accounts). We also have put in the hard miles, and Ricky has worked for decades for resort and hotel chains  Hyatt, Hilton, Shangri-La and Radisson before starting Luxury Resort Bliss in 2007. 🌍✨ Unlike some other resort review websites we are concerned on the guest experience rather than mere corporate interest.